Tony Reddin Medal Collection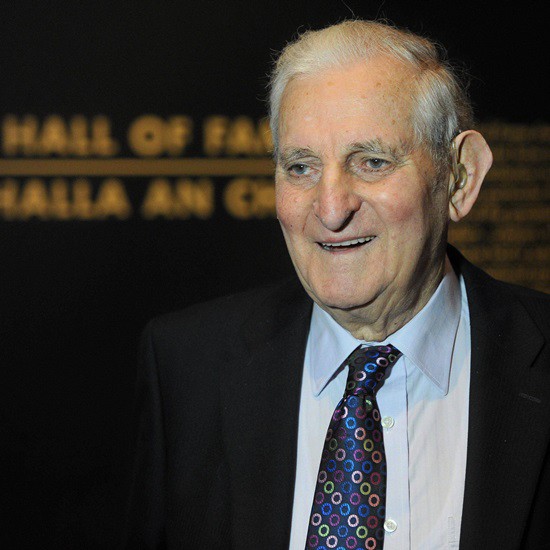 NUACHT RÁITEAS
MEDIA RELEASE
9 Samhain 2015
The medal collection of the late Tony Reddin, who was named as goalkeeper on the Hurling Team of the Millennium, has been presented by his family to the GAA Museum in Croke Park.
Uachtarán Chumann Lúthchleas Gael, Aogán Ó Fearghail, has paid tribute to the memory of the outstanding net-minder and welcomed the arrival of the prestigious medal collection to the Museum.
A native of Galway, Tony began his career in Galway with Mullagh and played inter-county hurling with the Tribesmen in 1941 and also played for Connacht in the Railway Cup inter-provincial championship.
He later moved to Tipperary and joined the Lorrha-Dorrha club.
He excelled as a goalkeeper with Tipperary and his performances between the posts saw him hailed as arguably the greatest ever hurling goalkeeper.
He won three All-Ireland senior medals (1949, 1950 and 1951) as well as three Munster titles and six National Leagues (1949, 1950, 1952, 1954, 1955 and 1957).
He was named the GAA's Hurling Goalkeeper of the Century in 1984, and was also named goalkeeper on the Hurling Team of the Millennium in 2000.
Tony's three All-Ireland medals, alongside his Munster senior championship, Railway Cup and National League medals are now on display in the GAA Museum. The collection also includes a Connacht senior championship medal won with Galway in 1940 and a juvenile hurling medal, won with Mullagh, in 1933.
Tony passed away in March of this year at the age of 95.
Uachtarán Aogán Ó Fearghail said: "One of the great joys of having a Museum at Croke Park is that it gives us the opportunity to remember and honour heroes who built a lasting legacy for Gaelic games.
"And in Tony Reddin hurling and the GAA certainly had a great hero. Although he played in an age before the massive TV coverage of sport we know now, Tony Reddin was still a
-2-
household name in Ireland due to the skill and bravery of his goalkeeping deeds – feats that endeared him to a generation of supporters from Tipperary and far beyond.
"We are indebted to Tony's family for permission to present his collection on display in the Museum in Croke Park and we cherish their addition and his memory."
The GAA Museum is open daily throughout the year, including on match days. For further details see: www.crokepark.ie/museum
For more information contact Alan Milton GAA Head of Communications on 018363222 or Joanne Clarke – Curator, The GAA Museum 01 8192349 jclarke@crokepark.ie