The new Tipperary GAA Archives web site was launched at the Anner Hotel Thurles on Saturday September 19th 2009 by Tipperary County Chairman Barry O'Brien.
Visit the Tipperary GAA Archives web site
---
This web site includes a list of every player who was part of a Tipperary Championship team from Minor up to Senior level in Hurling and Football since 1886. The list of over 17,000 players was compiled over the past couple of years by PJ Maxwell, former Tipperary underage hurler and captain of the Tipperary team which won the 1980 Munster Under 21 Hurling Final. Thanks to the assistance of the clubs, over 90% of the players will include the correct Christian name also.
The new web site will also include the Divisional and County Championship Roll of Honour for all grades in Hurling and Football from Minor C grade all the way up to Senior since each competition began.
This list was compiled by former County PRO Ed Donnelly from numerous sources and again, thanks to the assistance of the clubs, the name of the winning captain is included for over 75% of all County Champions.
All of the above information can be found on various publications which invariably get out of date with each passing year. With the assistance of former Tipperary All-Star hurler Mark O'Leary who set up the web site and supporting database, the use of modern technology will ensure that not only can the information be easily searched online, the web site can be updated in real-time and includes all teams and champions up to and including last weekend's Divisional finals at Minor, Junior and Intermediate level.
This project was sponsored by the committee set up to organise events for the 125th Anniversary of the GAA, led by Seamus J. King who will chaired the launch. Thanks to everyone involved, including the Tipperary GAA County Board for funding this project. Why not check out the Tipperary GAA web site and delve through the unique history of Tipperary Hurling and Football?
We would love to hear from all interested Gaels in relation to the information put together – please contact Jonathan Cullen at pro.tipperary@gaa.ie or 0868098669 with your feedback.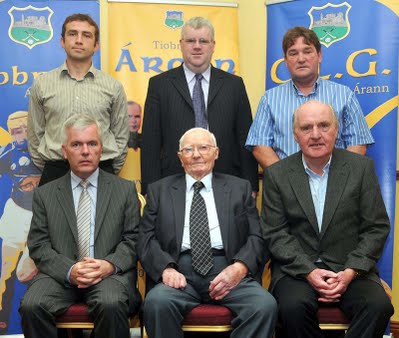 Back row (left to right) – Mark O'Leary, Ed Donnelly, PJ Maxwell
Front row (left to right) – Barry O'Brien (County Chairman), Jimmy Butler Coffey, Seamus King (125 Committee Chairman)
(Photo courtesy of Jerry Ring)