Tipperary GAA Scene – Tuesday, 27th June 2017
Tipperary GAA Scene
By PRO Joe Bracken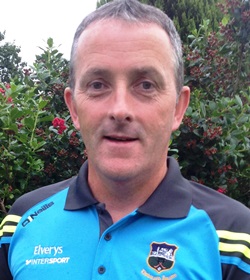 SENIOR HURLING CHAMPIONSHIP
Now that the draw the whole county and indeed hurling fraternity has been waiting for, the Tipperary senior hurling management have only days to plot a route through the first of what we hope will be a few qualifier hurdles as the senior team get set to take on Westmeath in Round 1 of the All-Ireland Senior Hurling Championship in Semple Stadium at 5pm this Saturday, July 1st.
There has been no previous championship action between Tipperary and Westmeath so it will be new territory all round when the match gets under way on Saturday afternoon.
We send best wishes to the team here too as the Tipperary senior hurlers look to get the season back on track and commence what we all hope is a successful run, one match at a time, to retaining the Liam MacCarthy Cup.
MUNSTER MINOR HURLING CHAMPIONSHIP
Next up for the Premier County sees Tipperary play Cork in the Electric Ireland Munster Minor Hurling Championship Semi-Final in Semple Stadium this Thursday June 29th at 7.30pm.
Tipperary had an opening round win over Limerick in Thurles back on April 5th on a 4-15 to 2-18 score line with goals from Niall Hoctor (St. Marys), Conor McCarthy (Nenagh Éire Óg), Andrew Ormond (JK Brackens) and Willie Barry (Cappawhite) all necessary to get Tipperary over the line.
Cork come to Semple Stadium on the crest of a wave for the Rebel County at present and will prove difficult opposition for Tipperary to overcome. Unfortunately, there is no Plan B at semi-final stage for Liam Cahill's side and the only option is to meet your foe head on as Tipperary defends their Munster and All-Ireland titles.
With such tremendous history between the counties, an intriguing match is in prospect and one will no doubt have spectators on the edge of their seats. Last year in the reverse fixture, Tipperary's second half performance in Páirc Uí Rinn where Tipp won 0-23 to 1-15 was the catalyst that powered their performance through to September success.
With captain Paddy Cadell (JK Brackens) leading the of last year's contingent, Liam Cahill will be looking to his leadership to drive his side forward.
We send best wishes to the side and their management of Liam Cahill, John Sheedy, Sean Corbett and TJ Ryan as they bid to reach the final where the winners will play either Clare or Limerick on Sunday July 9th.
The referee on Thursday will be Rory McGann (Clare).
MUNSTER U21 HURLING CHAMPIONSHIP
Commiserations to the Tipperary U21 panel and management who bowed out of the Munster Championship at the quarter-final stage last Thursday night following their 2-24 to 0-19 loss to Limerick.
Under pressure from the off from a strong Limerick outfit, William Maher's side were not allowed time to settle or get into their stride and were left with an early mountain to climb.
Thanks to all for their efforts in what turned out to be a brief campaign but such is life in this always fascinating competition.
SENIOR FOOTBALL CHAMPIONSHIP
Following last Monday mornings draw the next match for the Tipperary senior footballers will be a long trip back up to Kingspan Breffni Park to play Round 1B winners Cavan on July 8th at 2pm in Round 2 B of the Senior Football Championship.
REFEREE
Best wishes to our referees in action this week. First up, Sean Lonergan (Moyle Rovers) takes charge of the Munster Junior Football Final this Tuesday night, June 27th between Cork and Kerry in Páirc UÍ Rinn.
Then on Wednesday, June 28th, Philip Kelly (Ballinahinch) is in charge of the Electric Ireland Munster GAA Minor Hurling Semi-Final between Clare and Limerick in the Gaelic Grounds. CELTIC CHALLENGE
Congratulations to South Tipperary who were crowned Celtic Challenge Division 1 (Corn Michael Hogan) champions for 2017 in Dr. Cullen Park Carlow last Saturday following a one point victory over Galway Maroon 2-11 to 0-16.
The South Tipperary performance was characterised by outstanding displays in all lines of the field and by two crucial opportunistic goals at the beginning of the second half by Aaron Ryan (Solohead) and Tomas Vaughan (Skeheenarinky). It was a proud moment for Aidan Griffin (Éire Óg Annacarty-Donohill) and Conor Duggan (St. Patrick's) as joint captains when they lifted the Michael Hogan Cup on behalf of their team mates.
Eoghan Connolly of Cashel King Cormacs was nominated as Best and Fairest for South Tipperary.
The South Tipperary panel against Galway Maroon was: Jack Downey (Clonmel Og), Cian Mullane (Clerihan), Brian Barlow (Golden Kilfeackle), Ger O Dywer (Knockavilla-Donaskeigh Kickhams), Josh Ryan (St. Marys's Clonmel), Eoghan Connolly (Cashel King Cormac), Mark Stokes (Kilsheelan-Kilcash), Martin Keogh (Mullinahone), Rian Quigley (Moyle Rovers), Mark Downey (Rosegreen), Oisin Drennan (Mullinahone), Aidan Griffin (Eire Óg Annacarty-Donohill), Aaron Ryan (Solohead), Stephen Grogan (Cahir), Tomas Vaughan (Skeheenarinky), Nicholas Reidy (Cahir), Conor Duggan (St. Patrick's), Shane Farrell (Knockavilla-Donaskeigh Kickams), Conor McGrath (Moyle Rovers),Paul Devlin (Eire Óg Annacarty-Donohill) Shane O'Connor (Clonmel Óg), Paudie Maher (Ballingarrry), Stephen Carr (Sean Treacys), TJ Quigley (Clonmel Óg), Fionn Brady (Cappawhite), Colm O'Dywer (Cappawhite), Tony Byron (Galtee Rovers)
Congratulations also to the South Tipperary mentors who deserve enormous credit for bringing success to Tipperary in the second year of this competition are -John Ryan (Golden-Kilfeacle), Declan Hickey (Skeheenarinky), Tom O'Donnell (Golden-Kilfeacle) and Fergus McGrath (St. Mary's Clonmel).
MUNSTER POC FADA
Congratulations on winning the Munster U16 Poc Fada go to Ryan Renehan (Cappawhite) who won His title last Saturday in the Burren.  Best wishes to Ryan who will now go forward to the All-Ireland Final in the Cooley Mountains on the August Bank Holiday weekend.
TIPPERARY GAA DRAW
The June draw hosted by Boherlahan-Dualla GAA Club will take place this Friday night, June 30th in Lacey's Bar, Ballydine.
COUNTY FIXTURES
Last weekend there was some great games in the Tipperary Water Hurling League and for a full check on these results and list of upcoming fixtures please check the Tipperary GAA website https://tipperary.gaa.ie/ or the fixtures section in your local newspaper.
TEAM TIPPERARAY GAA RACE DAY 
Next up on the fundraising agenda is the Team Tipperary GAA Race Day at the Galway Races on Monday, July 31st next. This is our third Galway Races venture continuing very successful opening days in 2015 and 2016. The Galway Races Summer Festival is renowned as a premier and most colourful racing festival. While it is a major sporting event, it also appeals to a much wider audience than just the racing fans. With the Killanin Stand Suites, there is something for everyone whether you are entertaining family, friends or business clients. This is the ideal format for mixing business with pleasure, whilst surrounded by the atmosphere and excitement that is the Galway Races. If you or anyone you know is interested in racing, or just a good day out and who might take a seat or two or a table, please contact Tim Floyd, County Secretary, 087 2591747 secretary.tipperary@gaa.ie for bookings and further details. By contributing to this wonderful day out you are providing invaluable support for Team Tipperary. Tipperary Co. Board is very fortunate to have a big pool of people who are willing to invest in the future of Tipperary GAA and support it so selflessly. It is an honour for Co. Board officers to carry out this work on behalf of these people and we together with our patrons are totally committed to the success of Tipperary GAA and our teams.
If you would like to be part of it, talk to us, we'd be honoured if you'd share the journey with us.
LOYALTY CARD
Tipperary GAA has recently launched a loyalty CashBack Card which as a Tipperary supporter each individual that registers is doing their small bit in support of the county cause. Loyalty cards were sent out with club draw receipts to all members and as there is no charge in registering you can opt in immediately. If anyone who doesn't have a loyalty card and flyer please call to Lár na Páirce to pick up one. Register as per details on the CashBack flyer. To activate the card, holders must complete the registration and then please email, post or drop off your registration details to Lar na Páirce, Slievenamon Road, Thurles or secretary.tipperary@gaa.ie
1887 ALL-IRELAND FINAL RE-ENACTMENT
This Saturday, July 1st will see a re-enactment of the first ever All-Ireland hurling final (1887) where Tipperary represented by a Thurles selection and Galway represented by Meelick met on that historic occasion. The local organising committee have worked hard ensuring that descendants of the players and officials of that momentous day were contacted and encouraged to take part in the re-enactment to ensure that is as true to its origin as it can be.
Also on the website details are available of the direct debit facility; as the Club is run on a completely voluntary basis it would be a great help if members could join by direct debit.
TIPPERARY SUPPORTERS CLUB MEMBERSHIP
The Supporters Club are encouraging members to switch to Direct Debit payment by offering a reduced charge of €30 for all Direct Debit members in 2017. It's easy to sign up for Direct Debit, just download the two-page form from the Tipperary Supporters Club website at http://www.tippsupportersclub.com/join/ fill it out and send it to Jim Reidy at the address below.
If joining by post please send a cheque or postal order for €40 payable to Tipperary Supporters Club to Jim Reidy, 13 Castleknock Close, Dublin 15 (086-3580718, email: info@tippsupportersclub.com ) All proceeds from membership go towards the preparation and training of the Tipperary Senior Hurling Team.
FRIENDS OF TIPPERARY FOOTBALL 
With Tipperary also out in the Football Championship qualifier on Saturday week, July 8th, the Friends of Tipperary Football membership is an ideal way of supporting the team. For €20 membership it enters each supporter into the following draws: 2 All Ireland Final Football tickets 2017; 2 All Ireland Final Hurling tickets 2017; 2 Tickets for each Tipperary Senior Football Championship matches 2017; 2 All Ireland Club Final tickets 2017.
Membership is also available online through the Friends website www.friendsoftipperaryfootball.com and there is also a link on the Friends Facebook page.
TIPPERARY GAA SCENE
Information concerning all areas in the GAA will appear in this section in the future. If you wish to include any item of interest in future articles, please e-mail pro.tipperary@gaa.ie on or before 3.00pm on Monday. Visit the Tipperary GAA web site at http://tipperary.gaa.ie to keep up to date with all the latest news in Tipperary GAA circles.