By PRO Joe Bracken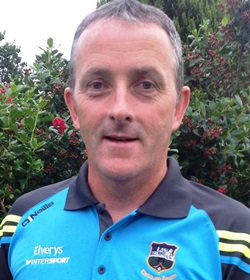 MUNSTER SENIOR HURLING CHAMPIONSHIP
A terrific game of hurling last Sunday to open the Munster Championship was no consolation to Tipperary who saw their tenure in this year's championship ambushed by the Rebels first time of asking in their quarter-final clash in Semple Stadium, Cork winning a pulsating tie 2-27 to 1-26.
Commiserations to the Tipp team who are out of Munster now but are still very much in the All-Ireland championship, a championship in which they will have a significant say and exert a huge amount of influence in over the coming months.
Again, like before much will be commented on what happened to Tipp but All Ireland winners don't become a lesser team overnight and the terrific group of players within the Tipp camp will no doubt re-energise each other and with their management team find the formula that will get the wheels back on track in the weeks ahead. So what is needed outside the group is for the Tipp faithful to remain calm, patient and above all else continue to be the tremendous supporters they are and row in behind the team in proud Premier fashion, not getting disheartened but remaining positive and upbeat; Sunday may be no more than a chink in the armour.
Since 2000, Tipp have  beaten Cork in league and championship 3 times – 2009, 2014 and 2016 while Cork have also beaten Tipp 3 times in both competitions, 2005, 2010 and 2017 as we have recently witnessed. Interestingly, each Cork league win in those years was by one point.
There is still though the primary function of retaining Liam MacCarthy and that has to be addressed in small steps, each step one at a time. If Tipp don't play again until July 1st it will only be the second time since Clare beat us in 1994 Championship (May 29th) that Tipp don't play championship hurling in June.
The last time was in 2010 when we beat Wexford in the qualifiers on July 3rd, at Thurles, after losing to Cork, in the Munster Championship, at Pairc Ui Chaoimh on May 30th of that same year. Therefore, it's a percentage game now, small are the margins yet great are the rewards. If Tipp hopefully do reach the 2017 hurling summit, then what has gone before will fail away into insignificance and perhaps be recalled as the best thing to happen. With that in mind let's afford space for the team and management to breathe and allow sanctuary where they should be left to their own surroundings to navigate safe passage from the current choppy water which, we hope, temporarily at least beached the Premier ship.
John McGrath (Loughmore-Castleiney) was Tipp's goal scorer on Sunday ending up with 1-1 while Michael Breen (Ballina) with 0-6 from play and Seamus Callanan (Drom & Inch) also with 0-6 (4f) were Tipp's top scorers. In all Tipp had ten scores over the seventy odd minutes to Cork's eight.
Best wishes to Cathal Barrett (Holycross-Ballycahill) for a speedy recovery after he picked up an unwelcome knee injury late into the second half.
Next up for Tipp is an opening fixture on the qualifier route more than likely on July 1st as previously mentioned, with that date to be confirmed later.
CELTIC CHALLENGE
The Bank of Ireland Celtic Challenge continued last week with mixed fortunes for the Tipperary teams in round 3 action.
East Cork hosted South Tipperary in Midleton on Wednesday last in a game where goals proved to be decisive. East Cork opened brightly and led by 1-5 to 0-2 after 15 minutes. With a strong wind at their backs the East Cork side dominated the remainder of the half and led by 2-10 to 0-4 at half time.
The second half opened evenly with both sides exchanging points until East Cork pounced for their third goal. The south Tipp lads rallied well with four points from Aidan Griffin (Éire Óg Annacarty-Donohill) and one from Josh Ryan (St. Mary's) but try as they might South Tipperary couldn't get through for much needed goals and the game finished with a seven point victory for a talented East Cork side, 3-16 to 0-18. Aidan Griffin received the best and fairest award for South Tipperary.
South Tipperary's next game is against Limerick South/East on Saturday next May 27th at 2:30pm in the Gaelic Grounds Limerick.
In Portlaoise, Mid/North Tipperary defeated Laois 5-21 to 1-3 also on Wednesday last. Rhys Shelly (Moycarkey-Borris) was named as the "Best and Fairest" player in this match.
The next game for Mid/North Tipperary is in Nenagh also this Saturday, May 27th at 2:30pm against Galway McDonagh.
COUNTY FIXTURES
Congratulations to Moyle Rovers and Clonoulty Rossmore winners of their respective Tipperary Water County U21 'A' and 'B' Football Finals which were played in Leahy Park Cashel last Saturday.
In the 'A' Final Moyle Rovers had the edge over Galtee Rovers-St Pecaun winning that by a single score 3-12 to 2-12, while in the 'B' final Clonoulty-Rossmore saw off the Cahir challenge 1-11 to 07.
This week there is plenty of action all across the county as the club scene gears up for round 2 of senior championship action. This Wednesday night round 2 of the Tipperary Water Senior Football and Intermediate Hurling Championships take place. While a busy weekend gets under way on Friday night with the first match in round 2 of the Tipperary Water Senior Hurling Championship going ahead. This in turn will be followed on Saturday and Sunday with remaining Senior and Intermediate fixtures as well as action in the Tipperary Water Seamus Ó Riain Cup.
For a full list of fixtures and results please check the Tipperary GAA website https://tipperary.gaa.ie/ or the fixtures section in your local newspaper.
NEW COUNTY CLUBS DRAW
The first draw in the new Tipperary GAA Clubs Draw will take place on Friday week, June 2nd in Glasheen's Holycross. Celebrating 30 years this new draw offers a €500,000 prize fund for the coming draw year. Starting with the May Star Prize of a Renault Kadjar or €30,000 in association with local Renault dealer, Cleary Motors, Loughtagalla, Thurles and second prize of a Skoda Octavia or €15,000 in association with local Skoda dealer, Ryan Motor Power, Powerstown, Clonmel, there are wonderful prizes to be had each month..
LOYALTY CARD
Tipperary GAA has recently launched a loyalty CashBack Card which as a Tipperary supporter each individual that registers is doing their small bit in support of the county cause. Loyalty cards were sent out with club draw receipts to all members and as there is no charge in registering you can opt in immediately. If anyone who doesn't have a loyalty card and flyer please call to Lár na Páirce to pick up one. Register as per details on the CashBack flyer. To activate the card, holders must complete the registration and then please email, post or drop off your registration details to Lar na Páirce, Slievenamon Road, Thurles or secretary.tipperary@gaa.ie
TIPPERARY SUPPORTERS CLUB GOLF CLASSIC
Congratulations to the winners and all those that took part in the annual Tipperary Supporters Club Golf Classic which was held in Nenagh Golf Club last Friday. Once again the Classic was a tremendous success and thanks to the Nenagh Club for ensuring another memorable day was had by all.
COUNTY LONG PUCK
The County Long Puck has been fixed for Saturday, June 10th. Senior participants wishing to take part should register at secretary.tipperary@gaa.ie or dinny.maher.gda.tipperary@gaa.ie before May 31st.
1887 ALL-IRELAND FINAL RE-ENACTMENT
Clubs that had representations on the first All-Ireland winning team and requested to be present at a meeting in Thurles Sarsfields Centre next Friday, June 2nd at 8pm for a meeting to help finalise and plan details in relation to the re-enactment of the first ever All-Ireland hurling final (1887) which will take place in Thurles on Saturday, July 1st. The organising committee are especially interested that descendants of the players and officials would take part and ensure that this re-enactment is as true to its origin as it can be by having direct descendants of those that were involved with the first All-Ireland actually take part and play on July 1st next.
If you are a descendant you are invited to please come along to next week's meeting in Thurles. For further information contact Johnny Enright 087 6374210 or Liam Ó Donnchú liam.odonnchu.oifigeach@gaa.ie to help ensure the Premier County is appropriately represented in this most unique event.
TIPPERARY SUPPORTERS CLUB 2017 MEMBERSHIP
Congratulations to the following five people each of whom won a pair of stand tickets for the Munster Senior Hurling Championship Quarter Final, Tipperary v Cork last Sunday, courtesy of Tipperary Supporters Club, as drawn among 2017 paid up adult members – Joe Conroy, c/o Jackie Shanahan, Limerick Road, Roscrea; Noreen Ayres. 3 Linton Place, Kilkenny; Noreen Brereton, Ballyloughan, Cloghan, Birr; Pat Reidy, Tincurry, Ballylooby, Cahir and Siobhan Verdon, Ballinahow, Tipperary Town.
Supporters can join on line now on tippsupportersclub.com/join by credit card or debit/laser card. Membership is €40 per person. Also on the website details are available of the direct debit facility; as the Club is run on a completely voluntary basis it would be a great help if members could join by direct debit.
We are encouraging members to switch to Direct Debit payment by offering a reduced charge of €30 for all Direct Debit members in 2017. It's easy to sign up for Direct Debit, just download the two-page form from the Tipperary Supporters Club website at http://www.tippsupportersclub.com/join/ fill it out and send it to Jim Reidy at the address below.
If joining by post please send a cheque or postal order for €40 payable to Tipperary Supporters Club to Jim Reidy, 13 Castleknock Close, Dublin 15 (086-3580718, email: info@tippsupportersclub.com ) All proceeds from membership go towards the preparation and training of the Tipperary Senior Hurling Team.
FRIENDS OF TIPPERARY FOOTBALL
The Friends of Tipperary Football membership for €20 enters each supporter into the following draws: 2 All Ireland Final Football tickets 2017; 2 All Ireland Final Hurling tickets 2017; 2 Tickets for each Tipperary Senior Football Championship matches 2017; 2 All Ireland Club Final tickets 2017 and 2 National Football League tickets for each Tipperary League match in 2017.
Membership is also available online through the Friends website www.friendsoftipperaryfootball.com and there is also a link on the Friends Facebook page.
TIPPERARY GAA SCENE
Information concerning all areas in the GAA will appear in this section in the future. If you wish to include any item of interest in future articles, please e-mail pro.tipperary@gaa.ie on or before 3.00pm on Monday. Visit the Tipperary GAA web site at http://tipperary.gaa.ie to keep up to date with all the latest news in Tipperary GAA circles.