Tipperary GAA Scene – Thursday June 8th 2017
By PRO Joe Bracken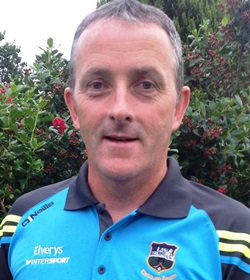 MUNSTER SENIOR FOOTBALL CHAMPIONSHIP
All roads lead to Páirc Uí Rinn this Saturday evening, June 10th, as Tipperary travel to play Cork in the Munster Senior Football Championship Semi-Final with a 5pm throw-in.
This latest renewal of recent rivalry evokes terrific memories of a fantastic day last year when the Tipperary footballers catapulted themselves into the spotlight with a famous 3-15 to 2-16 victory over the Rebels in Semple Stadium. From there on their open and attractive brand of football earned the plaudits of many throughout the season and has influenced other counties in adopting a similar approach this year.
However, Cork will be far more alert this time of asking and will be very much aware of the Premier threat and will be more than willing to put a dent in Tipperary's ambition of reaching the final for a second successive year. Of course another factor hopefully playing in the Cork mind-set will be the prospect of possibly playing the Munster Final should they win in the soon to be unveiled Páirc Uí Chaoimh.
That will be the furthest thought on Tipperary minds as the primary focus will be on winning first and building on the league success earlier in April. The time for asking questions can come later in relation to the next game and venue. We send best wishes to the side captained by Brian Fox (Éire Óg Annacarty-Donohill) and their management team of Liam Kearns, Shane Stapleton and Paul Fitzgerald.
The referee will be Ciaran Branagan (Down).
Ticket details are as follows; Adult Pre-Purchase is €15.00 and are available in selected SuperValu and Centra stores as well as online at http://gaa.tickets.ie
Juveniles/U-16: Free. Student/Senior Citizens receive a €5.00 concession on full price adult tickets with valid I.D. prior to entry. Pre-Purchase Pricing ends at midnight on June 9th.
MUNSTER MINOR HURLING CHAMPIONSHIP
Tipperary will play Cork in the Electric Ireland Munster Minor Hurling Championship Semi-Final in Semple Stadium on Thursday June 29th at 7:30pm. The referee will be Rory McGann (Clare).
The winners will play either Clare or Limerick in the Munster Final on Sunday July 9th.
MUNSTER U21 HURLING CHAMPIONSHIP
Tipperary will play Limerick in the Bord Gais Energy Munster Under 21 Hurling Championship Quarter-Final in the Gaelic Grounds, Limerick on Thursday June 22nd at 7:30pm. The winners will have a home Semi-Final fixture against Clare on July 12th.
U21 HURLING INTER-COUNTY CHALLENGE
Tipperary played Cork in Clonmel in an U21 challenge on Monday evening last and despite the terrible weather conditions Tipperary came out on top with a 0-24 to 1-13 win.
REFEREE
Best wishes to Fergal Horgan (Knockavilla Donaskeigh Kickhams) as he takes charge of the Leinster Senior Hurling Championship Semi-Final between Wexford and Kilkenny on Saturday evening next.
CELTIC CHALLENGE
In the Bank of Ireland Celtic Challenge last week the final group rounds were completed. On Wednesday in Cappoquin South Tipperary beat West Waterford on a score line of 3-16 to 1-13 with goals coming from Aidan Griffin (Eire Óg, Annacarty-Donohill), Stephen Grogan (Cahir) and Tomas Vaughan (Skeheenarinky). Stephen Grogan also received the Best and Fairest award.
That was South Tipperary's final game in the group stage of the competition. On the basis of results and score lines to date South Tipperary have been seeded in Division 1 for the concluding stage of the competition.
So in the Celtic Challenge Division 1 – Corn Michael Hogan – Preliminaries (Quarter-Final) – in Carriganore (Waterford IT Complex) this Saturday, June 10th at 12pm, South Tipperary take on Kilkenny Amber, best wishes to South Tipperary in this fixture.
Elsewhere, in last week's final group match Mid/North Tipperary went down by 4 points to Galway Maroon, with the Westerners winning 4-12 to 1-17 at the end of play. Stephen Kirwan (Burgess) scored the goal for Mid/North while his colleague Kevin McCarthy (Toomevara) was named as Best and Fairest player.
Despite the loss and also based on results to date, Mid/North Tipperary have made the knockout stages in Celtic Challenge in Division 2 – Corn John Scott – Preliminaries (Quarter-Final) also this Saturday, June 10th where they will take on South/East Clare with time and venue yet to be confirmed. Best wishes also to Mid/North in this fixture.
COUNTY FIXTURES
There were some fixtures played in the Tipperary Water County Hurling and Football Leagues over the weekend. This Sunday, June 11th there are more fixtures down for decision in the Tipperary Water County Football Leagues.
For a full list of fixtures and results please check the Tipperary GAA website https://tipperary.gaa.ie/ or the fixtures section in your local newspaper.
NEW COUNTY CLUBS DRAW
The first draw in the new Tipperary GAA Clubs Draw will take place this Friday night, June 9th in Glasheen's Holycross. We are asking all clubs to take advantage of this extra week to target at least 6 new members and help increase the overall membership.
Last year we arrested the slide of the previous five years (during the economic downturn) and increased membership by 300. When we agreed to put the first draw back one more week it was for the purpose of giving every club a chance to at least retain their membership. If this happens and some clubs increase we will achieve our goal and make our 30th draw another success. Looking forward to all our clubs playing their part this week
Celebrating 30 years this new draw offers a €500,000 prize fund for the coming draw year. Starting with the May Star Prize of a Renault Kadjar or €30,000 in association with local Renault dealer, Cleary Motors, Loughtagalla, Thurles and second prize of a Skoda Octavia or €15,000 in association with local Skoda dealer, Ryan Motor Power, Powerstown, Clonmel, there are wonderful prizes to be had each month.
COUNTY LONG PUCK
The County Long Puck goes ahead this Saturday, June 10th at 11am at Fairy Mount Farm, on the site of Bike Park Ireland in Knockshegowna, by kind cooperation of the owners.
As the closing date was last week for senior participants, all Bord na nÓg divisions are asked to have their U16 representative ready and available for Saturday. Directions for Bike Park Ireland, Fairy Mount Farm, Ballingarry, Knockshegowna (details, map etc.) can be found on Bike Farm Ireland Website. Participants should gather no later than 10:30am and best wishes to all on the day.
TIPPERARY SUPPORTERS CLUB GOLF CLASSIC
Tipperary Supporters Club held another successful Dublin Corporate Golf Classic event at Edmonstown Golf Club Rathfarnham last Thursday with special thanks to event sponsors Mater Private.
The following were the prize winners; 1st – Stanley McAdam, 2nd – Invesco, 3rd – Mater Private, 4th – Acumen Trust, 5th – Acorn Life and 6th – OSG Vericlaim. Nearest the Pin – Daniel Maher – Ulster Bank; Longest Drive – Charlie Carroll – A and L Goodbody and Hole in one on 8th – Colin Costello – O'Callaghan Hotels.
The Supporters Club wish to thank all for their support again this year.
LOYALTY CARD
Tipperary GAA has recently launched a loyalty CashBack Card which as a Tipperary supporter each individual that registers is doing their small bit in support of the county cause. Loyalty cards were sent out with club draw receipts to all members and as there is no charge in registering you can opt in immediately. If anyone who doesn't have a loyalty card and flyer please call to Lár na Páirce to pick up one. Register as per details on the CashBack flyer. To activate the card, holders must complete the registration and then please email, post or drop off your registration details to Lar na Páirce, Slievenamon Road, Thurles or secretary.tipperary@gaa.ie
POST PRIMARY STATE EXAMINATIONS
Best wishes to all who will be starting their leaving and junior certificate state examinations this Wednesday June 7th.
TIPPERARY SUPPORTERS CLUB 2017 MEMBERSHIP
Supporters can join on line now on tippsupportersclub.com/join by credit card or debit/laser card. Membership is €40 per person. Also, on the website details are available of the direct debit facility; as the Club is run on a completely voluntary basis it would be a great help if members could join by direct debit.
We are encouraging members to switch to Direct Debit payment by offering a reduced charge of €30 for all Direct Debit members in 2017. It's easy to sign up for Direct Debit, just download the two-page form from the Tipperary Supporters Club website at http://www.tippsupportersclub.com/join/ fill it out and send it to Jim Reidy at the address below.
If joining by post please send a cheque or postal order for €40 payable to Tipperary Supporters Club to Jim Reidy, 13 Castleknock Close, Dublin 15 (086-3580718, email: info@tippsupportersclub.com ) All proceeds from membership go towards the preparation and training of the Tipperary Senior Hurling Team.
FRIENDS OF TIPPERARY FOOTBALL
With Tipperary out in the Munster Football Championship on Saturday week, the Friends of Tipperary Football membership is an ideal way of supporting the team. For €20 membership it enters each supporter into the following draws: 2 All Ireland Final Football tickets 2017; 2 All Ireland Final Hurling tickets 2017; 2 Tickets for each Tipperary Senior Football Championship matches 2017; 2 All Ireland Club Final tickets 2017.
Membership is also available online through the Friends website www.friendsoftipperaryfootball.com and there is also a link on the Friends Facebook page.
TIPPERARY GAA SCENE
Information concerning all areas in the GAA will appear in this section in the future. If you wish to include any item of interest in future articles, please e-mail pro.tipperary@gaa.ie on or before 3.00pm on Monday. Visit the Tipperary GAA web site at http://tipperary.gaa.ie to keep up to date with all the latest news in Tipperary GAA circles.