Tipperary GAA Scene – September 29th 2021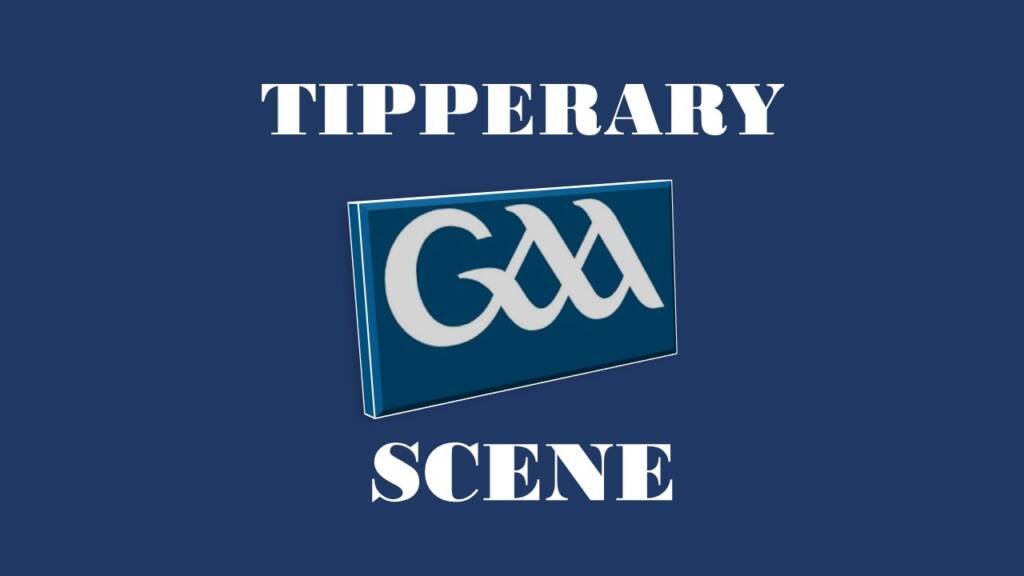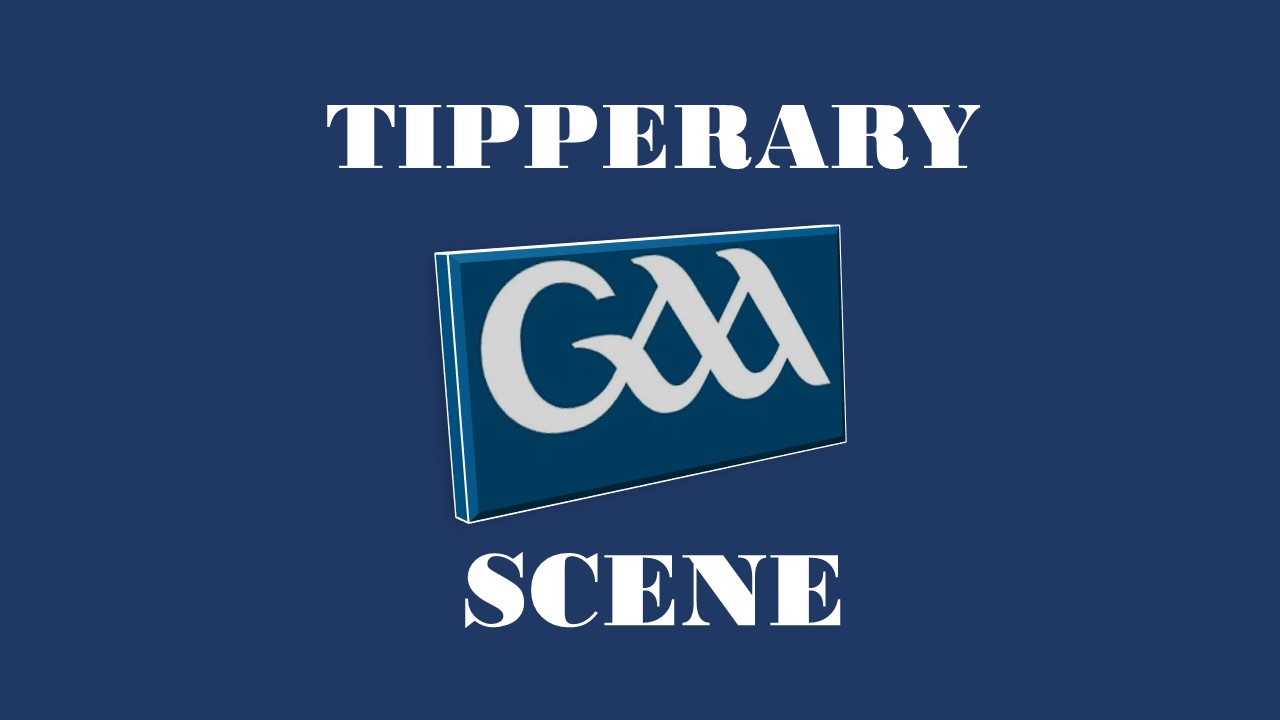 FBD Insurance County Championships
Last weekend saw the concluding rounds of the Senior Hurling, Seamus Ó Riain Cup and Intermediate hurling championship group stages and we now know the teams who have progressed to the knockout stages of the various competitions. The teams who will battle it out to avoid relegation are also now decided. The County CCC met last Monday evening and the various draws were conducted and are as follows:
FBD Insurance County Senior Hurling Championship Preliminary Quarter Final
Killenaule v Loughmore-Castleiney – Friday October 8th @ 7.30pm in Semple Stadium
FBD Insurance Intermediate Hurling Preliminary Quarter Final
Cappawhite v Moneygall – Sunday October 10th @2pm in Holycross
Senior Hurling Relegation Semi Finals
Moycarkey Borris v Roscrea Sunday – October 10th @ 2pm in Templemore
Eire Óg Annacarthy v Holycross-Ballycahill – Saturday October 9th @ 3pm in Clonoulty
Seamus Ó Riain Relegation Semi Finals
Lorrha-Dorrha v Newport – Saturday October 9th @ 3pm in Nenagh
Burgess v Sean Treacy's – Sunday October 10th @ 3pm in Templederry
Intermediate Hurling Relegation Semi Finals
Cappawhite v Moyle Rovers – TBC
Ballybacon Grange v Arravale Rovers – Saturday October 9th @ 3pm in Cahir
Weekend October 17th 
Seamus Ó Riain Cup Quarter Finals
Templederry Kenyons v Gortnahoe-Glengoole
Clonakenny v Cashel King Cormacs
Killenaule v Kiladangan
Thurles Sarsfields v St Marys
This weekend will see the concluding rounds in Senior and Intermediate Football take place and with many of the groups still to be decided there are sure to be some very entertaining games. Tickets for all the games are now available to purchase via the Tickets section of the Tipperary GAA website at a cost of €10 each. Please remember to purchase your tickets before arriving at the venue you are going to so as to avoid cash being taken at the gate.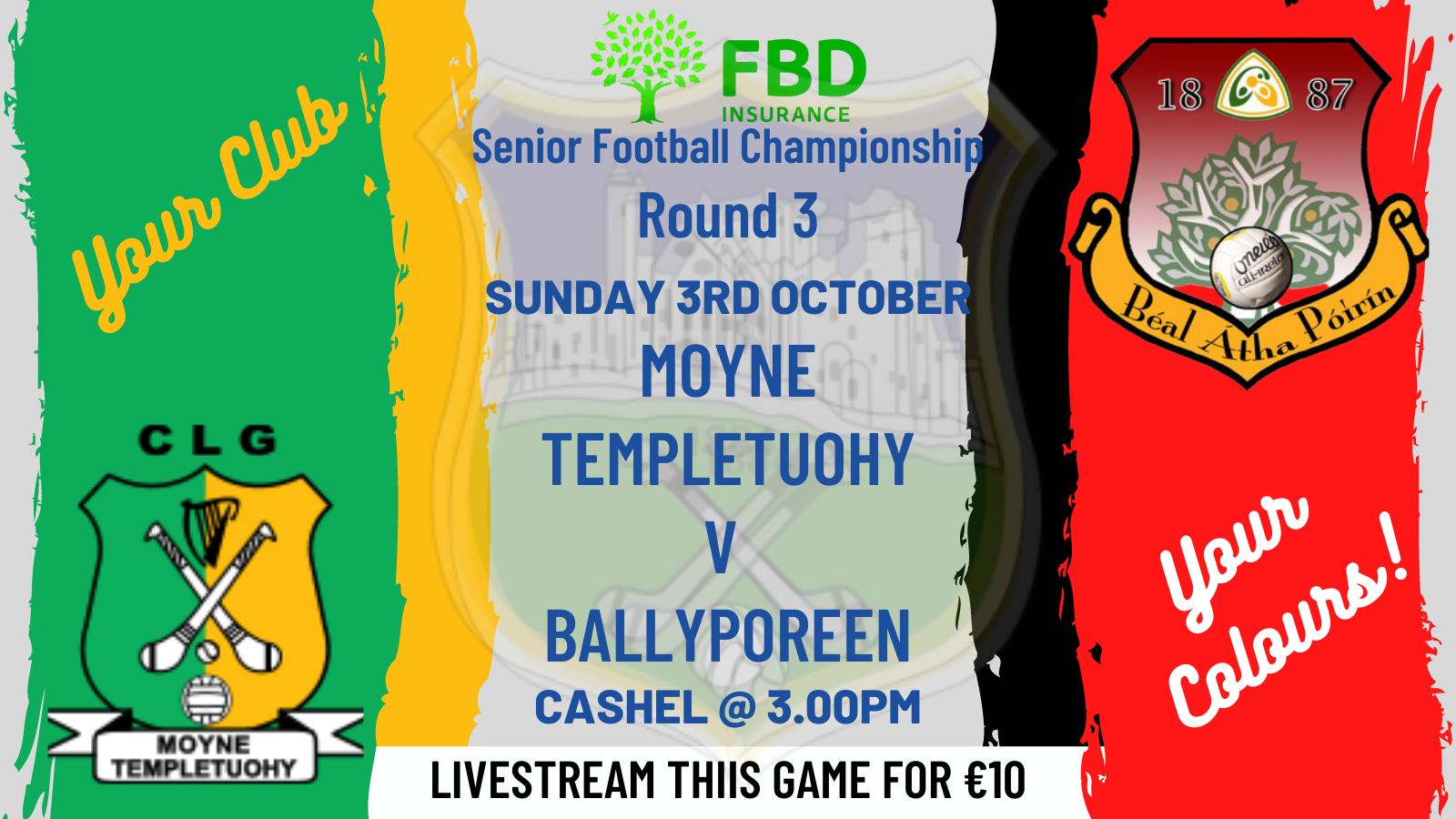 This weeks featured livestream game on Tipperary GAA TV is the clash of Moyne-Templetuohy and Ballyporeen which takes place in Cashel on Sunday at 3pm. You can purchase your digital pass to view this game via the following link: https://page.inplayer.com/TipperaryGAA/
Also taking place this weekend is the final of the FBD Insurance County Under 19 B Hurling Championship. This game pits Mid Champions Holycross-Ballycahill against their West counterparts Eire Óg/Sean Treacy's in a game that is scheduled to take place in Clonoulty at 2pm on Saturday and once again tickets for this game can be purchased via the tickets section on the Tipperary GAA website.
---
Tipperary Clubs Draw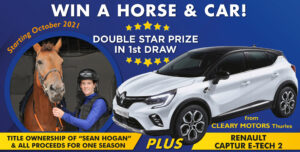 The first draw of the 2021 – 2022 Tipperary Clubs Draw will now take place on Friday October 8th, so if you or someone you know has not yet joined up you still have lots of time to do so. There are a number of ways you can join. You can contact your local club who will arrange to have you signed up, you can join via the following link: https://tipperary.gaa.ie/tipperary-gaa-clubs-draw/ or you can join by contacting Siobhan Barrett in the Tipperary GAA Office on 0504-22702.
The new Tipperary Clubs Draw has a total prize fund of €500,000 up for grabs with a Star Prizes in the first Draw being a brand new car plus title ownership of a race horse for one year.
A Car worth €15k or cash alternative each month – 11 cars to be won, Cash prizes to be won every month as well as Lucky lotto number winners throughout the draws and remember that up to 70% of funds go back to local clubs – supporting your local club.
---
Michael Hogan Festival of Football
The Michael Hogan Football Festival sponsored by The Friends of Tipperary Football was launched last night at a reception in the Horse & Jockey. In excess of 90% of clubs have entered teams in both the U11 and U13 tournaments and with some clubs entering 2 and 3 teams we have close to 100 teams entered in both competiti0ns.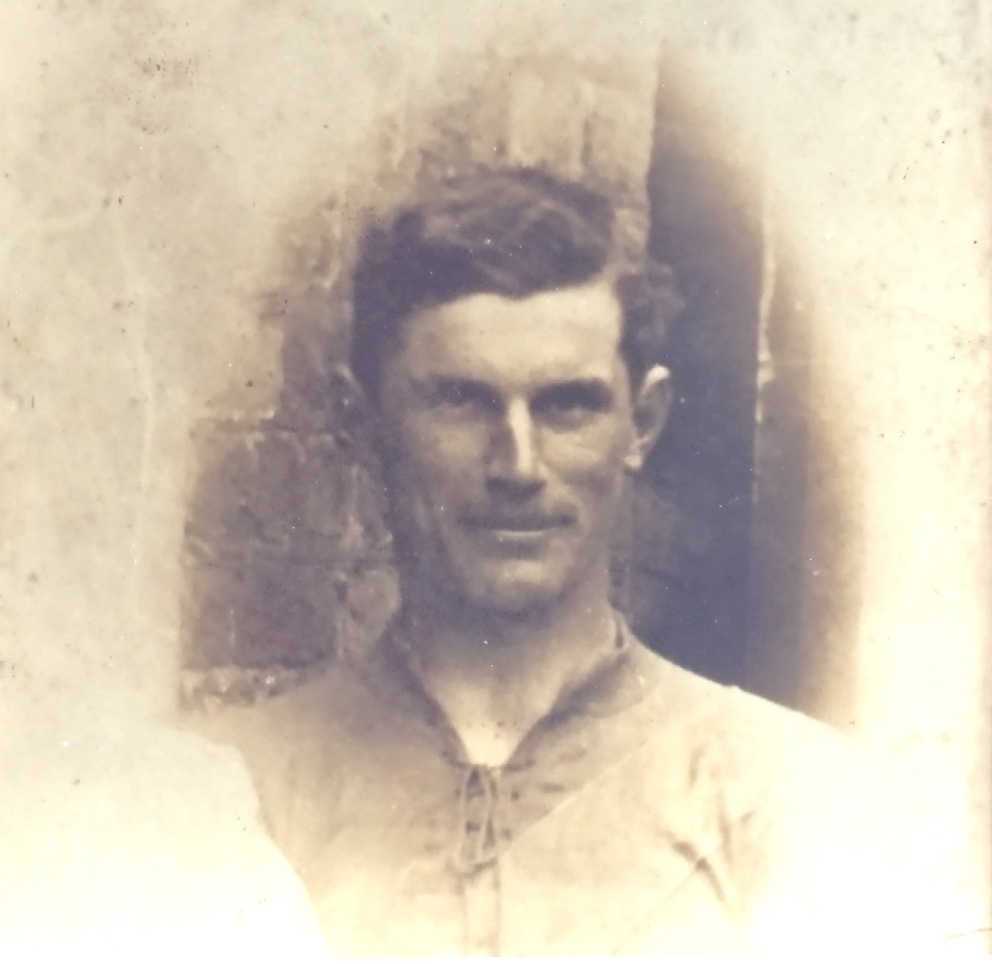 The Michael Hogan Festival of Football will be run as follows:
U11 competition on Saturday October 16th
U13 competition on Saturday October 30th
Format similar to Peil competition with each location hosting their own independent competition.
Each venue to host eight clubs with two groups of four
Teams will be graded.
When the host clubs are finalised, why not come along to the venue nearest you on either the 16th October, the 30th October or both, enjoy the atmosphere, meet some current Tipperary footballers but more importantly watch the stars of the future displaying their skills in what promises to be a wonderful celebration of football around the county
---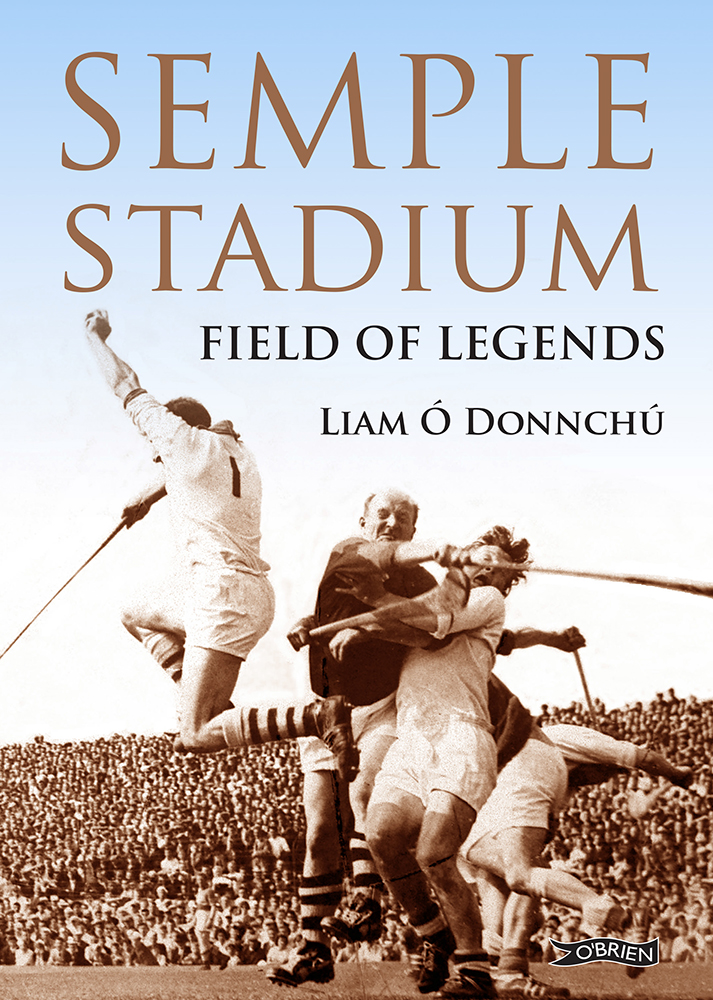 Semple Stadium Field of Legends
Semple Stadium field of legends written by Liam Ó Donnchú is now on bookshelves across the county and is a must buy for all GAA enthusiasts.
This illustrated history of the stadium begins in 1884 when GAA was first founded in Thurles and chronicles the opening of Semple Stadium in 1910 right up to the present day, featuring all its great days: from the development of the stadium, major games that were played there, significant players and managers, broadcasting from the grounds, the work of the groundsmen, other events held at the stadium over the years, personal recollections and accounts of this place where legends are made. Richly illustrated by archive photographs and ephemera.
---
John West Féile na nGael 50th Anniversary Celebrations
To commemorate and celebrate the 50th anniversary of Féile na nGael, all clubs that participated in the 2021 John West Féile were entered into a draw to have the chance to play in Croke Park, with games taking place over three days, October 23rd, 24th, and 25th. These celebrations will be representative of clubs from all 32 counties and organisers are looking forward to welcoming all the lucky winners to Croke Park to what is guaranteed to be a huge festival of football, hurling and camogie across the three days. Tipperary will be represented in Croke Park by Moyle Rovers GAA Club on Saturday October 23rd when their footballers will play Athy of Kildare at 10am. As with the first Féile na nGael, the values of the competition still remains focused on participation, inclusion, and on making memories as together thousands of young hurlers, camogie players, and Gaelic footballers will celebrate Féile nan Gael reaching its 50th anniversary in 2021. In addition to the games, to mark the 50th anniversary of the first-ever Féile, each club that participated in the 2021 John West Féile was entered into a draw for the chance to win one of 32 sets of McKeever Sports training jerseys. The Tipperary winners were Shannon Rovers camogie club and we extend our congratulations to them.
---
Teneo Sponsorship
It was confirmed last week that Teneo will not be renewing their sponsorship of Tipperary GAA teams once their 3 year term comes to an end later this year. We thank them for their outstanding support of all our inter county teams and to the GAA in general since coming on board in 2019. Tipperary GAA has now embarked on a process to put in place a new jersey sponsorship partner for the 2022 season and beyond. The Tipperary brand is among the strongest in Gaelic Games, as results over recent years have shown. In the past three years, our hurlers won an All-Ireland senior hurling title and U-20 title, while last year also showed the depth of Tipperary as a dual county with our famous Munster football final success. We also have a strong supply of talent coming from underage ranks, while off the field, our players are excellent ambassadors for Tipperary and the GAA. Tipperary, therefore, continues to be an attractive proposition for potential sponsors so we are really confident about the process underway
---
Health and Wellbeing
As a leading national sporting and community organisation, the GAA recognises that it can play a real and important role in supporting the emotional wellbeing of our members and communities.
We can do this by:
Creating a culture and providing activities that support healthy bodies, healthy minds, and healthy clubs
Helping end the stigma that prevents many people from accessing the help they so badly need when in times of distress
Developing resources and tools that help our members better understand the building blocks of positive mental and emotional health
Develop partnerships with organisations and charities such as the HSE, the PHA, Samaritans and Pieta House that we can signpost and direct our members towards in times of need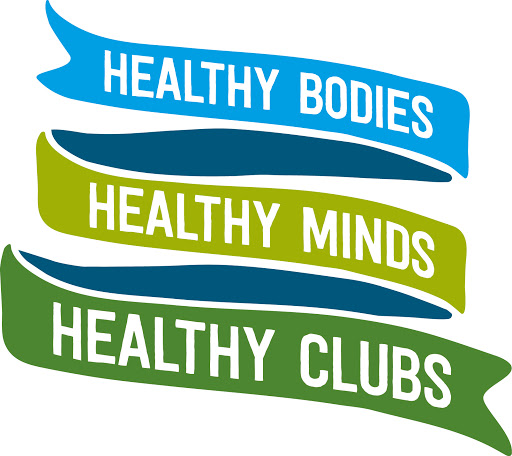 The GAA's Mental Health charter is a policy document that helps clubs develop a culture that supports and promotes emotional wellbeing. The resource is designed to reinforce the GAA's GIVE RESPECT GET RESPECT initiative's positive message and transfer it into the world of mental wellbeing. Available to download above, it outlines a club culture that is inclusive and open and one that holds dear the following values. Make sure your club adopts the charter today – just download the pack from the tab above and contact the Community & Health team community.health@gaa.ie for supporting posters to highlight your good work.
The GAA's 'Play in my Boots' packs aim to de-stigmatise mental health by speaking to players in a sporting language familiar to them. Using the term 'mental fitness' to emphasise the positive nature of our emotional wellbeing, the packs also aim to remind the GAA population that maintaining mental fitness requires work and skill development in the same way as maintaining our physical fitness does.
These packs, developed in consultation with St. Patrick's Foundation, Dublin, are designed especially for players from 12+ and coaches and contain useful information which can help us all work through the stresses we all experience, or maybe help someone else work through theirs.
The GAA and Samaritans have come together to offer greater emotional support for people who are struggling to cope across the 32 counties.
The announcement in April was the first of a series of initiatives undertaken by the GAA in 2014 to make sure its members have access to emotional support in these challenging times. For Samaritans, working with the country's largest sporting and community organisation offers the opportunity to extend its important work even further across the country and into every parish on the island of Ireland.
The partnership aims to encourage people who are going through a difficult time to seek help, while also tackling the stigma associated with mental health problems. In doing so, both organisations hope that people will access the round the clock support provided by Samaritans.
While Samaritans' vision remains that fewer people should die by suicide, the charity's callers do not need to be suicidal to pick up the phone. People contact the helpline about everything from depression, relationship and family issues to loneliness, physical and mental health issues, abuse, financial worries and much more.
---
 Tipperary GAA Scene
If there is anything you feel should feature in this column going forward, please feel free to forward it to pro.tipperary@gaa.ie