Tipperary GAA Scene – September 22nd 2021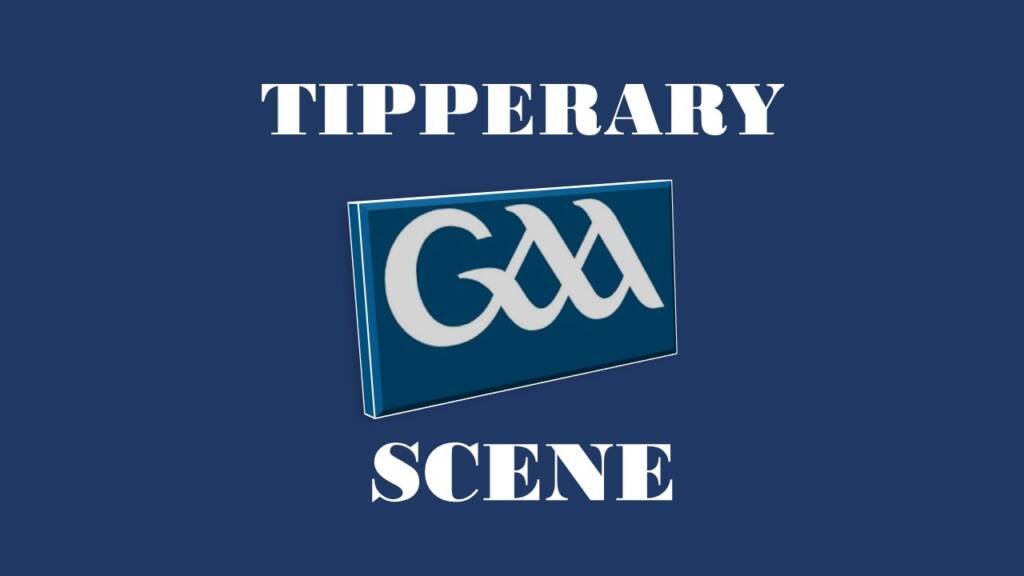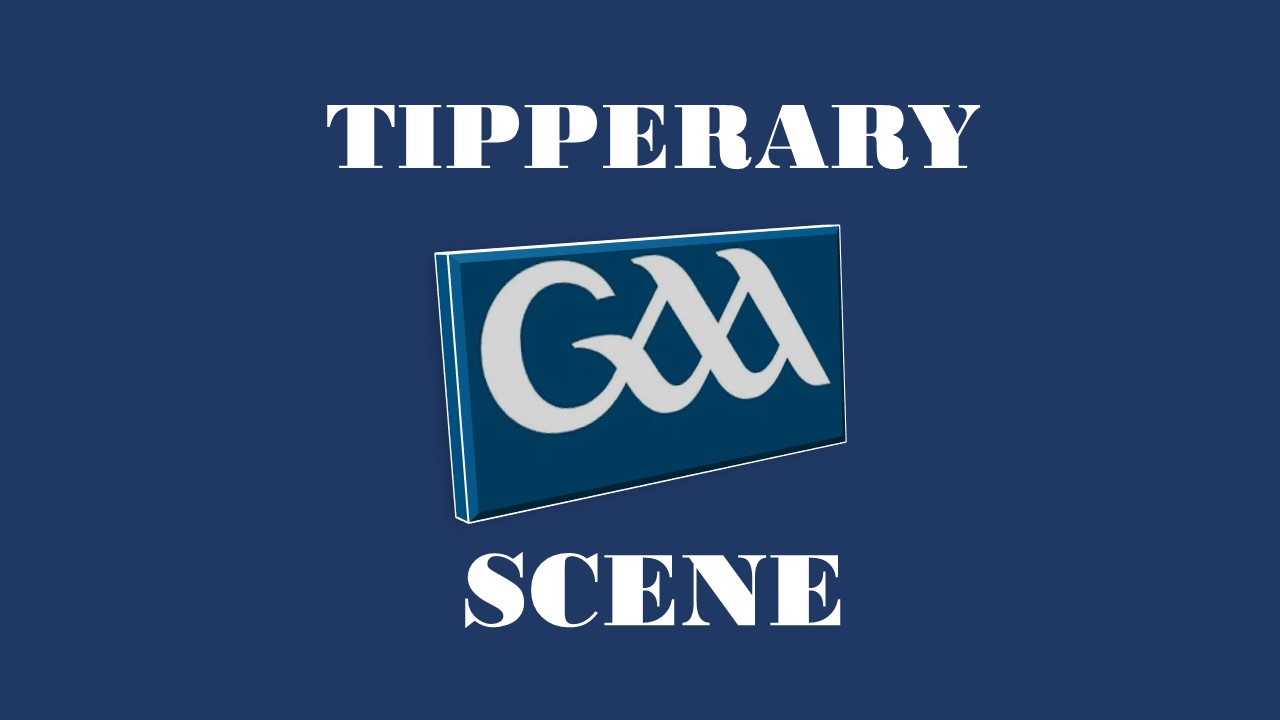 FBD Insurance County Championships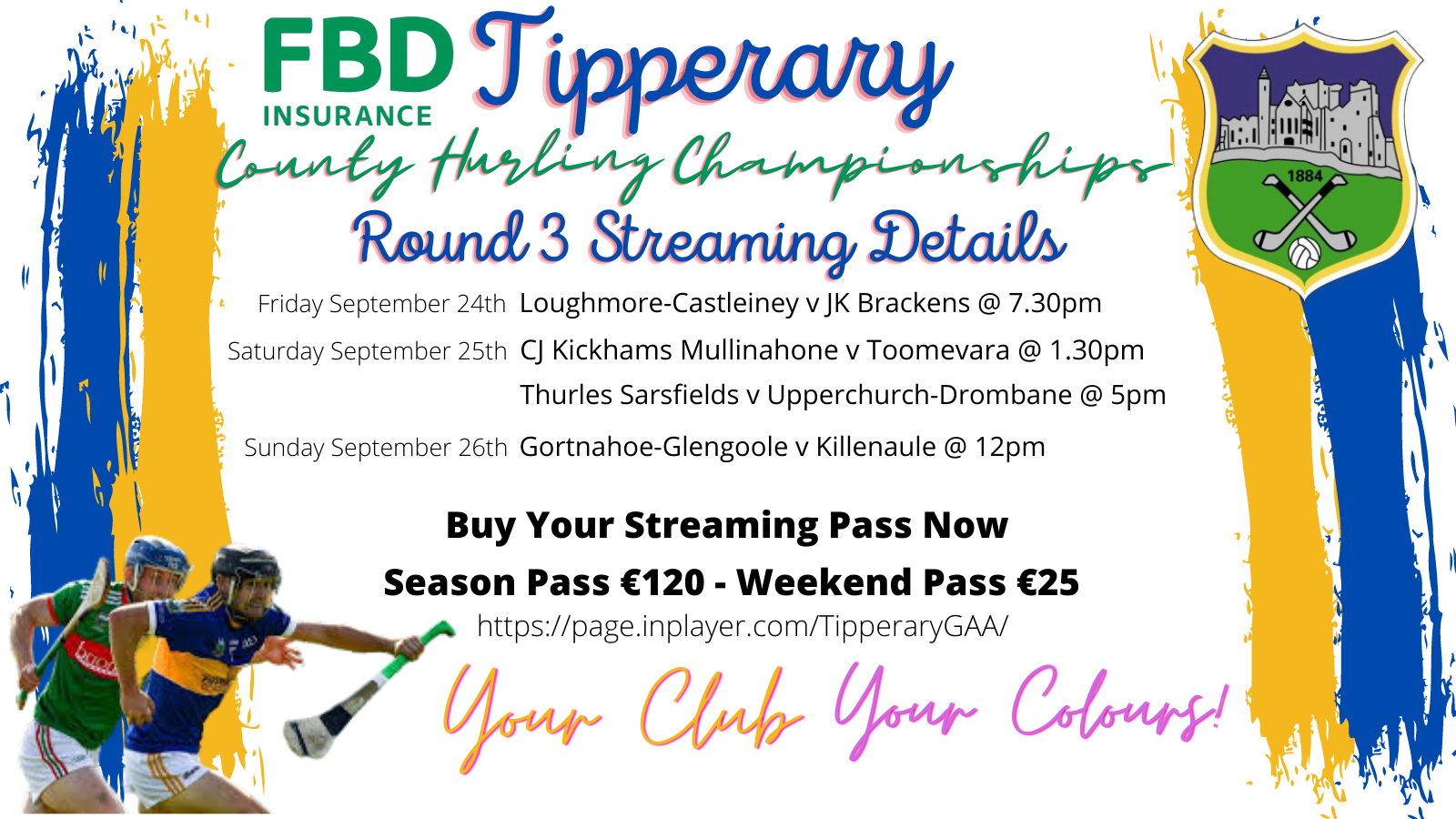 Round 3 of the Senior Seamus Ó Riain and Intermediate hurling championships take centre stage this weekend and with the majority of the groups yet to be decided there is sure to be some very entertaining and keenly contested games. All the games are ticket only games and you can purchase your tickets via the tickets section of the Tipperary GAA website www.tipperary.gaa.ie. Tipperary GAA TV will once again be streaming a number of games and you can access the games via the following link: https://page.inplayer.com/TipperaryGAA/ .
---
Tipperary Minor Football Manager
Tipperary Football Board Management Committee are now inviting expressions of interest from candidates for the position of Tipperary Minor football Manager for 2022 season. The closing date for expressions is 5.00pm on Thursday 30th September and all correspondence is to be sent, by email, to football board secretary James Williams at secretary.football.tipperary@gaa.ie
Nominations received beyond the deadline will not be accepted. It also lies within the remit of the County Committee to identify potential candidates for this role.
Following the closing date for receipt of expressions of interest, candidates will be shortlisted by a selection committee and will then be invited to present to the committee based on the above criteria. Additional information will be provided to candidates prior to interview to assist them in preparing their presentation. Following interview, the preferred candidate will be brought to the Tipperary Football Management Committee for approval and County Committee for ratification.
---
Tipperary Under 15 Football
Tipperary U15 Footballers played Cork U15 on Sunday 19th In Ballylooby .This was a great game with both teams playing great Football. Our Tipperary boys played with a great attitude and massive work rate and showing great football skills were more than a match for the Cork boys. Our backs defended as if their lives depended on it and confined the Cork forwards to few scoring chances and with working the ball quickley out of defense our midfield could feed our forwards with great attacking ball which our forwards took full advantage of scoring great goals and points. This was a massive performance by our boys and bodes very well for the future of Tipperary Football. The final score Tipperary 3-14 Cork 1-7.
---
GAA Strategic Plan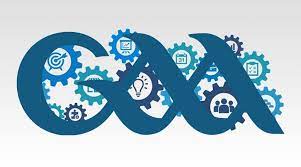 Last week the GAA launching a landmark survey to give all players, members and supporters an opportunity to shape the Association's next five-year strategic plan. For the first time, the Association will use Foireann – its purpose-built membership management system – to send the survey link directly to the e-mail address of every eligible member.  Since April of this year, the Association's Strategic Plan Steering Group chaired by Uachtarán CLG, Larry McCarthy, has been consulting with a wide range of its members and partners to determine broad focus areas and issues.  Over the next 10 days there will be an opportunity for members – across every section of the GAA – to have their say on what they believe are the issues we need to prepare for and what solutions might help us meet those challenges.  The questions in the survey are based on the feedback from a comprehensive programme of research which included surveys and focus groups with players, coaches, officers, other volunteers, and employees at Club and County levels, along with other key GAA stakeholders. The Steering Group wants everyone to have a say in shaping the Association's future has engaged data analytics experts to pinpoint the key themes from the survey which should inform their thinking on the strategic change required.
The group is especially eager to ensure that the views of Club members are reflected in the Association's strategic priorities. All feedback will be reviewed over the course of several workshops the Steering Group will hold this October to create the strategic plan before it is present to An Coiste Bainistíochta for approval. The survey takes approximately 10 minutes to complete and the deadline for completing the survey is 2 p.m. on 24 September.  To access the survey link, visit: https://www.gaa.ie/2021-2026. You can learn more and keep up to date with the planning process at: https://www.gaa.ie/the-gaa/administration/strategic-plan
---
2021 M Donnelly Poc Fada Finals
The 2021 M. Donnelly GAA All-Ireland Poc Fada Finals were officially launched by Uachtarán Chumann Lúthchleas Gael, Larry McCarthy and Uachtarán an Cumann Camógaíochta, Hilda Breslin in Croke Park last week. This is a very special year for a number of reasons. Firstly, this year's competition is an invitational event which will see recent competitors return to Annaverna Mountain in what promises to be a highly competitive field. Also, it marks 60 years of All-Ireland Poc Fada competition.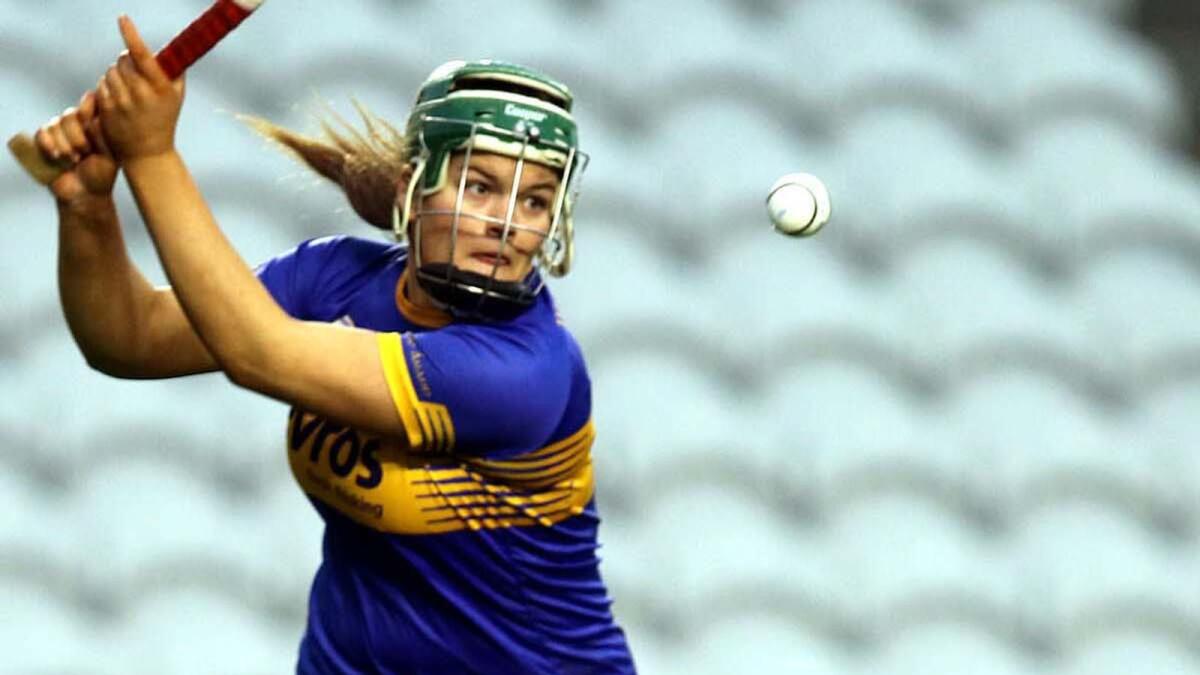 Additionally, the organisers celebrate and honour the very first Poc Fada which saw six Under 16 boys compete on Annaverna Mountain. We will be delighted to welcome the four surviving players and their family members this year.The committee will also be taking the opportunity to remember two great Poc Fada loyalists – former champion Oliver Gough (1964) and Lester Ryan who championed the competition at every level and was responsible for so many others driving this unique event. We look forward to welcoming their families to Annaverna. The unique Gaelic Games contest promises to be a great day of sport. Tipperary will be represented in this years event by Áine Slattery and we wish her every success.
---
Health and Wellbeing
European Week of Sport is being celebrated across Europe from 23rd-30th September.  This week is aimed at everyone regardless of age, background or fitness level , the concept is to encourage us all to be active and to  exercise on a regular basis.  Being active leads to increased confidence and health benefits including physical and mental wellbeing.  To coincide with this event the GAA invited all clubs to participate and run  an event  for the wider community and support GAA National Inclusive Fitness Day on September 23rd .   The Tipperary Health & Wellbeing Committee are encouraging clubs if they have not registered for this event to consider organizing or at least put a plan in place to run an event for the wider community with Inclusivity as its theme over the coming weeks.
GAA/Jigsaw One Good Coach training is now available online.  Jigsaw offers a suite of workshops aimed at supporting young peoples mental health and provides guidance for parents, guarding and adults who work or volunteer with young people.  This course would be of great benefit to coaches and club members.  Visit www.jigsaw.ie
Handball
GAA Handball have release an updated National Clár for the remainder of 2021.  This followed the Government announcement on August 31st of restrictions being eased for indoor sports, before further clarification was received by Sport Ireland which was released on September 10th.
In summary, from September 20th:
Training and competitive play (capacity limit of 100 people) may resume as normal for those who have proof of immunity to Covid-19.
If all participants are not immune, then training/competitions is permitted in pods of 6.
October 22nd is the date when remaining restrictions are expected to be removed.
The CCCC have agreed that due to the time frame that was left to their disposal, only the outstanding games from the 2020 season can be completed this year. This includes the following.
2020 Softball Juvenile Singles Semi-Finals and Finals
2020 4-Wall Adult Singles Finals
2020 4-Wall Juvenile Singles and Doubles Finals
More detailed information on each weekend will be released to county secretaries once the expected restriction that are due to be removed by October 22nd are received.
The Clár covers events at national level, and this does not mean that clubs/counties/provinces cannot run competitions in other grades if they so wish in line with government guidelines.
---
Post Primary Schools Hurling and Football
Details of the upcoming post primary schools competitions were announced in the last few days by Munster GAA and it shows that all competitions with the exception of Harty Cup and Corn Uí Mhuirí, will be run on a straight knockout basis. The first matches will throw in on October 6th with U15 football competitions across the five grades. U16 and a half hurling will follow a week later. Those U19 'A' hurling (Harty) and football (Corn Uí Mhuirí) competitions will have a 'back door' system for any teams that lose in the opening round. It is hoped, once circumstances allow, that all competitions will return to their normal formats in September 2022. The Corn Uí Mhuirí gets underway November 3rd while the Harty Cup is set to get underway on November 10. HARTY CUP (R1 DRAFT FIXTURES): Gaelcholaiste Mhuire an Mhainistir Thuaidh v Hamilton High School Bandon (Winner progresses directly to quarter-final); Ardscoil Rís v Nenagh CBS; Thurles CBS v St Flannans College, Ennis; Blackwater Community School v St Colman's College, Fermoy; St Joseph's Tulla v De La Salle Waterford (Winner progresses directly to quarter-final); Midleton CBS v CBC; Cashel Community School v Our Lady's Templemore.
CORN UÍ MHURÍ (R1 DRAFT FIXTURES): Colaiste na Sceilge v Skibbereen Community School; St Flannan's College, Ennis v Mercy Mounthawk; Highschool Clonmel v St Brendan's, Killarney; Scoil Pobal Rathmore v PS Chorcha Dhuibhne; Clonakilty Community College v Colaiste Chriost Rí; Intermediate School Killorglin v Tralee CBS (Winner progresses directly to quarter-final); Hamilton High School Bandon v Colaiste Choilm Ballincollig. Rochestown has a bye to round two
---
Tipperary GAA Scene
If there is anything you feel should feature in this column going forward, please feel free to forward it to pro.tipperary@gaa.ie