Tipperary GAA Scene – November 24th 2015
by Acting PRO Joe Bracken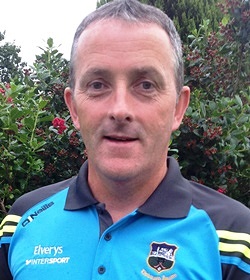 TIPPERARY FIXTURES
The highlight of last weekend was the superb victory by St. Mary's Clonmel in securing the
Clean Ireland Recycling County Minor 'A' Hurling title by defeating Kildangan 2-11 to 0-13 in the final in The Ragg on Saturday afternoon. Congratulations to St. Mary's on the wonderful result for them and it gives a tremendous boost to hurling in Clonmel and South Tipperary following on from Moyle-Rover's success last year. In fact it is also worth noting that this St. Mary's victory coupled with the 2014 success of Moyle Rovers is the first time since the Ballingarry Gaels double of 1994/1995 that the County Minor 'A' Hurling title has been won by clubs from the South Division in consecutive years.
Meanwhile in the Clean Ireland Recycling County Minor "B" Hurling Championship second semi-final Moneygall Clonakenny made their way to the decider seeing off Loughmore Castleiney by 3-17 to 0-15. In the final they will meet Knockavilla Donaskeigh Kickhams.
Congratulations to Clonmel Commercials with their success in the County Adult Football League Premier Division Final in Ardfinnan last Sunday, defeating the host club 1-14 to 0-07.
This Saturday, November 28th, the Clean Ireland Recycling County Minor "B" Football Championship Final goes ahead in Holycross at 2pm between Clonoulty Rossmore and Loughmore Castleiney.
At the same time in Boherlahan, Golden Kilfeacle meet Ballinahich in the Intermediate Hurling League Final.
While over in Cahir also on Saturday at 2pm in the Clean Ireland Recycling County Junior "B" Football Championship Semi-Final, Galtee Rovers St Pecaun take on Clonmel Commercials.
With action also continuing in the divisional U21 hurling championships please check fixtures section for all updates on times and venues in all games across the Premier County.
MUNSTER CLUB FIXTURES
Best wishes to Clonmel Commercials in the AIB Munster Senior Football Championship Final in Mallow next Sunday, November 29th, at 2pm where they will meet Nemo Rangers of Cork. After an excellent semi-final performance there is no reason why Commercials can't go all the way in pursuit of Munster Final success.
The last victory for a Tipperary club over Cork opponents came in 1998 when a Declan Browne inspired Moyle Rovers defeated Bantry by 1-7 to 0-7 in Dunmanway. Declan of course would go on to win an All-Star award that season. Next Sunday will be the fifth Munster final in this grade for Clonmel Commercials and we wish them every success in seeking their maiden victory.
RETIREMENTS
In announcing his retirement to the world last Wednesday, Lar Corbett brought down the final curtain on his inter-county playing career to much acclaim and comment. He will forever be remembered for his stand out contribution in the 2010 All-Ireland Final scoring three goals in Tipperary's 26th final victory. On hearing of his retirement Tipperary Co. Board Chairman said, "For artistry and skill alone Lar Corbett was unique and coupled with a lightening turn of pace he was a defenders worse nightmare when he arrived on the field of play. His contribution to Tipperary hurling since he first arrived on the scene cannot be overstated and I thank him on behalf of all Tipperary people, supporters and board officials alike for the outstanding impact he made in his Tipperary playing career and I wish him well for the future and sincerely hope that the future will be as bright and successful for Lar as was his playing career for Tipperary".
HOGAN JERSEY DISPLAY
During the month of November, the Bloody Sunday exhibit at the GAA Museum in Croke Park will be significantly boosted with additional items on display as the GAA Museum commemorates the 95th anniversary of Bloody Sunday.
As well as an original ticket and the referee's whistle used during the Dublin v Tipperary Gaelic football match, the jersey worn by Michael Hogan on that fateful day will be on display alongside the match ball. The jersey is on loan to the GAA Museum from Tipperary County Museum and the match ball is on loan from the Poitín Stil in Rathcoole, County Dublin. This is the first time that these items are on display in Croke Park.
On 21st November 1920, Dublin played Tipperary in a 'great challenge football match' in Croke Park. Although tensions in the city were high after events of the previous night the match went ahead at 3.15pm. According to eye-witness accounts which suggest that five minutes after the throw-in the stadium was raided by the Crown forces and shooting broke out, the shooting lasting for less than two minutes. In all, 14 people died, including Tipperary player Michael Hogan, and over 80 were injured. Croke Park's Hogan Stand bears his name in his honour.
Last Saturday, Uachtarán CLG Aogán Ó Fearghail and Ard Stiúrthóir Páraic Duffy in a special ceremony at Croke Park before the start of the EirGrid International Rules test between Ireland and Australia walked out onto the Croke Park pitch and to the spot where Michael Hogan was shot and killed to lay a laurel wreath – opposite Gate 41 in his and other victims memories.
EIRGRID INTERNATIONAL RULES
Congratulations to Ciarán McDonald (Aherlow Gaels) on his contribution in Ireland's 56 to 52 win in the EirGrid International Rules Series against Australia AFL last Saturday, November 21st in Croke Park.
HURLING/SHINTY INTERNATIONAL TEST
Congratulations to Patrick 'Bonner' Maher who scored a goal in Irelands win over Scotland in the Hurling/Shinty International Test in Croke Park last Saturday. With the final score reading Ireland 16 (2-1-8) Scotland 14 (2-4-0), it ensured the series ended a draw effectively following Scotland's win on home soil in the first of the two tests on October 24th last.
2016 FÉILE NA NGAEL
The 2016 Féile na nGael will take place in Waterford and Tipperary next June and it will be a tremendous occasion for the county and all involved.
However, the deadline for clubs to register to become a host club is fast approaching. All clubs wishing to enter should complete the application form and return it to Féile secretary Tricia Walsh, c/o Tay Valley Ltd, Stradbally, County Waterford – 083 4410764
The final deadline is November 30th so don't miss out.
POST PRIMARY SCHOOLS
Round 3 of the Dr. Harty Cup took place last week with two wins and two losses recorded for the Tipperary schools in action with the results reading as follows; Our Lady's Templemore 2-14 Rochestown College 2-08; Thurles CBS 2-18 SNTN Doon 0-07; Castletroy CC 0-12 HS Clonmel 0-09 and St Colmans Fermoy 2-14 Nenagh CBS 0-10.
Best of luck to all Tipperary schools in action again this week and for a full round up of this week's fixtures and results please check the Munster website, http://munster.gaa.ie/fixtures/post-primary-schools/
SCÓR NA nÓG 2015/16
The audience in Halla na Féile on Friday night last were certainly entranced by a feast of music, song dance, acting and recitation at the County Final of Scór na n-Óg 2015-2016. Congratulations to all the winners on the night and we wish all these individuals and groups the best of luck in the Munster semi-finals also in Cashel on December 6th next.
The capable Bean an tí on the night was Caoimhe Ní Mheachair from Loughmore who was yet again eloquent and efficient agus dhein sí éacht. Special guest on the night was Tipperary Hurler Paddy Stapleton from Borris Ileigh. He reminded all of his days as a Scór na bPaistí competitor in Rince Seit and he emphasised the importance of taking part and advised the young people against the trend in social media to criticise and take from the achievements of those who contribute in any way to sporting, cultural and social activities.
Paddy presented all the young winners with their medals specially designed to commemorate Éirí Amach na Casca 1916 and the winners were as follows; Rince Foirne – Newcastle; Amhránaíocht Aonair – Borrisoleigh Katie Shanahan; Aithriseoireacht/Scéalaíocht – Nenagh's Éire Óg – Sinéad Long; Ceol Uirlise – Cahir; Léiriú Stáitse Borrisoleigh – Story of W.B. Yeats; Tráth na gCeist – Loughmore Castleiney; Bailéad Ghrúpa – Portroe agus Rince Seit – Newcastle.
TRÁTH NA gCEIST 2015/16
The Tráth na gCeist was held at the interval and 11 teams took part to find a team to qualify for the All-Ireland final of Scór na n-Óg in Killarney in 2016. Congratulations to Loughmore Castleiney who scored very well in the competition and best of luck to them as they prepare with their mentor Murt Ryan to challenge the rest of Ireland in the INEC, Killarney. Thanks to Paddy Kelly our Máistir na gCeist and mile buíochas to all teams taking part.
CLUB HEALTH AND WELLBEING OFFICER
As clubs prepare for their own convention they are asked to note the new position of Club Health & Wellbeing Officer (which has replaced the role of the ASAP Officer).
If your club does not have such an officer in place you are strongly recommended that a suitable individual is recruited at your forthcoming AGM. Please note this is a selected/appointed position rather than an elected one.
Training for all new Club Health & Wellbeing officers will be delivered by your County Health & Wellbeing Committees in 2016, with support from the national committee with further details to follow in the early New Year.
The position is ideally suited for someone with an interest in the area of health and wellbeing (no qualifications are required) while multiple resources have been developed to assist them in their related activities.
MEMORABILIA FAIR
The Annual G.A.A. Memorabilia Fair will be held on Sunday, December 6th, from 12-4pm in Thurles Sarsfields Social Centre and will give customers a chance to browse and search a large selection of match programs, club histories, hurling, football, camogie and handball publications as well as other G.A.A. material. In the pleasant and spacious surroundings of Thurles Sarsfields G.A.A. Centre collectors and sellers are cordially invited to attend this event where it is hoped they will find plenty to interest them. Admission will be €3 with accompanied children free. Sales positions which are free of charge may be booked in advance by contacting Seamus J. King 087 2246245 seamusjking@gmail.com or Liam Ó Donnchú 086 6036547 liam.odonnchu.oifigeach@gaa.ie
CONVENTIONS
The 2015 Convention season is almost upon us with the underage affairs getting the show on the road next Tuesday December 1st with the County Bord na nÓg Convention in The Horse & Jockey Hotel. A break of a week or so then to the first of the senior divisional conventions as on Thursday December 10th the West Convention takes place in Anacarty followed hot on its heels the Mid Convention in Thurles Sarsfields Centre on Friday December 11th. The following Sunday December 13th the South Convention takes place in the Clonmel GAA Centre while the following day, Monday December 14th the North Convention goes ahead in Nenagh Éire Óg Centre. With all the other conventions accounted for all roads lead to the Dome Semple Stadium on Thursday December 17th for the County Convention.
GAA SEASON TICKET
Patrons are asked to follow up on the GAA season ticket renewals which are currently ongoing. There are still tickets available and in advance of an expected last minute rush, you are advised to purchase your tickets promptly to ensure pre-Christmas delivery, Season Tickets must be purchased or renewed prior to December 4th 2015. Please check gaa.ie/seasonticket for further information.
TIPPERARY G.A.A. CLUB, NEW YORK
The County Tipperary Hurling Club New York will hold a Celebration Banquet on Saturday week, December 5th at Mulino's Lake Isle Country Club in New York. Guest of Honour on the night will be Donnacaha O'Dwyer of Borris Ileigh while Special Guests will be fellow Borris Ileigh men, Tipperary Captain Brendan Maher and former star Noel O'Dwyer. Player of the year is Paul Loughnane and Tipperary "Man of the Year" is Tom Woodlock from Two Mile Borris.
For further information please contact; Mike Kennedy, 646 208 3716; Brendan Maher 646 361 5544; Sean Shepard. 914 512 1519 and Tom Woodlock twomileborris@live.com.
TIPPERARY GAA SCENE
Information concerning all areas in the GAA will appear in this section in the future. If you wish to include any item of interest in future articles, please e-mail at pro.tipperary@gaa.ie on or before 3pm on Monday. Visit the Tipperary GAA web site at http://tipperary.gaa.ie to keep up to date with all the news in Tipperary GAA circles.