Tipperary GAA Scene – November 17th 2021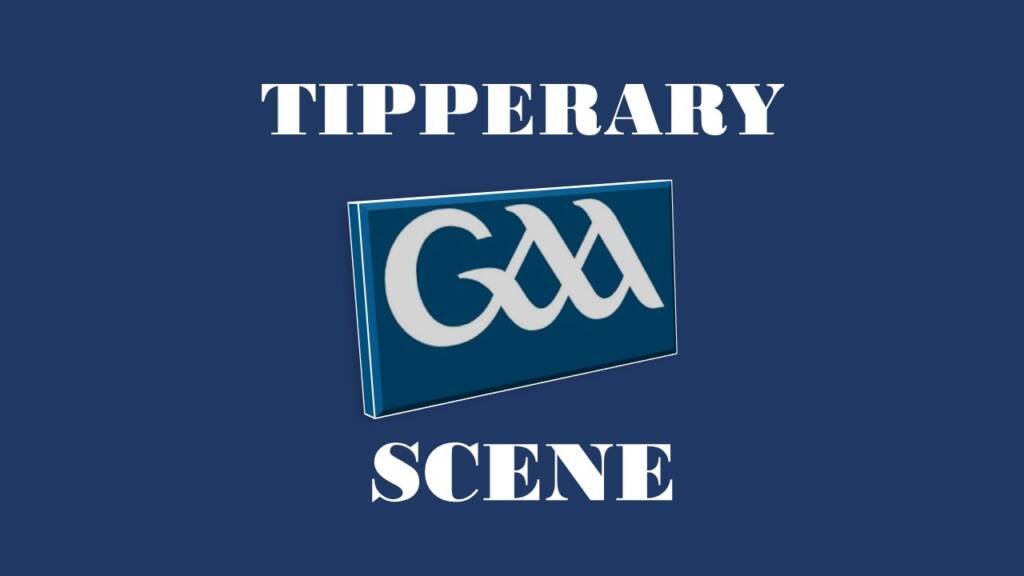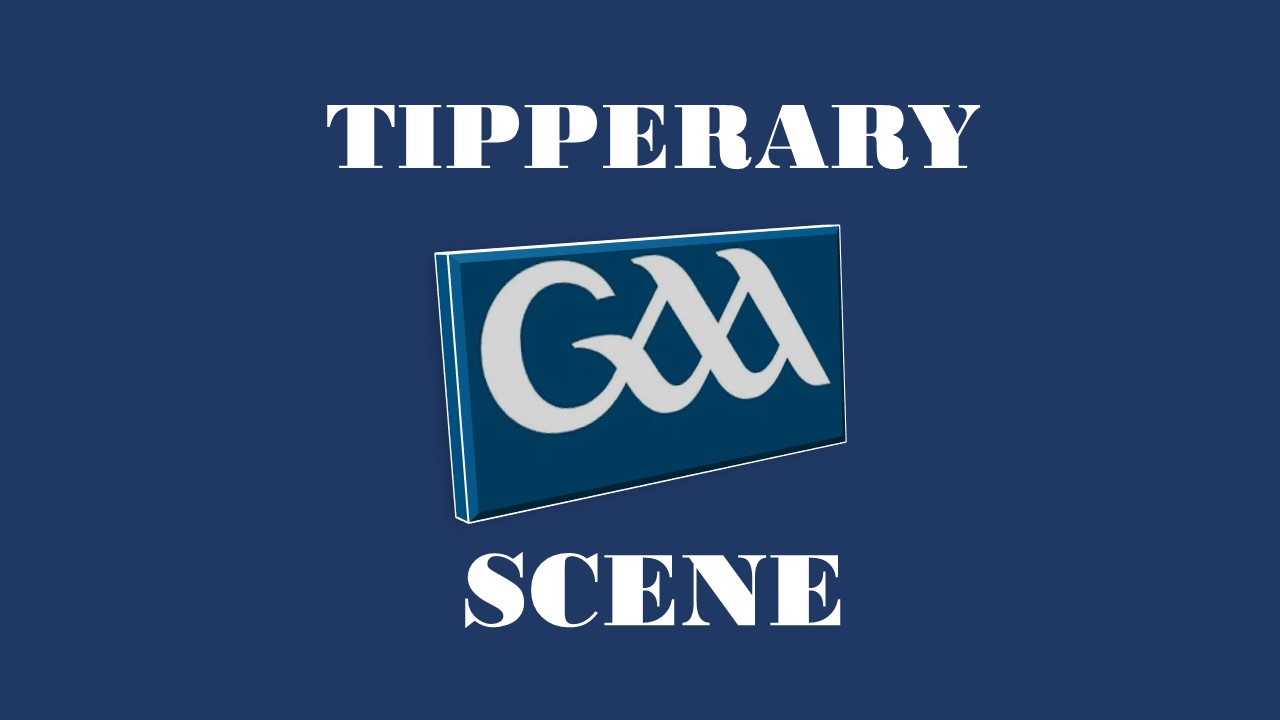 FBD Insurance County Championships
Last weekend saw the conclusion of a number of hurling competitions and what entertainment we were treated to on both Saturday and Sunday. On Saturday in Golden Skeheenarinky staged a memorable last quarter display that saw them overpowering Holycross-Ballycahill on a scoreline of 0-19 to 0-12 and claim the FBD Insurance County Junior A Hurling Championship. The second game of the day on Saturday took place in Littleton and what a game it was as Moyne-Templetuohy put the pain and disappointment of 2020 behind them to overcome Kilsheelan Kilcash by the narrowest of margins and claim the FBD Insurance County Intermediate title.
Semple Stadium was a hive of activity on Sunday and with more than ideal weather conditions, a large crowd was in attendance for both games. In the Seamus Ó Riain decider Templederry Kenyons overcame Killenaule thanks to a very strong second half performance that gave them a 1-25 to 1-15 win. In the Senior Hurling Final, Thurles Sarsfields took an early lead but in typical fashion, Loughmore-Castleiney did not give up and fought their way back for a hard earned 0-23 to 2-17 draw. The replay of the Senior Hurling Final will take place on Sunday November 28th at 3.15pm in Semple Stadium. Last weekend also saw both semi finals in the FBD County Junior "B" Hurling championship which resulted in wins for Kiladangan over JK Brackens and Clonoulty Rossmore over Clerihan. In the FBD Insurance County Junior "B" Football semi final Nenagh Eire Óg defeated Clonakenny on a scoreline of 1-08 to 0-05 to book their place in the final and in the County Under 19 "A" Football semi finals, Clonmel Commercials defeated Arravale Rovers by 1-12 to 1-07, while Ballina got the better of JK Brackens by 1-07 to 1-04. In the Seamus Ó Riain Cup relegation final it was Burgess who secured their place in the 2022 Premier Intermediate Championship by virtue of a 3-15 to 0-16 victory over Lorrha Dorrha.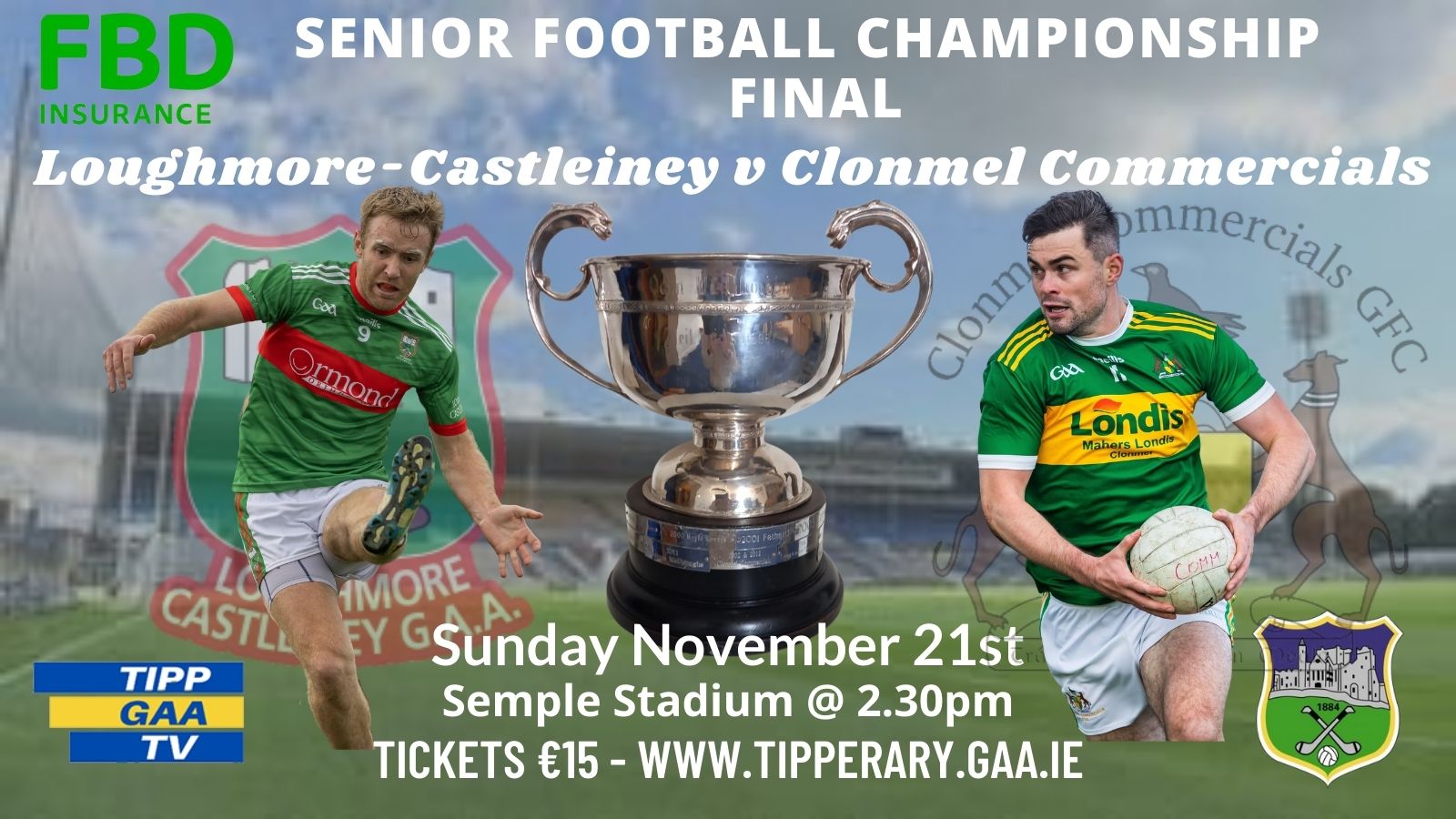 The attention this coming weekend will be firmly fixed on the Football competitions which are sure to serve up some mouth watering clashes. There are three finals down for decision on Saturday starting at 1pm in Dundrum with the meeting of Cappawhite and Upperchurch-Drombane in the Under 19 "B" Football Final, At 1.30pm in Sean Treacy Park, Aherlow and Rockwell Rovers will battle it out for the Tom Cusack Cup and then at 2pm in Kilcommon, Ballina and Knockavilla Donaskeigh Kickhams will do battle for the FBD Insurance County Junior "A" Football title. On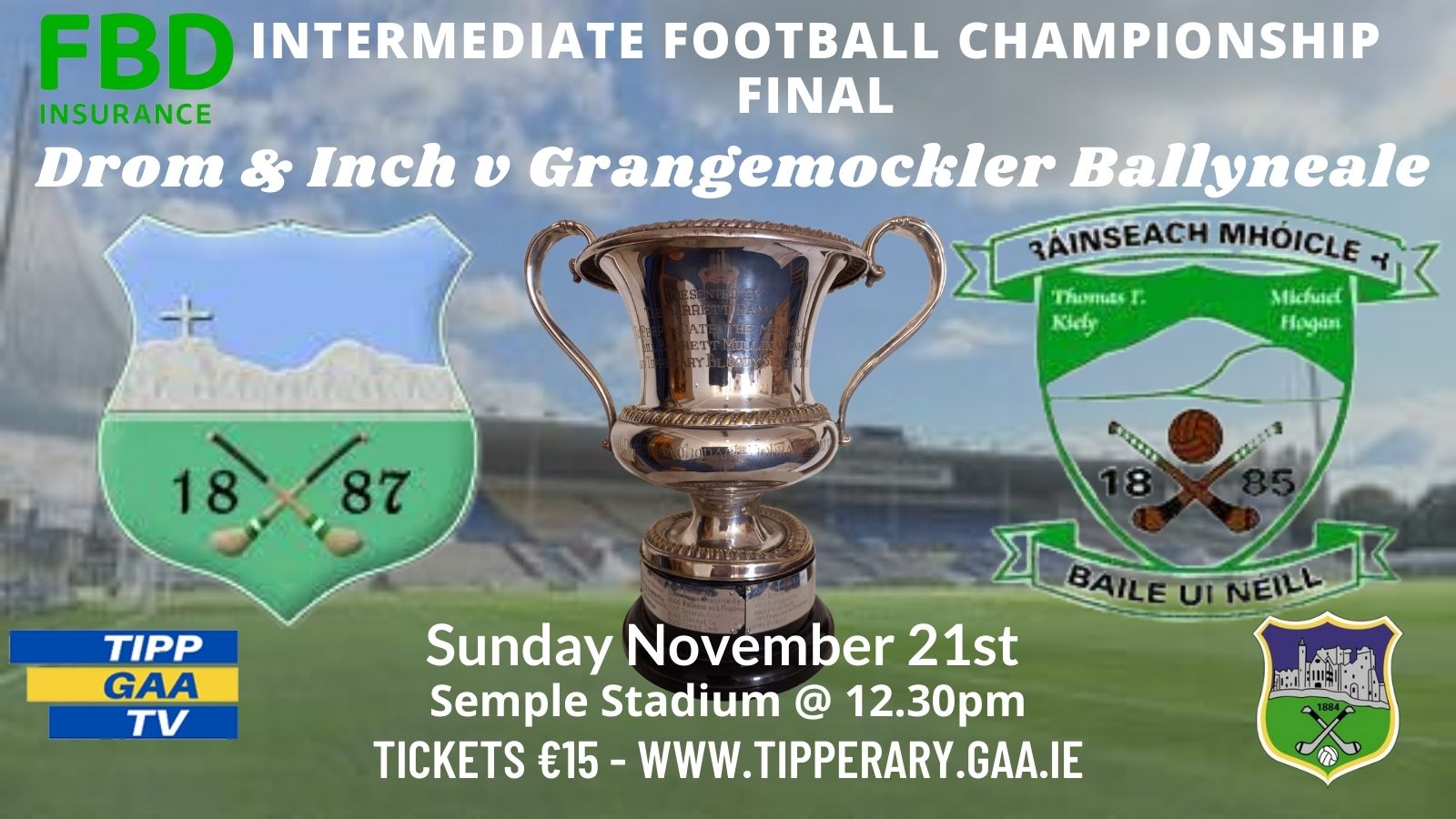 Sunday , Semple Stadium will host a double header kicking off at 12.30pm with the FBD Insurance County Intermediate Football Final between Drom & Inch and Grangemockler Ballyneale and then at 2.30pm the FBD Insurance County Senior Football Final takes centre stage with the clash of Loughmore-Castleiney and Clonmel Commercials. Also on sunbday there are games in the FBD Insurance County Junior "B" Football Championship, Senior Football Relegation Final, while in Newport at 2pm the Final of the 2021 FBD Insurance County Junior "B" Hurling Championship between Clonoulty Rossmore and Kiladangan will take place. Best wishes to all clubs and players in action this weekend, we also wish the best of good luck to all our match day officials who will be in action over the course of the weekend.
---
Weekend Pass Details
Details of weekend pass options for this weekend are as follows:
There are two options and each option can be purchased on line only at the cost of €20 via the following link https://embed.futureticketing.ie/c/tipperary-gaa/
Bundle 1
Sat 20th: Dundrum at 1.00 pm: U19″B" Final; Cappawhite V Upperchurch Drombane
Sat 20th: Sean Treacy's Park at 1.30pm: Tom Cusack Cup Final; Aherlow V Rockwell Rovers
Sun 21th: Semple Stadium at 12.30am: Inter Football -Final; Drom & Inch V Grangemockler Ballyneale.
Sun 21th: Semple Stadium 2.30 pm: Final; Clonmel Commercials V Loughmore Castleiney.
Bundle 2
Sat 20th: Kilcommon at 2.00 pm: Junior"A" Final; Ballina V Knockavilla Kickhams
Sun 21th: Boherlahan at 12.00: Senior Football Rel – Final; Cahir V Moyne Templetuohy
Sun 21th: Semple Stadium at 12.30am: Inter Football -Final; Drom & Inch V Grangemockler Ballyneale.
Sun 21th: Semple Stadium 2.30 pm: Final; Clonmel Commercials V Loughmore Castleiney.
We also have an option for the Sunday double header for OAP/Students for €10.00, but with this offer you need to show ID with your ticket to get access to the stadium. All tickets including OAP and Student tickets purchased on the day in Semple Stadium will cost €15. Under 16's are free in to all games once accompanied by an adult and do not require a ticket.
---
Bloody Sunday Remembered at Lár na Páirce and on County Final Days
November 21st 1920 was one of the darkest days of the War of Independence. This November to coincide with the 101st anniversary we recall that awful day when 14 people including two children and Tipperary captain Michael Hogan were killed by British forces. Tipperary GAA Bloody Sunday Commemoration Committee have been involved in a number of remembrance events to honour the memory of the Bloody Sunday team. The Committee in collaboration with the Heritage Office of Tipperary County Council have produced a collection of pop up stands that hopefully will feature at future events to inform and recall the memory of that day.
Come along and see the stands on display during November at Lár na Pairce on Slievenamon Road in Thurles. The stands were are on display during the recent Hurling County final and will be on display again this coming Sunday in the Dome for the Football Final which also marks the 101st anniversary of Bloody Sunday. These stands act as another way to honour the memory of the players and officials from Tipperary Bloody Sunday team. The stands were recently featured at the launch night of the Michael Hogan Festival of Football which was sponsored by the Friends of Tipperary football.
---
Tipperary GAA Yearbook – Last Call for Submissions
The 2022 Tipperary GAA Yearbook is being compiled at present and the Yearbook committee is seeking articles and information for inclusion. If you have something you would like included you need to have it submitted by this coming Friday November 19th.
Clubs that have accomplished any unique achievement in 2021 are requested to send through an appropriate article for inclusion. Similarly, in another disjointed year on and off the field of play, it is most important that clubs record and document any charity or fundraising events they undertook. These events epitomize the heart and soul of the GAA in every parish and their community across the Premier County.
The Yearbook committee are looking to all clubs to submit any obituaries of their deceased members in the last 12 months. The maximum number of words for an obituary is 150 and please include the club name and the years also, e.g. 1939-2021, as well as his/her G.A.A. achievements and a photograph of the deceased person.
Please e-mail information and photographs which must be named to Tipperary Yearbook Committee at yearbook.tipperary@gaa.ie
---
Tipperary Supporters Club
Congratulations to Jason Forde (Silvermines) who is Tipperary Hurler of the Year 2021, as chosen by members of the Tipperary Supporters Club.  Jason was presented with the annual trophy by Terry O'Neill, Chair of the Supporters Club. The trophy was kindly sponsored again this year by John Quirke, Jewellers, Cahir. Jason was also presented with the Tony Reddin Perpetual Cup, provided by the Reddin family, by Joe Tuohy of the Supporters Club, at the County Hurling Finals in Semple Stadium on Sunday 14th November.  Jason is the first player to earn this award twice, having been presented with the first ever award in 2018, followed by Séamus Callanan (Drom and Inch) in 2019 and Michael Breen (Ballina) in 2020.
Congratulations also to David Fennelly who won the €1,000 draw among 2021 Tipperary Supporters Club members.  In addition, a further €1,000 was presented to his nominated Tipperary GAA Club, Gortnahoe-Glengoole.
David (represented by Fintan Fennelly) and Gortnahoe-Glengoole Club Chairman Michael Cleary were presented with the prizes by Tipperary Senior Manager Colm Bonner, at the County Finals on Sunday 14th November in Semple Stadium.
---
Memorabilia Fair – Change of Date. 
New Date-Sunday 5 December
Due to the Tipperary county final ending in a draw yesterday and as the replay has been fixed for 28th Nov, we have decided to change the date of the Memorabilia Fair to Sunday 5 December.
All other details remain the same.
This G.A.A. Memorabilia Fair will give you a chance to browse and search a large selection of match programmes, club histories, hurling, football, camogie and handball publications as well as other G.A.A. material in the pleasant and spacious surroundings of the The Dome, Semple Stadium, Thurles, Co. Tipperary. Collectors and sellers are cordially invited to attend this event, where it is hoped they will find plenty of material to interest them. Sales positions, free of charge may be booked in advance by contacting the organisers before December 4th. Admission for all will be €5, with accompanied children free. The venue will have disabled access, facilities for teas and coffees etc. It is located within a five minute walk from Thurles Railway Station.
For further information contact: – Seamus J. King, 087-2246245  seamusjking@gmail.com
or Liam Ó Donnchú 086-6036547,  liam.odonnchu.oifigeach@gaa.ie
Lár na Páirce G.A.A. Museum, Slievenamon Road, Thurles, Co. Tipperary. 0504 22702. larnapaircemuseum@gmail.com 
---
Tipperary Hurling Club New York
The Tipperary Hurling Club in New York will hold their Annual Dinner Dance celebrating the New York Senior Hurling Champions of 2021 on December 4th and the special guest on the night will be former Tipperary senior hurler Brendan Maher of Borris-Ileigh. The event takes place in Lake Isle Eastchester. Tickets for what is always a great night can be purchased from www.tippnydance2021.eventbrite.com or by emailing, tippny@outlook.com.
---
Tipperary GAA Scene
If there is anything you feel should feature in this column going forward, please feel free to forward it to pro.tipperary@gaa.ie