Tipperary GAA Scene – January 12th 2022
Munster Pre Season Competitions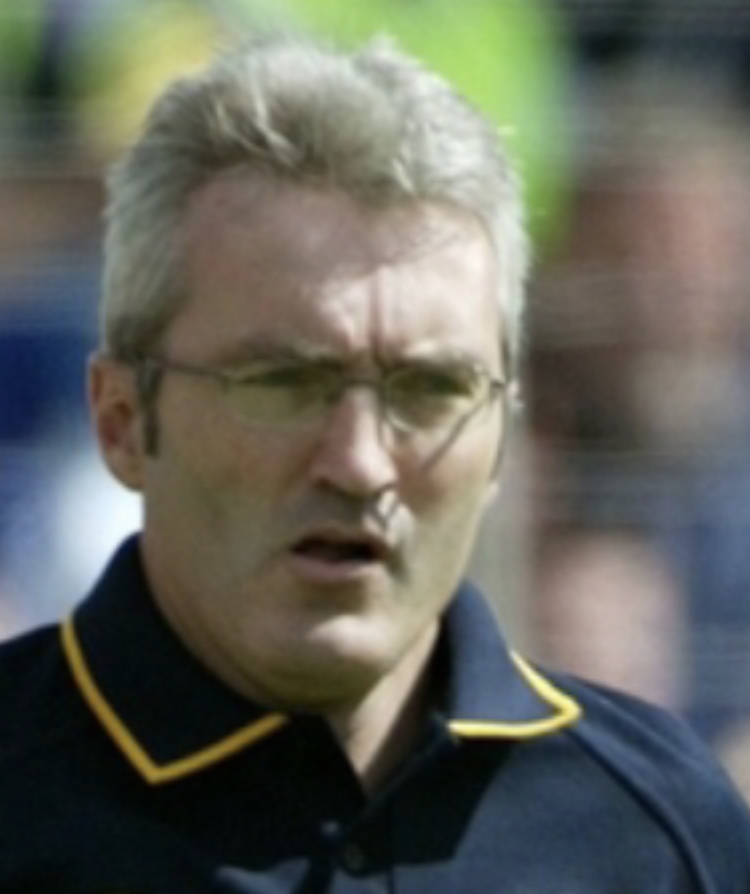 Both Tipperary teams were back in action last weekend as the 2022 campaign commenced. First onto the field were our senior hurlers who travelled to Austin Stack Park in Tralee to play Kerry in the Munster Hurling Cup Quarter Final. With a number of players unavailable due to illness, injury and club action, this was an opportunity for Colm Bonnar and his management team to have a look at a number of players who had performed well for their clubs in 2021 and also in the recently held Miller Shield tournament. The conditions in Tralee were fairly challenging for both sides, with a stiff breeze and thundery showers being the order of the day. That being said it was the home team who made the most of their chances and recorded a first ever win over Tipperary in a competitive hurling game on a full-time score of 0-17 to 0-14. The focus for our senior hurlers will now turn to the upcoming Allianz hurling league which will commence on Saturday February 6th at 6pm in Portlaoise when Laois will be our opponents.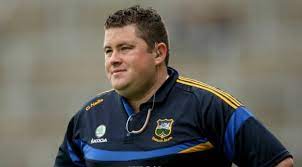 The Tipperary senior footballers travelled to play Limerick in Rathkeale last Sunday in their opening game in the McGrath Cup, and much like his hurling counterpart, David Power was missing several regulars which again gave him the chance to have a look at some new faces. This was a very competitive game all through and as the final whistle beckoned it looked as if Tipperary would be heading home with no points, however newcomer Jack Kennedy of JK Brackens came to the rescue with two late points, thus earning his team full points in a hard-earned victory. Next up for Tipperary is a home tie with Kerry this Wednesday (January 12th) in Templetuohy at 7pm. This will give the team management another chance to access their players in what should be a stern test. Also in action next weekend will be Newcastle's Michael Kennedy who takes charge of the Clare v Waterford Munster hurling cup game, which takes place in Ennis at 2pm on Saturday and we wish Michael and his officials the very best of luck.
---
Best wishes Willie
Best wishes to Kiladangan's Willie Connors who suffered a serious ankle injury in Tipperary's Munster Cup game against Kerry last weekend. This was a most unfortunate injury for Willie to have picked up having just come on as a sub. A word of thanks to the Kerry medical team who were excellent and made sure that everything was taken care of in a speedy and efficient manner.
---
FBD County Championships
Templederry was the venue last Sunday for the FBD Insurance County Under 21 "B" Hurling championship final between Clonoulty Rossmore and Portroe. This game most certenaly did not fail to deliver and was packed with action of the highest quality from start to finish, that kept all those in attendance on the edge of their seats right to the final whistle. And it was the West Tipperary men who were victorious by the narrowest of margins 1-13 to 2-09.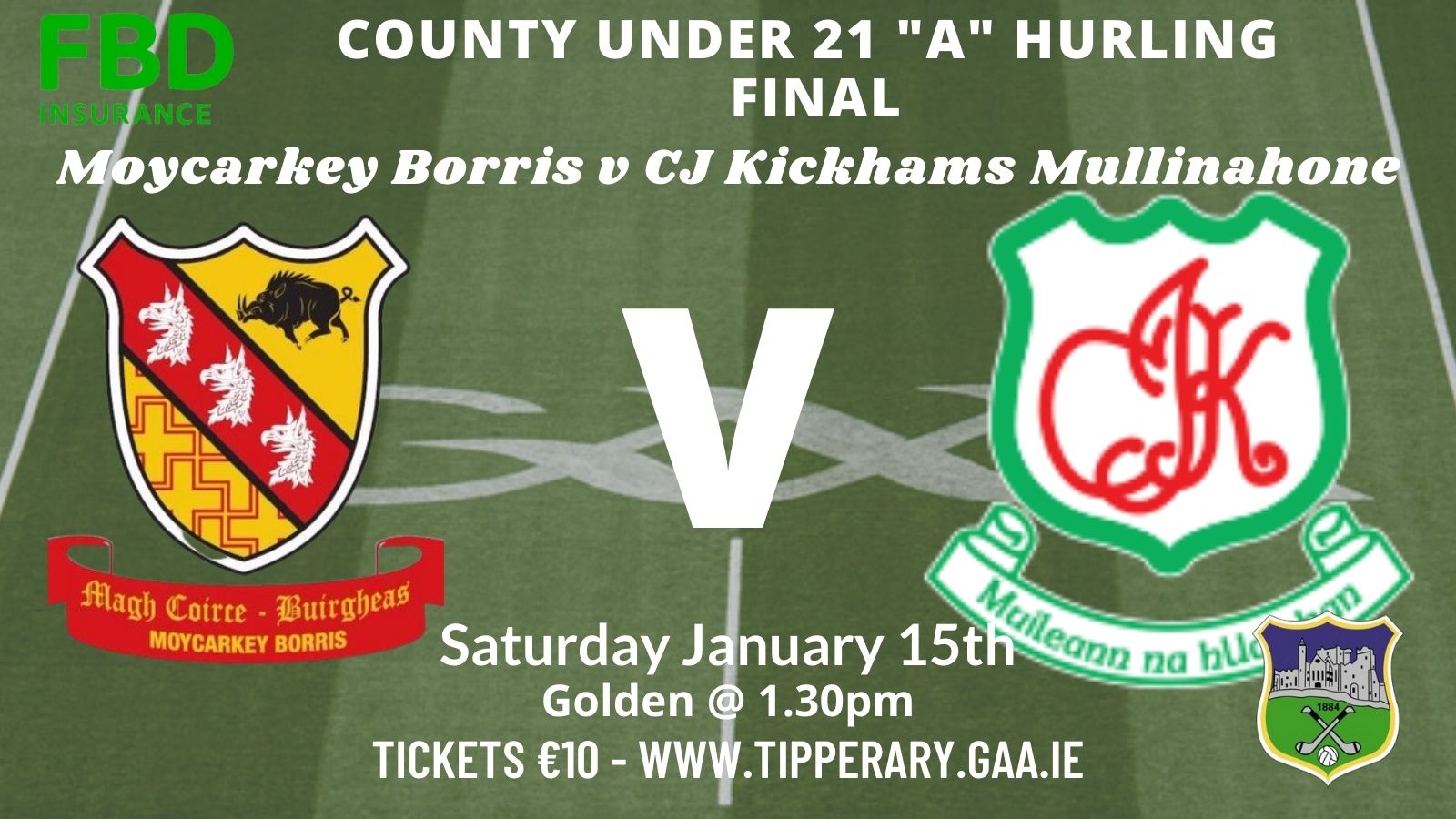 Last weekend also saw the penultimate round of the Under 21 "A" hurling championship taking place. In Toomevara Moycarkey Borris hit with a last minute goal to end the hopes of Kiladangan, while in Golden CJ Kickhams Mullinahone proved to be that bit stronger than Cappawhite Gaels in their semi final. Both winners will now meet this Saturday in Golden at 1.30pm for this year's final which is sure to be a cracking encounter. Tickets for this game are now available via the Tipperary GAA website. The game will also be livestreamed and again you can purchase your digital pass via the Tipperary GAA website.
---
AIB Club Championships
Last Sunday in Mallow, Tipperary Junior "A" Hurling champions Skeheenarinky player their Munster club final against their near neighbours Ballygiblin of Cork. Such was the interest in this game, throw in had to be put back 15 minutes to allow all spectators safe entry into the venue. The game itself proved to be a bridge too far for the Tipperary champions who had to give way to their opponents on a full time score of 2-14 to 1-09. While the result on Sunday may not have gone the way of Skeheenarinky, they can be very proud of what they achieved throughout 2021 and can now look forward to joining the Intermediate ranks for 2022.
Mallow will again be the venue next Sunday January 15th for the clash of Tipperary champions Ballina and their Kerry counterparts Gneeveguilla in the Munster Junior Football championship final at 1.30pm. Best wishes to the players and team management in what is a very big day for the Ballina club and parish. Tickets for this game are currently available via the Munster GAA website.
---
Tipperary Clubs Draw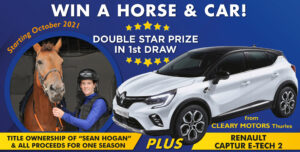 The January draw took place last Friday evening, January 7th in Lar Na Pairce and saw over €40,000 in prizes being won by members around the county and f to urther a field also. This months first prize of a car or €15,000 went to Moycarkey Borris members -Willie and Trisha Power, while Margaret and PJ Meade who are members with the JK Brackens club, claimed the second prize of a €5000 holiday voucher or cash. This months lotto jackpot of €3000 was won by the Cairde Na Gormacha syndicate who are joined with the Nenagh Eire Óg club. The lotto jackpot was not the only prize that went the way of the syndicate as they also claimed two further draw prizes of €500. This was the first time in the draws history that three prizes were won by the same member. Congratulations to all this months winners who will receive their prizes in the coming weeks. The next draw will take place on Friday February 4th at 8.30pm and will be broadcast live on Tipp FM.
Third Level Colleges
With the third level college action set to commence, all those involved have this week announced details of their panel members for the up coming competitions. Tipperary are well represented across all competitions and in particular the Fitzgibbon cup where 32 clubs have a total of 59 players involved. We wish all Tipperary players the very best of luck in what are sure to be very competitive competitions. The full list of Tipperarys Fitzgibbon cup players is as follows:
Thurles Sarsfields (5) Paddy Creedon (CIT), Eoin Purcell (UCD), Michael Murphy (TUD), Kevin Bracken and Paddy Stakelum (Maynooth), Nenagh Eire Og (4) Adam Healy, Conor McCarthy (TUSM), Jake Morris (Maynoot) and Philip Hickey (NUIG), Moyne/Templetuohy (3) Gaeroid O'Connor (UL), Conor Bowe (UCC) and Ciaran Lloyd (CIT), Kiladangan (4) Billy Seymour, Ronan Ducie (TUSM), Darragh Flannery (NUIG) and Fergal Hayes (ITC), Toomevara (3) Kevin McCarthy, Josh McCarthy and Robbie Quirke (all TUSM), Cashel King Cormacs (3) Ross Bonnar (TUSM), Devon Ryan (MIC) and Aaron Browne (CIT), Roscrea (2) Alan Tynan and Evan Fitzpatrick (TUSM), Holycross/Ballycahill (2) Bryan O'Mara (UL) and Ewan Bourke (MIC), Kilruane McDonaghs (2) Kian O'Kelly (TUSM) and Mark O'Neill (WIT), Borris-ileigh (2) James Devaney (MIC) and Jerry Kelly (ITC), JK Brackens (2) Andrew Ormond and Eanna McBride (MIC), Upperchurch/Drombane (2)        Keith Ryan and Aaron Ryan (MIC), Arravale Rovers (2) Fergus Halligan (CIT) and Johny Ryan (MIC), Kilsheelan/Kilcash (3) Mark Stokes(MIC) , Barry Kehoe (TUSM) and Mark Kehoe (UCC), Clonoulty/Rossmore (2) Jack Ryan (MIC) and Sean Ryan (Maynooth), Boherlahen/Dualla (2) Mark Downey and John Ryan (MIC), Portroe (2) Anthony Burke (TUSM) and AJ Willis (GMIT), Killenaule (2) Killian O'Dwyer (UCC) and Eoin Barry (CIT), Burgess Jack Boland (Trinity), Moyle Rovers  Jack Holohan (Trinity), Golden/Kilfeakle Niall Heffernan (UCD), Knockavilla Kickhams Eoin McCormack (UCD), Loughmore/Castleleiney Ciaran Connolly (UL), Moneygall (2) Joe Fogarty (UL) and Bob Kenny (, ), Silvermines Darragh Nolan (MIC), Carrick Swans Billy Murphy (CIT), St.Marys Clonmel Joe Gunne (TUD), St.Patricks Drangan Conor Duggan (CIT), Newport Daniel Carew (NUIG), Mullinahone Daire O'Brien (UCD), Ballingarry Declan Hayes (TUSM), Lorrha/Dorrha          Patrick "Bonnar" Maher (TUD)
---
Health and Wellbeing
Clubs throughout the county are gearing up for the 2022 Irish Life / Healthy Clubs Every Step Counts Challenge run in conjunction with Operation Transformation now due to commence on 19th January ending on Wednesday 23rd February. As the start date for this event was already postponed by one week the organizers are awaiting further guidance from the Department of Health and will be in touch with clubs with any further recommendations. This popular event is open to all clubs and their communities' clubs can still register on Get Ireland Walking /Ireland Lights Up.
---
GAA Master Fixtures Schedule for 2022
The GAA recently announced its inter-county Master Fixtures list for 2022. The new split-season approach means that the average inter-county season length for each county has been reduced from 35 weeks to 26 weeks. The All-Ireland Hurling Final will be played on July 17 with the All-Ireland Football Final one week later on July 24th, which is the 30th Sunday of the Year. The Provincial Hurling Finals and Joe McDonagh Cup Final will be played on the weekend of June 4/5, with the Ring, Rackard, and Meagher Cup Finals on May 21. The Provincial football finals will take place on the same weekend of May 28/29, with the Munster and Leinster Finals on the Saturday and the Connacht and Ulster Finals on the Sunday. The Tailteann Cup will be part of the All-Ireland SFC structure in 2022 and the Final will take place on Saturday, July 7, which is the same weekend as the All-Ireland Football semi-finals. All knock out games in the Championship competitions will be subject to winner on the day regulations. The only exceptions are the All-Ireland Senior Football and Hurling Finals which will have extra-time in the original fixture and then winner on the day in the event of a replay only.
---
Club Officer Training and Development
With the majority of club AGM's now over, Club officers are now reminded to register for club officer training which is available to both new and existing club officers. Munster Council will lead the delivery of induction training for Chairpersons, Secretaries, Treasurers and PROs on January 20th.
The CLDP's showcase modules for 2022 will cover the following topics:
25 January – Leading, Managing and Governing your Club
1 February – Digital Communications
3 February – Fundraising, Commercial and Sponsorship
8 February – Using IT to Simplify Club Administration
10 February – Operating Effectively as One Club
Additional Modules 
The Officer Development Committee will also facilitate the organisation of additional training delivered by other departments upon request and expects further modules to be added to the schedule in the coming weeks, e.g., Foireann. Modules already confirmed in that category include:
12 January – Diversity and Inclusion
19 January – Responding to Racism and Discrimination
Read more about what each module entails at: https://learning.gaa.ie/OfficerTrainingModules More details such as the exact topics and presenters will be added as they are confirmed. Enrolment for all these events is now open via the Officer Training Calendar: https://learning.gaa.ie/officertrainingcalendar
---
Tipperary GAA Scene
If there is anything you feel should feature in this column going forward, please feel free to forward it to pro.tipperary@gaa.ie