Tipperary GAA Scene – February 16th 2022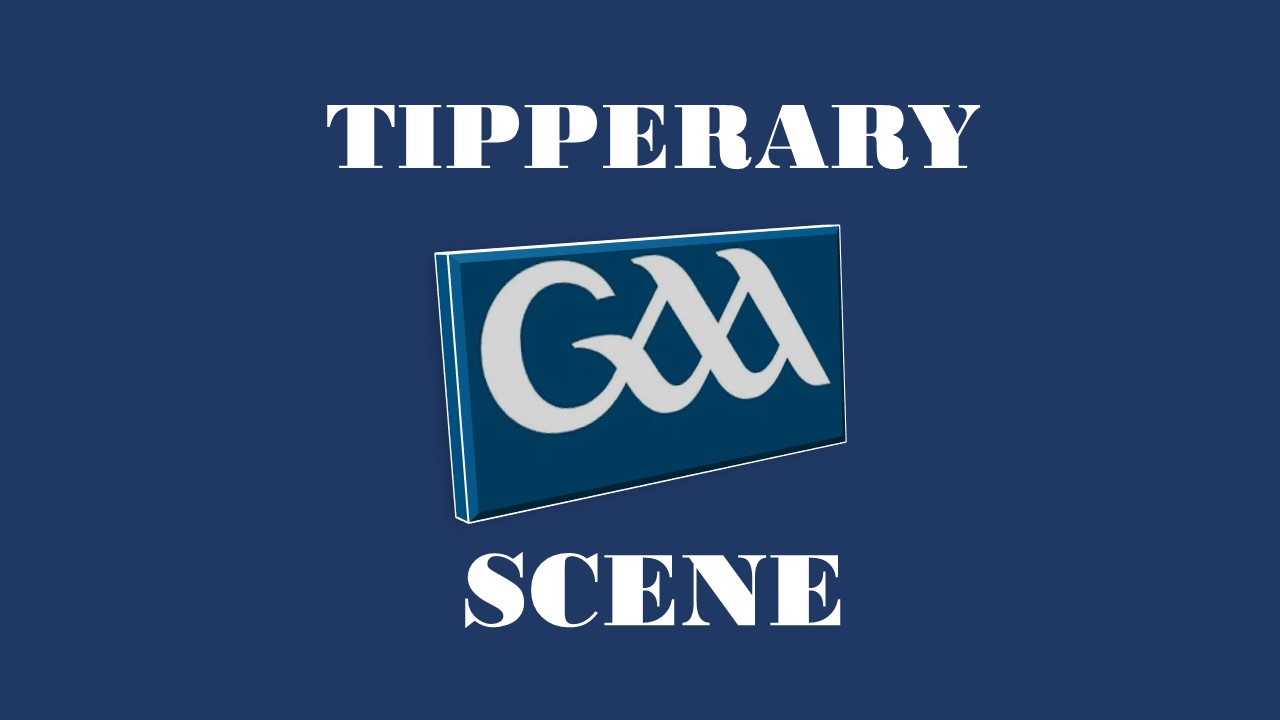 ---
Allianz Football and Hurling Leagues
The Tipperary senior hurlers stayed on winning ways last Sunday when they secured a hard fought one point win over Kilkenny in FBD Semple Stadium. This win should stand to the players as they prepare for their round 3 game against Dublin on Saturday February 26th. After the game Jason Forde who made another immense contribution to the game was awarded with the man of the match accolade and we congratulate him once again.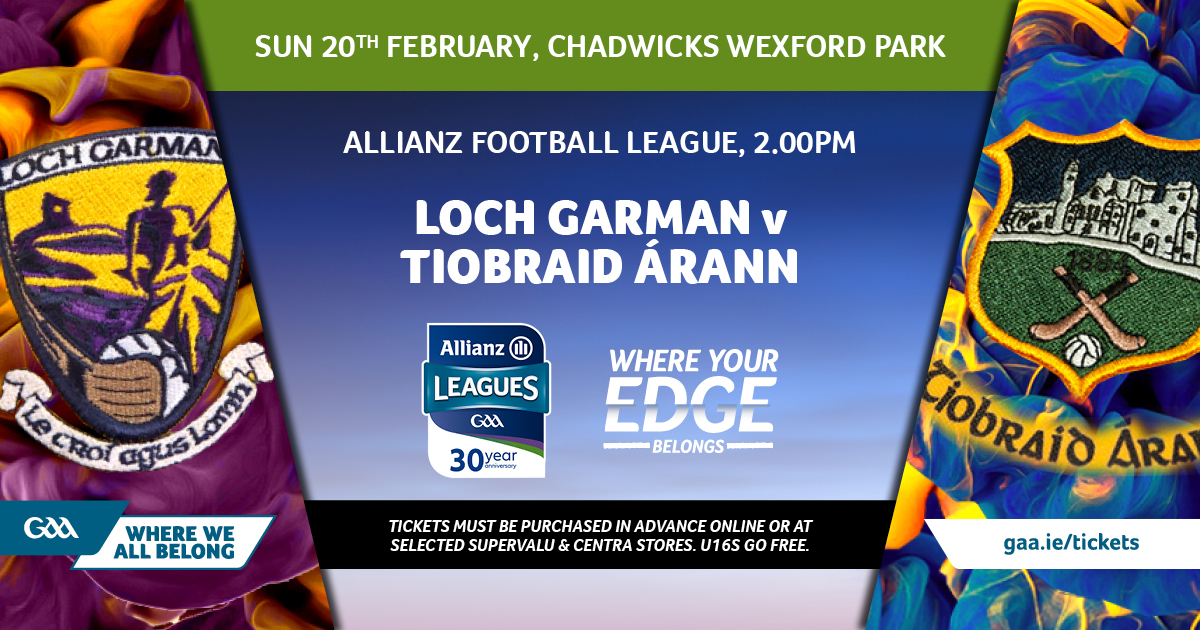 The Tipperary senior footballers will be hoping for their firse win of the league when they play Wexford in Chadwicks Wexford Park this Sunday at 2pm. Following a below par performance against Leitrim in round 2, David Power and his management team will know that a trip to Wexford is never easy and it will take a big performance if the points are to be secured. Tickets for this game can now be purchased online at www.gaa.ie or you can also buy tickets in selected SuperValu and Centra stores. Adult tickets cost €15 while under 16's are free.
---
New Games Manager Appointed
Following the retirement of Dinny Maher from the position, the process to appoint his successor came to a conclusion last week with the appointment of Kevin Hally as the new games manager for Tipperary. Kevin had been working as a GDA for the last number of years and brings a wealth of knowledge and experience to the role. Congratulations and best wishes to Kevin who commenced his new job last Monday.
---
Munster GAA Appointments
At a recent Munster Council meeting several Tipperary officials were appointed to various committees and positions for the coming years. Firstly, current Tipperary GAA Treasurer and former Munster Council Treasurer Michael Power was named as the new President for a 3 year term. This elevation to the most prestigious position in Munster reflects Michaels lifelong contribution to Gaelic Games and is nothing less than he deserves. Former referee and current Boherlahan Dualla club chairman Johnny Ryan has been appointed to the position of Munster referees committee secretary, this is a highly sought after position and one I have no doubt Johnny will fill with distinction. Current central council delegate Michael Bourke Upperchurch-Drombane has also been added to the Munster hearings committee and again, I have no doubt that he will add to the committee as he brings many years of experience to the role.
---
Munster Championship Fixture and Dates
The following were the Tipperary draws for the 2022 inter county championship.
U20 Hurling will consist of two groups of three. Tipperary will play Kerry on April 6th away and Waterford on April 13th at home. The semi finals are fixed for April 27th. In Under 20 Football which will be a knockout competition, Tipperary have been drawn to play Clare on April 11th away with the winners having home advantage against Kerry on April 18th.
In Minor Hurling there will be two groups of three. Tipperary will play away against Waterford  on April 5th and then on April 12th will welcome Clare for a home fixture. The top teams in each group will qualify for the semi final's and will have home advantage with second and third placed teams playing Quarter finals. In Minor Football Tipperary, Clare, Limerick and Waterford will play a round robin competition with the winner going forward to meet Cork or Kerry in the Munster semi final. Tipperary will play Limerick at home on April 14th, Waterford away on April 21st and Clare away on April 28th.
In Senior Hurling, Counties voted in favour of changing the current system to avoid teams playing three weeks in a row. With the new system counties may have first two games away and second two home or vice versa. For Tipperary in 2022 the order is as follows: April 17th away to Waterford, April 24th at home to Clare, May 8th away to Limerick and May 22nd at home to Cork. This years Munster Final will take place on June 5th. In Senior Football, Tipperary will play Waterford in Fraher Field on Saturday April 30th in the Quarter Final, Should Tipperary win this game we will then play a semi final against either Clare or Limerick on May 14th.
---
Referee Recruitment
The closing date for receipt of applications for the upcoming referees course is this Friday February 18th. If you or someone you know would like to take up the whistle, please do contact your club or any Tipperary GAA official who will make sure that your name is submitted to the referees committee. At the moment in Tipperary we have a serious requirement to increase our pool of referees or we are facing a situation that more and more games will be called off due to the unavailability of a referee. This is why it is so important that new, enthusiastic people come on board. We all know that there are times where being a referee may be challenging, but as someone who has been a referee for a good number of years myself, I can say that the rewards far outweigh anything else. The most important thing for any new referee is to build a good team around yourself, people you can trust and who will give you good strong advice and feedback. So if you think refereeing is something you would be good at and you want to make a further contribution to the GAA, go for it you wont be sorry.
---
Fethard Town Park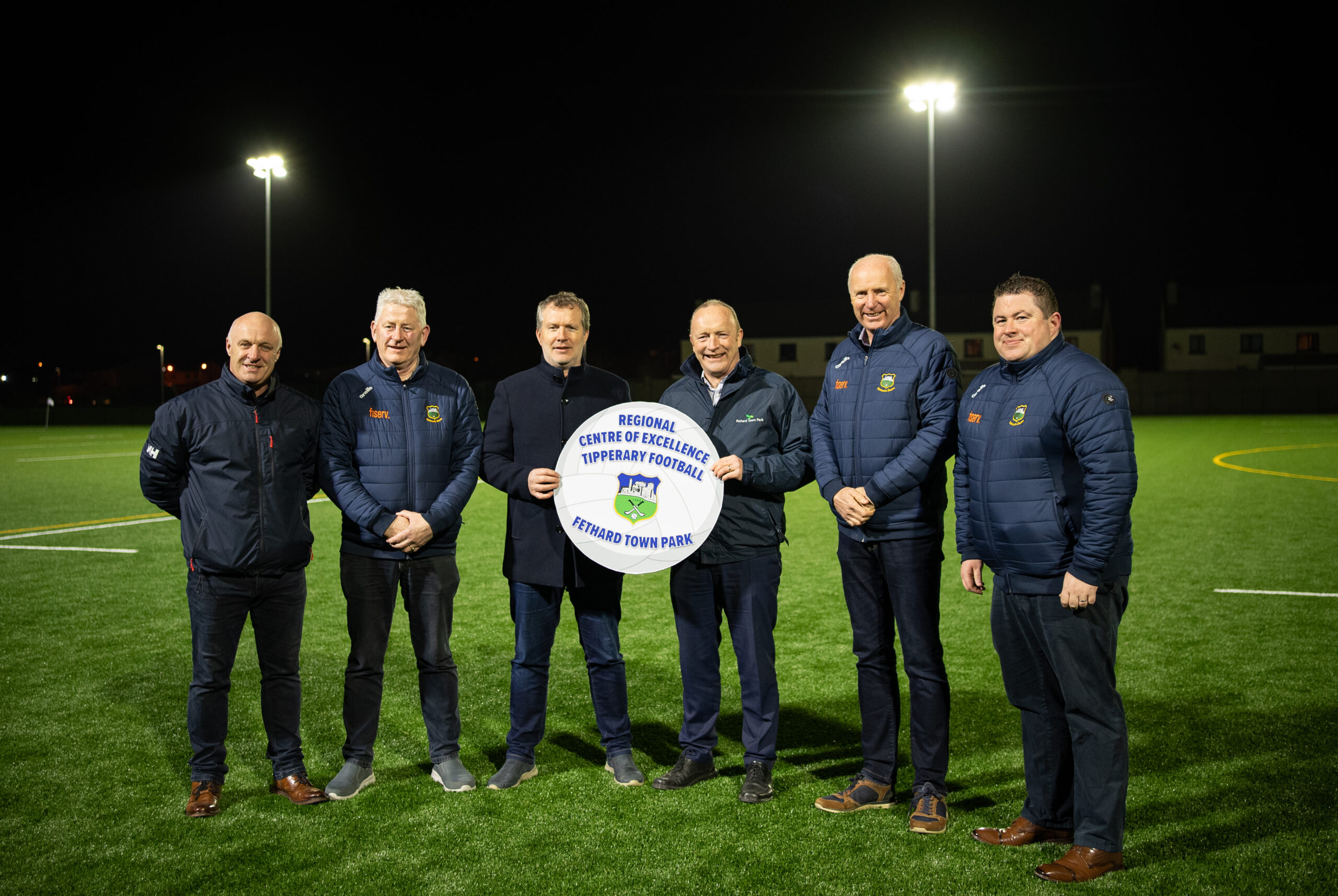 The new €7 million Fethard Town Park development has been officially announced as the Regional Centre of Excellence for Tipperary Football, marking what the county hopes will be the start of a new era of success. The facility, located adjacent to existing Fethard GAA grounds, was chosen as the Regional Centre of Excellence for Tipperary Football because of its excellent facilities including the first full size All-Weather floodlit pitch in the county. Speaking at the launch in Fethard Town Park on Monday night, Tipperary GAA County Board Secretary Tim Floyd said, "Fethard Town Park is the gold standard of GAA Pitches, we are delighted to have it as a centre of excellence for our inter county GAA players and wish Fethard Town Park Committee continued success in their ongoing development." Director of Fethard Town Park and Head of Economic Development at Tipperary County Council, Anthony Fitzgerald acknowledged the huge investment by the local community in developing the 3G Pitch and welcomed the shared approach to community facilities; 'the development of community sports facilities at Fethard Town Park is the result of years of perseverance and dedication from the local community group and significant investment from Coolmore and the Magnier Family. We are delighted to see the facilities open to the public and welcome many happy days ahead watching Tipperary GAA. It's an exciting time for Fethard and the county.' The construction of a community pavilion, dressing rooms, gym & café is due to commence in coming weeks with completion by the end of the year. Phase 2 of Fethard Town Park is funded by The Rural Regeneration Development Fund with the support of Tipperary County Council who successfully led the application to the Department of Rural and Community Development.
---
Handball News
There have been some very exciting games in both the Juvenile & Adult Munster Championships. We have reached the Semi Final & Final stages and Tipperary Players are faring very well after the long lay off. In the Juvenile Semi Finals both Girls and boys put in some great performances with the following results.
U14S Dean Carey Ballina defeated Ewan Donnelly Waterford
U14D Daniel Mc Kelvey & Conor Ryan Silvermines defeated Aaron Walsh & Eoin Hacket Waterford
U15S Stefan Tobin C-O-Suir defeated Matthew Coughlan Clare
U15D Ronan Redmond & Rian Power C-O-Suir defeated Kealan Wright & Conor Byrne Waterford
U16 Singles Jack Walsh Tipp was beaten by Rody Morrissey Waterford
U16D Daithí Colleran & Darragh Buckley Waterford Bt Calvin Lyons & Bobby Coady Tipp
U17S Billy O Connell Waterford Bt Ryan Gillick Lahorna
U17D Darragh Walsh & Jack Power Bt Lorcan O Sullivan & Callum Walsh Tipp
Girls U14S Claire Minogue Clare Bt Sarah Williams Lahorna
Girls U15D Katie Mulcahy & Aoife Williams Defeated Emily & Sarah Fahy Waterford
We wish all our Juveniles the best of luck in the Munster Finals V S/F winners from Cork/Kerry/Clare
In the Adult grades we had mixed results so far with all games now at Munster Semi Final & Final stages. Players to bow out at the Semi Final stage were Aiden O Flaherty in Junior Singles, Paddy Collins in Ruby Singles & Síle Spain in Ladies JB Singles.
Following Fixtures for remaining games
Monday February 14th in Conna S/F Minor Singles: Cork B (Darragh Murphy) v Tipperary A (Callum Lanigan)
Tuesday February 15th in Nenagh S/F: Ladies Junior B Singles: Tipperary A (Eleanor Percy) v Cork B (Anna Dunne)
Wednesday February 16th in Tuamgraney
Final: U21 Singles: Tipperary A (Rory Grace) v Clare A (Sean Coughlan)
Wednesday February 16th in Liscarroll Final: O35B Singles: Tipperary A (Niall Quinn) v Cork A (James Moakley)
Friday February 18th in Mallow Final: Silver Master B Singles: Cork B (Enda Aherne) v Tipperary A (Willie Cahill)
Friday February 18th in Liscarroll Final: O70 Singles: Cork A (Tim Joe Healy) v Tipperary A (Jim Ryan)
Friday February 18th in Cappagh Final: Ladies Intermediate Singles: Clare A (Catriona Millane) v Tipperary A (Sinead Meagher)
Friday February 18th Venue TBA
Final: Minor Singles: Clare A (Jamie Howard) v Cork A (Eoghan Daly) v Cork B (Darragh Murphy) or Tipperary A (Callum Lanigan)
Friday February 18th Venue; TBA
Final: Ladies Junior B Singles: Cork A (Brid Horgan) v Tipperary A (Eleanor Percy) or Cork B (Anna Dunne)
Sunday February 20th Venue; Cappagh (OIC D Hayes) Commencing 1.00pm
Final: Golden Master A Singles: Limerick A (Tomas Donegan) v Tipperary A (John Kennedy)
Final: O35A Singles: Tipperary A (Ger Coonan) v Kerry A (Jack O' Shea)
Sunday February 20th Venue; TBA
Final: Ladies Minor Singles: Tipperary A (Hannah Grace) v Clare A (Leah Minogue) or Cork A (Cliona Dunning)
The Munster U12 & U13 Juvenile Championships will be Completed at the end February. The North Tipperary Juvenile B Championships will be run off in the next few weeks to help clubs promote handball through interaction with other clubs and provide games for all abilities.
---
Tipperary GAA Scene
If there is anything you feel should feature in this column going forward, please feel free to forward it to pro.tipperary@gaa.ie