Tipperary GAA Scene – April 26th 2017
By PRO Joe Bracken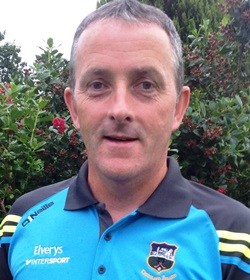 SENIOR HURLING
The beauty and attraction of sport is what draws us to it, always encapsulating and enthralling in equal measure and when unpredictability is whisked into the mix then it's a recipe for all sorts of creations and arrangements. The Allianz Hurling League Final last Sunday, proved one such creation as the anticipated menu on offer never came out of the oven as an out of sorts Tipperary side never rose to the occasion. Instead it was Galway that took home the prize as a result of their toil at the grindstone adding a tenth league title to their roll of honour, seeing off Tipp 3-21 to 0-14 in front of 16,089 spectators. Commiserations to our hurlers who gave us plenty of delightful skill and memories throughout the league, and who will continue to do so without doubt going into the serious business end of the year.
It has been a long league for Tipp and one which the management had hoped for, though six league games away from home out of eight seems imbalanced in retrospective terms. There have been 34 players used over the eight games played and with the welcome sight of Patrick 'Bonner' Maher back in the blue and gold after his time serving his country; the horizon is still very bright on the Tipperary landscape.
So as much as one swallow never makes a summer, neither does one league final loss define a season. With the league door closed on 2017, the championship door opens widely and warmly on May 21st next. In doing so it welcomes into its embrace Tipperary, All-Ireland Champions, as they begin a new campaign to retain Liam MacCarthy in what promises to be a very eventful couple of months.
The All-Ireland hurling championship road is fraught with danger; passion and ultimate glory for one county. It will oversee and outweigh recent radar blips for Tipperary as the collective cross-hairs focus on each impending target at hand. Together, Tipperary players and supporters will go in unison to be that county which will hopefully lift Liam MacCarthy this September once again. But before that the minimum of four serious challenges have to be negotiated, starting with Cork in Semple Stadium in a little over three weeks' time. With appetite renewed let the Championship begin.
MUNSTER U17 HURLING
Commiserations to the Tipperary U17 hurlers following their defeat by a strong Cork unit last Tuesday evening, in the Munster U17 Championship Semi-Final in Páirc Uí Rinn, with the Rebels winning 2-22 to 2-09; Ray McCormack (Borris-Ileigh) was the scorer of both Tipperary goals.
MUNSTER MINOR FOOTBALL
Best wishes to the Tipperary minor football team who take on Clare this Wednesday evening, April 26th in the Electric Ireland Munster Play-off 2 encounter in Cusack Park, Ennis at 6.30pm. The winners will play Limerick in the Gaelic Grounds, on May 10th next in the Semi-Final.
The side lost to a solid Cork outfit in the Quarter-Final and now have an opportunity to put that lesson behind them and gain from the experience to date.  With that in mind the management team have announced their side to contest the game in Ennis and have made a number of positional switches, with the team lining out as follows; 1. Jack Dolan (Fethard), 2. Jack Harney (Joint Captain) (Moyle Rovers), 3. Jake Flannery (Joint Captain) (Galtee Rovers), 4. Diarmuid Mulcahy (Moyle Rovers), 5. Darragh Bolger (Moyle Rovers), 6. Paul Devlin (Éire Óg Annacarty-Donohill), 7. John Ryan (Boherlahan-Dualla), 8.  Stephen Grogan (Cahir), 9. Shane Ryan (Galtee Rovers), 10. Ríain Quigley (Moyle Rovers), 11. Ryan Lambe (Clonmel Commercials), 12. Calvin Boland (Clonmel Commercials), 13. Adam Mc Grath (Galtee Rovers), 14. Conall Kennedy (Clonmel Commercials), 15. Mark Stokes (Kilsheelan-Kilcash), 16. Eoin Power (Clerihan), 17. Eanna Mc Bride (JK Brackens), 18. Darragh O'Leary (Ardfinnan), 19. Conor Ryan (Loughmore-Castleiney), 20. Liam Cleary (Borrisokane), 21. Cavan Mc Kenna (Cahir), 22. Manus Mc Fadden (Grangemockler-Ballyneale), 23. Darragh Tynan (Inane Rovers), 24. Cian O'Sullivan (Clonmel Óg). The extended panel players are; Jamie Grant (Newcastle), Aaron O'Neill (Newport), Aidan Keane (Carrick Swan) and Ian Holloway (Carrick Swan).
The management team consists of – manager Matt O'Doherty (Arravale Rovers), coach-selector David Power (Kilsheelan-Kilcash), coach-selector Mick O'Sullivan (Drom & Inch) and selectors Johnny Nevin (JK Bracken's) and Donal Hayes (Upperchurch-Drombane) while Jason Coffey (Ardfinnan) is Strength and Conditioning Coach.
The referee will be Eddie Walsh (Kerry). REFEREE
Best wishes to Kevin Jordan (Thurles Gaels) as he takes charge of the Munster GAA Under 17 Hurling Competition in Fraher Field, Dungarvan, between Waterford and Cork on this Tuesday night, April 25th.
COUNTY FIXTURES
The long awaited Tipperary Water County Championships get under way this weekend as clubs hold centre stage over the next two weekends. The hurling championships start this Friday April 28th, with the first matches in round 1 of the county senior and intermediate hurling championships and continuing through Saturday and Sunday, April 29th/30th. Also, action in the Seamus Ó Riain Cup hurling will take place.
There are some terrific pairings lined up for this weekend and with a great geographical spread there is plenty of opportunity for supporters to follow your club and the fortunes of others beside as local rivalries are reacquainted in the pursuit of county final success
The following weekend commencing on Friday May 5th, the Tipperary Water County Football Championships throw in and again continue over Saturday and Sunday, May 6th and 7th.
For a full list of fixtures and results please check the Tipperary GAA website https://tipperary.gaa.ie/ or the fixtures section in your local newspaper.
NEW COUNTY BOARD DRAW
Celebrating 30 years the Tipperary GAA Clubs Draw offers a €500,000 prize fund for the coming draw year. Starting with the May Star Prize of a Renault Kadjar or €30,000 in association with local Renault dealer, Cleary Motors, Loughtagalla, Thurles and second prize of a Skoda Octavia or €15,000 in association with local Skoda dealer, Ryan Motor Power, Powerstown, Clonmel, there are wonderful prizes to be had each month.
The Official Launch of New Tipperary GAA Draw will take place this Thursday night, April 27th at the County Board meeting in Thurles Sarsfields Centre and following the meeting tea/coffee refreshments will be available downstairs in the Sarsfields Lounge with the distribution of draw material to all clubs.
Supporters are encouraged to support the draw as it also provides much needed revenue for your local club.
TIPPERARY FUN RUN/WALK Calling all runners, walkers and the Tipperary public to please support the Tipperary Supporters Club and the County Camogie Board 5k fun run/walk which is a fundraiser to aid our Tipperary county teams in their preparation for their respective 2017 championships.
This fun run will take place at the Dome Semple Stadium on Bank Holiday Monday, May 1st next with an 11am start. Entry is €10 each for adult and €5 each for U16s. Clubs are requested to sell books of tickets (10 per book) and these tickets will also cover entry to the fun run on the day. After the run an open training session for the senior hurling team will be held in Semple Stadium.
If you cannot run on the day, you can still subscribe by buying a ticket which will aid both teams on their journey hopefully towards All-Ireland glory.
TIPPERARY SUPPORTERS CLUB GOLF CLASSIC
The Annual Tipperary Supporters Club Golf Classic will be held in Nenagh on Friday, May 19th next and promises to be another tremendous event as the Nenagh Club hosts the classic this year.
The Supporters Club ask for your support for their Annual Golf Classic. They are very appreciative of the generosity of so many over the years and hope Tipperary supporters and golf enthusiasts will be in a position to enter a team again this year. This is one of their major fund raising events and they want to continue to support our Senior Hurling Management Team as they bid to retain their Munster and All-Ireland titles. All funds will be used to defray costs for looking after team preparations for this year's Championship.
Please email team entry to johntierney105@gmail.com or post to John Tierney, Chairman, Tipperary Supporters Club at 105 Laraghcon, Lucan Village, Co. Dublin, 087 6821398. (Note: to be eligible for the main prizes, all team members must have GUI handicaps.)
SCÓR
Newport GAA club are hosting a Scòr concert in Newport Community Centre on Sunday next, April 30th at 8pm. We hope to have all our acts for the All-Ireland Finals on stage on the night. This will be an opportunity for all to give our representatives a good send off to Belfast as well as providing much needed support. We wish all our representatives Ádh mhór as preparations continue. Fáilte roimh châch.
HANDBALL Tipperary players represented Munster in 4 All-Ireland Finals last weekend.
In the Golden Master 'A' Doubles, John O'Donoghue (Cashel) and Eddie Corbett (Ballyporeen) had a good win over Robbie McCarthy and Michael Naughton from Westmeath. Having lost the first game 21-8 the Tipp boys rallied in the second game to win 21-4 and in a tough third game Tipperary came out on top winning 21-13. In the Masters 'A' Doubles David Moloney and John Corbett were disappointed to have no game in the Finals as Mayo pulled out. The Silvermines Club contested two finals – the MBD and Ruby Masters Doubles. In the Master 'B' Doubles Brian O'Brien and John Kennedy were defeated by Kildare's Gavin Grace and Dara Ward while in the Ruby Masters Final Jim Ryan and Denis Gleeson were defeated by Eugene Kennedy and Vinny Farrelly.
After 129 qualifier games in the 2017 40×20 Irish Junior Nationals, we now look forward to the finals weekend which starts next Saturday, April 29th, in Galway venues. A hectic weekend lies in store with Ireland's top juveniles on show across eleven venues, where many stars will shine. Tipperary has Boys and Girls through to the final stages. In Boys U11Singles Jack Mulcahy from Lahorna travels to Salthill and Stefan Tobin from Carrick-On-Suir is in Aras Bothair na Trá. In Girls U11 Singles, Christine Percy from Lahorna is in Claregalway and in U13B Amy Mc Keogh from Ballina competes in Castlegar. Elsewhere, in U15B Meagan Morris from Nenagh is in Moycullen and in 19 and under Sinéad Meaghar travels to Claregalway. We wish all our juveniles the best of luck next weekend.
LONDON TEAM TIPPERARY FUNDRAISER
Less than four months after members of their 'double' All-Ireland winning hurling teams were feted by the London Tipperary Association, Tipperary GAA/Team Tipperary will be returning to London to host their third Corporate Lunch Fundraiser on Friday, May 12th next. After an absence of a year the InterContinental Hotel, will once again be the venue with London-based Tipperary Supporters Club committee members Johnny Whyte (Drangan), Phil Cusack (Carrick-on-Suir), Paddy Shanahan (Upperchurch) and Clonmel natives Kevin Leahy and Brian Acheson co-ordinating what promises to be another memorable occasion for all followers of the blue and gold.
As the beginning of another championship season looms it will therefore be another wonderful opportunity for all London based Tipperary people to welcome back the silverware that was won on an unforgettable day for the Premier County last September, as well as our football All-Star Michael Quinlivan. The Clonmel Commercials man will also be accompanied by the recently won Division 3 League trophy after the Tipperary footballer's promotion to Division 2.
Because of their preparation for the Munster Quarter-Final against Cork on May 21st, no hurlers will be present. However, the occasion will be enhanced by the presence of former Tipperary hurling legends from the late 80s/90s, namely Borrisoleigh's Bobby Ryan and Killenaule's Donie O'Connell. They will be teaming up once again with former team mate and current All-Ireland winning manager Michael Ryan. It is quite likely that a few more late 'surprise' guests may also make an appearance on the day. Among the Tipperary GAA officers also travelling will be Chairman Michael Bourke, Secretary Tim Floyd and Vice-Chairman John Devane.
Over three hundred diners are expected to attend the event in aid of the ambitious development of the Thurles based Dr. Morris Park Centre of Excellence. Similar to Team Tipperary's previous recent visits to London another excellent programme of entertainment has been planned for that Friday afternoon in the West End with Today FM's Paul Collins anchoring the event which also includes a fund-raising auction of rare Tipperary GAA and other sports memorabilia, merchandise and match tickets.
The London born Annacarty native will begin the afternoon by inviting Tipperary GAA Chairman Michael Bourke to address the diners before lunch followed by entertainment for the afternoon including a Q & A forum.
If the two previous functions at the InterContinental Hotel are any indication of what's in store then another enjoyable and unmissable afternoon looks assured in the company of Tipperary's stars and their hard-won silverware of 2016.
News of the fundraiser has already attracted considerable interest for the May event and a number of the tables have already been snapped up. A brochure has also been produced by Team Tipperary and a full table or place at a table can be booked with reservations made as soon as possible to the Tipperary GAA Office at Lar na Páirce, Thurles, Co. Tipperary. Tel: 00353 (0)504 22702 or email: secretary.tipperary@gaa.ie
TG4 LAOCHRA GAEL
This Wednesday night, April 26th, two time All-Ireland medal winner in 1989 and '91 Pat Fox (Eire Óg Annacarty Donohill) will feature in an episode of the hugely popular TG4 Laochra Gael series. This programme will be of great interest to all Tipperary Gaels and is one to watch out for.
1887 ALL-IRELAND FINAL RE-ENACTMENT
As indicated last week there has been a very encouraging response to the announcement, some weeks ago, that a re-enactment of the first ever All-Ireland hurling final (1887) would take place in Thurles on Saturday, July 1st. The organising committee are especially interested that descendants of the players and officials would take part and ensure that this re-enactment is as true to its origin as it can be by having direct descendants of those that were involved with the first All-Ireland actually take part and play on July 1st next.
So if you are a descendant and couldn't make last Monday night's meeting in Thurles please contact Johnny Enright 087 6374210 or Liam Ó Donnchú liam.odonnchu.oifigeach@gaa.ie to help ensure the Premier County is appropriately represented in this most unique event.
TIPPERARY SUPPORTERS CLUB 2017 MEMBERSHIP
Supporters can join on line now on tippsupportersclub.com/join by credit card or debit/laser card. Membership is €40 per person. Also on the website details are available of the direct debit facility; as the Club is run on a completely voluntary basis it would be a great help if members could join by direct debit. We are encouraging members to switch to Direct Debit payment by offering a reduced charge of €30 for all Direct Debit members in 2017. It's easy to sign up for Direct Debit, just download the two-page form from the Tipperary Supporters Club website at http://www.tippsupportersclub.com/join/ fill it out and send it to Jim Reidy at the address below.
If joining by post please send a cheque or postal order for €40 payable to Tipperary Supporters Club to Jim Reidy, 13 Castleknock Close, Dublin 15 (086-3580718, email: info@tippsupportersclub.com ) All proceeds from membership go towards the preparation and training of the Tipperary Senior Hurling Team.
FRIENDS OF TIPPERARY FOOTBALL
The Friends of Tipperary Football membership for  €20 enters each supporter into the following draws: 2 All Ireland Final Football tickets 2017; 2 All Ireland Final Hurling tickets 2017; 2 Tickets for each Tipperary Senior Football Championship matches 2017; 2 All Ireland Club Final tickets 2017 and 2 National Football League tickets for each Tipperary League match in 2017.
Membership is also available online through the Friends website www.friendsoftipperaryfootball.com and there is also a link on the Friends Facebook page.
TIPPERARY GAA SCENE
Information concerning all areas in the GAA will appear in this section in the future. If you wish to include any item of interest in future articles, please e-mail at pro.tipperary@gaa.ie on or before 3.00pm on Monday. Visit the Tipperary GAA web site at http://tipperary.gaa.ie to keep up to date with all the latest news in Tipperary GAA circles.