Tipperary GAA Scene 7th March 2018
By PRO Joe Bracken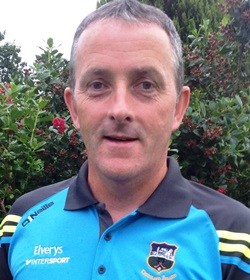 ALLIANZ HURLING LEAGUE
With the unprecedented weather event of last week now behind us, the focus once again is on Semple Stadium this Sunday, March 11th, where the Field of Legends will host the rearranged Allianz League hurling and football double bill. First up the Tipperary footballers welcome Louth to Thurles for a 12:30pm showdown while the Tipperary hurlers will line out against Cork in the last and final round of this year's hurling league at 2:30pm.
A carpet of snow on Semple Stadium in line with most of the country ensured no matches would be played last weekend. Hopefully, that will be the only hiccup in an already condensed league campaign, the result of which sees the hurling league schedule already pushed out by one week.

So as Tipperary and Cork prepare to renew rivalries it is all to play for in what will be the 62nd occasion in the National Hurling League, with the Rebels ahead on the head to head by a small margin of 4. Tipp travelled to Pairc Uí Rinn in the corresponding fixture last year with a league quarter final spot already in the bag and unfortunately came away on the receiving end of a one point loss, 0-26 to 3-16. The Tipperary goals came courtesy of Seamie Callanan (Drom & Inch) who accounted for 2-6 of Tipp's tally, while John McGrath (Loughmore-Castleiney) chipped in with 1-1. Seamie unfortunately has had no game time yet for Tipp this year due to injury and the mantle of scoring threat is now spread throughout the forward unit with Jason Forde (Silvermines) leading the charge on 3-28 for his 3 league outings so far.
Sunday's game will be a stern test again as Cork will come looking for a win to try and book their place in the quarter finals whilst Tipp will no doubt be looking to build on the strong performance in Nowlan Park in their last outing and make it three wins out of three on home soil in this campaign. It makes for a busy number of weeks if results fall Tipp's way. Should Tipp progress a league quarter-final awaits the following weekend with semi-final and final coming consecutively depending on results, the final is now set for Saturday, March 31st. Should Tipp fail to make it to the quarter-finals a relegation play off awaits on the same weekend as the quarter-finals.
With supporters temporarily starved of action there is sure to be a bumper attendance in Semple Stadium on Sunday to witness the current instalment of one of hurling's greatest hurling contests.
We send best wishes to captain Padraic Maher and his team and their management as all look forward to their next assignment on Sunday afternoon.
Sunday's referee was not confirmed at time of going to press.
Tickets for this double header are on sale at GAA.IE, selected SuperValu and Centra stores and usual outlets – adults €15 and U16's go free. Please note any tickets purchased for the original date are still valid for Sunday next. Buy before match day and get 20% off adult tickets.
ALLIANZ FOOTBALL LEAGUE

The Tipperary footballers are back at the coalface in the Allianz Football League also on Sunday next when they will play Louth in their Division 2 Round 5 encounter as they get affairs under way in Semple Stadium at 12:30pm.
Tipp are motoring along nicely in the league and a fine win over Meath in their last outing also at home will have steadied the ship following mixed results in their two previous fixtures. Louth on the other hand will be hoping for a repeat of the result when last in Thurles and as a consequence they will no doubt have Tipp firmly in their sights.
In what will be their last home league round of this campaign, manager Liam Kearns and his management team will be also be looking for both points to all but guarantee Tipp's position in Division 2 for next season and look too for a performance to build on for the last two away fixtures to Down and Cavan in what will be a revised end to the league rounds. The weekend break previously allotted would have been ideal ahead of the two away fixtures but that cushion is gone now. Should Tipp make it to the final, they will play on four consecutive weekends as the final is set for Easter Sunday, April 1st in Croke Park.
Here too we send best wishes to captain Robbie Kiely and his team and their management on Sunday where there should be a great crowd in to support the side on what should be an exciting day on the Field of Legends and as with the hurling, match referee to be confirmed.
COUNTY FIXTURES
The county CCC have rescheduled the first rounds of the Tipperary Water County Hurling and Football league fixtures and these will commence with the first of the action from this Thursday, March 9th. Round 2 of the county senior hurling leagues will take place on Sunday March 18th at 12pm as per county fixture programme. The games will be sent out to clubs during the week from the CCC secretary. Clubs may change the times of games by agreement of their opposition.
Elsewhere, in the Tipperary Water County U/21 (A) Football Championship Semi-Finals, this Saturday March 10th, Borrisokane will play JK Brackens in Templederry at 12:30pm and Clonoulty-Rossmore will meet Moyle Rovers in Leahy Park Cashel at 2pm.
In the Tipperary Water County U/21 (B) Football Championship Semi Final again this Saturday, Newport play Upperchurch-Drombane in Kilcommon at 4pm. Then on Sunday, March 11th, in Boherlahan at 4:30pm its Knockavilla-Donaskeigh Kickhams against Killenaule or Ardfinnan Gaels, extra time to be played in all semi-finals if required. The finals are set for March 17th at 12pm.
TIPPERARY GAA DRAW
The postponed March GAA Draw takes place on this Friday night, March 9th in Lee's Bar, Main St, Newport at 10pm in conjunction with the presentation to Jamie Kennedy, Newport Handball who won €15,000 in the February GAA Draw. A Skoda Octavia along with holidays, lotto jackpot €3,000 and other cash prizes to be won on the night.
COACHING & GAMES
Tipperary Coaching and Games will hold GAA Easter activity camps for those aged 6 to 12 at various venues in the county on 27th to 29th of March or 3rd to 5th of April from 10am to 1pm. The cost is €30 and all participants will receive a free sliothar and football. Those interested should contact registered clubs for further details.
COUNTY FINAL PROGRAMMES
Further to the collaborative work between Tipperary County Council library service and Tipperary GAA Co. Board in digitising the back catalogue of the Tipperary GAA yearbooks, the partnership continues with the digitising of Tipperary county hurling and football match programmes. With the kind support and permission from Tipperary GAA Co. Board, staff associated with the digitisation project at Tipperary County Council library service has now put online 41 hurling county final programmes from 1976 to 2017, including replays. From the small county football final programme collection at Tipperary Studies, 18 match programmes from the same time frame are also available to view online. http://tipperarystudies.ie/digitisation-project/tipperary-gaa-senior-county-final-match-programmes/
As further county final match programmes become available, these too, will also go online. Staff at Tipperary Studies digitisation programme are grateful to the ongoing support of the Tipperary GAA Co. Board and followers of Gaelic Games in the county for support of our digitisation work. If anyone wishes to donate a loan copy of a missing programme for digitising, please feel free to do so by contacting Tipperary County Library on 0761 066123 or email to studies@tipperarycoco.ie your programme will be returned once digitisation is complete.
The county final programme collection can be viewed at the following link www.tipperarystudies.ie Here too will be found the back catalogue of the Tipperary GAA Yearbook collection and other items of historical and genealogical interest relating to Tipperary. One of the highlights is the Murphy negative collection, which portray much of Ireland from the late nineteenth century up to 1932. In all there are 1,251 images in the collection, including several of a sporting nature. These are also available to view on the Tipperary Studies online platform.
SEACHTAIN NA GAEILGE
Agus Seachtain na Gaeilge buailte linn ná dean dearmad ar an cúpla focal a chleachtadh. This year Noel McGrath (Loughmore-Castleiney) is one of three ambasadóirí Sheachtain na Gaeilge 2018 le Energia along with Caitlín Nic Aoidh agus James Patrice.
There are some excellent websites to keep up to date with current affairs, cúrsaí spoirt, cúrsaí cultúrtha srl nuacht.ie tuairisc.ie peig.ie www.snag.ie san áireamh. Ní binn béal ina thost i rith Seachtain na Gaeilge.
Bain triail as – Is leatsa í. Try a cúpla focal, it's yours to speak.
HEALTH & WELLBEING
A County Health and Wellbeing Committee has been established the aim of which is to promote the GAA Action Plan that encourages all clubs to appoint a Healthy Club Officer and team whose role will be to help their club become a healthier place for all the community to enjoy. The Association has already implemented phases 1 and 2 of its Healthy Club Project. Tipperary clubs Nenagh Eire Óg, JK Brackens and Fr. Sheehy's have come through these phases and all are now actively involved in promoting the Healthy Club initiative in their clubs and wider community. Phase 3 has just been launched by Croke Park and congratulations to Lorrha-Dorrha and Newport who have been selected to represent Tipperary in the latest action plan.
Healthy Club Officer training will be provided at county level going forward. Committee members Seamus Delaney and Michael Leonard will undergo tutor training in the coming weeks and look forward to meeting club appointees when this is completed. All clubs are asked to appoint a Healthy Club Officer immediately and forward the name to the county secretary Tim Floyd. This information will then be forwarded to the county health and wellbeing committee who will be in touch to support and encourage the clubs.
TIPPERARY SUPPORTERS CLUB MEMBERSHIP 2018
Click here to join: http://www.tippsupportersclub.com/join/adult-members/
The Tipperary Supporters Club member's gift in 2018 is a specially produced Tipperary Supporters Club Cap, in the traditional Blue and Gold and featuring the Tipperary Supporters Club Official Logo.
Membership is €40 per person and there are several payment options. All proceeds from membership go directly towards the preparation and training of the Tipperary Senior Hurling Team.
FRIENDS OF TIPPERARY FOOTBALL
The Friends of Tipperary Football are now selling membership for 2018 and once again it is a very reasonable €20 and all members will receive an exclusive car sticker.
If you would like to join online you can do so at http://www.friendsoftipperaryfootball.com/join/ or contact any Friends of Tipperary Football committee member.