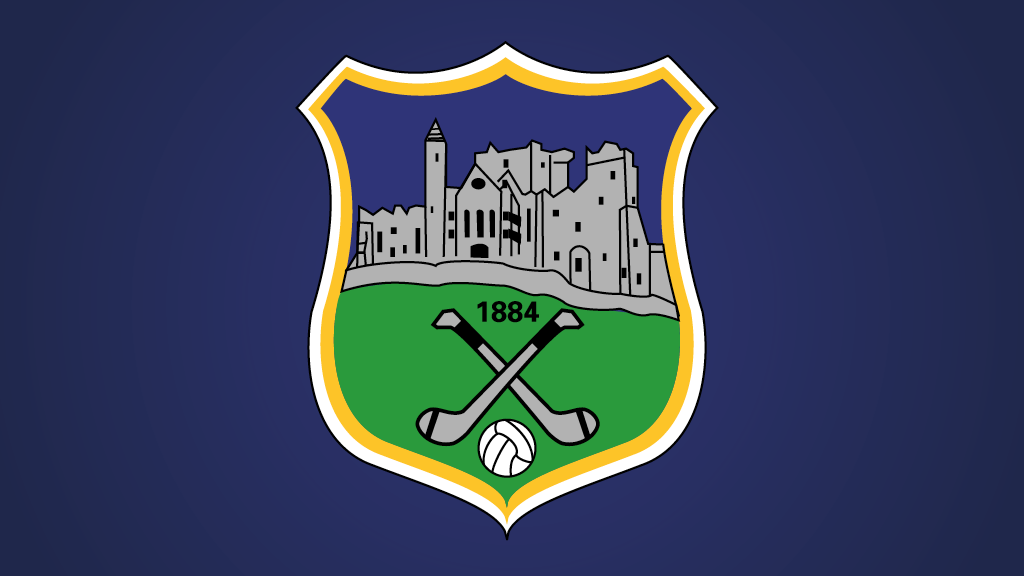 By: PRO Joe Bracken
MUNSTER MINOR FOOTBALL CHAMPIONSHIP
Match day two for the Tipperary minor footballers didn't live up to expectations as an unexpected display saw Tipp lose out to Clare 1-10 to 0-6 in this phase 1 round 2 encounter in the Electric Ireland Munster Minor Football Championship.
This Wednesday evening April 24th in Sean Treacy Park, Tipperary will play their final round-robin match against Limerick where throw-in will be at 7pm. Following Limerick's 0-10 to 1-7 draw with Waterford last week, Wednesday's match is effectively a semi-final clash for the Darryl Darcy Cup. Tipperary will no doubt be eager to get their hands on the cup in memory of one of their own.
Tipperary supporters are asked to please come out behind the team this Wednesday and encourage the team with your support.
The team has been announced by manager Matt O'Doherty and lines out as follows;
1. James Griffin – Upperchurch-Drombane, 2. Christy McDonagh – Cahir, 3. Tadhg Condon – Clonmel Commercials, 4. Emmet Butler – Kilsheelan-Kilcash, 5. James Armstrong – Thurles Sarsfields, 6. Donagh Hickey – Arravale Rovers, 7. Conor Shanahan – Inane Rovers, 8. Paddy Creedon (Vice-Capt.) – Thurles Sarsfields, 9. Tom Tobin – Rosegreen, 10. Luke Seacy – Inane Rovers, 11. Kyle Shelly (Capt.) – Moycarkey-Borris, 12. Ben Comerford – Grangemockler-Ballyneale, 13. Rory Collins – Moyle Rovers, 14. Jimmy Mullen – Drom-Inch, 15. Eoin McCarthy – Clonmel Commercials, Subs; 16. Cian O'Mahony – Ardfinnan, 17. Eoin Wyse – Cahir, 18. Liam King – Ballinahinch, 19. Darragh McCahey – Loughmore-Castleiney, 20. Dara King – Ballina, 21. Liam McCormack – Durlas Óg, 22. Conor Cadell – JK Brackens, 23. Josh Kennedy – Clonmel Commercials, 24. Peter McGarry – Moyle Rovers.
Additional panel members as follows; Edward Meagher – Loughmore-Castleiney, Mark O'Connor – Clonmel Commercials, Jamie Holloway – Carrick Swan, Conor Neville – Kilsheelan-Kilcash, Leon Kennedy – Grangemockler-Ballyneale, James Corcoran – JK Brackens, Jack Lillis – Drom-Inch, Francie Delaney – Cahir, Tomás Bourke – Boherlahan-Dualla, Jack Buckley – Cahir.
Once again, we send best wishes to the team and management for this match against Limerick where the referee will be Chris Maguire (Clare).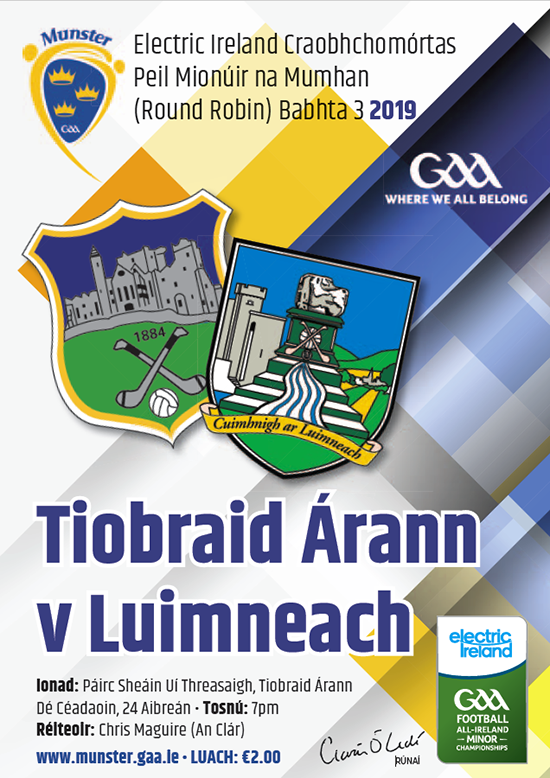 CLUB FIXTURES

The action continues this weekend in the Tipperary Water County Hurling Leagues with another extensive round of fixtures down for decision.
For results of all games and forthcoming fixtures please check https://tipperary.gaa.ie/fixtures-results/
TIPPERARY GAA CLUB DRAW
The 2019/20 and 2020/21 Tipperary GAA Clubs draw has been launched and all clubs are actively renewing membership as the first draw for 2019/20 will take place on Friday May 10th.
For anyone new wishing to join please contact your local club or the Lar na Páirce office 0504 22702 for more details.
Join Online Facitily: There is also an option to renew / join the draw online at the following link https://tipperary.gaa.ie/tipperary-gaa-clubs-draw/
CAMOGIE
Congratulations to the Tipperary intermediate camogie team who are the Littlewoods Ireland National Camogie League Division 2 winners following their 0-14 to 0-8 victory over Kilkenny last Saturday afternoon.
HANDBALL
Best wishes to the 4 pairs of Tipperary players that will be in action in the All Ireland finals which are fixed for Kingscourt in Cavan this weekend April 27th and 28th.
The pairings are Brian O'Brien and John Kennedy (Silvermines), Aiden O'Flaherty and Liam Bradshaw (Youghalarra/Newport), Joseph and Finbarr Ryan (Silvermines) and in the Ladies JBD Eleanor Percy and Síle Spain (Lahorna).
FRIENDS OF TIPPERARY FOOTBALL GOLF CLASSIC
The Friends of Tipperary are running their annual Golf Classic in Thurles Golf Club this Friday and Saturday April 26th and 27th. This year the Friends are delighted to have Teneo as the main sponsor. Teneo as we know are also the main sponsor for all Tipperary inter-county teams.
Last year's event was a huge success with a record number of teams taking part and the Friends hope this year's Classic will be as successful. There are extra demands on finances to compete at the highest level and the goal of the Friends is to raise funds with the continued and generous support of participants in the Golf Classic to help defray costs in team preparation to help our players and management achieve success at the highest level.
The Friends are asking for support of this fundraiser by registering a team of 4 players for €120 or by sponsoring a tee box on the day for €50. All support is most welcome and very much appreciated.
Tee booking is open for those wishing to take part or for any further information please contact Martin Dwyer 086 2549154 or any committee member.
ANDY C. HARTY COMMERATION
A commemoration celebrating the life and contribution made to the GAA by Andy C. Harty will take place on Friday, May 3rd, at 7:30pm in Ballymackey Graveyard and at 8:30pm in Bishop Harty National School, Ballinree.
Toomevara GAA Club and the wider community of the parish are extremely proud of the remarkable contribution that Andy Harty made to the GAA, including his role in the promotion of Handball and Athletics throughout the country. Therefore, Toomevara GAA feel it is only fitting that his many achievements are recorded and commemorated in his native Ballymackey. Among those present at the commemoration will be Uachtarán Cumann Lúthcleas Gael John Horan agus Uachtarán Cumann Leadaoige Láimhe Éireann Joe Masterson, as well as relatives of Andy Harty, Tipperary and Dublin Co. Boards, Munster Council and representatives of Faughs GAA Club.
Andrew (Andy) Harty or 'A.C.' as he was popularly known as was born in Lisnamoe, Ballymackey in the parish of Toomevara on December 26th, 1874. He attended the local National School and always had an interest in hurling, football, handball and athletics.
He was a qualified accountant and around the year 1900 moved to Dublin which was the time of the 'Gaelic Revival' in Ireland. Andy enthusiastically got involved in Gaelic Games and he joined Faughs GAA Club. This inspired decision between the years 1903 and 1915 saw him win nine county championships and six county league titles. He was to play in five Leinster finals and was a member of the Dublin team that contested the All-Ireland finals of 1902 against Cork and 1905 against his native Tipperary. He was also selected on the Railway Shield Teams from 1905 to 1908.
In his administrative role he served as Chairman of Dublin County Board during the tumultuous period from 1916 to 1925. He was on the fateful committee that decided to allow the football match between Dublin and Tipperary on November 21st, 1920. This day was to become known as 'Bloody Sunday'.
He was also a well-respected referee in both hurling and football and refereed the 1925 All-Ireland Football Final Replay. He was Vice-Chairman of Dublin County Board at the time of his death in 1926.
He was also a hugely talented handballer and won numerous tournaments during his lifetime. In 1905 partnered with Paddy Gilsenan he won the Dublin Championship. At the first Leinster Handball Convention in 1923 he was elected chairman and was President of the IAHA from 1925 until his untimely death.
He won an amazing thirty gold medals during his athletics career. He was appointed to the Olympic Council of Ireland in 1922 and on the inception of the Athletic Council of the GAA in 1925 he was elected secretary of that organisation.
His untimely death launched an outpouring of grief all across the country and especially in his native parish of Toomevara, where he is buried in Ballymackey Graveyard. In recognition of his dedicated service to Gaelic Games the central council of the GAA erected a memorial Celtic Cross in his memory.
At the unveiling of the Celtic Cross on 16th December 1927 the GAA President, W. P. Clifford, said: 'No greater Gael ever lived, he was a man worthy of this great county of Tipperary and his life is an example of what a true Irishman's should be. If the men who carry on the work of the association in the future be men of Andy Harty's type the association is safe'.
GROUNDS PERSON EDUCATIONAL DAY
The National Pitch Maintenance Workgroup is holding a Grounds Person Educational Day in Thurles this Saturday, April 27th for the Munster region.
This is a unique opportunity for grounds people, county/club officers (operationally responsible) for their club and /or county pitches who wish to carry out their work in a more informed manner.
To register for the course please contact Kieran McGann by email to: ktmcoare@gmail.com or for any queries contact Kieran on 086 773100 before Thursday, April 25th.

TIPPERARY SUPPORTERS CLUB
Tipperary Supporters Club wish to remind all that the hurling championship season is fast approaching, when Tipperary will play Cork in their opening Munster Championship clash in Páirc Uí Chaoimh on Sunday May 12th at 4.00pm.
As is usual, the Tipp Supporters Club will be conducting a draw among all paid up members for this year (2019), for 5 sets of stand tickets for this game and all subsequent championship games for as long as Tipperary remain in the championship.
To ensure that all paid up members are included in the first draw please have your relevant member details submitted at the latest this Friday May 3rd by post to, Tipp Supporters Club, 13 Castleknock Close, Castleknock, Dublin 15. Or by email: to jreidy2966@eircom.net and phone 086 3580718.
The membership pack also includes the following benefits:
A specially-designed Tipperary Supporters Club pen with stylus for use on touch-screen devices
2019 Car Sticker
Text alerts for all Championship team news
Regular news to your email about all the latest in Tipperary GAA circles
FRIENDS OF TIPPERARY FOOTBALL
Membership for the Friends of Tipperary Football for 2019 is now available and costs only €20. There are some great prizes to be won throughout the year by becoming a member. The Friends are a fantastic group that help with the development of Tipperary Football. To join please go to www.friendsoftipperaryfootball.com

KELLOGG'S CÚL CAMPS
The Kellogg's GAA Cúl Camps are back for 2019. Registration includes the attractive and distinctive Kellogg's GAA Cúl Camp kit that is supplied to participants and is worn with pride by young boys and girls all over the country.
Children are coached in hurling, camogie, football and ladies' football and some camps offer rounders, handball and fun & run.
One camp in each province will also receive a surprise visit from one of the inter-county player ambassadors who will be unveiled at a Kellogg's GAA Cúl Camps' launch on April 9. The week-long Kellogg's GAA Cúl Camps are priced at €60, dropping to €55 for a second child and just €45 or a third and any additional children.
Everyone who registers for a Kellogg's GAA Cúl Camp can enter a competition for a chance to win €5,000 worth of training gear for their team and a €500 voucher for themselves by entering the code from promotional packs of Kellogg's Corn Flakes or Rice Krispies in store from April or answering a question online. Register online now – gaa.ie/kelloggsculcamps