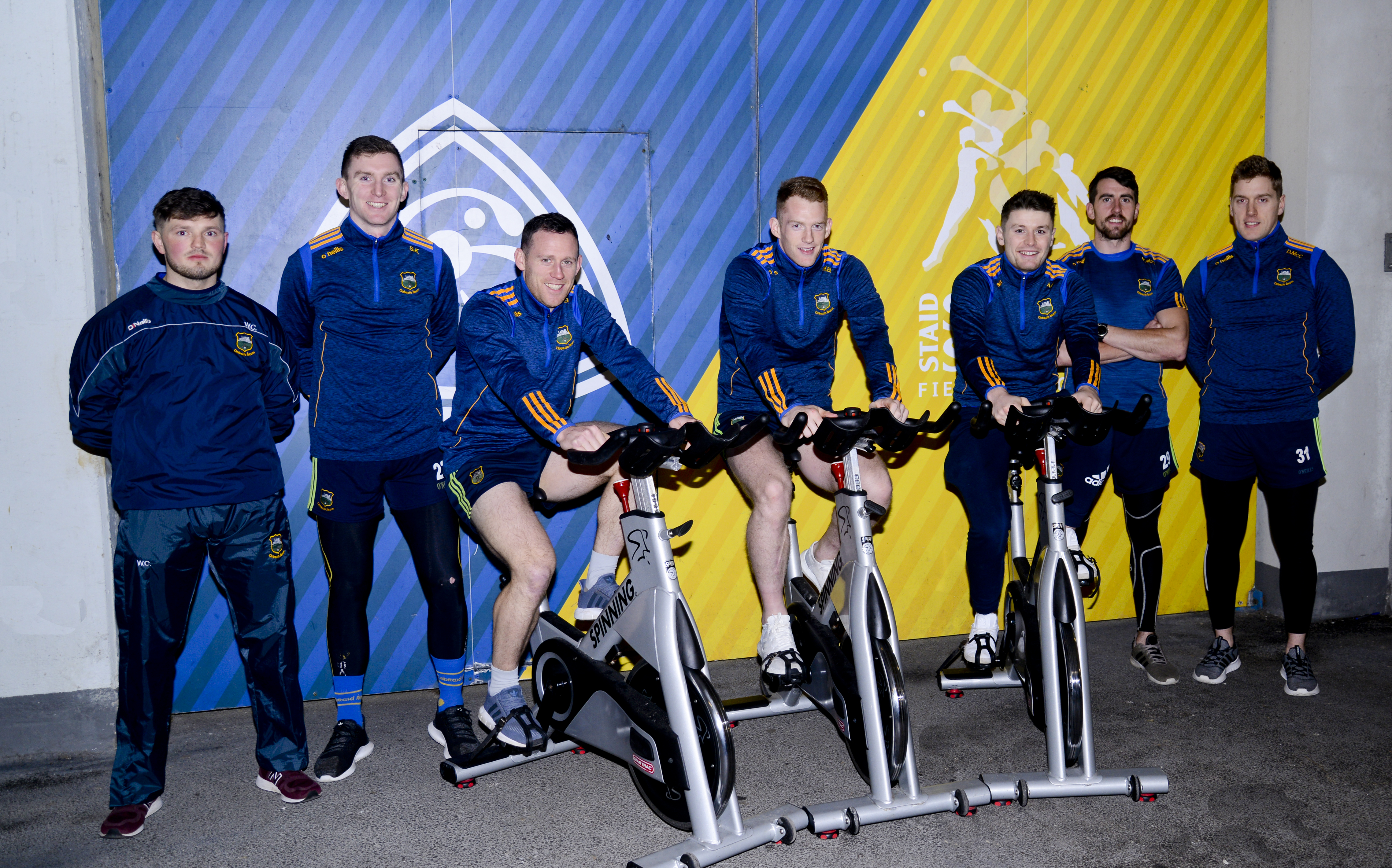 By: PRO Joe Bracken
CO-OP SUPERSTORES MUNSTER LEAGUE
The official launch of the 2019 Co-Op Superstores Munster Hurling League was held last week and this Friday, December 14th will see Tipperary resume participation in the Munster League since the county's last appearance in 2015. The Gaelic Grounds will be the venue when Tipperary and Limerick meet in Group A Round 1 in what will be the first action of a new campaign.
There will no doubt be a huge amount of interest generated for this match as it signals the return to the line for the first time since 2010 for Tipperary All-Ireland winning manager Liam Sheedy and his new management team. It also equates with Limerick's first competitive appearance since capturing the Liam MacCarthy Cup in August.
Throw in at the Gaelic Grounds will be at 7:30pm and the referee will be Rory McGann (Clare). Admission is €10 with U-16's free. Students/OAP's receive €5 concession at the designated stile prior to entry with valid ID. Tickets can be bought in advance at gaa.tickets.ie
Tipperary's second match in the Munster League will be on Saturday, January 5th when the team will play Kerry in Nenagh in Group A Round 3. Throw-in for that match is fixed for 2pm.
CLUB FIXTURES
After a hectic year of club action, the final fixture to be played at county level is the Tipperary Water U21 A Hurling final set for Boherlahan on Sunday next when Clonoulty-Rossmore and Thurles Sarsfields meet to decide the destination of this year's title.
Last Sunday Thurles Sarsfields made no mistake at second time of asking as they saw off the Toomevara challenge in The Ragg. Killenaule after a busy few days came through from the south championship but were unable to hold a strong Clonoulty-Rossmore outfit who also marched onto the final.
In the U21 B championship congratulations go to Cappawhite Gaels who knocked in a late goal on their way to a one point victory over Moyne-Templetuohy/Thurles Gaels to capture the title.
The following are the county results and fixtures for both championships;
Tipperary Water U21 A Hurling Championship Semi-Final Results
Thurles Sarsfields 4-12 Toomevara 0-11
Clonoulty-Rossmore 2-20 Killenaule 2-4
Tipperary Water U21 B Hurling Championship Final Result
Cappawhite Gaels 1-17 Moyne-Templetuohy/Thurles Gaels 0-19
Tipperary Water U21 A Hurling Championship Final Fixture
Sun. Dec 16th in Boherlahan at 1pm; Clonoulty-Rossmore v Thurles Sarsfields
To keep up to date with all fixtures and results please check https://tipperary.gaa.ie/fixtures-results/
MUNSTER GAA AWARDS
Congratulations to Seán Hayes (Kiladangan) on being selected Munster Minor Hurler for 2018. Seán had a hugely impressive Munster campaign in which he scored 6-7 which contributed enormously towards helping his side claim their 40th provincial title.

TIPPERARY SENIOR HURLERS FUNDRAISING EVENT
The 2019 Tipperary hurling panel, supported by past players, will take on one of their most important challenges ever just days out from Christmas as embark on a major fundraiser in aid of the 'Running for Josie' project and Amanda Stapleton Benefit Fund.
The entire current squad, plus some recently retired Tipperary players, will take on the Four Divisions Fundraiser – a three-event fundraiser held in Cashel, Clonmel, Nenagh and Tipperary on Saturday, December 22nd.
The players will deliver Christmas early to would-be hurling stars of the future as they give, on a first come first serve basis, a dedicated training session to U-12 players from clubs across the divisions.
A Family Fun day will also be put on at the four individual centres on the same day, while the players themselves will also, in relays, cycle the equivalent distance from Malin Head to Mizen on exercise bikes in the town centres.
The venues in each of the four divisions are as follows; Mid – hurling training at Thurles Sarsfields pitch next to Semple Stadium and cycle event at Ely's Centra premises on Slievenamon Rd. Thurles. In the North the hurling will be at Nenagh College and the cycle event at Sportsmans Dream. In the South the hurling will take place at Clonmel Sportsgrounds and the cycling will be held at the Main Guard and finally in the West division, the hurling training will go ahead at Cashel KC GAA grounds and the cycle event will take place on the plaza in front of Mikie Ryan's.
Already on their bikes and raring to go are, Seán O'Brien (Newport), Mikey Breen (Ballina) and Alan Flynn (Kiladangan), pictured right, photograph courtesy Eamonn McGee Photography.
The significant commitment just three days out from Christmas and is, organising committee member Noel McGrath says, the least that they could do for two charities that they have a special connection with.
"The Amanda Stapleton Benefit and Running for Josie project are charities extremely close to our hearts. Paddy Stapleton is, of course, Amanda's brother and Seamus is Josie's son.  Both of those guys were integral to what we achieved as a team back in 2010 and when you achieve something like that with a bunch of guys, there's a tie that never breaks.
"When we regrouped as a squad, Liam Sheedy asked us if there was something we wanted to do off the pitch, as it were, and there was no doubt on anyone's minds but it was to try and raise funds for these two charities."
McGrath said that the courage shown by Amanda and Seamus is humbling.  "Amanda is incredibly brave, much braver than any of us could ever be, and we just want to try and do our bit for her, to walk with her some part of the journey and raise some funds. We're in awe of her courage really and Paddy and his family are part and parcel of what we are.
"Seamus, on the other hand, is doing something completely out of the ordinary to raise money and awareness for one of the great issues that faces Irish people today, mental health.  He lost his own mother to it and none of us can really understand what that could have meant to him but it's typical of Seamus, one of the most determined guys I've ever known, to take on a challenge like running a marathon on the Antartic.  His goal is to raise €200,000 to fund therapy for 200 people through Pieta House and, incredibly, he's not far off and deserves all our support.  We just want to help edge him closer to his magic figure and we're asking the public to support these two incredibly brave Tipperary people one last time."
The training sessions for U-12 club squads will see them get an hour-long slot each, with the sessions running from 9am to 4pm. Each session will have a 15minute game at the end. Clubs, which will be asked to make a donation of €200 each, can sign up by contacting any member of the Tipperary squad. To donate, go to www.gofundme.com/four-divisions-charity-fundraiser-tipperary  Each club will be entered into a draw for Gaelic Armour jerseys.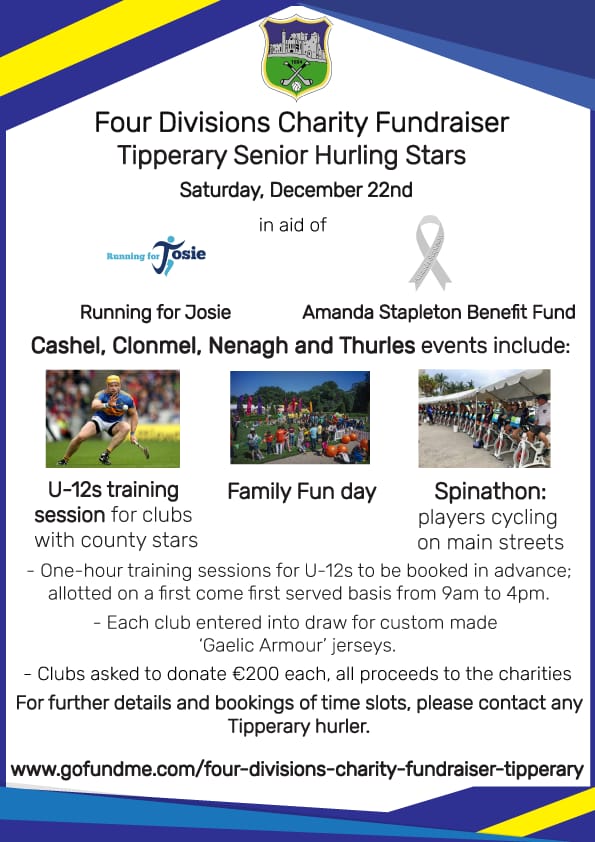 ANTARTIC ICE MARATHON CHALLENGE
Best wishes to Seamus Hennessy, as mentioned by Noel McGrath above, as he will be taking part in the Antartic Ice Marathon this Thursday, December 13th.
TIPPEARY GAA YEARBOOK 2019
The 2019 addition of the Tipperary GAA Yearbook is now on sale and is still a very reasonable €10 and once again this year's volume is a must have item for all Tipperary GAA supporters. It is packed with everything associated with Tipperary GAA in the past year.
Recalling the highs and lows of championship campaigns together with comprehensive reports and photographic content, if it happened in Tipperary GAA this year, it will hopefully be covered in the yearbook.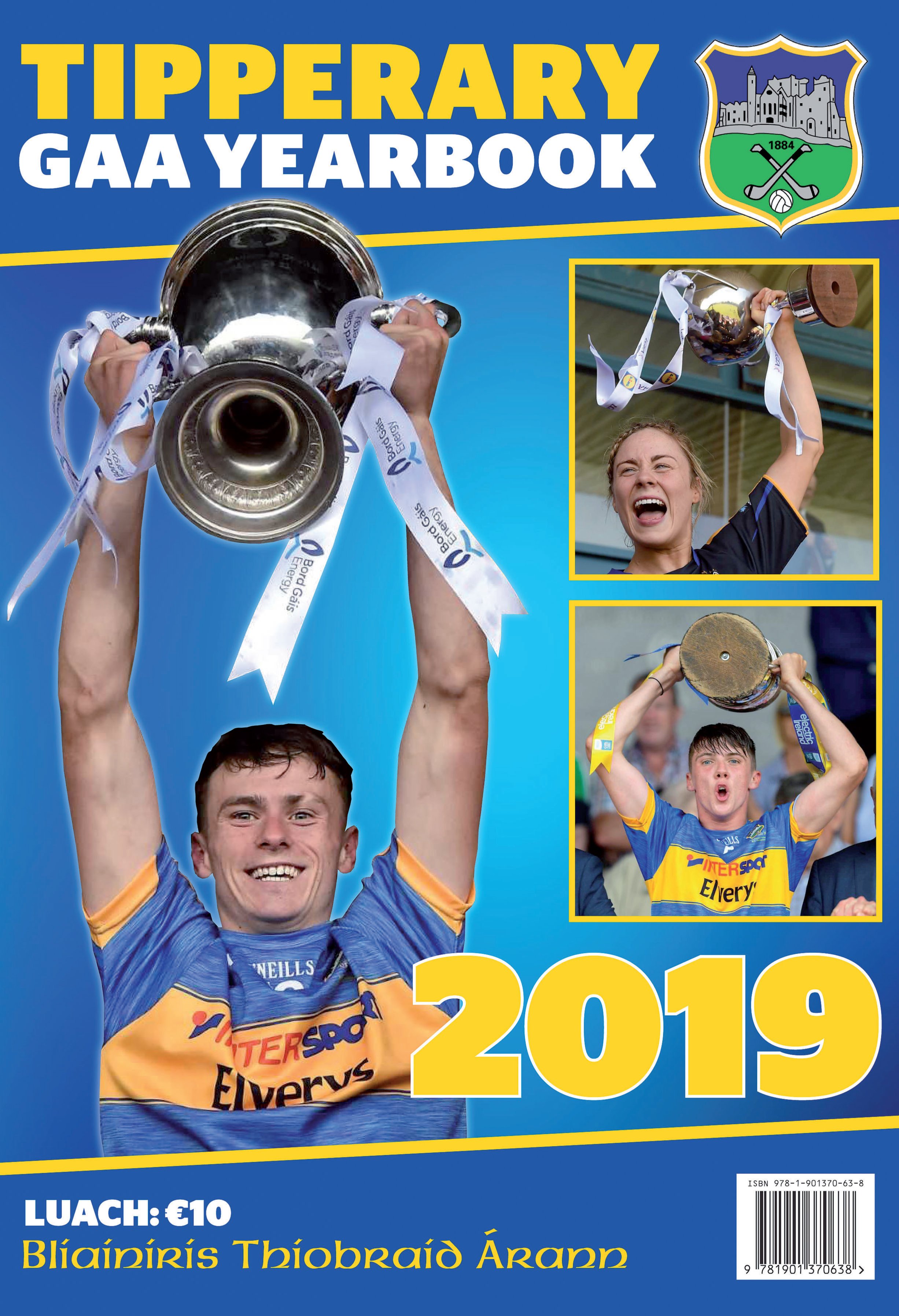 TIPPERARY GAA CLUB ALL COUNTY MATCH PASS 2019
The match pass for 2019 is currently on sale at the price of €120. This pass gives you access to all adult matches within the County during 2019. Passes can be ordered through the GAA Office Slievenamon Rd., Thurles or by contacting 0504 22702 where you can pay over the phone. You are advised to purchase tickets before Wednesday, December 19th to ensure pre-Christmas delivery.
TIPPERARY GAA CLUBS DRAW
The December GAA clubs draw was held in McKeon's Bar, on McLean Avenue, Yonkers, New York on Sunday night last and congratulations to all winners in this the last draw of 2018. The main prize of a Skoda Octavia / Renault Megane or €15,000 went to Dawn and Graham Carty with Shannon Rovers the promoting club. Second prize of a holiday or €5,000 went to Lily Creamer and Portroe were the promoting club here.
ANNUAL CONVENTIONS
This week sees the continuation of 2018 annual conventions, where next up the Co. Football Committee Convention will be held this Wednesday December 12th in the Anner Hotel, Thurles.
Finally on Monday next December 17th the County Convention will be held in The Dome, Semple Stadium also at 8pm. The Convention will be preceded by mass in memory of deceased members of the Association celebrated by His Grace Dr. Kieran O'Reilly at 7:15pm.
MID TIPPERARY SCÓR
Coiste Scór Thiobraid Árann Meanach would like to congratulate Martin Bourke of the JK Brackens Club who launched his fantastic book entitled 'Scór and other Cultural Activities in Templemore, Clonmore and Killea' in Clonmore on Friday evening last. All those present were treated to an entertaining night with acts from the JK Brackens Scór club entertaining the slua mór. Sean Kelly MEP officially launched the book and all here in Mid Tipperary Scór would like to congratulate Martin on this insightful and historic book. Maith thú Martin.
LECTURE
Sr. Aine Historical Society presents 'JK Bracken, His Life and Times' a lecture by Mr. Brian Comerford in St. Josephs Primary School, Templemore this Thursday, December 13th at 8pm.
TIPPERARY GAA YEARBOOKS AND PROGRAMMES ONLINE
Following on from the tremendous work of Tipperary County Library Service the following are a collective list of current links to the Tipperary GAA yearbooks, county final, mid and north final programmes for all supporters and historians who may not be aware of the collections online. When other divisional programmes are made available online, those links will be publicised also.
The generic link to the sport section on the Tipperary Studies website is: http://tipperarystudies.ie/sport/ Tipperary Yearbooks: http://tipperarystudies.ie/digitisation-project/tipperary-gaa-yearbooks/
Hurling Co Finals:http://tipperarystudies.ie/tipperary-gaa-senior-hurling-county-final-match-programmes/
Football Co Finals: http://tipperarystudies.ie/tipperary-gaa-senior-football-county-final-match-programmes/
Mid hurling:http://tipperarystudies.ie/mid-tipperary-senior-hurling-finals/
Mid football: http://tipperarystudies.ie/mid-tipperary-senior-football-finals/
North hurling: http://tipperarystudies.ie/north-tipperary-senior-hurling-finals/
North football:http://tipperarystudies.ie/north-tipperary-senior-football-finals/

TIPPERARY SUPPORTERS CLUB
On December 1st the Tipperary Supporters Club launched their 2019 Membership Scheme and the membership pack includes the following benefits:
A specially-designed Tipperary Supporters Club pen with stylus for use on touch-screen devices
All members are entered into a prize draw for championship match tickets for all Tipperary Senior games.
2019 Car Sticker
Text alerts for all League and Championship team news
Regular news to your email about all the latest in Tipperary GAA circles
Tipperary Supporters Club members will be the only ones eligible to vote for the official 2019 Tipperary Senior Hurler of the Year award at the end of next season. The Tipperary supporters Club are looking forward to a successful 2019 for Tipperary hurling with hopefully an increase in membership to help continue the fantastic support to our senior hurling team.
CLUB OFFICER TRAINING
This is a preliminary notification to all club's (adult and juvenile) advising that club officer training for chairperson's, secretaries, treasurer's and pro's is fixed for Wednesday, 6th February 2019 in the Anner  Hotel Thurles. Ideally suited to new officers but existing officers are more than welcome to attend.
GAA SEASON TICKET
The 2019 GAA Season tickets are now on sale and will once again provide fantastic value for supporters in next year's league and championship. Adult ticket will cost €120 and U16's €30. This will allow the ticket holder access to discounted tickets for the championship group stages in your code.
Benefits of the GAA Season Ticket include, access to an All-Ireland Final ticket (subject to meeting terms and conditions), AIB GAA club championship finals on March 17th, all Allianz league matches again in your code, including play offs, semi-finals and finals and also your county's opening championship fixture of 2019.
The Adult Club+ version ticket costs €200 and also includes club championships fixtures in the chosen county and a guaranteed All-Ireland final ticket should your county qualify, again terms and conditions apply.
All tickets are subject to availability /terms and conditions, for more information see gaa.ie/seasonticket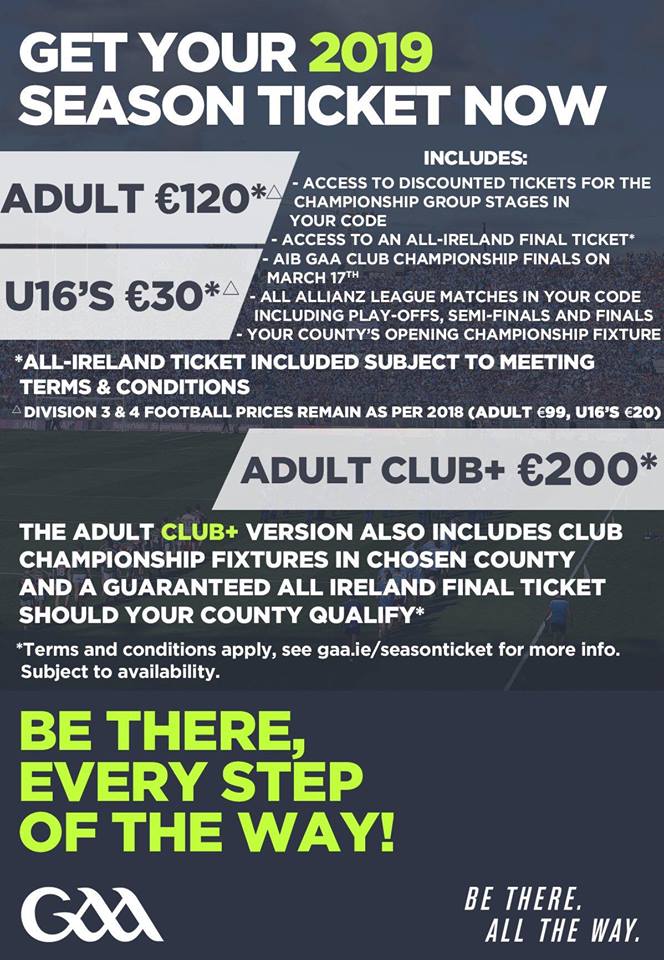 TIPPERARY GAA SCENE
Information concerning all areas in the GAA will appear in this section in the future. If you wish to include any item of interest in future articles, please e-mail at pro.tipperary@gaa.ie on or before 3.00pm on Monday. Visit the Tipperary GAA web site at http://tipperary.gaa.ie to keep up to date with all the latest news in Tipperary GAA circles.