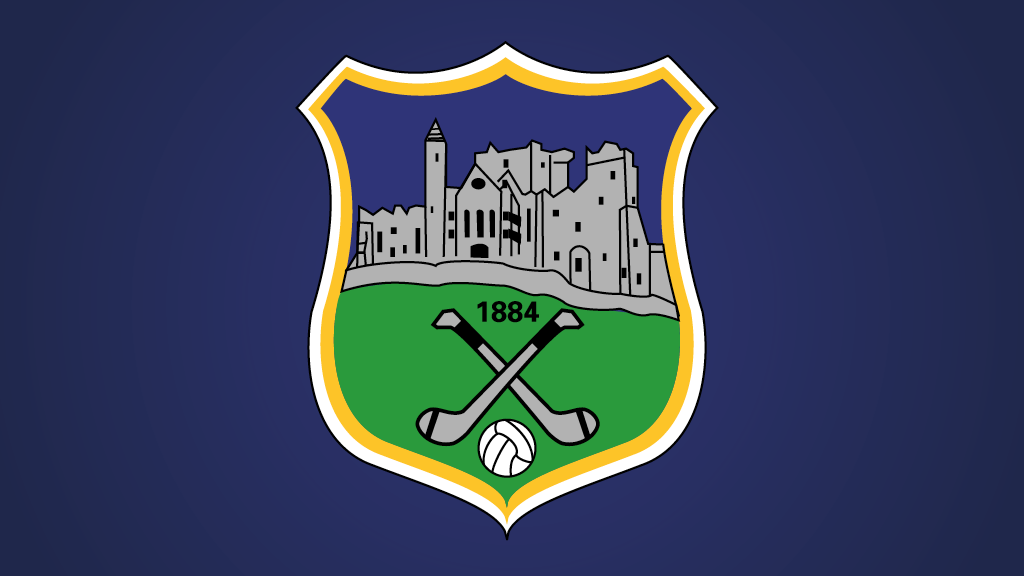 By: PRO Joe Bracken
MUNSTER CLUB CHAMPIONSHIPS
Commiserations to Clonmel Commercials who lost out to Nemo Rangers (Cork) in the AIB Munster Senior Club Football Final on Sunday last by 0-15 to 0-6 at Fraher Field, Dungarvan.
Best wishes to Mullinahone in the AIB Munster Junior Club Football Final next Sunday, December 8th in Mallow where they will play Na Gaeil (Kerry) with throw-in at 3:45pm. The referee will be Chris Maguire (Clare).
ALLIANZ HURLING & FOOTBALL LEAGUE FIXTURES 2020
With the publication of the GAA Master Fixtures Plan last week, dates for Tipperary's participation in the Allianz Hurling and Football Leagues were announced and are as follows;
Allianz Hurling League Roinn 1 Group A
Saturday, 25 January 2020 – Round 1
Tipperary v Limerick
Venue: Semple Stadium, 5:15pm
Saturday, 01 February 2020 – Round 2
Cork v Tipperary
Venue: Páirc Uí Chaoimh, 7pm
Sunday, 16 February 2020 – Round 3
Galway v Tipperary
Venue: Pearse Stadium, Salthill, 2pm
Sunday, 23 February 2020 – Round 4
Tipperary v Westmeath
Venue: Semple Stadium, 2pm
Sunday, 01 March 2020 – Round 5
Tipperary v Waterford
Venue: Semple Stadium, 2pm
The AHL quarter-finals are scheduled for the weekend of 07/08 March, semi-finals on weekend of 14/15 March, with the final scheduled for 22 March.
Allianz National Football League Division Three
Sunday 26 January 2020 – Round 1
Tipperary v Down
Venue: Clonmel 2.00pm
Sunday 2 February 2020 – Round 2
Louth v Tipperary
Venue: Drogheda 2.00pm
Sunday 9 February 2020 – Round 3
Derry v Tipperary
Venue: Owenbeg 1.00pm
Saturday 22 February 2020 – Round 4
Tipperary v Cork
Venue: Semple Stadium, Thurles 7.00pm
Sunday 1 March 2020 – Round 5
Longford v Tipperary
Venue: Longford 2.00pm
Sunday 15 March 2020 – Round 6
Tipperary v Offaly
Venue: Semple Stadium, Thurles 2.00pm
Sunday 22 March 2020 – Round 7
Tipperary v Leitrim
Venue: Carrick-on-Shannon 2.00pm
The AFL Division 3 Final is scheduled for Saturday 28 March in Croke Park.
Fixtures are subject to change.
ALL-STARS
On the PwC Hurling All-Stars tour, the 2018 All Stars defeated the 2019 All-Stars 9-16 to 8-9 last weekend, with John McGrath (Loughmore-Castleiney) scoring one of the goals for the 2019 selection.
DECEMBER GAA COUNTY BOARD DRAW
The December County Board Draw will take place this Friday, December 6st, in the Hideout Bar, Solohead (opposite the church) in conjunction with Solohead GAA Club to coincide with the presentations to the November prize winners.
OFFICIAL TIPPERARY MERCHANDISE
Currently on sale from any of the Tipperary senior hurling panel or from Lár na Páirce, while stocks last, is a framed 2019 All-Ireland Tipperary hurling team photo for €200 or a signed Tipperary jersey for €150 (framed for €250). There is also the exclusive combination of team photo and signed jersey in one frame which is available for €500.
The opportunity to purchase the 5 Tipperary All-Ireland framed team photographs of recent times for €500 is on offer as well and includes the 2019 All-Ireland SH panel, 2019 All-Ireland U20H panel, 2018 All-Ireland U21H panel, 2016 All-Ireland SH panel and 2016 All-Ireland MH panel. Any two of the above five is also available for €300.
All proceeds are in support of the 2019 SH team holiday fund.
POST PRIMARY
The interest of High School Clonmel in this season's Corn Ui Mhuiri (19 A Football) ended last week as Clonakilty Community College came through the final round in Group B on a 3-10 to 0-9 score-line.
At County Post Primary level, congratulations to Borrisokane on winning the 1st year Plata Ui Cathain hurling final, after their win over High School Clonmel.
The quarter-final draw for the Dr. Harty Cup Munster U19A Hurling was made on Monday afternoon and in the mix is a Tipperary derby between Thurles CBS and Our Lady's Templemore. The remaining fixtures are Christian Brothers Cork v St. Colmans, Fermoy; St. Flannans Ennis v St. Josephs, Tulla and Midleton CBS v DLS Waterford. The quarter-finals are down for scheduled for 8 January, 2020.
For all post primary fixtures and results please check https://munstergaapps.ie/fixtures-results/
TIPPERARY HURLING CLUB, NEW YORK
Best wishes to the County Tipperary Hurling Club New York as they hold their Annual Dinner Dance this Saturday, December 7th at Lake Isle Country Club, 660 White Plains Road, Eastchester.
Guest of honour will be Liam Sheedy and the Liam MacCarthy Cup. Special guests will include members of the Tipperary All-Ireland Senior Hurling team, Craig Morgan – Tipperary U20 Hurling captain and Samantha Lambert – Tipperary Ladies Intermediate Football captain.
A great night's entertainment is guaranteed for all.
SCÓR NA nÓG CRAOBH AN CHONTAE 2019/20
The County Final of Scór na nÓg 2019/2020 took place on Sunday afternoon last in Holycross. Bean an tí for the afternoon was Caoimhe Ní Chradóg, cailín líofa deisbhéalach a bhfuil an cur amach aici ar chúrsaí Scór agus dhein sí na himeachtaí a chur i láthair go brea socair. Judges for the afternoon, Katherine Hyland and Robert Kelly were extremely impressed with the standard of performance, though participation levels at Scór na nÓg continue to fall in the County despite a wonderful few years of Scór na bPáistí. Notwithstanding this all competitors gave of their best and represented their clubs with pride. The Cathaoirleach Seosaimhín Ní Chathail expressed her thanks to all involved and wished the winners Ádh mhór in the Munster Finals in Ovens, Co. Cork on January 5th, 2020. She also thanked Bridget Long and the local committee for their warmth and hospitality in hosting the event in their lovely Community Hall.
Seo liosta de na buaiteoirí:
Rince Foirne – Newcastle – Ciara English, Emma Wyse, Ellie McNamara, Orlaith Dalton, Sarah English, Niamh Ó Farrell, Amy Ó Dwyer agus Abbie Ó Leary.
Amhránaíocht Aonair – Cailín Creamer – Portroe
Aithriseoireacht – Canice Ryan – Seán Treacy's
Bailéad Ghrúpa – Portroe – Cailín Creamer, Lucy Hogan, Laura Shanahan, Sarah Murphyagus Rachel Moroney
Trath na gCeist – Moyne Templetuohy – Cathal Guilfoyle, Éanna Guilfoyle, Bláthnaid Lloyd agus Martin Cleere.
Ceol Uirlise – Killea – Ciara Cheashire, Naoise Barrett, Aodhna Barrett, Sorcha Fogarty agus Gearóid Ó Sullivan.
Nuachleas – Borris-Ileigh – Harry Groome, Niamh Ryan, Nicole Colgan, Will Cooney, Kaylyn Treacy, Conor Kinane, Emily Treacy agus Daniel Groome.
Sean –Nós – Newcastle Amy Ó Dwyer
Rince Seite – Newcastle – Ciara English, Emma Wyse, Ellie McNamara, Orlaith Dalton, Sarah English, Niamh Ó Connor, Amy Ó Dwyer agus Abbie Ó Leary.
Go néirí libh i gCraobh na Mumhan
TONY REDDIN HONOURED IN LORRHA
Tony Reddin to be honoured with club grounds renaming in Lorrha.
Lorrha & Dorrha GAA Club will honour one of its most famous sons next Saturday night when the club grounds are renamed in honour of Tony Reddin.
Uachtaran Cumann Luthchleas Gael John Horan will be present, along with members of the Reddin family, to officially rename the grounds at Moatfield from St Ruadhan's Park to Tony Reddin Park and Community Centre.
When the development of the sports hall and two new dressing rooms were officially opened in 2011 by Tony Reddin, it was intended that the grounds would be renamed in his honour when he passed away, as per GAA rule, with club members confirming it at the 2018 annual general meeting.
The legendary Lorrha and Tipperary goalkeeper, who was named on the GAA's Hurling team of the millennium, passed away in March 2015 at the age of 95. Tony Reddin won 3 All Ireland and Munster medals in 1949, '50 and '51 as well as 6 National Leagues with the Premier County.
On the club scene, he helped put the Lorrha club on the map following his arrival in the parish in 1947 at the age of 28. He won two North senior titles with Lorrha in 1948 and 1956, and his surviving teammates from 1956 team will be present on the night where the club will make a special presentation.
Following his playing career, he was a hugely successful coach in his adopted Banagher, helping St Rynagh's win ten Offaly senior hurling titles in a twelve-year span.
Also, on the night, the Reddin family will formally present the Tony Reddin Perpetual Trophy to the Tipperary Supporters Club, for the annual Tipperary senior hurler of the year award, which was won by Seamus Callanan.
RTE's Damien O'Meara, whose parents both hail from the parish, will be the MC for the event which gets underway at 7.30pm and all are welcome to attend.
The North Tipperary GAA Board have also confirmed that, weather permitting, the first official game at the new Tony Reddin Park will be the divisional Under 21 'A' Hurling final next Sunday, 8th December.
TIPPERARY SUPPORTERS CLUB
As 2019 draws to a close, we can reflect on a wonderful year for Tipperary hurling. Both the Senior and U20 All-Irelands were won with a wonderful mix of skill and bravery. Our teams have never been better prepared, and the Tipperary Supporters Club is glad to be able to play their part in that preparation.
The thoughts of Tipperary hurling folk will soon turn towards 2020 and our prospects for renewed success on the field of play. Liam Sheedy and his team are already making preparations for the new season. The Tipperary Supporters Club will endeavour to provide all the financial assistance necessary to ensure the team is prepared to the best of its ability next summer.
On December 1st, Tipperary Supporters Club launched it's 2020 Membership Scheme and the membership pack includes the following benefits:
A specially-designed Tipperary Supporters Club dual trolley keyring
• All members are entered into a prize draw for championship match tickets for all Tipperary Senior games.
• 2020 Car Sticker
• Text alerts for all League and Championship team news
• Regular news to your email about all the latest in Tipperary GAA circles
• Only Tipperary Supporters Club members will be eligible to vote for the official 2020 Tipperary Senior Hurler of the Year award at the end of next season.
• Only Tipperary Supporters Club members can nominate a young Tipperary supporter to be the team mascot for our league games in Semple Stadium
Tipperary Supporters Club sincerely thank members for their continued support and facilitating payment by way of direct debit.
2020 GAA SEASON TICKET
The 2020 GAA Season tickets are now on sale at https://seasonticket.gaa.ie/ and will once again provide fantastic value for supporters in next year's league and championship.
The GAA Season Ticket costs €120 per adult and €30 for U16s and includes as follows:
Access to a discounted ticket for the GAA Championship group stages in your selected code (access to Stand tickets will be subject to ground capacity).
Access to an All-Ireland final ticket (subject to meeting the terms and conditions)
AIB GAA Senior Club Championship finals
All Allianz league matches in your selected code – including play-offs, semi-finals and finals.
Your County's opening Championship fixture.
Benefits of the GAA Season Ticket are, Loyalty rewarded – Qualify for All-Ireland Final tickets, subject to terms and conditions, please check https://www.gaa.ie/tickets/gaa-season-ticket/aif-tickets for details
Great value – Great price plus more discounts throughout the Championship
Convenience – You have your ticket for your team for the entire season
Exclusive Extras – Including 'bring a friend' and special purchase options for other matches
Adult Club+ Version costs €200 – Includes club championship fixtures within chosen county and guaranteed All-Ireland Final ticket should your county qualify. (Selected code only). If you wish to purchase a Club+ GAA Season Ticket this must be done at the time of purchase. Again, the Adult Club+ Version is subject to meeting terms and conditions.
2019 GAA MACNAMEE AWARDS
Applications for the 2019 MacNamee Awards are now being accepted. It should be noted that only work published or completed in the 2019 calendar year is eligible for consideration and entries will not be returned. The awards scheme will be judged under the following headings:
Best GAA Publication – To cover general works focussing on the Association.
Best GAA Club Publication – To cover GAA County Yearbooks and Club History.
Best GAA Website – Acknowledgement for the best Club or County website, taking into consideration design, content and usefulness to members.
Best New Media – Award for a Club, County or Province's use of digital channels or own created content (video, podcasts, newsletter, other) to present a story or activity online. Entries should;
– Illustrate the Who, What, Where, When and Why of the content or campaign.
– Examples of content created for the campaign
– Examples of engagement with online community
– Illustration of results achieved
Best Photograph – Focussing on the best GAA-themed image.
Best Programme – To cater for all match day programmes produced for any level of the GAA.
Best GAA related Radio Programme – To cater for all GAA programming broadcast either nationally or locally
Provincial Media Award – To acknowledge high quality written journalism in a provincial publication.
National Media Award – To acknowledge high quality written journalism in national daily or Sunday publication.
Best TV Documentary – To acknowledge the high quality of TV documentaries currently produced on the GAA.
Irish Language Award / Gradam na Gaeilge – To recognise excellence in the field of Irish language GAA journalism across all media/Aitheantas ar ardchaighdeán iriseoireachta Gaeilge bainteach le cúrsaí CLG, ina chuimsítear gach cineál meán cumarsáide.
* Please note: There is a limit of three photographs per entrant for the photographic award and one entry for all other categories.
A Hall of Fame Award / Outstanding Service Award will also be made in recognition of a prolonged personal involvement in the coverage of GAA activities to the highest standards. This person is selected by the GAA President.
All entries should be marked "GAA MacNamee Awards 2019" and addressed for the attention of Alan Milton, Director of Communications, Croke Park, Dublin 3 or emailed to siobhan.brady@gaa.ie . Entrants should also clearly state what category they are submitting their entry under.
Award winners will be contacted in due course with further details in relation to the awards banquet.
Closing date for entries is Friday, 03/01/2020.
For further information please contact; Alan Milton, Director of Communications, Croke Park on 01 8658612.