All Ireland Scór na nÓg – Belfast
Three clubs from Tipperary represented County and Province in the All Ireland Finals of Scór na nÓg in Belfast's Waterfront Hall on Saturday last 11 February. This splendid auditorium overlooking the River Lagan was the venue for the most wonderful display of song, music, dance and drama and it was surely an All Ireland Final of winners all.
The Tráth na gCeist took place in Studio 1 and Valerie McCarthy –Gaelic Footballer supreme posed the Questions to 28 teams from all over Ireland. Loughmore Castleiney maestros Jack Cullen, Cathal and Conor Ryan and Gearóid Treacy under the excellent tutelage of Murt Ryan battled their wits against fine competition. True to form they were not found lacking and finished with a remarkable score of 53 –the winning team Donegal coming in with 58. Thank you lads for such a fine display and we wish Eimear McGrath ádh mhór in the All Ireland Camogie Finals. Thank you Eimear for your contribution.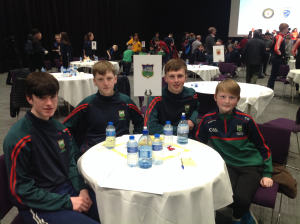 Loughmore Castleiney  representing Tipperary  in Waterfront Theatre Belfast

Rince Foirne: The first of the competitions to be staged in the auditorium had the young ladies from Newcastle representing Tipperary and Munster. Caelinn McGrath, Kayleigh O Brien, Hollie Bourke, Sarah English, Aoife Leahy, Rebecca Sheehan, Eimear O Connor, Orla Nugent with Kathy McGrath as teacher and mentor gave a perfect performance and danced their hearts out to tumultuous applause from the audience. However it was the Naomh Cillian club, Whitecross, Armagh that were judged to be the winners and lifted the trophy on high. We are immensely proud of you Newcastle girls and thank you all for such dedication and practice and hard work throughout the year. Maith sibh.
Amhránaíocht Aonair: Tá ainm in airde ag Buiríos Uí Luigheach i gcúrsaí spóirt agus i gcúrsaí cultúrtha i gcoitinne. That proud tradition continued as Seosamh Ó Baoill took to the stage in the Amhranaíocht Aonair competition. Seosamh charmed the audience with his song The Hills around Listowel and being the first of the solo performers in the auditorium he set the tone for the evening leaving us in no doubt as to his being such a worthy Munster winner.The standard of competition again was excellent and it was Niamh McDowell from Glasdromain ClG in the Kingdom of Mourne who received the judge's call. No doubt we will see Seosamh take to the stage again agus beidh lá eile aige gan dabht.
In the absence of Aogán Ó Fearghail Uachtarán CLG, the Ard Stiurthóir congratulated all the participants and their families, mentor and supporters. On that note a míle míle buíochas to all who travelled to Belfast for the weekend and we applaud your constant support and encouragement for our young performers. It is much appreciated.
Scór na bPáistí In what has been a very busy few weeks for Scór na nÓg preparations are also in full swing with parish and divisional competitions on-going. Our paistí and mentors are busily working hard to take to the stage around the county and we wish all the best of luck in their on stage performances especially those making a debut. Tosach maith leath na hoibre. Go néirí libh.