GAA Green Clubs Mark National Tree Week
To mark the launch of Phase 1 of the GAA Green Club Programme and National Tree Week, the Easy Treesie – Crann Project  (www.easytreesie.com) supported by Coillte
(www.coillte.ie) and Trees on the Land (www.treesontheland.com) will provide GAA, Camogie and LGFA clubs with 45,000 native tree saplings, which due to current restrictions on access to Club grounds will be distributed to selected Clubs at the beginning of the next planting season in November.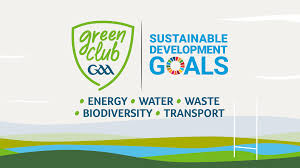 Coillte and Trees on the Land will donate and deliver the 45,000 native saplings to the project. The saplings will be used to create shelter belts, planted along walkways and to generally enhance the natural landscape and biodiversity of the site. Planting trees is included in the 5 ways to make clubs biodiversity-friendly as identified in the recently published guidelines on pollinator-friendly management of sports clubs by the National Biodiversity Datacentre. Biodiversity is one of 5 themes being explored through the Green Club Programme, which is a partnership between the GAA, LGFA and Camogie Association and local authorities across Ireland.
---
The Easy Treesie Project aims to plant 1Million trees with Ireland's 1M school children and their communities by 2023 joining the UNESCO-backed Plant-for-the-planet's www.trilliontreecampaign.org challenge, reducing global heating by 1° during the UN Decade of Ecosystem Restoration, 2021-31. Orla Farrell of Easy Treesie said, 'We are delighted to support the GAA with this initiative which will help restore biodiversity in communities across the island. We would like to thank our many supporters who have successfully started this work in recent years, planting  approx. 14,000 saplings and apple trees with several GAA clubs and their communities. '
One of those clubs and a participant in the Biodiversity theme of Phase 1 of the Green Club Programme is Kilmeen/Kilbree GAA, Co. Cork, who previously devoted some of the club's land to planting pollinator-friendly plants and 1,000 native trees (a mix of oak, birch, rowan, alder and hawthorn), with help from children in Kilmeen National School and Kilmeen and Castleventry Community Development Association (KCCDA).
"We're delighted with our new partnership with the GAA d to see our trees planted in GAA, Camogie and Ladies football clubs nationwide this year".  "National Tree Week reminds us of the multiple benefits of trees and forests for climate change, for nature, for recreational spaces and for providing a sustainable source of wood for our homes"  said Mark Carlin, Managing Director of Coillte.
---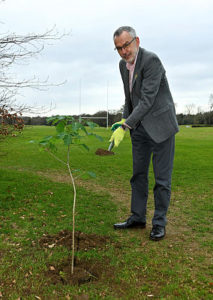 Larry McCarthy, Uachtarán Cumann Luthchleas Gael said, 'The GAA, along with our sister organisations are very grateful for the donation of these native saplings to our clubs. While reinforcing our responsibility to our environment through the Green Club Programme we will also be exploring how our Clubs function from a sustainability perspective, in terms of energy use, water, waste and transport. This work is directly related to our values of Community Identity, Respect and Teamwork and reflects the best of our manifesto ''Where We All Belong''.
For more information contact Alan MacMaoldúin / Stiúrthóir Cumarsáide CLG
Alan Milton / GAA Director of Communications on 01 8192300