A Tribute to the Late Theo English Hurler Supreme
The gloom of a bitterly cold January morning brought the news of the passing of one of the great icons of the game of hurling. Theo English in his 91st year had passed to his eternal reward. In a glittering career which spanned the early fifties to the late sixties Theo had won every honour in the game. A member of one of the greatest Tipperary teams of all time his record speaks for itself.  5 All Ireland senior medals in seven appearances, 7 Munster medals, 8 National League medals , 4 Railway cup medals and 5 Oireachtas medals plus a junior hurling All Ireland medal in 1953. He was included at centre-field in Tipperary's hurling team of the century. While these were the highlights they were only the tip of the iceberg in terms of his outstanding contribution to the GAA.
In Michael O Meara's history of South Tipperary G.A.A he described Theo as one of the most extraordinary sportsmen to come out of the South Tipperary division. His club was Marlfield on the fringes of Clonmel town. He was immensely proud of his club and he brought them with other great players around him from junior to senior status and to the pinnacle of success in the South division. He had a football career as well winning Co SF titles with Clonmel Commercials and the Old Bridge and represented Tipp in junior football winning a Munster medal in 1952. He was a selector with Tipp in 1971 when Tipp won All Ireland honours and was a key figure in ending the famine in Tipperary when he combined with Michael Babs Keating and Donie Nealon in a top class management team that brought back days of glory to the Premier County. On his retirement from playing and County selector roles Theo became involved in coaching and his contribution to a range of clubs was hugely appreciated, he brought something special to every club he was with and was described by many as the best judge of a hurler in his time. He was also an excellent referee and refereed many important games around South Tipperary. He served on the Tipperary County Board for a time and was Tipperary's representative on the Munster Council for a one year term.
His dedication to training and fitness was legendary and he carried on that regime late into life which undoubtedly added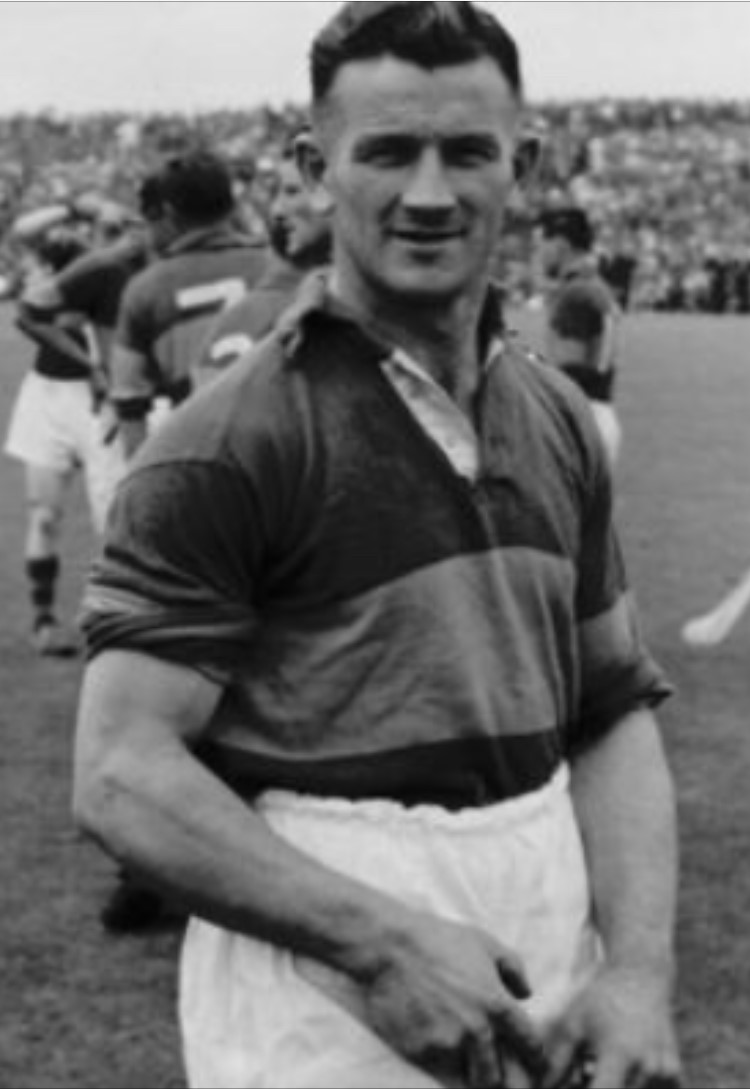 to his quality of life in his later years.  For Theo there was no off season, when the championship was over Theo looked around for a club team that was still involved in the local championship and he went and trained with them. He honed his skills to perfection and built up immense strength of mind and body and his ability to strike a ball on the ground or in the air was exceptional. One of the great memories people have of Theo is of a September day in Croke Park in 1964 when Tipperary defeated Kilkenny in the All Ireland final. Theo capped a wonderful display that day with a brilliant point from a sideline ball from under the Hogan Stand from all of 60 yards out from the Kilkenny goal and that was with the bigger heavier sliothar of those days Two of his great team mates Len Gaynor and Donie Nealon said of him that they never saw him knocked to the ground in a game and that it was impossible to knock him of the ball. One of the great Tipperary mentors of the great team of the sixties the legendary Paddy(Waxie) Kenny of Carrick on Suir was asked one time in an interview who was the player he admired most on that great team. The interviewer was not expecting the answer he got but Paddy without hesitation said Theo English. The interviewer asked him why and Paddy said well Theo English came onto the Tipperary team late in life and he stayed on it in a vital position at centerfield which required skill and endurance of a high level longer than anyone I know. Some tribute indeed from a shrewd judge of the game.
Theo thanks for the memories, you will be remembered as one of Tipperary's greatest ever hurlers, You left your mark on the Gaelic fields of Pairc Ui Caoimh, Semple Stadium, the Gaelic Grounds and Croke Park and many other fields, your name in hurling's history is assured and you will be forever enshrined in the Hall of Fame of hurlers everywhere.
Go ndeanai Dia trocaire ar a Anam
https://rip.ie/death-notice/theo-english-clonmel-tipperary/444845