Tipperary GAA Scene – May 9th 2017
By PRO Joe Bracken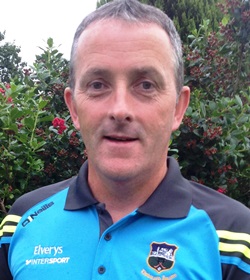 SCÓR
All-Ireland Glory, 3 Titles for Tipperary
What a day to be treasured in the life of Tipperary Scór when 3 All-Ireland Titles came to Tipperary on Saturday last. The Waterfront Theatre on the banks of the Lagan was the venue for the final extravaganza of Scór Sinsir 2017 where Tipperary were represented in 7 of the 8 competitions – this alone being history in the making. Hundreds of loyal families and supporters travelled north to cheer on their heroes and heroines and lend them their encouragement and support. The blue and gold contingent was certainly a force to be reckoned with.
Moyne-Templetuohy represented us in Tráth na gCeist and contested what was a very challenging competition. Joe Kennedy (Mid Chairman) led the way with his able team of quiz stalwarts Jim O'Meara, Tom Collier and Francis Cleere (filling in for Paddy Moran) deriving great enjoyment from the experience. Well done to Monaleen Limerick and Munster taking yet another acclaimed trophy.
At 8pm that same evening we waited with baited breath in the main auditorium for the results of the stage competitions. Who would have believed that we would raise the rafters on three occasions when Katie Shanahan, Noel Joyce and Newports Ceol Uirlise were proclaimed ALL-IRELAND Scór Sinsir Champions. Katie's The Orphan Girl, Noel's account of Willie Hayes' dancing days in the Premier and Newport's energetic medley were judged worthy winners of All-Ireland honours. Rapturous applause, tears and cries of excitement and joy greeted these results and the blue and gold was unfurled again and again to proclaim the winners. We congratulate one and all and in doing so pay tribute to Newport's Ballad Group and Léiriú and JK Brackens set dancers who despite scintillating performances were not to win the day. Celebrations continued well into the night and the true spirit of Scór was showcased in an informal setting.
Borrisoleigh feted Katie Shanahan and her success in the Community Centre on Sunday evening when hundreds came to congratulate Katie and family as Phil Maher and local talent entertained all present.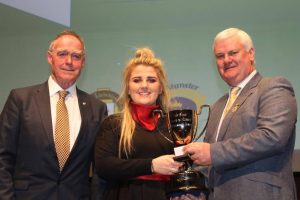 Katie Shannahan, Borrisoleigh, Co. Tipperay – Champion: Solo-Singing All-Ireland Scór Sinsir 2017
Later that evening Clonmore Hall was awash with colour as Noel Joyce and the Rince Seit dancers were welcomed home to a tremendous party. Again the huge audience was entertained by our competitors all and Sliabh na mBan was sung by Martin Bourke and the Clonmore young ladies.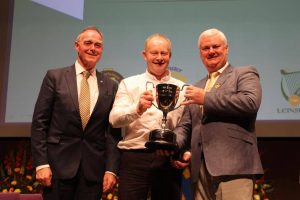 Noel Joyce, JK Bracken's GAA, Co. Tipperary – Champion: Recitation/Storytelling All Ireland Scór Sinsir 2017
Newport Birdhill welcomed their Ceol Uirlise home also on Sunday evening and all three homecomings reminded us of Parish which is the essence of Scór.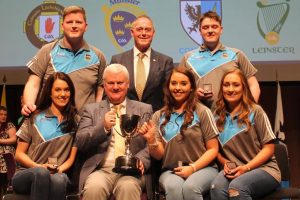 Newport GAA, Co. Tipperary – Champions: Instrumental Music, All-Ireland Scór Sinsir 2017
In the absence of County Chairman, John Devane, Vice Chairman of Tipperary GAA speaking in Clonmore urged all parishes and divisions to follow the wonderful example of the traditions of Scór and participate and enjoy the experience. Josephine Cahill Cathaoirleach County Scór spoke in Borrisloleigh and Clonmore to congratulate all involved in making history not only in Munster but at All-Ireland level and thanked all Scór committees at grassroots level for their tireless work in the promotion of Scór.
Comghairdeas le gach uile duine a thug tacaíocht is lámh chúnta do na hiomaitheoirí uile i rith na bliana. Tá rath as saothar againn gan dabht.
MUNSTER SENIOR HURLING CHAMPIONSHIP
Tipperary's senior hurler's start the defence of their Munster Senior Hurling Championship on Sunday week, May 21st, as they prepare to meet Cork in Semple Stadium for their Quarter-Final clash, with throw-in at 4pm.
Tickets are now on sale and are available through participating Centra and Super Valu Stores and online at tickets.ie
Juvenile packages are available again this year €3 per juvenile with 1 Adult free with every 10 juveniles.
Buy before match day and save €5 on adult ticket prices in all areas.
Ticket price increases from midnight Saturday May 20th.
Buy before pay less ticket prices are as follows: Adult Covered Stand: €25; Adult Uncovered Stand: €20; Adult Terrace: €15; Juveniles U-16's in all areas: €5; Student/OAP's Concession of €5 at the designated stile with valid id prior to entry.
MUNSTER U17 FOOTBALL
Commiserations to the Tipperary U17 football panel who exited the Munster Championship last week following the Semi-Final loss to Kerry by 3-11 to 1-6 in Tralee.
CELTIC CHALLENGE
The Celtic Challenge got off to an excellent start from a Tipperary perspective last week with both county representations winning their opening round 1 match.
Mid/North Tipperary were first into action in this Bank of Ireland Celtic Challenge as they lined out against North Clare in Cratloe last Wednesday coming away with a 2-24 to 3-11 victory under their belt. Goals were scored by Stephen Kirwan (Burgess) and Mikey Nally (Holycross-Ballycahill) and the team was captained on the night by Zach Jackson (Moycarkey-Borris). The Best and Fairest Respect award for the game was given to Gearoid O'Connor (Moyne Templetuohy) who finished the game with eleven points to his name. This Wednesday, May 10th, Mid/North Tipp take on Offaly in Moneygall at 7:30pm. The management team is Shane Connolly (Nenagh Eire Óg), Trevor Hassett (Drom & Inch), Dermot Maher (Moycarkey-Borris) and David Minogue (Nenagh Eire Óg).
South Tipp took on East Waterford in St. Mollerans' on Thursday winning on a score line of 1.19 to 3.10, with South Tipp's goal coming courtesy of Martin Keogh (Mullinahone) who had an excellent game throughout. The side was led on the night by captain Conor Duggan (St. Patrick's) and the management team consists of Declan Hickey (Skeheenarinky), John Ryan (Golden-Kilfeacle) and Fergus McGrath (St. Mary's Clonmel).
South Tipp's next game is in Golden this Wednesday, May 10th at 7:30pm against Cork City.
COUNTY FIXTURES
The Tipperary Water County Senior Football Championships took centre stage last weekend with first round action.
For a full list of fixtures and results please check the Tipperary GAA website https://tipperary.gaa.ie/ or the fixtures section in your local newspaper.
REFEREE
Best wishes to John McCormack (Knockavilla-Donaskeigh Kickhams) who referees the Electric Ireland Munster Minor Hurling Championship Semi-Final Playoff 2 between Limerick and Waterford in the Gaelic Grounds this Thursday, May 11th.
NEW COUNTY CLUBS DRAW
Celebrating 30 years on the go, the new Tipperary GAA Clubs Draw offers a €500,000 prize fund for the coming draw year. Starting with the May Star Prize of a Renault Kadjar or €30,000 in association with local Renault dealer, Cleary Motors, Loughtagalla, Thurles and second prize of a Skoda Octavia or €15,000 in association with local Skoda dealer, Ryan Motor Power, Powerstown, Clonmel, there are wonderful prizes to be had each month.
Supporters are encouraged to support the draw as it also provides much needed revenue for your local club.
TIPPERARY SUPPORTERS CLUB GOLF CLASSIC
The Annual Tipperary Supporters Club Golf Classic will be held in Nenagh on Friday, May 19th next and promises to be another tremendous event as the Nenagh Club hosts the classic this year.
The Supporters Club ask for your support for their Annual Golf Classic. They are very appreciative of the generosity of so many over the years and hope Tipperary supporters and golf enthusiasts will be in a position to enter a team again this year. This is one of their major fund raising events and they want to continue to support our Senior Hurling Management Team as they bid to retain their Munster and All-Ireland titles. All funds will be used to defray costs for looking after team preparations for this year's Championship.
Please email team entry to johntierney105@gmail.com or post to John Tierney, Chairman, Tipperary Supporters Club at 105 Laraghcon, Lucan Village, Co. Dublin, 087 6821398. (Note: to be eligible for the main prizes, all team members must have GUI handicaps.)
FRIENDS GOLF CLASSIC
The Friends of Tipperary Football Annual Golf Classic took place last weekend at Thurles Golf Club and many thanks to all who took part. Sponsored by Mr. Mister Menswear Cahir, Cashel and Mitchelstown, this once again proved to be a huge success with a large number of teams participating throughout Thursday, Friday and Saturday.
The overall classic winners were Paul Kennedy, Anthony Ward, John Darmody and Ger Ward from Ardfinnan who were representing Joseph Nolan & Co. Solicitors, Clonmel.
In second place were James Redden, Martin Redden, Willie Harty and Kevin Flynn from Nenagh while Mattie Ryan, Eamon O'Gorman, Michael Ryan and Eamon Ryan finished the afternoon in third position.
Men's longest drive: Daniel Kennedy, men's nearest the pin: Brian Freeman
Winners of the ladies team prize: Kathleen Noonan, Rosemary Maher, Nora Byrne and Geraldine Lyons.
Ladies longest drive: Sheila Delaney, ladies nearest the pin: Mary Hickey.
In the raffle Seanie Mockler Junior won a 40" plasma TV, Con Quinn, Annacarty won a framed photograph of the Tipperary 2016 All-Ireland hurling team while Helen Gleeson won a ladies golf bag.
The Friends committee wish to thank all who kindly sponsored prizes, tee-boxes and Mr. Mister Menswear who sponsored the overall event. We also wish to thank all the players and those who organised the golf classes as well as Thurles Golf Club for hosting the event.
The Dublin Working Group of the Friends of Tipperary Football recently held a golf classic in Newlands Golf Club and on the day they held a raffle to raise money for Autism Ireland and over €800 was raised on the day.
LADIES FOOTBALL
Best wishes to the Tipperary senior ladies who replay their Lidl National Football League Division 3 Final against Wexford on Sunday next, May 14th at a venue yet to be arranged at time of going to press.
LONDON TEAM TIPPERARY FUNDRAISER
The London Tipperary Association, Corporate Lunch Fundraiser takes place this Friday, May 12th in the InterContinental Hotel, where London-based Tipperary Supporters Club committee members Johnny Whyte (Drangan), Phil Cusack (Carrick-on-Suir), Paddy Shanahan (Upperchurch) and Clonmel natives Kevin Leahy and Brian Acheson have been extremely busy planning and co-ordinating what promises to be another memorable occasion for all followers of the blue and gold.
A great afternoon is in store for all attending and the event will include a fund-raising auction of rare Tipperary GAA and other sports memorabilia, merchandise and match tickets.
COUNTY LONG PUCK
The County Long Puck has been fixed for Saturday, June 10th. Senior participants wishing to take part should register at secretary.tipperary@gaa.ie or dinny.maher.gda.tipperary@gaa.ie before May 31st.
INTERNATIONAL MUSEUM DAY
The GAA Museum marks International Museum Day on Thursday next 18th May 2017. International Museum Day takes place every year on the 18th May and aims to highlight the important role of museums in society.
The theme of this year's event is 'Museums and contested histories: Saying the unspeakable in museums.'
To mark the day, the GAA Museum in Croke Park is hosting an evening with renowned Irish authors Michael Foley and Cormac Moore, commencing at 7pm.
Michael Foley will speak on Bloody Sunday at Croke Park, drawing on research from his bestselling book 'The Bloodied Field', which gives an account of the dramatic events on the 21st November 1920 which resulted in the shooting dead of fourteen people by the Royal Irish Constabulary.
Cormac Moore will discuss the GAA's relationship with Douglas Hyde following his controversial removal as GAA patron after he attended a soccer match between Ireland and Poland in 1938.  Cormac is the author of The GAA v Douglas Hyde: The removal of Ireland's first president as GAA Patron.
The event will conclude with a question and answer session and discussion of both topics.
Tickets cost €12 and €10 for students / seniors with valid ID and includes complimentary tea / coffee or a glass of wine on arrival. Ticket price also includes access to the GAA Museum where they'll have the opportunity to view related artefacts.
Tickets can be booked here: https://crokepark.ie/museumday
TIPPERARY SUPPORTERS CLUB 2017 MEMBERSHIP
Supporters can join on line now on tippsupportersclub.com/join by credit card or debit/laser card. Membership is €40 per person. Also on the website details are available of the direct debit facility; as the Club is run on a completely voluntary basis it would be a great help if members could join by direct debit.
We are encouraging members to switch to Direct Debit payment by offering a reduced charge of €30 for all Direct Debit members in 2017. It's easy to sign up for Direct Debit, just download the two-page form from the Tipperary Supporters Club website at http://www.tippsupportersclub.com/join/ fill it out and send it to Jim Reidy at the address below.
If joining by post please send a cheque or postal order for €40 payable to Tipperary Supporters Club to Jim Reidy, 13 Castleknock Close, Dublin 15 (086-3580718, email: info@tippsupportersclub.com ) All proceeds from membership go towards the preparation and training of the Tipperary Senior Hurling Team.
FRIENDS OF TIPPERARY FOOTBALL The Friends of Tipperary Football membership for  €20 enters each supporter into the following draws: 2 All Ireland Final Football tickets 2017; 2 All Ireland Final Hurling tickets 2017; 2 Tickets for each Tipperary Senior Football Championship matches 2017; 2 All Ireland Club Final tickets 2017 and 2 National Football League tickets for each Tipperary League match in 2017.
Membership is also available online through the Friends website www.friendsoftipperaryfootball.com and there is also a link on the Friends Facebook page.
TIPPERARY GAA SCENE
Information concerning all areas in the GAA will appear in this section in the future. If you wish to include any item of interest in future articles, please e-mail pro.tipperary@gaa.ie on or before 3.00pm on Monday. Visit the Tipperary GAA web site at http://tipperary.gaa.ie to keep up to date with all the latest news in Tipperary GAA circles.