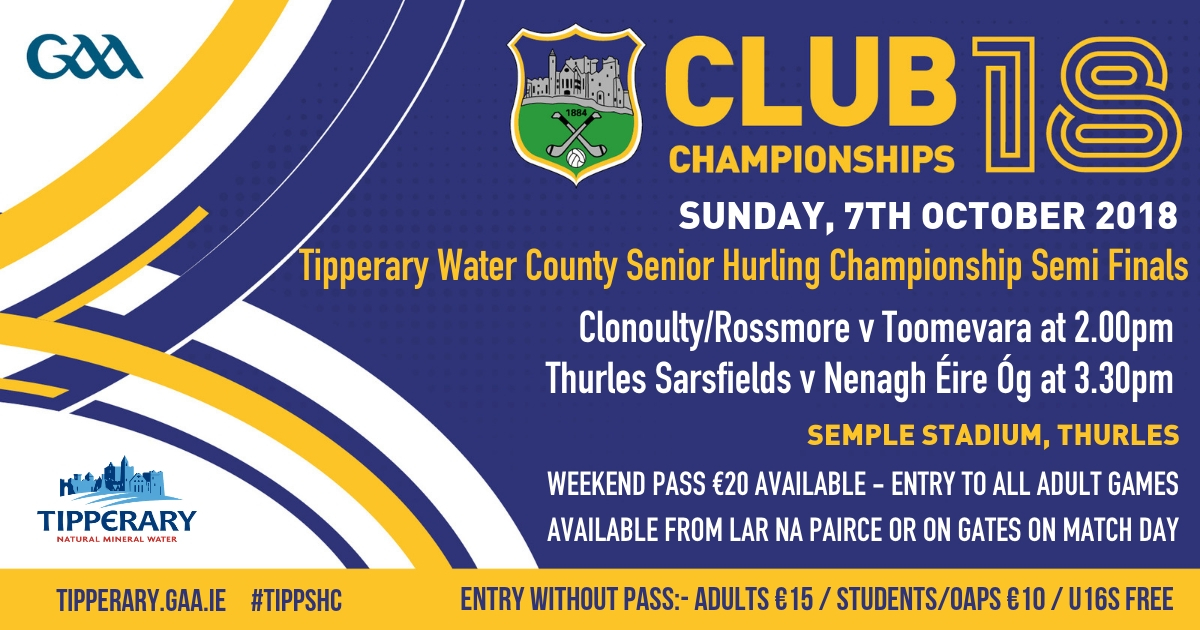 After the huge success of last weekend's county ticket package Tipperary County Board will again roll out a similar package for fixtures this weekend.
As mentioned, crowds flocked to venues in great numbers from last Tuesday and Tipperary Co. Board wish to acknowledge and appreciate the wonderful attendance of supporters at our county matches.
Therefore, a weekend match pass for €20 entitles the holder access to all county adult games over the coming weekend. Clubs and supporters can buy tickets in Lár na Páirce during the week as well as at venues this weekend.
Please note also, like last weekend there is no limit on the number of county weekend match pass tickets available.
With another action packed weekend to look forward to with 15 county games down for decision, the following then is a quick recap of those fixtures. Remember, if you avail of the special offer weekend pass, you can your entry to any of the of the below games is covered.
Tipperary Water County Senior Hurling Championship Semi-Finals
Sun, 07 Oct, Venue: Semple Stadium, Thurles, Clonoulty-Rossmore v Toomevara 14:00, Ref: Johnny Ryan
Sun, 07 Oct, Venue: Semple Stadium, Thurles, Nenagh Éire Óg v Thurles Sarsfields 15:30, Ref: Fergal Horgan
Tipperary Water Seamus Ó Riain Cup Semi-Finals
Sat, 06 Oct, Venue: The Ragg, Moycarkey-Borris v JK Brackens 14:00, Ref: Philip Kelly
Sat, 06 Oct, Venue: Dolla, Burgess v Templederry Kenyons 14:30, Ref: Kevin Jordan
Tipperary Water County Senior Hurling Relegation
Sun, 07 Oct, Venue: Monroe, (Knockout), Carrick Swans v Mullinahone 12:00, Ref: John McCormack
Tipperary Water County Intermediate Hurling Relegation, Group 1 Round 3
Sat, 06 Oct, Venue: Kilcommon, Arravale Rovers V Kiladangan 14:30, Ref: John Butler
Tipperary Water County Intermediate Hurling Relegation Group 2 Round 2
Sat, 06 Oct, Venue: Golden, Lattin-Cullen Gaels v Moyle Rovers 14:30, Ref: Kieran Delaney
Tipperary Water County Junior (A) Hurling Championship Quarter-Final
Sat, 06 Oct, Venue: Leahy Park Cashel, Skeheenarinky v Emly 14:00, Ref: Ciaran Timmons
Tipperary Water County Junior (B) Hurling Championship Semi-Final
Sun, 07 Oct, Venue: Drombane, Templederry Kenyons v Boherlahan-Dualla 12:00, Ref: Noel Cosgrave
Tipperary Water County Senior Football Relegation Semi-Finals
Sun, 07 Oct, Venue: Pairc Ciocaim Dundrum, Drom-Inch v Galtee Rovers/St Pecaun 12:00, Ref: Sean Lonergan
Sun, 07 Oct, Venue: Drombane, Kiladangan v Éire Óg Annacarty/Donohill 12:00, Ref: Tom McGrath
Tipperary Water County Intermediate Football Championship
Sat, 06 Oct, Venue: Templemore, (Semi Final), Borrisokane v Golden-Kilfeacle 17:00, Ref: Seamus Delaney
Sat, 06 Oct, Venue: Holycross, (Quarter Final), Moyne-Templetuohy v Rockwell Rovers 14:30, Ref: Sean Lonergan
Tipperary Water County Minor (B) Football Championship Semi-Finals
Sat, 06 Oct, Venue: Monroe, Knockavilla-Donaskeigh Kickhams v Mullinahone 14:30, Ref: Ger Fitzpatrick
Sat, 06 Oct, Venue: Templederry, Ballina v Drom-Inch 16:30, Ref: David Grogan