Tipperary GAA Transition Year Youth Forum – Youth Retention in the GAA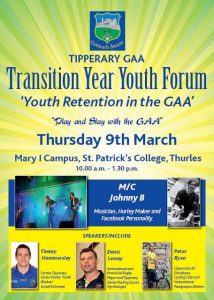 Tipperary GAA are holding a Transition Year Forum on Youth Retention in the GAA. As part of the Transition Youth Forum a project based competition will be held. Transition year students are asked to survey their 5th year students in areas concerning the GAA.
Schools will be supplied with survey forms to conduct the process. On completion of the survey, students will be asked to compile their findings and present in summarised form under specific headings as follows;
Survey all 5th year students in your school who are currently playing or have played at some stage GAA games;
Analyse data gathered and present findings explaining;
The main reasons why players continue to play GAA;
The main reason why player ceased to play GAA;
From the data compile procedures/structures/changes that would lead to players continuing to play GAA or get players who no longer play back into the games again at school or club level.
Completed projects must be returned, by email only to dinny.maher.gda.tipperary@gaa.ie with Youth Forum in the subject bar, on or before Friday 3rd March.
Projects will be adjudicated on by an Independent Committee and the winner will be announced at the Forum on the day.
The winning school will receive a framed 2016 All Ireland Senior Hurling Winners Jersey signed by all the players. The four winning students will receive a Sports Voucher. The winning students and the Transition Year Coordinator will also have an interview with Ronan Quirke on the Monday Sports Show Tipp Fm, on Monday 13th March.