Tipperary GAA Scene – Wednesday, 31st May 2017
By Joe Bracken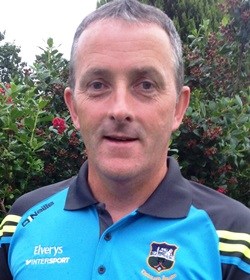 MUNSTER SENIOR FOOTBALL CHAMPIONSHIP
Following the result of the Munster Senior Football Quarter-Final on Saturday evening last, Tipperary will play Cork in the Munster Championship Semi-Final in Pairc Uí Rinn on Saturday week, June 10th at 5pm. This game has long been in the sights of the Tipperary management and team and now that they finally know their opposition it will ignite memories of last year's encounter which sparked into life a superb summer of action for Tipperary football and not alone enhanced but also showcased the huge progression in football in the county.
Saturday week is a continuation of that progression coupled with the recent success in the league, putting Tipperary on a new platform of expecting to do well rather than hoping to as may have been the case previously. With expectation comes achievement but also pitfalls and dangers, so the focus needs to be right on the button to ensure a positive outcome on the Rebel home patch.
MUNSTER MINOR HURLING CHAMPIONSHIP
Following on from their Quarter-Final win over Limerick, Tipperary will play Cork in the Electric Ireland Munster Minor Hurling Championship Semi-Final in Semple Stadium on Thursday June 29th at 7:30pm.
MUNSTER U21 HURLING CHAMPIONSHIP
Tipperary will play Limerick in the Bord Gais Energy Munster Under 21 Hurling Championship Quarter-Final in the Gaelic Grounds, Limerick on Thursday June 22nd at 7:30pm. The winners will have a home Semi-Final fixture against Clare on July 12th.
U21 HURLING INTER-COUNTY CHALLENGE
Ahead of their Munster Championship opener, Tipperary will play Cork in a U21 hurling challenge in Clonmel on Bank Holiday Monday, June 5th next at 7:30pm.
The game will be refereed by Fergal Horgan (Knockavilla Donaskeigh Kickhams).
With both counties assuring strong teams will line out the game should be a cracker and will set the scene for the eagerly awaited and hugely popular Munster U21 Hurling Championship.
Admission to the game just €5 and all are welcome.
CELTIC CHALLENGE
In the Bank of Ireland Celtic Challenge last weekend, there was mixed fortunes for the two Tipperary teams involved.
On Saturday at the Staker Wallace GAA Grounds, Martinstown, Co. Limerick South Tipperary had a 9-16 to 2-7 win over South/East Limerick to get the side back to winning ways. Five of the goals came courtesy of Stephen Grogan (Cahir) and one each from Oisin Drennan (Mullinahone), Mark Downey (Rosegreen), Aaron Ryan (Cappawhite) and Tomas Vaughan (Skeheenarinky). The next and final game in the group stage of the competition for South Tipperary is against West Waterford this Wednesday May 31st at 7.30pm in Cappoquinn. Best wishes to the team in this final group round.
Elsewhere, in Nenagh, also last Saturday. Mid/North Tipperary went down for the first time in the competition to Galway McDonaghs. They were left to rue some missed goal chances in the both halves and were defeated in the end by 4-10 to 0-9. The player who was chosen as the Best and Fairest by the referee and his officials was Shane Doyle (JK Brackens). Mid/North Tipperary play their final group game also this Wednesday against Galway Maroon needing a victory to reach the Division 1 quarter finals and again we send best wishes to the side in this final league round fixture.
COUNTY FIXTURES
It was a busy week gone by with plenty of matches in round 2 of the Tipperary Water Senior Hurling and Football Championships as well as Tipperary Water Intermediate Hurling Championships. There was also second round action in the Tipperary Water Seamus Ó Riain Cup.
For a full list of fixtures and results please check the Tipperary GAA website https://tipperary.gaa.ie/ or the fixtures section in your local newspaper.
NEW COUNTY CLUBS DRAW
At the request of clubs the first draw in the new Tipperary GAA Clubs Draw has been put back a week and will now definitely go ahead on Friday, June 9th in Glasheen's Holycross.
Celebrating 30 years this new draw offers a €500,000 prize fund for the coming draw year. Starting with the May Star Prize of a Renault Kadjar or €30,000 in association with local Renault dealer, Cleary Motors, Loughtagalla, Thurles and second prize of a Skoda Octavia or €15,000 in association with local Skoda dealer, Ryan Motor Power, Powerstown, Clonmel, there are wonderful prizes to be had each month.
LOYALTY CARD
Tipperary GAA has recently launched a loyalty CashBack Card which as a Tipperary supporter each individual that registers is doing their small bit in support of the county cause. Loyalty cards were sent out with club draw receipts to all members and as there is no charge in registering you can opt in immediately. If anyone who doesn't have a loyalty card and flyer please call to Lár na Páirce to pick up one. Register as per details on the CashBack flyer. To activate the card, holders must complete the registration and then please email, post or drop off your registration details to Lar na Páirce, Slievenamon Road, Thurles or secretary.tipperary@gaa.ie
COUNTY LONG PUCK
The County Long Puck has been fixed for Saturday, June 10th. Senior participants wishing to take part should register at secretary.tipperary@gaa.ie or dinny.maher.gda.tipperary@gaa.ie before this Wednesday, May 31st.
1887 ALL-IRELAND FINAL RE-ENACTMENT
Clubs that had representations on the first All-Ireland winning team and requested to be present at a meeting in Thurles Sarsfields Centre this Friday, June 2nd at 8pm for a meeting to help finalise and plan details in relation to the re-enactment of the first ever All-Ireland hurling final (1887) which will take place in Thurles on Saturday, July 1st. The organising committee are especially interested that descendants of the players and officials would take part and ensure that this re-enactment is as true to its origin as it can be by having direct descendants of those that were involved with the first All-Ireland actually take part and play on July 1st next.
If you are a descendant you are invited to please come along to next week's meeting in Thurles. For further information contact Johnny Enright 087 6374210 or Liam Ó Donnchú liam.odonnchu.oifigeach@gaa.ie to help ensure the Premier County is appropriately represented in this most unique event. TIPPERARY SUPPORTERS CLUB 2017 MEMBERSHIP
Supporters can join on line now on tippsupportersclub.com/join by credit card or debit/laser card. Membership is €40 per person. Also on the website details are available of the direct debit facility; as the Club is run on a completely voluntary basis it would be a great help if members could join by direct debit.
We are encouraging members to switch to Direct Debit payment by offering a reduced charge of €30 for all Direct Debit members in 2017. It's easy to sign up for Direct Debit, just download the two-page form from the Tipperary Supporters Club website at http://www.tippsupportersclub.com/join/ fill it out and send it to Jim Reidy at the address below.
If joining by post please send a cheque or postal order for €40 payable to Tipperary Supporters Club to Jim Reidy, 13 Castleknock Close, Dublin 15 (086-3580718, email: info@tippsupportersclub.com ) All proceeds from membership go towards the preparation and training of the Tipperary Senior Hurling Team.
FRIENDS OF TIPPERARY FOOTBALL
With Tipperary out in the Munster Football Championship on Saturday week, the Friends of Tipperary Football membership is an ideal way of supporting the team. For €20 membership it enters each supporter into the following draws: 2 All Ireland Final Football tickets 2017; 2 All Ireland Final Hurling tickets 2017; 2 Tickets for each Tipperary Senior Football Championship matches 2017; 2 All Ireland Club Final tickets 2017.
Membership is also available online through the Friends website www.friendsoftipperaryfootball.com and there is also a link on the Friends Facebook page.
TIPPERARY GAA SCENE
Information concerning all areas in the GAA will appear in this section in the future. If you wish to include any item of interest in future articles, please e-mail pro.tipperary@gaa.ie on or before 3.00pm on Monday. Visit the Tipperary GAA web site at http://tipperary.gaa.ie to keep up to date with all the latest news in Tipperary GAA circl