Tipperary GAA Scene – October 6th 2021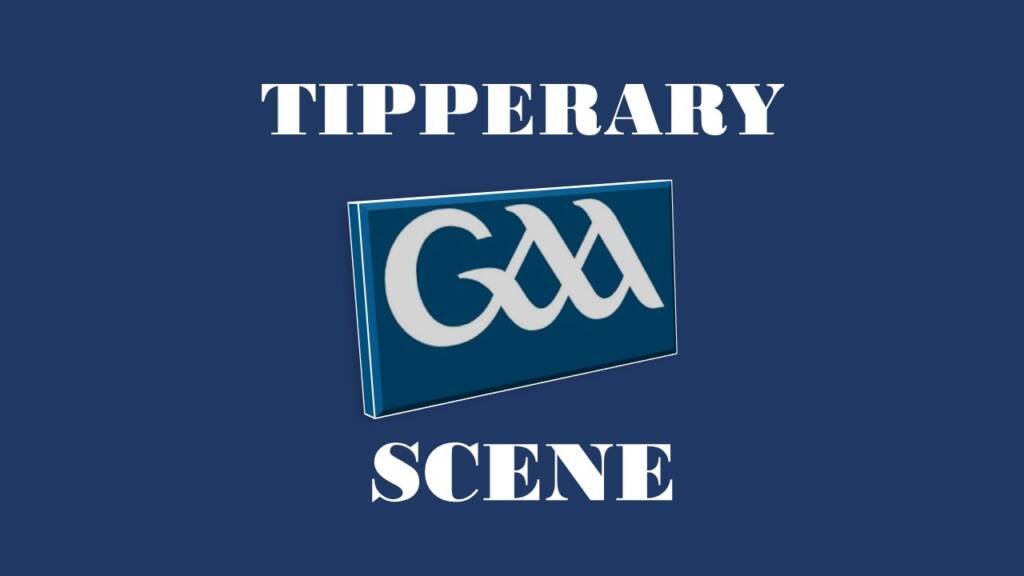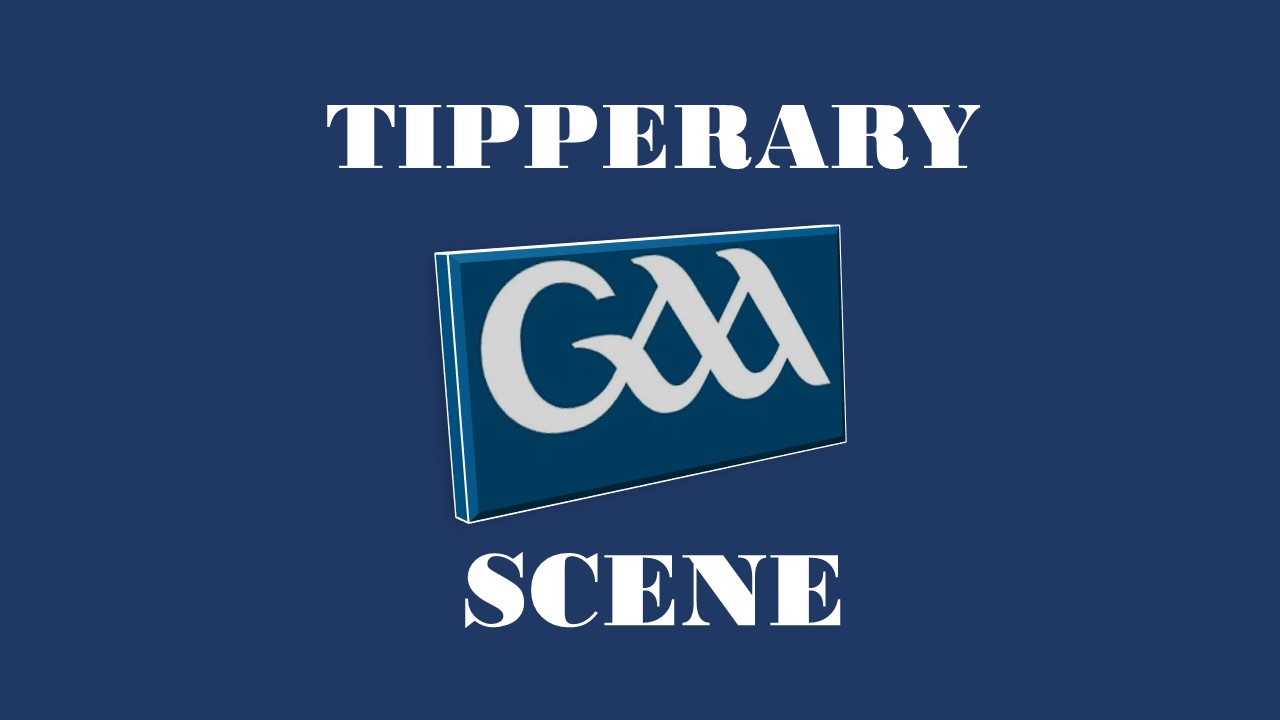 FBD Insurance County Championships
Last weekend saw the conclusion of the group stages of both the Senior and Intermediate football championships and we are now all set for the Quarter Finals of both competitions. Group winners Clonmel Commercials, Kilsheelan Kilcash, JK Brackens and Moyle Rovers will be drawn against group runners up Upperchurch-Drombane, Ardfinnan, Loughmore-Castleiney and Ballyporeen. In the Intermediate football championship Quarter Finals Grangemockler Ballyneale, Golden Kilfeacle, Galtee Rovers and JK Brackens all topped their respective groups and they will be drawn against CJ Kickhams Mullinahone, Fethard, Drom-Inch and Clonoulty Rossmore. Both draws will be open draws with the only proviso being that teams who have played each other in the group stages cannot meet again in the Quarter Finals.
The participants in this year's Tom Cusack Cup are now also known and this competition is made up of the 3rd and 4th placed teams in the Senior championship. Group 1 teams in the Cusack cup are Aherlow, Eire Óg Annacarty, Arravale Rovers and Killenaule, while Group 2 will be made up of Cahir, Moyne-Templetuohy, Moycarkey Borris and Rockwell Rovers. The next round of football games will be played on the weekend of October 23rd – 24th.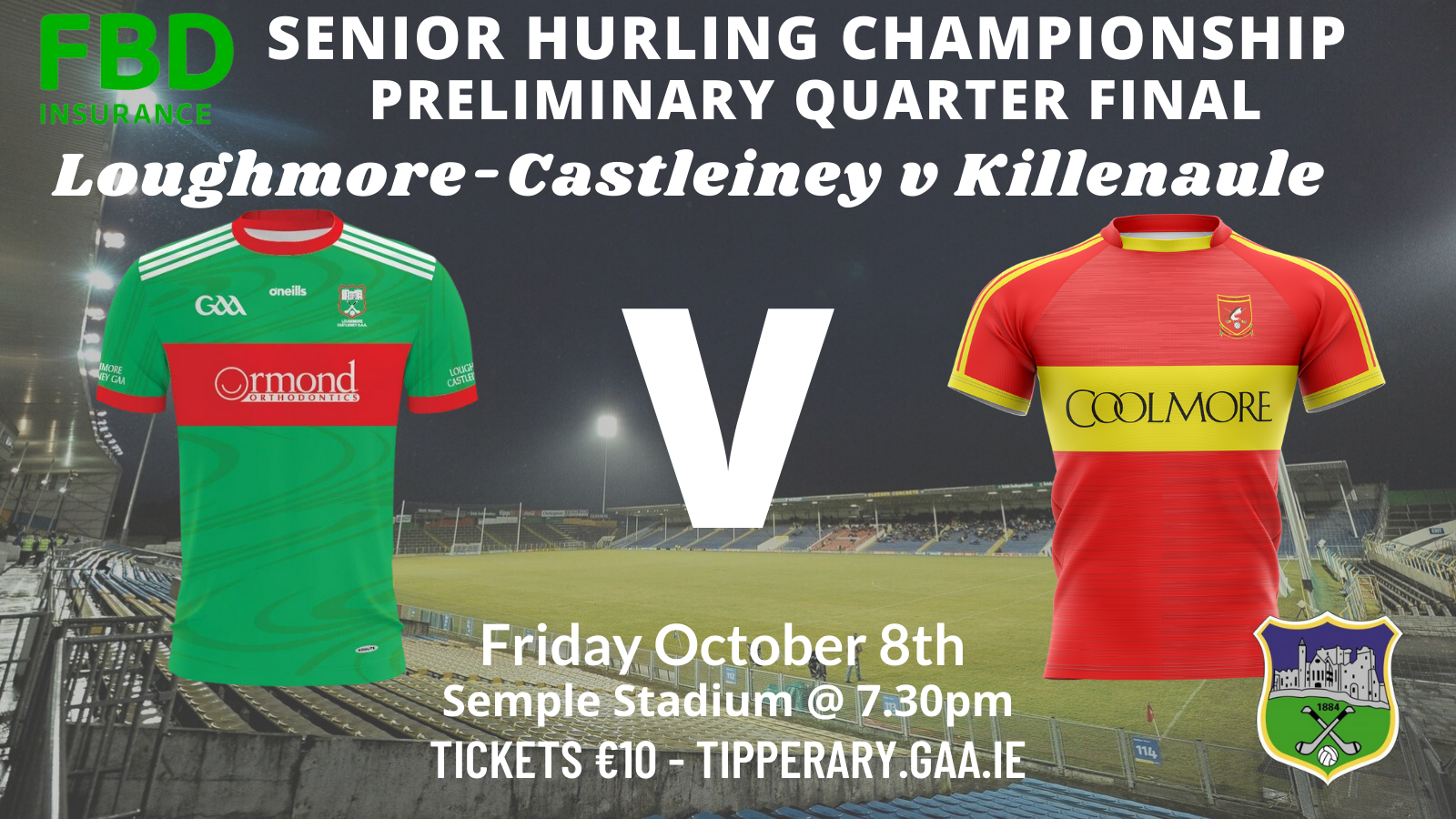 Attention next weekend now turns to the various hurling competitions with games in Senior, Intermediate and Under 19 levels. The action commences on Friday evening in Semple Stadium when Loughmore-Castleiney and Killenaule face off in the Senior hurling championship Preliminary Quarter Final at 7.30pm in a game that will also be livestreamed on Tipperary GAA TV. The other featured livestream games will be the County Under 19 'A' Hurling Championship final between Thurles Sarsfields and St Marys at 2pm in Cashel on Saturday and then on Sunday the clash of Moycarkey Borris and Roscrea from Templemore at 2pm.
---
Tipperary Clubs Draw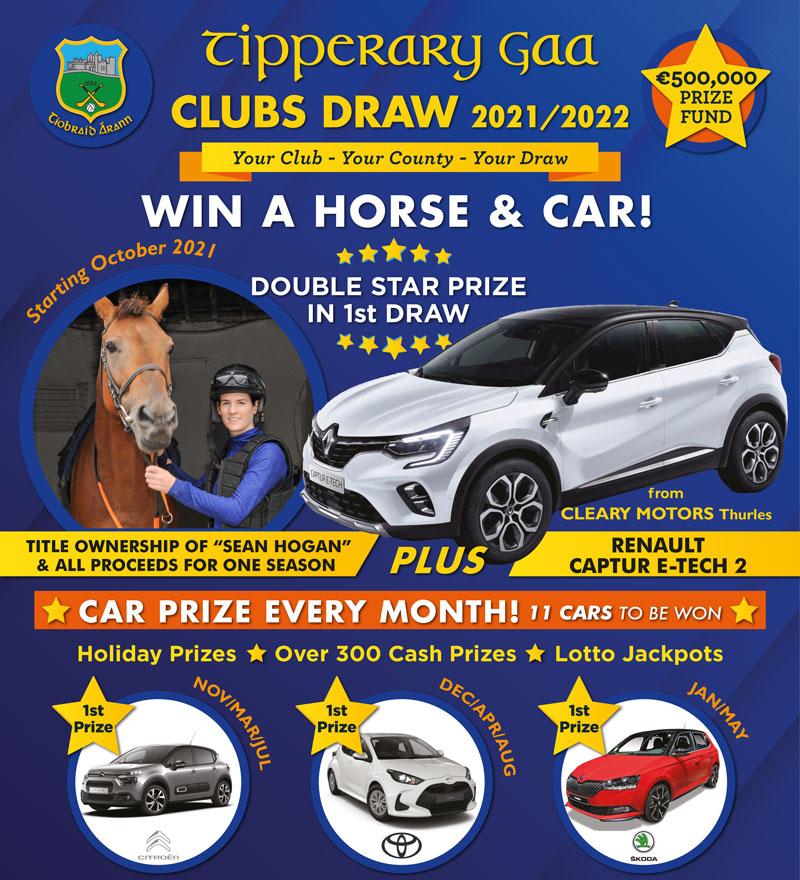 The all new Tipperary clubs draw for 2021 – 2022 commences this Friday night and will be broadcast live on Tipp FM from 9.30pm. This year's draw is packed with amazing prizes, none more so than the star prize in draw no 1. Not only will the lucky winner be driving off in a brand new Renault Captur E-Tech 2 from Cleary Motors Thurles, they will also win title ownership of racehorse Sean Hogan. The winner collects all prize money from his races & gets to meet the horse and select colours that he runs in. Sean Hogan the 6-year-old prizewinning racehorse is trained in Tipperary by Mouse Morris. In total this years draw will have 11 cars, cash prizes ranging from €5000 to €200 as well as the monthly lotto jackpot which will be a minimum of €3000, and some very attractive holidays including a Family Holiday to Australia, Cheltenham Trip for 4, Florida Family Holiday, Lapland Trip for 4 and a Golf Holiday for 6. And as the saying goes "You have got to be in it to win it", so if you want to be in with a chance of winning a prize while also helping your local club financially, you can join now via the Tipperary GAA website https://tipperary.gaa.ie/shop/tipperary-2021-2022-draw/ , by contacting Lar Na Pairce or with your local club promoter and it only costs €100 for the year. Remember you have got to be in it to win it.
---
Tipperary GAA Yearbook
The 2022 Tipperary GAA Yearbook is being compiled at present and the Yearbook committee is seeking articles and information for inclusion.
Clubs that have accomplished any unique achievement in 2021 are requested to send through an appropriate article for inclusion. Similarly, in another disjointed year on and off the field of play, it is most important that clubs record and document any charity or fundraising events they undertook. These events epitomize the heart and soul of the GAA in every parish and their community across the Premier County.
The Yearbook committee are looking to all clubs to submit any obituaries of their deceased members in the last 12 months. The maximum number of words for an obituary is 150 and please include the club name and the years also, e.g. 1939-2021, as well as his/her G.A.A. achievements and a photograph of the deceased person.
The deadline for sending information is Monday, 15th November. Please e-mail information and photographs which must be named to Tipperary Yearbook Committee at yearbook.tipperary@gaa.ie
---
GAA club's Everyday Hero
More than 450,000 volunteers across Ireland ensure that sport and physical activity take place around the country every day. Each year, this army of volunteers dedicates over 37.2 million hours of their time across the country's sports clubs and associations. This sport volunteer effort is worth an estimated €1.5bn to the exchequer! Volunteers are there to support sporting clubs and communities from early morning, to late at night, without any expectation of recognition or reward.
In partnership, the Federation of Irish Sport and EBS will once more honour and celebrate the commitment and dedication of these volunteers in helping to ensure sport happens at every level. We are now inviting members of the Irish public to nominate a volunteer in their particular sport that they would like to see recognised at the 2021 Volunteers in Sport Awards.
To nominate an everyday hero, and to be in with the chance of winning €1,000 for your local sports club, simply visit www.volunteersinsport.ie. Nominations can be made by a club, individual or sporting body – don't delay – These awards are dedicated to the dedicated!
---
Scór News
At a meeting of Coiste Náisiúnta Scór last Thursday evening a decision was made to start the Scór 2022 season with Scór na nÓg. The Coiste hopes this will now give certainty to the Scór GAA family who are eagerly awaiting a return to action. A decision will be made with regards to dates etc. for commencement in due course. We hope this will give certainty to all those young musicians, dancers and entertainers out there that are raring to go! Beidh muid i dteagmháil libh go luath nuair a bheidh cinnteacht ann maidir le dátaí agus mar sin de. Idir an dá linn, coinnigí súil amach ar leathanach Facebook Scór le coinneáil suas chun dáta.
---
Healthy Club Conference 2021
The role of the GAA in offering meaningful connection, purpose, and social cohesion post pandemic will be amongst the themes explored at the GAA Healthy Club (virtual) Conference 2021, on Saturday October, 30th.
The free conference will use the evidence-based '5 Ways to Wellbeing' framework – Connect, Be Active, Take Notice, Keep Learning and Give – to highlight the important contribution Healthy Clubs make to the wellbeing of their members and communities, and to explore how this can continue as the Healthy Club Project expands in 2022.
The event also marks the opening of expressions of interest for new clubs to get involved in the Healthy Club Project, with the GAA Community & Health department setting a target of 200 new clubs to join next year the almost 300 clubs already accredited as official 'Healthy Clubs'. The Healthy Club Project is delivered in partnership with Irish Life (corporate social responsibility partners), Healthy Ireland, the HSE, National Office for Suicide Prevention, and the Tomar Trust. It aims to expand clubs' positive influence as they broaden their remit from sports clubs to becoming hubs for health in their community.
Conference attendees will get a flavour for what's required of and available to a club that registers to participate in the Healthy Club Project. They will also have an opportunity to experience some of the new initiatives that are being rolled out through the GAA's Community & Healthy Department, including GAA Games for All (diversity & inclusion), Social Games (recreational Gaelic Games), Green Clubs (sustainability) and Youth Leadership.
Guest speakers will include Dr. Tony Bates, one of the leading advocates of and authorities on youth mental health in Ireland; All Ireland winner and GAA/GPA Player of the Month for September, Tyrone's Conor Meyler; six time All Ireland winner Julia White; Cork U20 football manager, Keith Ricken and Ulster Wheelchair Camogie Player and Coach, Geraldine Mc Garrigle. The workshops will also be brought to life by inspiring Healthy Club case studies showcasing examples of Healthy Clubs in action.
For more information regarding the Healthy Club Project please visit https://www.gaa.ie/my-gaa/community-and-health/
---
Healthy Clubs My Mind Matters Challenge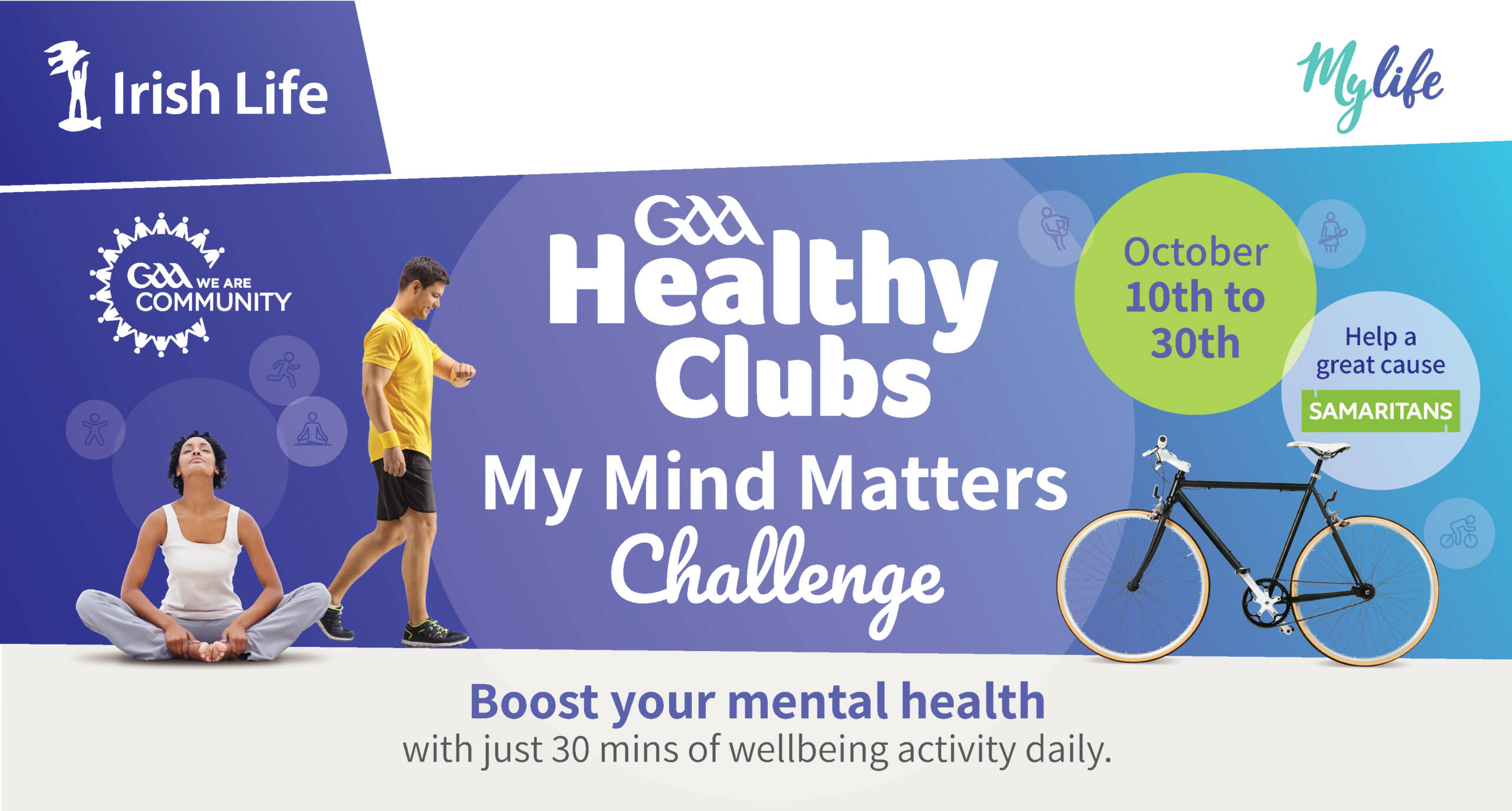 The GAA Healthy Club Project is once more partnering with Irish Life to encourage club members this October to participate in a wellbeing challenge via the MyLife App that has the potential to raise €10,000 for Samaritans Ireland.
The three-week 'GAA Healthy Clubs My Mind Matters' challenge throws-in on October 10th, World Mental Health Day, and aims to inspire participants to set aside 30 minutes five-days-a-week for an activity that boosts their mental health. If participants collectively record 30,000 days of activity on the MyLife App (each 30 minutes of activity recorded counts as one day) between October 10th-30th then Irish Life will donate €10,000 to Samaritans Ireland, the GAA's official mental health partners since 2015. But that's not all. Participants can also donate their MyLife points to Samaritans through the MyLife rewards store, resulting in more welcome funds for one of Ireland's hardest working charities.
The challenge target is very achievable with your support. Last Spring, over 28,000 participants from GAA clubs across the country took part in the 'Every Step Counts Challenge' making it one of the biggest physical activity challenges ever delivered in Ireland.
Challenge Description:
Start 10th Oct
End 30th Oct
This challenge will inspire you to develop habits that boost your mental wellbeing, while contributing  to a great cause – The Samaritans. The goal is to take 30 minutes per day for yourself, 5 days a week over 3 weeks. Any activity counts, walking running, cycling, yoga, meditation etc. If participants track 30,000 days of activity Irish Life will donate €10,000 to the Samaritans (min. 30 minutes continuous activity counts as 1 day).
You'll also have the opportunity to win great prizes for you and your club. Any participant who
achieves our weekly targets will be entered into our weekly prize draws for:
Week 1: 25x £50 Amazon.co.uk Gift Cards
Week 2: 30x Fitbit Charge 4
Week 3: 5x €500 Ireland's Blue Book Voucher
One lucky participant will win an expert coaching & wellbeing event with Oisin McConville for their local GAA club. Track your activity with a fitness wearable (e.g. Fitbit) or fitness app (e.g. Google Fit or Samsung Health for Android or Apple Health for iPhone) connected to MyLife
How do club members & community join the challenge?
1. Download the MyLife app from the App store or Google Play store
• Apple App Store – https://apps.apple.com/ie/app/mylife-by-irish-life/id1459620652
• Google Playstore – https://play.google.com/store/apps/details?id=com.irishlife.mylife
2.Register your details
3. Tap on the social tab on the MyLife app
4. Select challenges
5. Select GAA Healthy Clubs My Mind Matters Challenge
Tap on join
(For MyLife App support and help: Email support@mylife.irishlife.ie)
The GAA coordinator is Blanaid Carney and can be contacted on email blanaid.carney@gaa.ie
Thurles Dementia Café
Thurles Dementia Café are delighted to announce the reopening of the Memory Café @ Bookworm, Thurles on Wednesday October 6th from 10.45am – 12pm.  As places are limited please contact Ursula on 086 8381818 to book.
---
GAA Generations Project
A new 'GAA Generations' research project is seeking young and old members of the Association to contribute their shared stories of identity, belonging, and place.
Guided by UNESCO chairs from the National University of Ireland, Galway, and Penn State University, with support from the National Office for Suicide Prevention, the social empathy project hopes to capture an inter-generational perspective of how involvement in the GAA has influenced participants' life experiences.
The project aims to recruit 1,000 young GAA members (aged 12-21 years-old) who will receive training in conducting a semi-structured interview with a person of influence in their life aged 55+. The older participants will also be given the opportunity to quiz their young interviewees on their GAA experiences and how it may have impacted their understanding of who they are. It aims to include the Irish diaspora's perspective particularly through the club networks of north America and the UK.  Interested GAA members aged 12-21 must complete an expression of interest (with parental consent required for those aged U18). If the target of 1,000 participants is exceeded criteria including geographical coverage, Irish language participants, gender diversity, amongst others will be used in addition to an independently overseen lottery to select the youth researchers. Their conversations with their selected 'One Good Adult' (aged 55+), recorded on a smart phone along with a photo of the participants, will be stored for prosperity and future research purposes on the GAA's eLearning platform. If you are a GAA member aged 12-21 years (inclusive) and would like to participate in this research project please complete the expression of interest form HERE. Depending on the volume of applications received, it may not be possible to facilitate everyone due to the analysis of the data required. Participants must be able to participate in the webinar on Wednesday, Oct 13th at 5pm.
For further information contact gaagenerations@gaa.ie or Blánaid Carney at +353 (0) 1 819 2387
---
Tipperary GAA Scene
If there is anything you feel should feature in this column going forward, please feel free to forward it to pro.tipperary@gaa.ie