Tipperary GAA Scene – November 3rd 2015
by Acting PRO Joe Bracken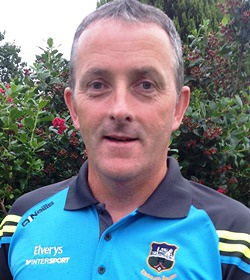 MUNSTER CLUB FIXTURES
It has been a traumatic time for Thurles Sarsfields who a fortnight after lifting the Dan Breen Cup were to face into the Munster Club Championship Semi-Final against Na Piarsaigh of Limerick on Sunday next November 8th. However, life has a way of thwarting things when you least expect it and when news unfolded last Saturday evening that a wife and family would be without a husband and father, a club without the services of a club stalwart and senior team selector everything else falls into perspective.
Therefore our thoughts, prayers and sympathies are with the Griffin and Molony families on their devastating loss of Jack Griffin R.I.P. who died tragically in a road accident last Saturday afternoon.
As a mark of respect and agreement between both clubs the Munster Club Championship Semi-Final fixture will be moved back a week to November 15th with a 2pm throw in.
On the football front congratulations to Clonmel Commercials who again left it late to claim the scalp of Newcastlewest in the AIB Munster Senior Club Football Championship Quarter-Final in Clonmel Sportsfield on a score line of Commercials 0-12 Newcastlewest 1-7 last Sunday. They now meet Miltown St Josephs from Clare in the semi-final on November 15th again in Clonmel Sportsfield.
Congratulations also to Clonakenny who continue on their march in the AIB Munster Intermediate Club Hurling Championship following their great Quarter-Final 1-17 to 1-13 win over Portlaw of Waterford in Templetuohy last Sunday. Next up for Clonakenny is the AIB Munster Club IHC Semi-Final against Newcestown from Cork this Sunday at 2pm in Cloughduv. Commiserations elsewhere go to Upperchurch Drombane and Ballylooby Castlegrace whose Munster journey came to a halt last Sunday.
Upperchurch Drombane met St. Mary's from Kerry in the AIB Munster Intermediate Club Football Championship Quarter-Final and though ahead at half time a strong second half display saw the Kerry side over the line with the final score reading Upperchurch Drombane 1-10 St. Mary's 2-12.
While in the AIB Munster Junior Club Hurling Championship Quarter-Final Ballylooby-Castlegrace lost out to Ennistymon 2-8 to 1-9 which brought an end to their campaign. Best wishes to Golden Kilfeacle who will play Bandon from Cork in the AIB Munster Club Junior Football Championship Quarter-Final on Saturday November 7th next at 2pm in Cashel.
TIPPERARY FIXTURES
The Clean Ireland Recycling County Minor 'A' Hurling Semi-Final goes ahead this Saturday November 7th between Clonoulty Rossmore and St. Mary's Clonmel in New Inn at 2pm. The semi-finals in the County Adult Football League Premier Divison are also down for decision this weekend. On Saturday Clonmel Commercials meet Galtee Rovers St. Pecaun in Bansha at 2pm, while on Sunday Cahir meet Ardfinnan in Ardfinnan at 12noon. With action also continuing in the divisional U21 hurling championships and more besides, please check fixtures section for all updates on times and venues in all games across the Premier County.
SEAN GAEL AWARDS
The Sean Gael presentations will take place in the Dome, Semple Stadium on Sunday, November 15th. A reception for the recipients will commence at 3:15pm and the formalities will get underway at 4.30pm. This year a total of twenty-four people, who have given significant service to the G.A.A. during their lifetime, will receive their awards. They come from the four divisions in the county and they have contributed in a variety of ways to the Gaelic Athletic Association. This year the guest speaker will be past president of the G.A.A., Liam O'Neill and he will present their scrolls to the recipients. Since the beginning of the awards in in 2003, when past president, Joe MacDonagh was the guest of honour, the committee have always chosen distinguished figures from the Association to present the awards. The members of the committee are as follows: Chairman John Costigan, Secretary Seamus J. King, Noel Morris, Tim Floyd, Seamus McCarthy and Sean Nugent.
CONVENTIONS
You know the year is well and truly closing in when notifications for the various conventions are announced and true to form this year is no different. So a quick synopsis of the 2015 Conventions all with confirmed December dates as follows are; Tuesday 1st – County Bord na nÓg Convention; Thursday 10th – West Convention; Friday 11th – Mid Convention; Monday 14th – North Convention; Sunday 13th – South Convention and lastly Thursday 17th – County Convention in The Dome. Times and venues will be notified to clubs in due course.
COUNTY BOARD DRAW
The November County Board Draw takes place this Friday night, November 6th in The Lisdobber Bar, Ballyneale at 10.30pm. With two cars, €1,000 jackpot and over 20 cash prizes to be won make sure you tune in to Tipp FM at 10.45pm to see if you are a winner this month.
AWARD ONE HURLING/FOOTBALL COACHING COURSE
An Award One Hurling/Football Coaching Course will commence next Monday night, November 9th, in Dr Morris Park, Thurles commencing at 7.30pm. This course is geared towards coaches/managers/mentors of Adult Club Teams and is open to anyone who has completed a Foundation Course.
The Course Content is as follows;
Monday 9th November – Intro and OTÚ Model – Joe Reddington
Monday 16th November – Physical Fitness – Keith Hennessy
Monday 23rd November – Technical Proficiency – Dinny Maher
Monday 30th November – Psychological Focus – Paudie Butler
Monday 7th December – Tactical/Team Play – Ken Hogan
Monday 14th November – Technical Football – Michael O'Loughlin
The course is limited to 30 participants on a first come first served basis at a cost of €40 per head. Application by return should be sent to Kevin Halley at; kevin.halley.gda.tipperary@gaa.ie 0861925188 or to Dinny Maher dinny.maher.gda.tipperary@gaa.ie 0863551830 on or before this Friday November 6th.
TIPPERARY G.A.A. CLUB, NEW YORK
The County Tipperary Hurling Club New York will hold a Celebration Banquet on Saturday, December 5th next at Mulino's Lake Isle Country Club, 660 White Plains Rd, Eastchester, NY 10709.
Guest of Honour on the night will be Donnacaha O'Dwyer of Borris Ileigh while Special Guests will be Tipperary Captain Brendan Maher and Noel O'Dwyer both also from Borris Ileigh.
Player of the year is Paul Loughnane and Tipperary "Man of the Year" is Moycarkey Borris native Tom Woodlock. Congratulations to both Paul and Tom who are especially looking forward to the night.
A special 2015 Souvenir Journal is currently being prepared for the occasion where companies and individuals are invited to take out journal ads. Price categories range as follows; Platinum $500 (€400); Gold Page $250 and White Page $100 (€80). All journal ads must be in on or before November 27th next. Please fax to (914) 966-1080 or email to Tom Woodlock twomileborris@live.com or Noreen O'Dwyer (203) 548-1220 odwyer.noreen@gmail.com or mail to 22 Dalton Rd., Yonkers, NY 10701. All cheques should be made payable to THE COUNTY TIPPERARY HURLING CLUB, 22 Dalton Rd., Yonkers, NY 10701
Tickets for the evening cost $120.00 per person and commences at 8:00 pm with a Cocktail Hour. At 9:00 pm it's Dinner and Dancing with music provided by Tommy Flynn. Transportation provided from McKeon's Bar at 7:15 pm sharp. A great night's entertainment is guaranteed and if further information is require please contact Tom Woodlock (914) 522-5573 or Brendan Maher (646) 361-5544 kellymaher1@hotmail.com.
COLIN O'RIORDAN FAREWELL
The Templemore Arms was the venue on Sunday night last as a proud JK Brackens Club hosted a farewell reception for Colin O'Riordan who departs these shores on November 14th next for life in the AFL.
A great attendance witnessed a young man nurtured by his club stand before them as his Club Chairman; Seamus O'Dwyer gave a detailed account of Colin's career not alone in the black and white of JK Brackens but also with his schools St. Colmcilles Primary and Our Lady's Secondary teams during his formative years. In developing his skills with Brackens it became apparent to the Chairman that from a very early age this was a lad who possessed a unique talent and fielding ability.
Such was that ability that he broke into the Tipperary Minor football panel while still playing under 16 in 2011 going on to win All-Ireland and Munster success that year, an exceptional and historic feat he added. Following up with an All-Ireland minor hurling medal in 2012 his progression to the county senior football panel swiftly followed as he made an immediate impact coming on against Clare in the 2014 Division 4 League Final. He played in both Munster U21 finals that year also but was unsuccessful.
However 2015 saw further success when Colin proved to be an inspirational captain and spiritual leader when Tipperary captured their second Munster U21 football title and were to be pipped by Tyrone for a first All-Ireland title at that grade.
His fellow JK Brackens players and mentors are all too well aware of his motivational influence in the dressing room as well as on the field and that combined with his unique playing ability mark him out as a great sportsman Seamus continued.
In wishing Colin success in Australia, the chairman's one hope is that someday Colin would return to win the one medal missing from his collection, a County title with his club JK Brackens. It was a remarkable day for the progressive JK Brackens Club who also remembered the late Tom Collum during their day's activities.
A great representation of fellow players, managers, JK Bracken Club Officers past and present as well as local dignitaries were on hand to say adieu to a most affable young man with the world at his feet and grounded he most certainly is; Colin O'Riordan best wishes to you not alone from JK Brackens but all Tipperary people.
MUNSTER INTER-PROVINCIAL MANAGEMENT
There was very welcome news last week from a Tipperary perspective when Comhairle na Mumhan announced the 2015 Munster Inter-Provincial Hurling Management team which included our own Tommy Dunne from Toomevara as selector. Tommy will be joined by Waterford's John Mullane as fellow selector while Anthony Daly from Clare will be bainisteoir. Best wishes to Tommy and the team.
2016 TIPPERARY GAA YEARBOOK
The 2016 Tipperary GAA Yearbook is being compiled at present and the Yearbook committee is seeking articles and information for immediate inclusion as the deadline has been extended to allow extra time to contributors.
With that in mind the deadline for sending information in has to be this Friday November 6th next as there is a huge amount of work formatting material and having it all ready to go to printers by the deadline date. Please e-mail information and photographs which must be named to John Smith, Secretary Tipperary Yearbook Committee at yearbook.tipperary@gaa.ie. Photographs can also be posted to John Smith c/o Tipperary GAA Office, Slievenamon Road, Thurles.
Please note information must be submitted as outlined above and all articles, photographs etc. will be acknowledged. If an acknowledgement is not received please contact the Yearbook Secretary at 087-9960710.
POST PRIMARY SCHOOLS
With the mid-term break over hurling and football action has commenced again with Abbey CBS recording the first win of the week from a Tipperary perspective defeating Ham HS Bandon 2-13 to 0-7 in the Corn Shéamais Uí Dhonnchú (16.5 B H). For all this week's fixtures and results please check the Munster website, http://munster.gaa.ie/fixtures/post-primary-schools/
HANDBALL
It was a great weekend on the handball front for Tipperary with the county winning 6 Juvenile and2 Adult All-Ireland titles, congratulations to all the players as they continue to carry the Premier Flag aloft.
MUNSTER LADIES GAELIC FOOTBALL CLUB CHAMPIONSHIP FINAL
Best wishes to Templemore Ladies Football Club who play Bantry Blues in the Munster Ladies Gaelic Football Junior Club Final replay next Sunday, November 8th at 2pm in Mayfield, County Cork.
MEMORABILIA FAIR
The Annual G.A.A. Memorabilia Fair will be held on Sunday, December 6th, from 12-4pm in Thurles Sarsfields Social Centre and will give customers a chance to browse and search a large selection of match programs, club histories, hurling,, football, camogie and handball publications as well as other G.A.A. material. In the pleasant and spacious surroundings of Thurles Sarsfields G.A.A. Centre collectors and sellers are cordially invited to attend this event where it is hoped they will find plenty to interest them. Admission will be €3 with accompanied children free.
Sales positions which are free of charge may be booked in advance by contacting Seamus J. King 087 2246245 seamusjking@gmail.com or Liam Ó Donnchú 086 6036547 liam.odonnchu.oifigeach@gaa.ie
GAA SEASON TICKET
GAA season ticket renewals are currently ongoing and public sales commenced on Monday November 2nd. Please check gaa.ie/seasonticket for further information. To ensure pre-Christmas delivery, Season Tickets must be purchased or renewed prior to December 4th 2015.
GAA CLUB ZONE
As clubs approach the end of the playing season, the GAA Club Zone at www.gaa.ie/clubzone is a useful resource to help support clubs during the coming months. This section of the GAA website provides a wide range of advice for clubs on all aspects of club administration and governance. Information related to the Club AGM, the Club Manual, Transfers & Sanctions, Membership & Registration, IT Resources, Child Welfare & Protection and the GAA Injury Benefit Fund are just some of the items of relevance to all club officials.
TIPPERARY GAA SCENE
Information concerning all areas in the GAA will appear in this section in the future. If you wish to include any item of interest in future articles, please e-mail at pro.tipperary@gaa.ie on or before 3pm on Monday. Visit the Tipperary GAA web site at http://tipperary.gaa.ie to keep up to date with all the news in Tipperary GAA circles.