Tipperary GAA Scene – May 4th 2022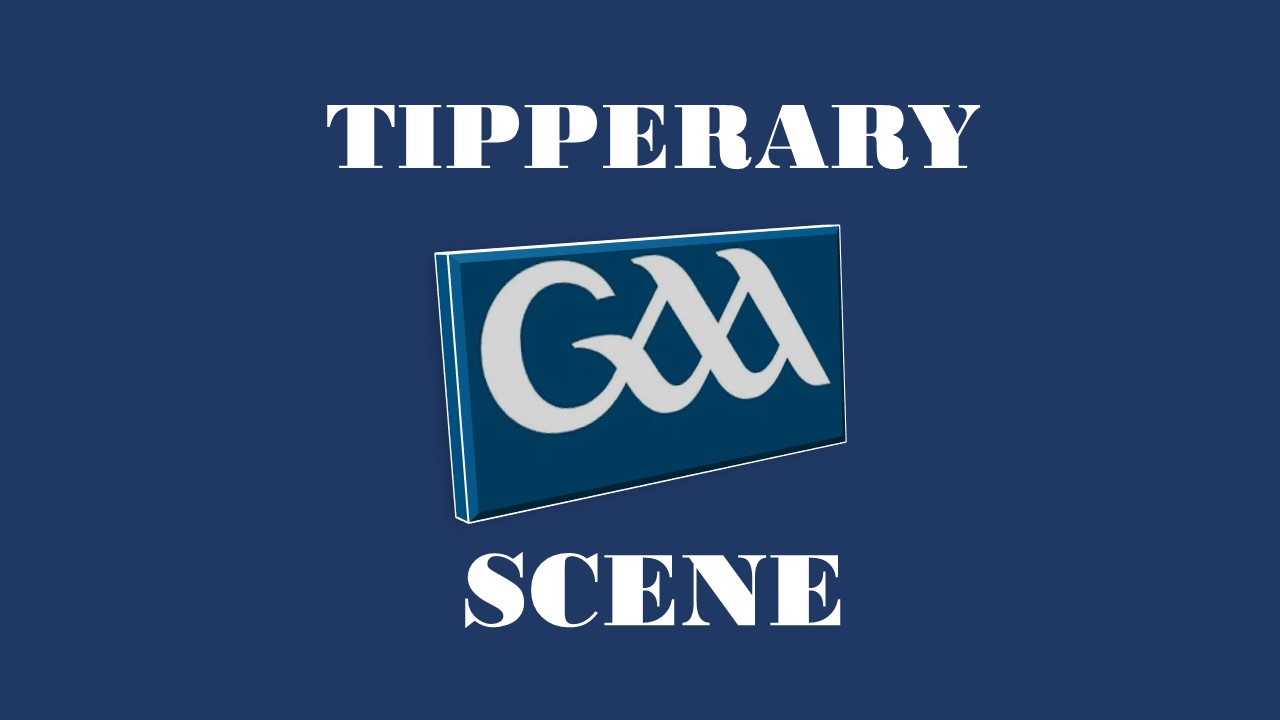 ---
Munster Senior Hurling Championship
Our senior hurlers travel to the TUS Gaelic Grounds this Sunday where they will play the home team in what will be our third game of the Munster championship. The game has a 2pm throw in time and we would appeal to as many Tipperary supporters as possible to go to the game and show your support for our players.
There have been 73 previous championship meetings between the counties. Tipperary have won  36, Limerick 27 and there were 10 draws.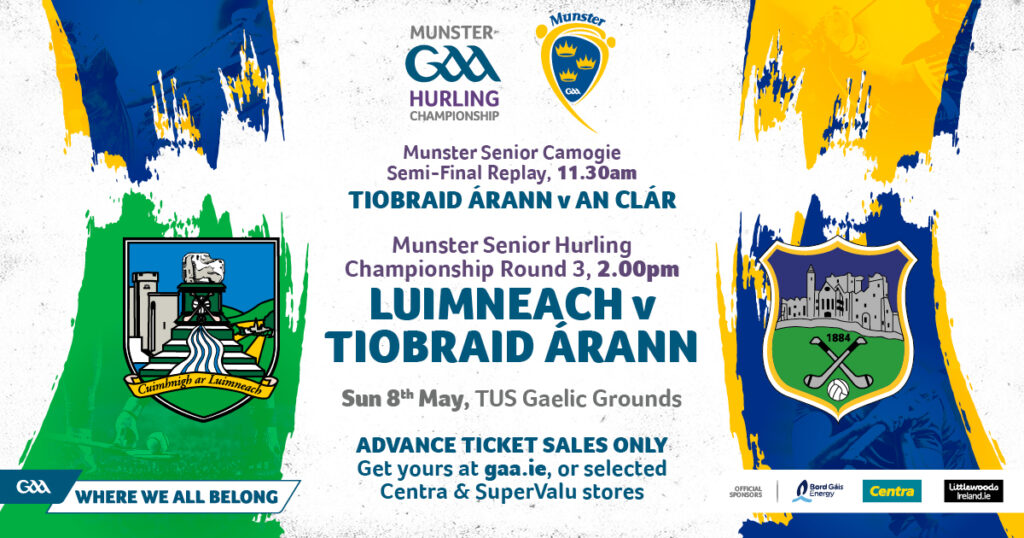 The last six meetings resulted as follows-
2016, at FBD Semple Stadium , Tipperary 3-12 Limerick 1-16
( Munster semi final )
2018 , at TUS Gaelic Grounds, Limerick 1-23 Tipperary 2-14
( Munster round robin)
2019 at FBD Semple Stadium, Tipperary 1-22 Limerick 0-21 ( Munster round robin)
2019 , at TUS Gaelic Grounds, Limerick 2-26  Tipperary 2-14 ( Munster final)
2020, at Pairc Ui Chaoimh, Limerick 3-23 Tipperary 2-17 ( Munster semi final)
2021 at Pairc Ui Chaoimh , Limerick 2-29 Tipperary 3-21  ( Munster final).
Tipperary's last championship win over Limerick, at TUS  Gaelic Grounds, was on June 21st 2015, when they won a Munster semi final, by 4-23 to 1-16.
---
Munster Senior Football Championship
Well done to our senior footballers who recorded a 2-13 to 1-08 win over Waterford in the Munster senior football Quarter Final which was played in Fraher Field Dungarvan last Saturday evening. Having already played Waterford in the same venue in the league when both sides shared the spoils, this game was always going to be a tough test for David Power's side and to their credit they overcame the challenge and are now preparing for a semi final clash against Limerick on Saturday May 14th in FBD Semple Stadium at 7pm.
---
Munster Minor Football Championship
Our Minor footballers made it 3 wins from 3 when they defeated Clare last Thursday evening in Shannon and they have now qualified for the phase 1 final against Limerick in Mallow this Thursday May 5th at 7pm. Tipperary played Limerick in round 1 and won by 1-15 to 1-08, but both players and management will know that the slate is now wiped clean and it will require a top class performance to overcome Thursday evenings opponents.
---
Munster Under 20 Hurling Championship
Our under 20 hurlers travel to the TUS Gaelic Grounds this Wednesday evening, May 4th to play Limerick in the final of the competition at 7.30pm. Having overcome Cork in last weeks semi final, this game will no doubt be the teams toughest test to date. Tickets for this game can now be purchased via the Munster GAA website.
---
Best Wishes
We extend our good wishes to Intercounty players John McGrath and Ed Connolly who both suffered serious injuries in the last number of weeks while playing for Tipperary. We hope they both make speedy recoveries and look forward to seeing them back on the playing fields before too long.
---
FBD County Championship Draws
The draws for the various groups in the FBD Insurance County championships took place last Monday evening and were broadcast live on Tipp Fm. As is always the case, there are plenty of talking points and the potential for some very mouth watering clashes when the championships get under way in the coming months. All the various groups are available to view on Tipperary social media channels and on the Tipperary GAA website.
---
Tipperary Underage Summer Program Academy Launch
On Wednesday evening last in The Dome Semple Stadium, Tipperary Gaa launched our On-Field Summer Academy program for 2022. Over four hundred people were in attendance including players, parents and invited guests. All players received their Summer itinerary of activity, so players, parents and mentors can plan accordingly.
Proceedings were facilitated by Kevin Halley, Games Manager, and our Coaching and Games Development staff. The launch included speakers, Joe Kennedy County Chairman, and Tim Floyd secretary on behalf of Tipperary Gaa.
Both speakers complemented all in attendance for making the Academy panels for 2022. They thanked all involved in the running of Academy squads in Tipperary, along with all associated divisional and County Boards. Tim also made a special mention of thanks to our main Academy sponsor, Brian Acheson, and additional sponsorship from Tipperary Supporters Club and Friends Of Tipperary Football.
Des Ryan and Maggie O Grady, both Setanta College,  gave insights into testing results from the Winter program that just concluded, and gave an overview of their involvement with Athletic Development to the on-pitch training schedule, to compliment the field sessions at each age group and code.
James Woodlock and John McNamara, both Minor Hurling and Football Managers spoke  passionately about committing to the development journey, embrace the chances you have been given and be the best that you can be, not only on Tipperary Academies, but leader in your clubs also, ultimately this will put yourself as a player in the best position to play for Tipperary in your respective code at minor level and beyond into Adult level.
Our evening concluded with each of our Academy mentors being presented their gear for the coming season from County Board Chairman, Joe Kennedy, as a token of appreciation to the excellent work and commitment they are putting into our underage Development Academies.
---
Peil Na nÓg
Peil na nOg Tiobraid Arann was held on Saturday April 30th and Monday May 2nt ,with rounds in 14 different venues on Saturday with  56 clubs devided into 8 Divisions  with Simi Finals of Division 1 and 2 and Finals of Division 1, 2, 3, 4, 5, 6, 7 and 8 played in DR Morris Park on Monday. It was a great weekend of U15 football played in a very competitive and sporting manner with all boys giving their all to make the simi finals and then go on to contest the final in DMP. We thank all our host clubs for your help and cooperation and your club coordinator for making sure everything ran smoothly you did a great job.
On Monday we moved to DMP and every game was a cracker with great football and great determination shown by all which made for great excitement and enjoyment  The format of playing all our Peil games on one weekend have worked very well and DMP is a ideal venue with 3 pitches in close proximity to each other it makes for a great occasion and you could see how much it meant to all the boys playing in front of a big crowd .  Thanks to our senior board for making it available to us.To our referees we owe you a big thank you, we know on a bank holiday weekend it's not easy to spend the day refereeing but you came up trumps again and didn't let us down A Hugh thank you. Thanks to Pat and Andy,  caretakers in DMP for having the pitches in excellent condition
To all the clubs who took part in Feile na nGael and Peil na nOg over the last few weeks thank you and we hope your boys enjoyed the experience
To our Feile committee and our County Board Na nOg members thank you, your hard work ensured these great competitions again ran smoothly and successfully in Tipperary . Tommy Landers chairman.
Results of Peil na nOg 2022
Division 1     Durlas Og  (capt) Keelan  Dunne.  0-7.       JK Brackens 0-3
Division 2.   Moyle rvs   (Capt) Colin Mc Cauley. 0-5.     Ballina.  0-2
Division 3.   Moyne Templetouhy (capt) Eoghan Sumner 2-4.  Ballingarry 0-5
Division 4.   Killanaul (capt) Shane Ryan. 5-6.                 Silvermines. 1-3
Division 5.   Clonmel Og (capt) Luke Hannigan 3-7.        Ballyporeen 2-6
Division 6.   Mullinahone (capt) Philip Dunne. 3-6.          Carrick Swans. 2-8 AET
Division 7.   Clerihan (capt) Eoin ODonnall 2-16.              Loughmore Castleiney 3-2. AET
Division 8.   Thurles Gaels (capt) Lorcan Delaney  3-4.   Eire Og Annacarthy 1-3.
---
Tipperary GAA Scene
If there is anything you feel should feature in this column going forward, please feel free to forward it to pro.tipperary@gaa.ie