Tipperary GAA Scene – May 3rd 2017
By: PRO Joe Bracken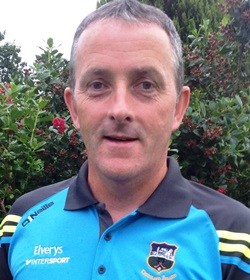 MUNSTER U17 FOOTBALL
Best wishes to the Tipperary U17 football panel as they play their Munster Championship Semi-Final against Kerry in Austin Stack Park, Tralee this Tuesday evening, May 2nd at 7pm. Tipp had a fine four point win over Clare in the Quarter-Final and now have the difficult task of facing Kerry on home soil.
Best wishes also to the management team of – manager Matt O'Doherty (Arravale Rovers), coach-selector David Power (Kilsheelan-Kilcash), coach-selector Mick O'Sullivan (Drom & Inch) and selectors Johnny Nevin (JK Bracken's) and Donal Hayes (Upperchurch-Drombane) and Strength and Conditioning Coach Jason Coffey (Ardfinnan).
The referee for this fixture will be Alan Long (Cork).
MUNSTER MINOR FOOTBALL
Commiserations to the Tipperary minor football team as they departed this year's Electric Ireland Munster Championship following their Play-off 2 loss to Clare in Ennis last Wednesday night with the Banner lads winning 0-10 to 0-5.
CELTIC CHALLENGE
Best wishes to Mid/North Tipperary as they line out for the first time in the Bank of Ireland Celtic Challenge when they travel play North Clare in the first round of this U17 competition for non-exam students in Cratloe, this Wednesday evening at 7:30pm.
South/West Tipp who participated last year will play East Waterford this Thursday, 4th May at 7.30pm in St. Molleran's Grounds, Carrick-on-Suir.
KIERAN BERGIN RETIREMENT
We send best wishes to Kieran Bergin (Killenaule) following his decision to step away from the Tipperary senior hurling panel last week, bringing to a close a senior career which started with his competitive debut in the Allianz League Final in 2013. With 2 Munster Senior Hurling Championship medals (2015 and 2016) and 1 All-Ireland Senior Hurling medal in 2016, Kieran was also nominated as an All-Star award in 2014 as a half-back. At minor level Kieran lined out for Tipp in 2003 and 2004 winning a Munster medal in 2003. He also lined out for Tipp at U21 grade before he moved to America for a number of years.
A key member of Tipperary panels managed by Michael Ryan and Eamon O'Shea, Kieran is thanked for his unwavering dedication to the Blue and Gold and is wished every success now and for the future. He is also wished well for continued success with his club.
COUNTY FIXTURES
The Tipperary Water County Senior and Intermediate Hurling Championships as well as the Seamus Ó Riain Cup hurling got the club championships up and running last weekend with some notable results.
This weekend it is the turn of the football championships to take the limelight commencing this Friday May 5th, as the Tipperary Water County Football Championships throw in and again continue over Saturday and Sunday, May 6th and 7th.
For a full list of fixtures and results please check the Tipperary GAA website https://tipperary.gaa.ie/ or the fixtures section in your local newspaper.
REFEREE
Best wishes to Philip Kelly (Ballinahinch) who referees the Electric Ireland Munster Minor Hurling Championship Semi-Final Playoff 1 between Cork and Waterford in Pairc Ui Rinn this Wednesday evening.
SCÓR
After a very successful evening in Newport last Sunday night we wish all our All-Ireland contestants the very best of luck in The Waterfront Theatre in Belfast on Saturday next, May 6th. The Tráth na gCeist kicks off at 11am with Moyne-Templetuohy representing us in this battle of wits and knowledge. The stage competitions start at 3pm in the Theatre and Katie Shanahan from Borrisoleigh will be the first of our individual contestants in the Amhránaíocht Aonair section. Noel Joyce of JK Brackens will then weave his tale of love to the audience.  Newports Ceol Uirlise, Ballad Group and Léiriú Group will showcase their wonderful talents before JK Brackens take to the stage in the penultimate contest Rince Seit. Ta éacht déanta cheana féin ag na daoine uaisle seo agus ag an lucht tacaíochta atá ann chun tacú leo i gcónaí agus guimíd gach rath is seán orthu sa Chraobh.
Our thanks must go to Anthony Floyd and friends who organised a wonderfully successful evening in Newport's Community Hall on Sunday night last. Not only did we see our All-Ireland Finalists perform but it was a real feast of talent with young people from Newport, Birdhill and surrounding parishes sing, dance, play music, recite poems and hold the large audience enthralled for the first part of the evening. Maith sibh a pháistí.
Thanks also to the County Board who very generously presented all our finalists with the Tipperary colours and we know they will wear them with pride over the weekend.
Beimid ag súil go mór le deireadh seachtaine siamsaíochta i mBéal Feirste.
NEW COUNTY CLUBS DRAW
The Official Launch of New Tipperary GAA Draw took place last week at the County Board meeting in Thurles Sarsfields Centre. Draw Chairman, Peter Byrne outlined the benefits of the success of the draw to all in attendance and the wonderful returns to clubs depending on number of members signed up.
Celebrating 30 years the Tipperary GAA Clubs Draw offers a €500,000 prize fund for the coming draw year. Starting with the May Star Prize of a Renault Kadjar or €30,000 in association with local Renault dealer, Cleary Motors, Loughtagalla, Thurles and second prize of a Skoda Octavia or €15,000 in association with local Skoda dealer, Ryan Motor Power, Powerstown, Clonmel, there are wonderful prizes to be had each month.
Supporters are encouraged to support the draw as it also provides much needed revenue for your local club.
TIPP ASSOCIATION DUBLIN AWARDS FUNCTION
The Tipperary Association Dublin Annual Awards function at which the Association's Tipperary Person of the Year and the Hall of Fame Awards for 2016 will be presented will be held in the Louis Fitzgerald Hotel, Newlands Cross, Naas Road, Dublin this Friday, May 5th.
A pre-dinner drinks reception will take place at 7pm followed by dinner.
Tickets are €40 each and may be purchased from Pat Ryan at 11 Foxfield Grove, Raheny, Dublin 5 (087 6376663 – psoriain@eircom.net).
The Tipperary Person of the Year award for 2016 goes to Michael Ryan, manager of the successful Tipperary Senior Hurling team. The county owes a debt of gratitude to Michael and his fellow management team for the winning of the All-Ireland in 2016 and the satisfaction and joy it brought to all Tipperary people. It is hoped, therefore, that there will great support for Michael on the night in recognition of his successful stewardship and leadership in 2016.
The 2016 Hall of Fame award goes to Golden man, Eddie Dalton, for his dedication and work in lobbying for the pardon of Harry Gleeson who was wrongly hanged in the 1940s for a murder he did not commit.
TIPPERARY FUN RUN/WALK
The Camán Tipp 5k fun run walk organised by the Tipperary Supporters Club and the County Camogie Board at the Dome Semple Stadium on Bank Holiday Monday last was a super success. With approximately 800 participants the collective group led by the Tipperary senior hurlers and camogie players headed down the Nenagh Road to the start line. Once under way the runners led the group around the 5k course arriving back to a warm reception at Semple Stadium.
A special word of thanks to all who participated in the run/walk and to an Garda Síochána, all the Semple Stadium stewards and those who helped out in any way. Thanks especially to Tipperary Supporters Club and the County Camogie Board for organising the event. Finally, thanks to Tipp FM who covered the event with live updates and really added to a carnival atmosphere on the day.
KEVIN MARREN CUP
St Anne's CC Killaloe retained the Kevin Marren Cup on Wednesday last following a 1-17 to 0-10 victory over Col Chroi Naofa Carrignavar in the Munster Post Primary Schools Under 15 D Hurling Final. The St Anne's CC Killaloe starting line-up included Niall Helebert (Portroe) and 6 players from the Ballina club, including centre-back and Captain Sam Loughran.
TIPPERARY SUPPORTERS CLUB GOLF CLASSIC
The Annual Tipperary Supporters Club Golf Classic will be held in Nenagh on Friday, May 19th next and promises to be another tremendous event as the Nenagh Club hosts the classic this year.
The Supporters Club ask for your support for their Annual Golf Classic. They are very appreciative of the generosity of so many over the years and hope Tipperary supporters and golf enthusiasts will be in a position to enter a team again this year. This is one of their major fund raising events and they want to continue to support our Senior Hurling Management Team as they bid to retain their Munster and All-Ireland titles. All funds will be used to defray costs for looking after team preparations for this year's Championship.
Please email team entry to johntierney105@gmail.com or post to John Tierney, Chairman, Tipperary Supporters Club at 105 Laraghcon, Lucan Village, Co. Dublin, 087 6821398. (Note: to be eligible for the main prizes, all team members must have GUI handicaps.)
FRIENDS GOLF CLASSIC
The Friends of Tipperary Football Annual Golf Classic takes place this Saturday May 6th at Thurles Golf Club. This is their biggest fundraiser of the year and all funds raised go to promoting football in Tipperary and to support all the Tipperary county teams and development squads. You may still be able to enter a team of four which cost €120 and some tee boxes can still be sponsored as a cost of €50. Also, you can donate prizes for the raffle. For further details please contact Martin Dwyer on 086-2549154 or Trish Gavin 087-6150552.
HANDBALL There was a tremendous weekend of handball in Galway at the Irish Junior Nationals which proved to be a great success. From the 11 and Under groups to the girls and boys 19 and Under grades everyone enjoyed the many hard fought games and a few shocks as well along the way.
Tipperary juveniles to reach the final stages were Stefan Tobin from Carrick-On-Suir who won all his games in the 11 and Under Group 5. In the Girls 13and Under B – Amy Mc Keogh from Ballina reached the final but was narrowly defeated by Jodie Keeling from Wexford. In the Girls 13 and Under A – Áine Spain from Lahorna was defeated in the Semi-Final by Sadhbh Ní Fhlathearta from Galway.
LADIES FOOTBALL
It's back to the well one more time for the Tipperary ladies after their draw in the Lidl National Football League Division 3 Final when a victory looked in sight on Sunday last, with the final score reading Tipperary 0-12 Wexford 2-6. Best wishes to the team in the replay scheduled for May 13th/14th next.
Commiserations to the ladies minor team who lost the Munster LGFA Minor B Championship Final, with the score reading Clare Ladies Gaelic Football 5-8Tipperary Ladies Football 1-11.
LONDON TEAM TIPPERARY FUNDRAISER
Last minute arrangements are being put in place for the London Tipperary Association, Corporate Lunch Fundraiser on Friday, May 12th next. After an absence of a year the InterContinental Hotel, will once again be the venue with London-based Tipperary Supporters Club committee members Johnny Whyte (Drangan), Phil Cusack (Carrick-on-Suir), Paddy Shanahan (Upperchurch) and Clonmel natives Kevin Leahy and Brian Acheson co-ordinating what promises to be another memorable occasion for all followers of the blue and gold.
As the beginning of another championship season looms it will therefore be another wonderful opportunity for all London based Tipperary people to welcome back the silverware that was won on an unforgettable day for the Premier County last September, as well as our football All-Star Michael Quinlivan. The Clonmel Commercials man will also be accompanied by the recently won Division 3 League trophy after the Tipperary footballer's promotion to Division 2.
This hugely beneficial fundraiser is continuing to attract good interest for this May event and a number of the tables have already been snapped up. A brochure has also been produced by Team Tipperary and a full table or place at a table can be booked with reservations made as soon as possible to the Tipperary GAA Office at Lar na Páirce, Thurles, Co. Tipperary. Tel: 00353 (0)504 22702 or email: secretary.tipperary@gaa.ie
TIPPERARY SUPPORTERS CLUB 2017 MEMBERSHIP
Supporters can join on line now on tippsupportersclub.com/join by credit card or debit/laser card. Membership is €40 per person. Also on the website details are available of the direct debit facility; as the Club is run on a completely voluntary basis it would be a great help if members could join by direct debit.
We are encouraging members to switch to Direct Debit payment by offering a reduced charge of €30 for all Direct Debit members in 2017. It's easy to sign up for Direct Debit, just download the two-page form from the Tipperary Supporters Club website at http://www.tippsupportersclub.com/join/ fill it out and send it to Jim Reidy at the address below.
If joining by post please send a cheque or postal order for €40 payable to Tipperary Supporters Club to Jim Reidy, 13 Castleknock Close, Dublin 15 (086-3580718, email: info@tippsupportersclub.com ) All proceeds from membership go towards the preparation and training of the Tipperary Senior Hurling Team.
FRIENDS OF TIPPERARY FOOTBALL
The Friends of Tipperary Football membership for  €20 enters each supporter into the following draws: 2 All Ireland Final Football tickets 2017; 2 All Ireland Final Hurling tickets 2017; 2 Tickets for each Tipperary Senior Football Championship matches 2017; 2 All Ireland Club Final tickets 2017 and 2 National Football League tickets for each Tipperary League match in 2017.
Membership is also available online through the Friends website www.friendsoftipperaryfootball.com and there is also a link on the Friends Facebook page.
TIPPERARY GAA SCENE
Information concerning all areas in the GAA will appear in this section in the future. If you wish to include any item of interest in future articles, please e-mail pro.tipperary@gaa.ie on or before 3.00pm on Monday. Visit the Tipperary GAA web site at http://tipperary.gaa.ie to keep up to date with all the latest news in Tipperary GAA circles.