Tipperary GAA Scene – May 17th 2017
By PRO Joe Bracken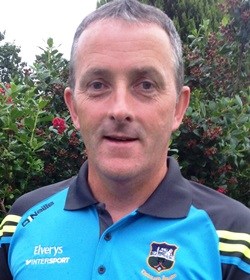 MUNSTER SENIOR HURLING CHAMPIONSHIP
The eyes and ears of the nation will be tuned into Semple Stadium from 4pm on Sunday next, May 21st as the Munster Senior Hurling Championship roars into action when traditional rivals Tipperary and Cork meet for the second year running in a Quarter-Final clash. How quickly time has flown by since Tipp's 2016 escapade commenced and yet here we are back to the start of what we all hope and wish will be another successful and memorable campaign for the Premier County.
That, however, is where the similarities end as the target is firmly set on the backs of the Tipperary men this year. First up for a pop will be the Rebels who will no doubt be firmly intent on putting a dent in Tipperary's intentions and also restoring pride to a side twelve months in the waiting. In championship action Tipperary and Cork have met in 84 championship games, with Tipperary narrowly ahead on 38 wins to Cork's 37 and there were 7 draws. The first meeting on May 27th 1888 was unfinished, with Tipperary leading by 2-1 to 0-0 and the result stood, so that is counted as a Premier County victory. Tipperary were a point ahead, when the 1905 semi-final also finished early. A re-fixture was arranged, but Cork received a walk over, as they had in the 1901 championship. The first game of the 1926 final trio, was also unfinished with Tipperary leading by five points.
Of the last twelve meetings between the sides two were played on the qualifier route with one in an All-Ireland Semi-Final, while last year's match was the only one in which either side failed to raise a green flag. So starting with the Munster Final of 2000, those twelve results read as follows; 2/7/2000 Munster Final, Semple Stadium, Cork 0-23 Tipperary 3-12; 17/7/2004 All-Ireland Qualifier, Killarney, Cork 2-19 Tipperary 1-16; 26/6/2005, Munster Final, Pairc Ui Chaoimh, Cork 1-21 Tipperary 1-16; 25/6/2006 Munster Final, Semple Stadium, Cork 2-14 Tipperary 1-14; 14/7/2007, All-Ireland Qualifier, Semple Stadium, Tipperary 2-16 Cork 1-18; 8/6/2008, Munster Semi-Final, Pairc Ui Chaoimh, Tipperary 1-19 Cork 1-13; 31/5/2009, Munster Round 1, Semple Stadium, Tipperary 1-19 Cork 0-19; 30/5/2010, Munster Round1, Pairc Ui Chaoimh, Cork 3-15 Tipperary 0-14; 29/5/2011, Munster Round 1, Semple Stadium, Tipperary 3-22 Cork 0-23; 24/6/2012, Munster Semi-Final, Pairc Ui Chaoimh, Tipperary 1-22 Cork 0-24; 17/8/2014, All-Ireland Semi-Final, Croke Park, Tipperary 2-18 Cork 1-11 and finally 22/5/2016, Munster Round 1, Semple Stadium, Tipperary 0-22 Cork 0-13.
The stage is set and with the Semple Stadium sod in pristine condition it has all the hallmarks of a fascinating match. We send the best wishes of the county to Paudie, Mick and all the team as the anticipation builds ahead of the match on Sunday. The stakes don't get much higher when Cork come to Thurles and where else would you want to be anyway, the summer is only just beginning.
The referee will be James Owens (Wexford).
Tickets are now on sale and are available through participating Centra and Super Valu Stores and online at tickets.ie Buy before match day and save €5 on adult ticket prices in all areas. Supporters please note that ticket prices increase from midnight Saturday May 20th.
Buy before pay less ticket prices are as follows: Adult Covered Stand: €25; Adult Uncovered Stand: €20; Adult Terrace: €15; Juveniles U-16's in all areas: €5; Student/OAP's Concession of €5 at the designated stile with valid id prior to entry.
CELTIC CHALLENGE
The Bank of Ireland Celtic Challenge continued last week with both Tipperary teams successful in their second outing of the competition.
On Wednesday night in Cashel, South Tipperary ran out winners against Cork City on a score-line of South Tipperary 5-19 Cork City 0-7 with the South Tipperary goals coming from Tomas Vaughan (Skeheenarinky), 2 from Oisin Drennan (Mullinahone), Stephen Grogan (Cahir) and Stephen Carr (Sean Treacys). The next match up for South Tipperary is this Wednesday night May 17th, in Midleton against East Cork with a 7:30pm throw in.
Elsewhere, the Mid/North Tipperary side had a good 2-17 to 0-12 victory over Offaly also on Wednesday last in Moneygall. Tipperary's goals came from Shane Doyle (JK Brackens) and Darragh Tynan (Roscrea) whilst Gearoid O'Connor (Moyne-Templetuohy) finished the game with 8 points to his name and for the second match in succession was named as the "Best and Fairest" player. This award is chosen by the referee and his officials. The next game for Mid/North Tipperary is away against Laois also this Wednesday at 7.30pm in Laois GAA training centre at the back of O'Moore Park, Portlaoise
COUNTY FIXTURES
The Tipperary Water County U21 A and B Football Finals take place in Leahy Park Cashel this Saturday, May 20th as part of a double bill with the U/21 (B) final throwing in at 2pm between Cahir and Clonoulty-Rossmore. Then at 3:30pm the (A) Final goes ahead between Galtee Rovers-St Pecaun and Moyle Rovers. Extra-time will be played in both matches in the event of a draw at end of normal time.
For a full list of fixtures and results please check the Tipperary GAA website https://tipperary.gaa.ie/ or the fixtures section in your local newspaper.
NEW COUNTY CLUBS DRAW
Celebrating 30 years on the go, the new Tipperary GAA Clubs Draw offers a €500,000 prize fund for the coming draw year. Starting with the May Star Prize of a Renault Kadjar or €30,000 in association with local Renault dealer, Cleary Motors, Loughtagalla, Thurles and second prize of a Skoda Octavia or €15,000 in association with local Skoda dealer, Ryan Motor Power, Powerstown, Clonmel, there are wonderful prizes to be had each month.
Supporters are encouraged to support the draw as it also provides much needed revenue for your local club.
LADIES FOOTBALL
Congratulations to the Tipperary senior ladies following their victory in the Lidl National Football League Division 3 Final over Wexford on a score line of 0-15 to 1-10 last Sunday in Birr. They can now look forward to life in Division 2 next season.
LOYALTY CARD
Tipperary GAA has recently launched a loyalty CashBack Card which as a Tipperary supporter each individual that registers is doing their small bit in support of the county cause. Loyalty cards were sent out with club draw receipts to all members and as there is no charge in registering you can opt in immediately. If anyone who doesn't have a loyalty card and flyer please call to Lár na Páirce to pick up one. Register as per details on the CashBack flyer. To activate the card, holders must complete the registration and then please email, post or drop off your registration details to Lar na Páirce, Slievenamon Road, Thurles or secretary.tipperary@gaa.ie
TIPPERARY SUPPORTERS CLUB GOLF CLASSIC
Best of luck to all taking part in the Annual Tipperary Supporters Club Golf Classic which will be held in Nenagh this Friday, May 19th and as always it promises to be another tremendous event as the Nenagh Club hosts the classic this year.
Ahead of our senior hurlers going into action on Sunday, the Supporters Club ask for your support for their Annual Golf Classic. They are very appreciative of the generosity of so many over the years and hope Tipperary supporters and golf enthusiasts will be in a position to enter a team again this year. This is one of their major fund raising events and they want to continue to support our Senior Hurling Management Team as they bid to retain their Munster and All-Ireland titles. All funds will be used to defray costs for looking after team preparations for this year's Championship.
Please email team entry to johntierney105@gmail.com John Tierney, Chairman, Tipperary Supporters Club 087 6821398. (Note: to be eligible for the main prizes, all team members must have GUI handicaps.)
LORY MEAGHER CUP
Three Tipperary men are looking forward to their day in the sun in Croke Park on Saturday June 10th next after Warwickshire hurlers qualified for their second Lory Meagher Cup final. For team Captain Donncha Kennedy it will be his second appearance in Croke Park and his first since Warwickshire won their first Lory Meagher Cup title in 2013.
The Drom-Inch clubman will be joined on this occasion by Killenaule man Joe Meagher and fellow Roger Casements GAA team mate Ian Dwyer from Gortnahoe-Glengoole. It will be Joe Meagher's second year involved with the Midlands-based Exiles while Ian has only just moved to Coventry earlier this year. Ian's goal early in the second-half inspired the Exiles to victory along with his other two points from play as Warwickshire ran out deserving 2-16 to 1-11 winners over Leitrim at Pairc na hEireann, Birmingham last Saturday, May 13th..
COUNTY LONG PUCK
The County Long Puck has been fixed for Saturday, June 10th. Senior participants wishing to take part should register at secretary.tipperary@gaa.ie or dinny.maher.gda.tipperary@gaa.ie before May 31st.
LONDON CORPORATE LUNCH
After an absence of a year, London's West End was the location once again for another very successful Tipperary GAA fund-raising Corporate Lunch on the afternoon of Friday May 12, when almost three hundred supporters and friends enjoyed another unforgettable social occasion. The opulent Intercontinental Hotel just off Park Lane near Hyde Park Corner was the venue for another stylish and spectacular function hosted under the 'blue and gold' banner less than five months since the London Tipperary Association feted the All-Ireland champions in the City.
From a fund-raising viewpoint the novel idea of Corporate Lunch, co-ordinated by London-based Clonmel natives Brian Acheson and Kevin Leahy supported by a hard-working committee of benefactors was another outstanding success. Special guests included Tipperary hurling legends Bobby Ryan (Borris-Ileigh) and Donie O'Connell (Killenaule), Tipperary football All-Star Michael Quinlivan (Clonmel Commercials) and finally Tipperary's All-Ireland winning hurling manager Michael Ryan (Upperchurch-Drombane). However, before the formalities got under way the Tipperary GAA County Board paid tribute to another very special guest for the afternoon, namely long-serving London Tipperary Association Life President Tom Milne (Lorrha) – for his service and support to Tipperary GAA as well as the London Tipperary Association since 1964. Other notable attendees on the afternoon were former hurlers Joe Hayes, Martin McGrath and Eamon Corcoran and football goalkeeper Philly Ryan.
But unquestionably the man who played yet another 'blinder' during an unforgettable afternoon was Annacarty man, broadcaster and MC Paul Collins from Today FM, who co-ordinated a very lively and entertaining Question and Answer Forum among the special guests before he proved to be a very effective auctioneer. The Team Tipperary's afternoon's fund-raising was for development of the county's new state-of-the-art Centre of Excellence based at Dr. Morris Park.
Among the Tipperary GAA officers present were Secretary Tim Floyd, vice-chairman John Devane (Boherlahan-Dualla), chairman Michael Bourke (Upperchurch-Drombane) who also addressed the attendance and made a presentation to London Tipperary Association Life President Tom Milne. He also thanked the generous sponsors and all the people behind the scenes for making such an event and singled out Clonmel man Brian Acheson for a special mention. Brian, who is also the CEO of Dornan Engineering, has been the driving force behind the success of this and the two previous events but he will be the first to admit that he also a very strong committee supporting him.
An enjoyable afternoon concluded just after 5.00pm with the fund-raising auction of Tipperary GAA memorabilia.
INTERNATIONAL MUSEUM DAY
The GAA Museum marks International Museum Day this Thursday 18th May 2017. International Museum Day takes place every year on the 18th May and aims to highlight the important role of museums in society.
The theme of this year's event is 'Museums and contested histories: Saying the unspeakable in museums.'
To mark the day, the GAA Museum in Croke Park is hosting an evening with renowned Irish authors Michael Foley and Cormac Moore, commencing at 7pm.
Michael Foley will speak on Bloody Sunday at Croke Park, drawing on research from his bestselling book 'The Bloodied Field', which gives an account of the dramatic events on the 21st November 1920 which resulted in the shooting dead of fourteen people by the Royal Irish Constabulary.
Cormac Moore will discuss the GAA's relationship with Douglas Hyde following his controversial removal as GAA patron after he attended a soccer match between Ireland and Poland in 1938.  Cormac is the author of The GAA v Douglas Hyde: The removal of Ireland's first president as GAA Patron.
The event will conclude with a question and answer session and discussion of both topics.
Tickets cost €12 and €10 for students / seniors with valid ID and includes complimentary tea / coffee or a glass of wine on arrival. Ticket price also includes access to the GAA Museum where they'll have the opportunity to view related artefacts.
Tickets can be booked here: https://crokepark.ie/museumday
TIPPERARY SUPPORTERS CLUB 2017 MEMBERSHIP
Supporters can join on line now on tippsupportersclub.com/join by credit card or debit/laser card. Membership is €40 per person. Also on the website details are available of the direct debit facility; as the Club is run on a completely voluntary basis it would be a great help if members could join by direct debit.
We are encouraging members to switch to Direct Debit payment by offering a reduced charge of €30 for all Direct Debit members in 2017. It's easy to sign up for Direct Debit, just download the two-page form from the Tipperary Supporters Club website at http://www.tippsupportersclub.com/join/ fill it out and send it to Jim Reidy at the address below.
If joining by post please send a cheque or postal order for €40 payable to Tipperary Supporters Club to Jim Reidy, 13 Castleknock Close, Dublin 15 (086-3580718, email: info@tippsupportersclub.com ) All proceeds from membership go towards the preparation and training of the Tipperary Senior Hurling Team.
FRIENDS OF TIPPERARY FOOTBALL
The Friends of Tipperary Football membership for €20 enters each supporter into the following draws: 2 All Ireland Final Football tickets 2017; 2 All Ireland Final Hurling tickets 2017; 2 Tickets for each Tipperary Senior Football Championship matches 2017; 2 All Ireland Club Final tickets 2017 and 2 National Football League tickets for each Tipperary League match in 2017.
Membership is also available online through the Friends website www.friendsoftipperaryfootball.com and there is also a link on the Friends Facebook page.
TIPPERARY GAA SCENE
Information concerning all areas in the GAA will appear in this section in the future. If you wish to include any item of interest in future articles, please e-mail pro.tipperary@gaa.ie on or before 3.00pm on Monday. Visit the Tipperary GAA web site at http://tipperary.gaa.ie to keep up to date with all the latest news in Tipperary GAA circles.