Tipperary GAA Scene – March 16th 2022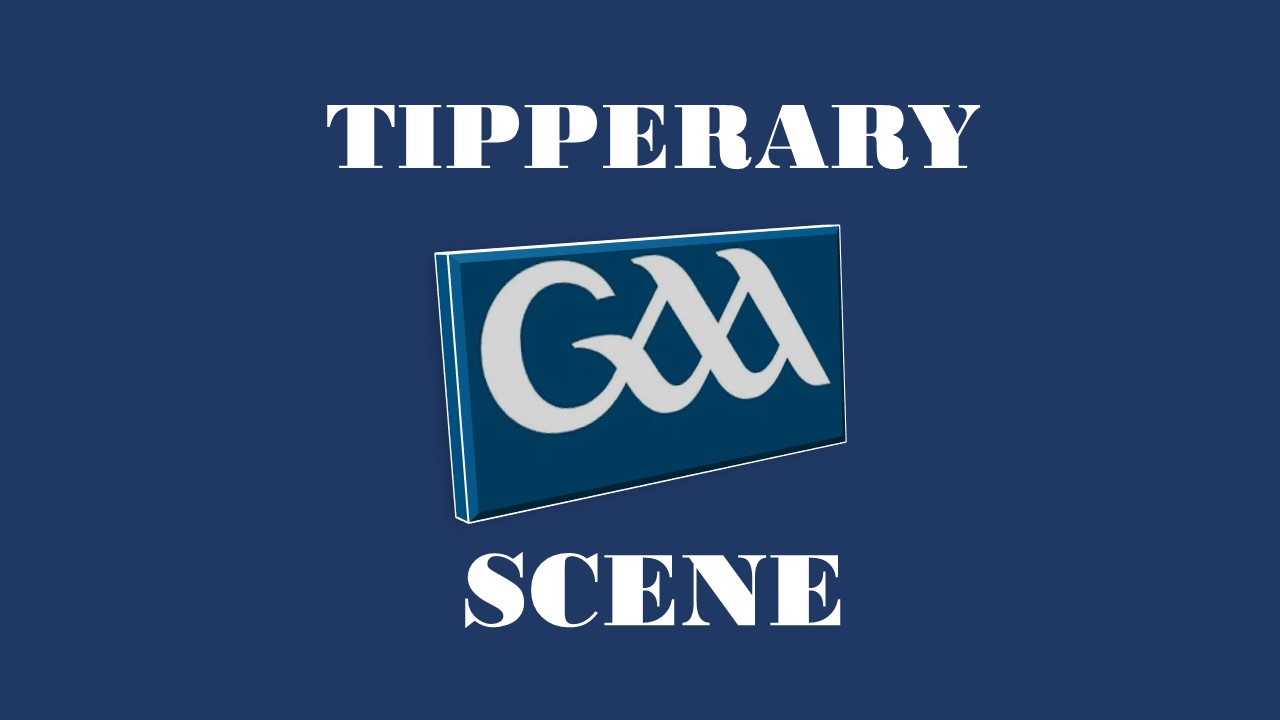 ---
Allianz Football and Hurling Leagues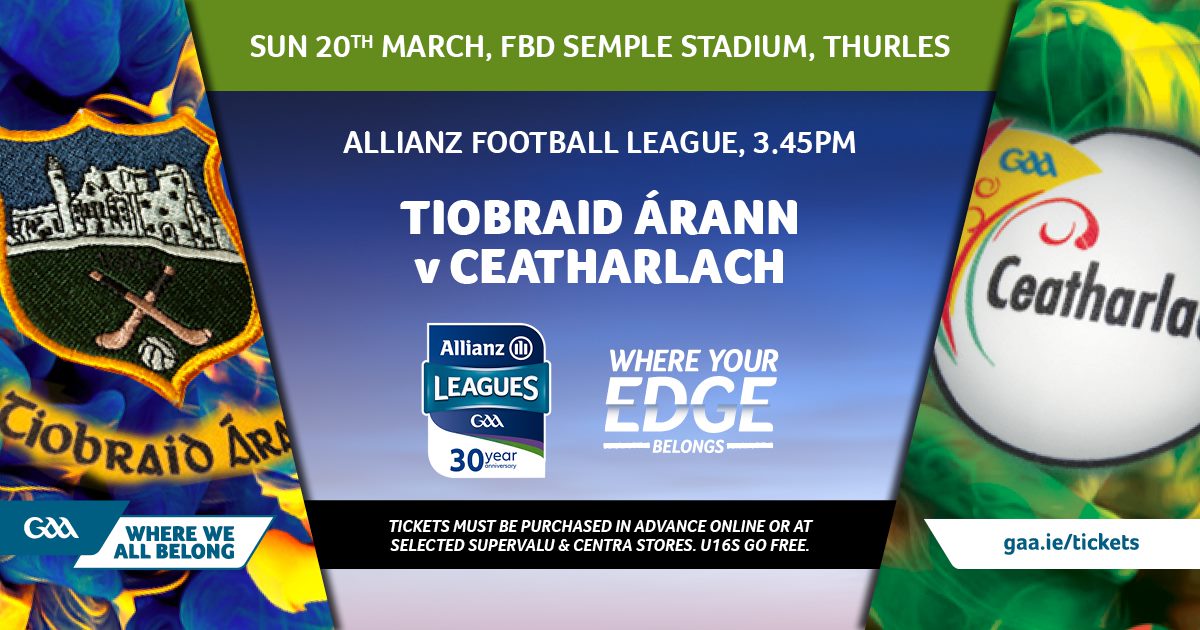 The Tipperary senior footballers made the trip to Kingspan Breffni Park to play Cavan in Round 5 of the Allianz Football League last Sunday. Going in to the game as underdogs against an undefeated home side, Tipperary showed no fear from the word go and were dominant throughout the field taking an early lead which they held right through the game to come out with full points in a well deserved victory. This win now puts the footballers firmly back in the race promotion and with two home games remaining their faith is now in their own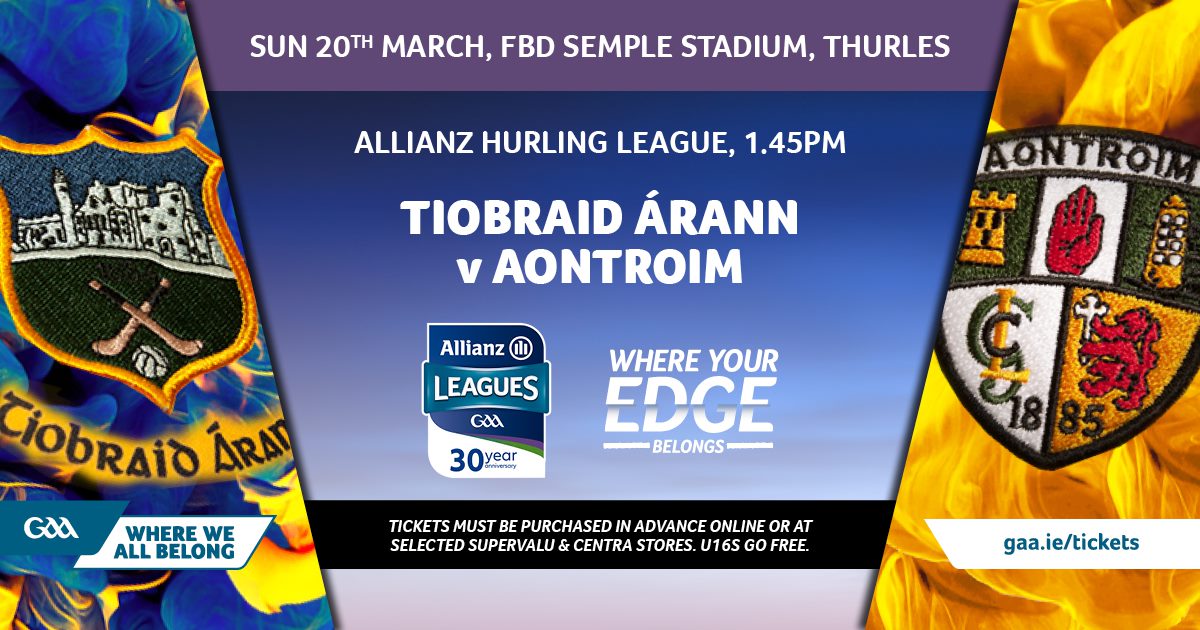 hands. They now look forward to welcoming Carlow to FBD Semple Stadium this Sunday March 20th at 3.45pm in a game that will form the second half of a double bill as their hurling counterparts play Darren Gleeson's Antrim at 1.45pm. We would appeal to all Tipperary supporters to make a big efford to get to FBD Semple Stadium on Sunday and give both Tipperary Teams the support they deserve. Tickets for the games are now available via the GAA website and also in selected Centra and supervalu stores throughout Tipperary. As is now thr norm, no tickets will be on sale at the venue, so make sure to purchase your tickets prior to your arrival keeping in mind that under 16's are free and do not require a ticket.
---
Higher Education GAA Rising Stars Hurling Team of the Year
Tipperary are very well represented on the 2022 Higher Education GAA Rising Stars Hurling team of the year for 2022 with three players named on the team which was announced this week. Bryan O'Meara's man of the match performance in the Fitzgibbon cup final was one of the determining factors in University of Limerick's victory. The Holycross-Ballycahill an lifted the Cup for UL for the first time since 2018 which helped to secure his place in this year's Team of the Year. Loughmore-Castleiney's Ciaran Connolly had a massive impact in the middle of the park this year as he often dictated the pace of play in many games. Ciaran had the ability to win balls and score from play. Gearóid O Connor of Moyne-Templetuohy was one of the top scorers from play in this year's Electric Ireland Fitzgibbon Cup. He also contributed 9 points for University of Limerick in the Final to comeback and claim the Electric Ireland Fitzgibbon Cup for his side.
---
Tipperary Allianz Cumann Na Mbunscoil
We were delighted to receive the fantastic news recently that the Munster GAA Primary Game is set to resume over the coming weeks. The Munster GAA Primary Game is an exhibition game like no other. It affords boys and girls from all over the province of Munster the opportunity to play at half time of a Munster senior championship game in front of thousands of intrigued spectators who are all eager to see what the next generation of young players can produce! The Primary Game was first played in 1996. For many of the boys and girls, it is the first day of many wearing the famous blue and gold jersey. The Tipperary Primary Game hurling & camogie teams have produced so many wonderful players over the years. It is very rewarding for all involved to see so many of these young players develop into minor, U21 and senior intercounty players as they progress up through the ranks. A Primary Game player in 2008 and All Ireland senior hurling winner in both 2016 & 2019; Ronan Maher is in his eighth year on the Tipperary senior hurling squad. The Tipperary Primary Game hurling 'Class of 2009' is another case in point. The Tipperary starting midfield pair of Willie Connors and Billy McCarthy in the Munster senior hurling championship defeat to Limerick in 2018 both played primary game in 2009. Willie Connors had a very impressive cameo off the bench in 2019 when Tipperary secured the Liam MacCarthy Cup. The 2017 Tipperary U21 hurling captain Andrew Coffey was also a member of the 2009 team with his brother and Irish Underage and Celtic FC star Barry playing on the 2013 Primary Game Hurling Team while their sister Maeve played on the 2011 Camogie Team. The 'Class of 2011' included Jerry Kelly, Adam Hogan, Jake Morris, Jerome Cahill, Brian McGrath, Cian D'Arcy and Shane Neville. All these players played on the same primary game hurling team versus Cork in 2011 and were part of a successful Tipperary All Ireland Minor winning squad in 2016. Brian McGrath captained the 2016 All Ireland minor winning team. Jake Morris, Brian McGrath and Cian Darcy were all members of Tipperary's 2019 All Ireland Senior winning squad. Many families have really made their mark on our primary game hurling & camogie teams with Scoil Ailbhe's Rory Purcell (2010), Michael Purcell (2011) and Eoin Purcell (2014) flying the flag for this famous Thurles hurling nursery! Grace O'Brien and Róisín Howard were members of the 'Class of 2010'. Grace is a current Tipperary senior camogie player while Róisín is a dual star for both Tipperary camogie and ladies football teams. Róisin Cahill was also a member of the 'Class of 2010' with her brother Jerome, an All Ireland Senior Hurling Medal winner with Tipperary in 2019, featuring on the 'Class of 2011'. The strong family link between teams was also evident in recent times with Darragh McCarthy named in the 2018 primary game hurling team who faced Cork; following in the footsteps of his brother Kevin who played on the 2013 primary game hurling team. Many of the Primary Game mentors are also former players with current Tipperary Primary Game mentor and Ayle NS teacher Pat Buckley a Munster Under 21 hurling medallist in 2003 & 2004. Running out in one's county jersey on Primary Game Match Day is a day to cherish for those boys and girls fortunate enough to experience it; a very proud day for families, schools and clubs. We can't wait to see how these players develop over the coming years. Remember to enjoy the journey they take you on. Mol an óige agus tiocfaidh sí.
PRIMARY GAME SELECTION DAY DATES AND TIMES
The Venues, Dates and Times for the Selection Days are as follows:
Ladies Football 
South / West Trial:  Clerihan GAA Pitch       Tuesday March 22nd              4.00pm
Mid/North Trial:      Durlas Og GAA Pitch   Thursday March 24th              4.00pm.
Football  
Mid / North Trial:        Durlas Og GAA pitch             March 22nd            3.30pm.
West Trial:                Cashel GAA Pitch                     March 31st              3.30pm
South Trial             Moyle Rovers GAA pitch           March 24th                3.30pm
Camogie 
South/West Trial:    Golden GAA Pitch               Tuesday 22nd  March           4.15pm.
Mid/North Trial:      Dr. Morris Park, Thurles    Thursday 24th  March          4.15pm.
Hurling 
West/South Trial:     Clonoulty GAA Pitch             Monday 14th March           4.15pm
2022 Equipment Scheme
All items of equipment, other than for helmet orders under five, must be collected, at Holycross GAA grounds, between 4.00pm and 7.00pm on Friday, 25th March 2022.
2022 REGISTRATION FEE NOW DUE
Please ensure your registration is paid for 2022. Schools who do not pay registration cannot participate in Tipperary Allianz Cumann na mBunscol activities including matches and the Equipment Scheme. Please note registration covers a school for a calendar year. Registration costs €30.00 and cheques can be made payable to Tipperary Cumann na mBunscol. Please post cheque with cover letter to our Treasurer Jerry McDonnell, 25 Ballingarrane, Clonmel, Co. Tipperary.
National Allianz Cumann Na Mbunscoil Week
National Allianz Cumann na mBunscol Week will take place from June 13th – 17th, 2022 and we would encourage as many of our schools as possible to take part in this week. It was a hugely successful week last year and we are really looking forward to it once more.
"About My School" Story Writing Competition
Tipperary Allianz Cumann na mBunscol are inviting pupils in Rang 3 – 6 to submit a piece of writing (no longer than 300 words) on the above topic. They should seek to describe what they love about the culture of GAA in their own school. Any school submitting a piece to us should have parental consent before sending on the piece. PLEASE NOTE THE PIECE OF WRITING SHOULD BE EMAILED TO US BY THE CHILD'S SCHOOL ONCE PARENTAL CONSENT HAS BEEN SECURED. Ideally a group photo of any GAA activity in the school should accompany the piece. The winning piece each week will be included with this report and will appear in the local newspapers. The name of the pupil who wrote the piece can appear alongside it. All stories can be emailed to John Manley PRO Tipperary CUMANN NA MBUNSCOL at pro.cnmb.tipperary@gaa.ie.
Social Media Twitter Handles & Hashtags
In future when schools are tweeting us with team photos or school GAA news updates, we would encourage you to always tag @TippCumanNamBun and @AllianzIreland while also remembering to use the hashtag #AllianzCnmb. Allianz Ireland has provided much needed financial assistance to Cumann na mBunscol for many a year and we should strive to do everything we can do to continue this existing arrangement!
---
Scór Na nÓg Craobh an Chontae 2022
Scór Na nÓg made a welcome return to the stage on Sunday last where over 10 different clubs took part in a range of disciplines in front of a large audience.
Halla Na Féile Cashel was the venue for this year's Craobh an Chontae and what a day of entertainment we were treated to. With acts in all eight categories, a huge thank you must go to all those who helped prepare these acts and most importantly a huge thank you to the acts themselves. The level of competition was second to none and they made life difficult for our wonderful adjudicators on the day.
Our winners now go forward to represent the county in the Munster Scór Na nÓg Final which will also take place in Cashel on Sunday April 3rd with the table quiz commencing at 12noon and the main clár kicking off at 2pm. We wish all our winners the very best of luck. Winners are as follows:
Rince Foirne: Newcastle
Amhránaíocht Aonair: Katie O'Mahoney (Holycross Ballycahill)
Aithriseoireacht: Mary Ryan (Upperchurch Drombane)
Ceol Uirlse: JK Brackens
Trath Na gCeist: Newport
Nuachleas: Templederry
Bailéad Ghrúpa: Thurles Gaels
Rince Seit: JK Brackens
---
Handball News
Tipperary Juveniles were in Action again this weekend competing in the County Team competitions hosted by Cork Venues . In Boherbue the U12/13 Team of Aiden Sweetman, Alex Stuart & Billy Murphy C-O-Suir, Luke Slattery Youghalarra & Oisín Carroll & James Gould Lahorna had a good win over Waterford in the Munster Semi-Final but lost out to Clare in the Final. In Ballydesmond the U14/15 team of David Cooke & Calvin Lyons C-O-Suir, Daniel McKelvey & Conor Ryan Silvermines, Eoin Bourke & Dean carey Ballina, Cormac Shanahan Newport & Aiden Kyne Youghalarra were beaten by Cork in the Munster Final. Ballydesmond also hosted the U16/17 team and Tipperary were represented by Jack Walsh, Callum Walsh & Lorcan O Sullivan C-O-Suir, Alex O Neill Newport, Evan Carey Ballina & Ryan Gillick Lahorna. This was the contest of the day with Tipp giving everything in a thrilling final. A fall in the first set left a Tipp player having a suspected broken thumb didn't help the cause and with the second set making a great comeback they were unlucky to lose out by 5 aces overall in a hectic Munster final.
Next Weekend sees the long trip to Kingscourt in Cavan for our U15 Singles finalist Stefan Tobin from C-O-Suir who is up against Anthony Clifford from Kilkenny in the All-Ireland final on Sunday . On Saturday also in Kingscourt Sinéád Meagher from Nenagh contests the Intermediate Singles Final against Niamh Heffernan from Galway. In the O35B Singles Final Niall Quinn from Silvermines takes on James Gavaghan from Monaghan & Jim Ryan from Silvermines takes on Michael Mc Carron also from Monaghan.
The North Tipperary Juvenile B competitions will be completed during the Week and full results next week. The Cumann na mBunscoil County Finals take place this Saturday in Kilcoleman & Nenagh. The winners go forward to contest the Munster finals the Following weekend.
---
GAA Development Fund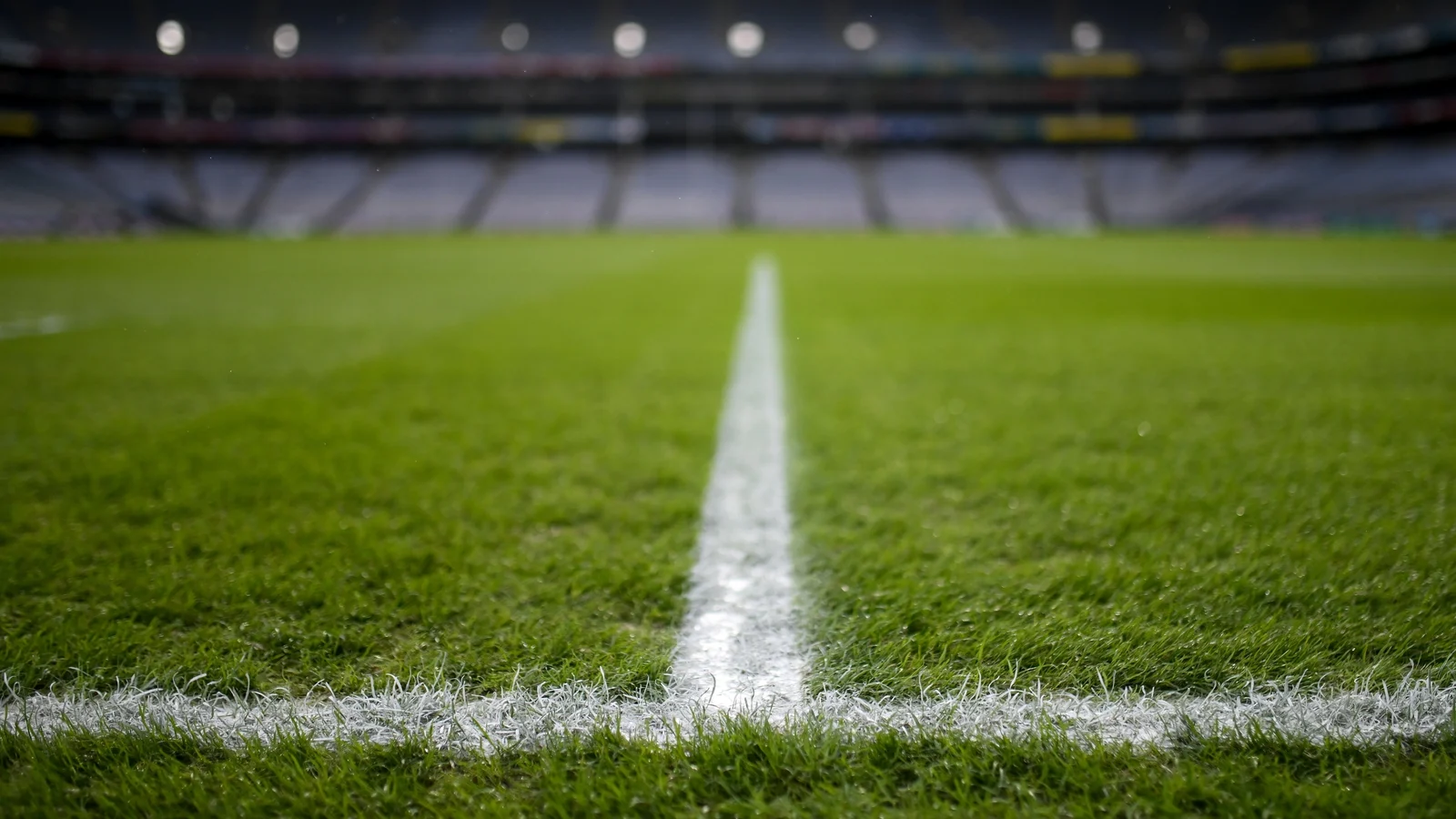 The Development fund at national level is reopened and will remain open until the end of May.
In line with previous years, clubs making applications will need a recommendation from their county first before the applications can be considered at provincial level. The provincial finance and management committee are scheduled to meet on the 11th of April and again on the 3rd of May. It is most likely that they will convene again at the end of May to consider these applications.
The purpose of the GAA development Fund is to provide finance at a reasonable cost for units of the Association that are developing facilitates for the promotion of our games. The GAA Development Fund is now open for both Deposits and Loans to all GAA Clubs. The closing date for Loan applications is the 31st of May 2022.
Loans Process
National Finance, Provincial Operations Managers and County Safety & Facilities Officers promote the GAA Development fund to our clubs. Loans are only available for Core GAA activities i.e., the purchase of property or for the necessary development of property. Development of bar facilities and other facilities for renting to other organisations will not be funded.
Club decide at a club meeting to apply for a Loan in the GAA Development fund. 3. Club to download the application forms from the GAA Website https://www.gaa.ie/my-gaa/administrators/development-fund
Club must follow the criteria set out in the Loan application form and submit to the County Safety & Facilities Officer.
The County Safety & Facilities Officer will review the application and write a brief report for the next County Management meeting.
The County Management committee decide if they wish to recommend and guarantee the Loan. If they are not happy with the submission the County should work with the club on a resubmission.
Once guaranteed by the County the application is forwarded to Provincial Council to provide their recommendation.
Once the Province have given the recommendation the application form along with all required documentation as set out in the Application form is submitted to the National Finance Management Committee for final review.
Applications will be reviewed by the National Finance Management Committee during the Month of June and clubs will be notified of the outcome of their Loan application by the end of June 2022.
Savings Process
National Finance, Provincial Operations Managers and County Safety & Facilities Officers promote the GAA Development fund to our clubs.
Club decide at a club meeting to put funds on deposit. 3. Club to download the application forms from the GAA Website https://www.gaa.ie/my-gaa/administrators/development-fund
Details of the Unit investing in the Fund must be sent to National Finance.
Minute from the club meeting where it was decided to deposit to the GAA Development Fund.
A copy of the most recent certified accounts of the club.
An indication on how long the club intend to keep the funds on deposit (a. Less than 1 year, b. Between 1-3 years, c. More than 3 years).
The form must contain the names and signatures of a minimum of two officials authorised to lodge, transfer and withdraw monies.
No withdrawals can be made from the Fund without a withdrawal form signed by at least two signatories.
Deposits will be acknowledged upon receipt by National Finance.
Notice of Withdrawal
Lotto: 10 days' notice required.
0-100,000: 1 Months' notice required.
100,000-1,000,000: 1 Years's notice required.
Over 1,000,000: 2 years notice required.
---
Tipperary GAA Scene
If there is anything you feel should feature in this column going forward, please feel free to forward it to pro.tipperary@gaa.ie