Tipperary GAA Scene – June 2nd 2021
Allianz Hurling & Football Leagues
Tipperary footballers travelled to Bord Na Mona O'Connor Park last Saturday to play Offaly in a crucial Round 3 clash. Having started a little slowly in the opening stages of the game, Tipperary soon got to grips with their opponents and lead by 1-08 to 1-07 at half time. However a number of injuries picked up during the game along with some weary bodies did not help our cause and it was Offaly who finished stronger and ended up the winners on a full time score of 1-17 to 1-12. The result means that Tipperary will now face Longford in a relegation play off and should we lose, it will be Division 4 football in next years league. The game is scheduled to take place on the on Sunday June 13th and it will be Tipperary who will have to make the trip to Glennon Brothers Pearse Park for a 3.45pm throw in.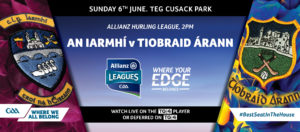 Next up for our hurler is an away game with Westmeath. The game takes place this Sunday June 6th and will be played in TEG Cusack Park Mullingar at 2pm. Liam Sheedy will announce his team this Friday evening and it will be available through all the usual  Tipperary GAA channels and also on Tipp FM following the 9pm news and don't forget, if you are a member of the Tipperary Supporters Club, you can get the team news straight to your phone through the new ClubZap system.
---
County League Draws
The County CCC finalised the various groups for the 2021 Co Hurling & Football Leagues last Friday evening. The Hurling League will commence on the weekend of June 13th and the Football the following weekend June 20th. It was also announced that for all league games, Teams will be allowed to make seven substitutions on seven different occasions. All games will be played in accordance with HSE & Government Guidelines. The majority of groups in the hurling league are divided into four teams which guarantees all teams at least 3 games, while in the football league the majority of groups will have 3 teams.
The full list of draws are as follows:
County Senior Hurling League
Group 1A: Borris-Ileigh, Kilruane MacDonaghs, Loughmore-Castleiney, Toomevara
Group 1B:  Roscrea, Nenagh Eire Óg, JK Brackens, Thurles Sarsfields
---
Group 2A: Kiladangan, Clonoulty-Rossmore, Drom & Inch, Upperchurch-Drombane
Group 2B: Moycarkey Borris, Carrick Swans, Eire Óg Annacarthy, Holycross-Ballycahill, Mullinahone
---
Group 3A: Newport, Sean Treacys, Silvermines, Clonakenny
Group 3B: Gortnahoe-Glengoole, Cashel King Cormacs, Killenaule, St Marys
Group 3C: Lorrha-Dorrha, Portroe, Ballina, Templederry
---
County Intermediate Hurling League
Group 1: Cappawhite, Ballingarry, Knockavilla Donaskeigh Kickhams, Kilsheelan-Kilcash
Group 2: Golden-Kilfeacle, Arravale Rovers, Ballybacon-Grange, Moyle Rovers
Group 3: Ballinahinch, Moneygall, Drom & Inch, Clonoulty-Rossmore
Group 4: Moyne-Templetuohy, Boherlahan Dualla, Shannon Rovers, Borrisokane
---
County Senior Football League
Group1: Clonmel Commercials, Arravale Rovers, Ardfinnan
Group 2: Moyle Rovers, Kilsheelan-Kilcash, JK Brackens,
Group 3: Ballyporeen, Cahir, Aherlow, Rockwell Rovers
---
County Intermediate Football League
Group 1: Golden-Kilfeacle, Clonmel Óg, Fethard
Group 2: Galtee Rovers, Grangemockler-Ballyneale, Clonmel Commercials
---
Tipperary Clubs Draw
Draw no 8 of the 2020- 2021 Tipperary Clubs Draw, will take place this Friday evening and will be broadcast live on Tipp FM starting at 8.30pm. On the night there will be a total of 30 prizes on offer, which will include the top prize of a car or €15,000, €5000 holiday voucher and of course the lotto jackpot which now stands at €5000.
---
Tipperary County Council Civic Reception
On Thursday May 27th Tipperary County Council lead by their Chairman Cllr Michael Smith and Chief Executive Joe McGrath , hosted a virtual civic reception in honour of the Tipperary Senior Football Panel and management who together were responsible for one of the greatest achievements in the history of Tipperary GAA when they captured the Munster Senior Football title in 2020 for the first time in 85 years. The event which was attended by a small number of guests including, County Chairman Joe Kennedy, Tipperary Football Committee Chairman Conor O'Dwyer, Tipperary Football Manager David Power and Tipperary Football Captain Conor Sweeney Was produced and presented by Annacarthy native Paul Collins, who did an excellent job on both fronts. The achievements of 2020 were made all the more special by the fact that it was also the 100 anniversary of Bloody Sunday and the events of that day in Croke Park were also remembered throughout the event. We thank all involved in organising what was a truly fantastic event and If you were not lucky enough to have seen the civic reception, you can view the whole event via the following link: https://youtu.be/yx0auUwqZcg
---
Player Injury Fund Update

Croke Park have this week confirmed that "Loss of Wages Cover" will be re-instated back into the GAA Player Injury Fund with effect from 1st June 2021. It will form part of the GAA "Players Injury Fund" in line with previous years and will see the associated cover benefits restored in full. Following representations made by clubs and members of Ard Chomhairle in relation to the pause placed on the "Loss of Wages Cover" in January 2021, a ballot of Ard Chomhairle was held last week to determine the preferred option that would see this cover fully restored. The option selected by Ard Chomhairle will see a 25% levy applied to a clubs Adult and U20 team registration costs with all claims being fully administered from within the existing GAA player Injury Fund and not via a separate Insurance Policy. This will see an Adult team registration cost increase from €1,000 to €1,250 and an U20 team registration increase from €200 to €250. There will be no increases applied to juvenile team rates. The 2021/22 Player Injury Fund term will run from 1 June 2021 to 31 May 2022. Injury cover will commence once a player is registered on the Foireann system.
---
Johnny Everard – Moyne-Templetuohy (1924 – 2021)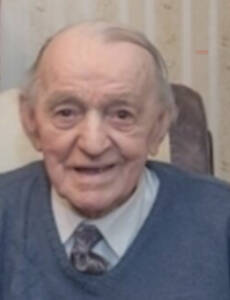 It was with great sadness that we learned of the passing on May 25th, of former inter-county player Johnny Everard Moyne-Templetuohy. At the time of his death, Johnny who celebrated his 97thbirthday in April, was Vice President of his club and the oldest Tipperary man to have won an All Ireland Senior hurling medal. Johnny gave many years of service to the GAA and excelled both as a player, coach, Selector, referee and administrator. Johnny's involvement with Tipperary teams commenced in 1941, when at the age of seventeen he was a member of the Tipperary Minor hurling panel. During his playing career Johnny won numerous titles at club and inter county level, the highlight and most cherished of which was undoubtedly his Celtic cross medal which he won in 1950 as a panel member when Tipperary defeated Kilkenny in that years All Ireland hurling final. In the same year Johnny also won Munster and League titles. Johnny was also a very accomplished footballer and won a Munster Junior Football title with Tipperary in 1952. At club level one of Johnny's greatest achievements came in 1971 as a selector with his beloved Moyne-Templetuohy when they won the Tipperary County Senior Hurling title defeating a star studded Roscrea side in the final. Johnny was also involved in numerous underage successes in the club and was a driving force behind under 15, under16 ½ and Minor divisional and County title winning teams in 1963, that saw some players win a total of 13 medals. Many of those players went on to form the backbone of the 1971 County title winning team. As an administrator Johnny served in various positions including club chairman a role he carried out with great integrity and pride. Johnny always had the courage of his convictions, a trait that earned him great respect from all those who knew him.
We extend our sincere sympathies to Johnny's wife Josephine and his children Brendan, Pierce, Mary, Sean, Conor, Diarmuid, Enda and the wider Everard family.
Ar dheis Dé go raibh a anam dílis.
Future For Darragh Fuindraiser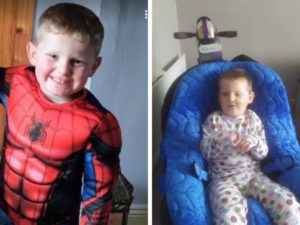 Emly Bord Na nOg players and mentors showing their support for the 'Future for Darragh' Virtual walk on the June Bank Holiday Weekend. Jenny McCully Ryan, her husband Jamie Ryan and their children Kian, Keeley & Darragh from Monard in Co Tipperary had their whole lives turned upside down just over a year ago in February 2020.  Their youngest son Darragh aged 4 at the time, suddenly fell tragically ill. In February 2020, Darragh was a perfectly healthy, energetic, and fun-loving little boy who loved playing with his cars and whose favourite Marvel Superhero's are Spiderman & the Joker.  Darragh attended preschool as normal and loved all the interaction and playtime with his peers.  Life was so good. Without warning, Darragh suddenly started having seizures.  Darragh attended various and numerous hospitals to try and understand the cause and stop these seizures.  Initially Darragh was treated for Epilepsy but critically none of the medications were working and Darragh began to deteriorate rapidly.  Darragh attended Temple Street Hospital in Dublin in March 2020 in a further attempt to find the root cause of these seizures. Darragh bravely underwent numerous scans, EEG's, Lumber Punctures and had a Plasmapheresis.  His parents looked on in horror as their former fun loving boy had now lost his speech and could no longer walk.  Nothing was working, his seizures continued and was deteriorating before their eyes.  Eventually a muscle biopsy was ordered and further testing carried out in the UK. In March 2020, Darragh returned home from Temple Street Hospital by ambulance to pass away at home.  His life expectancy had now heartbreakingly been reduced to days.  However, and against all the odds, Darragh bravely fought on and just like his own Marvel Superhero, Spiderman, he changed his own destiny.  Darragh was not ready to go without a fight. Darragh's quality of life seemed to improve for the first 6 months after he returned home, the seizures stopped and he started to smile again, this meant everything to his parents. On or about this time, Darragh's family received the results of his muscle biopsy.  It was the news that no family should ever have to hear.  Darragh had been diagnosed with Mitochondrial Complex 1 Deficiency Disease which is an extremely rare disease with no cure.  No two people diagnosed with this disease are the same, each differs with symptoms and life expectancy. Darragh's disease has now plateaued, however, the effects are devastating to his brain and muscles. Darragh now relies solely on the care of his family and primarily his mother who has left her career as a self-employed hairdresser to give Darragh the urgent care he needs whilst also having to care for two other children.  Jamie is working full time as a scaffolder in Limerick and is the main provider for the family.  Darragh could not have asked for a better brother and sister to help care for him.  Kian (13) and Keeley (10) show so much care and love for their little brother. Darragh and his family reside in the ancestral family home that his mom grew up in.   During the past year the roof of this home was badly damaged and needs to be replaced.  The home also needs to be upgraded to be wheelchair accessible.  A simple task like washing Darragh has now become a difficult and onerous task due to lack of accessibility throughout the house for Darragh's wheelchair.  Currently, the only access through to bedrooms and the bathroom is by lifting Darragh from his wheelchair and carrying him around corners due to the narrow doors and different levels of the house. This would literally be life changing for Darragh and his family.  It took Darragh's family a long time to come to terms with the fact that they needed to ask for help and raise funds as they wished they could do this themselves but unfortunately they were not aware of the extent of the work that needed to be carried out to make the home wheelchair accessible to support Darragh and give him the quality of life he truly deserves. These funds will go towards making their home wheelchair accessible but also for equipment, medications and treatments Darragh will require in the future.
Any donations no matter how big or small are greatly appreciated and will help them make these changes to suit Darragh's needs. You can donate through the following link: https://ie.gofundme.com/f/future-for-darragh
Tipperary GAA Scene
If there is anything you feel should feature in this column going forward, please feel free to forward it to pro.tipperary@gaa.ie