Tipperary GAA Scene – July 6th 2022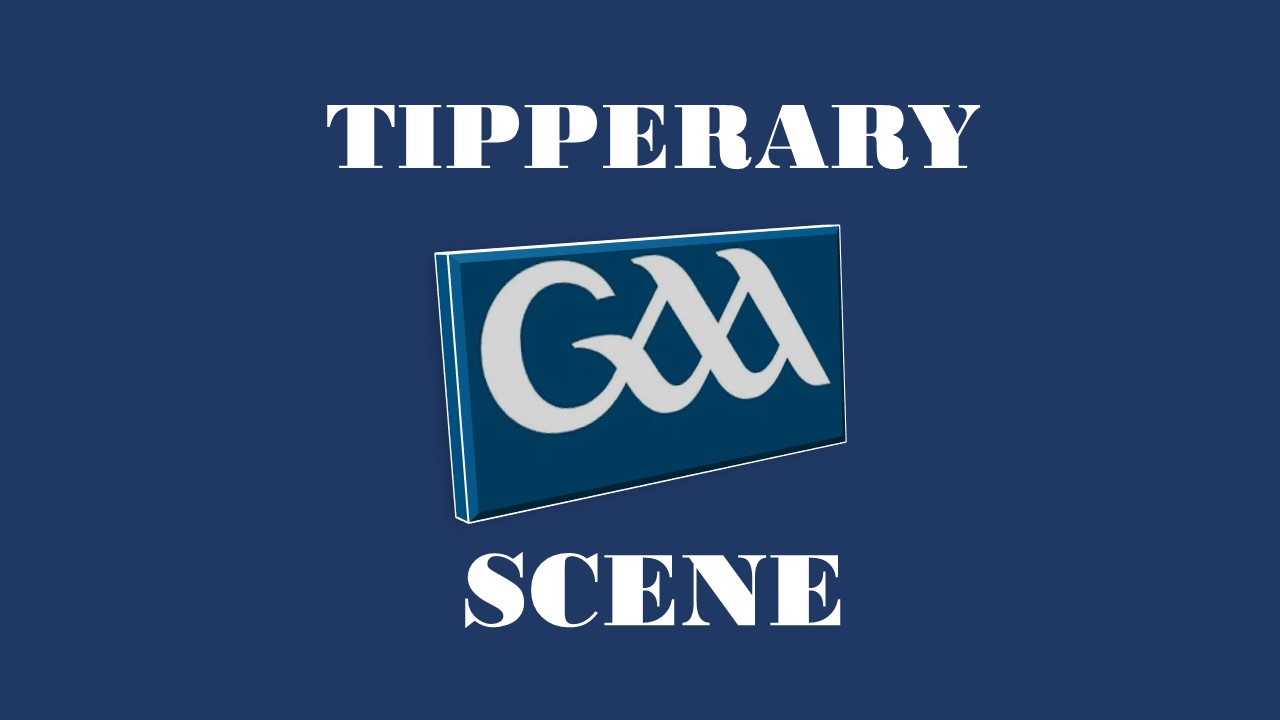 ---
All Ireland Minor Hurling Final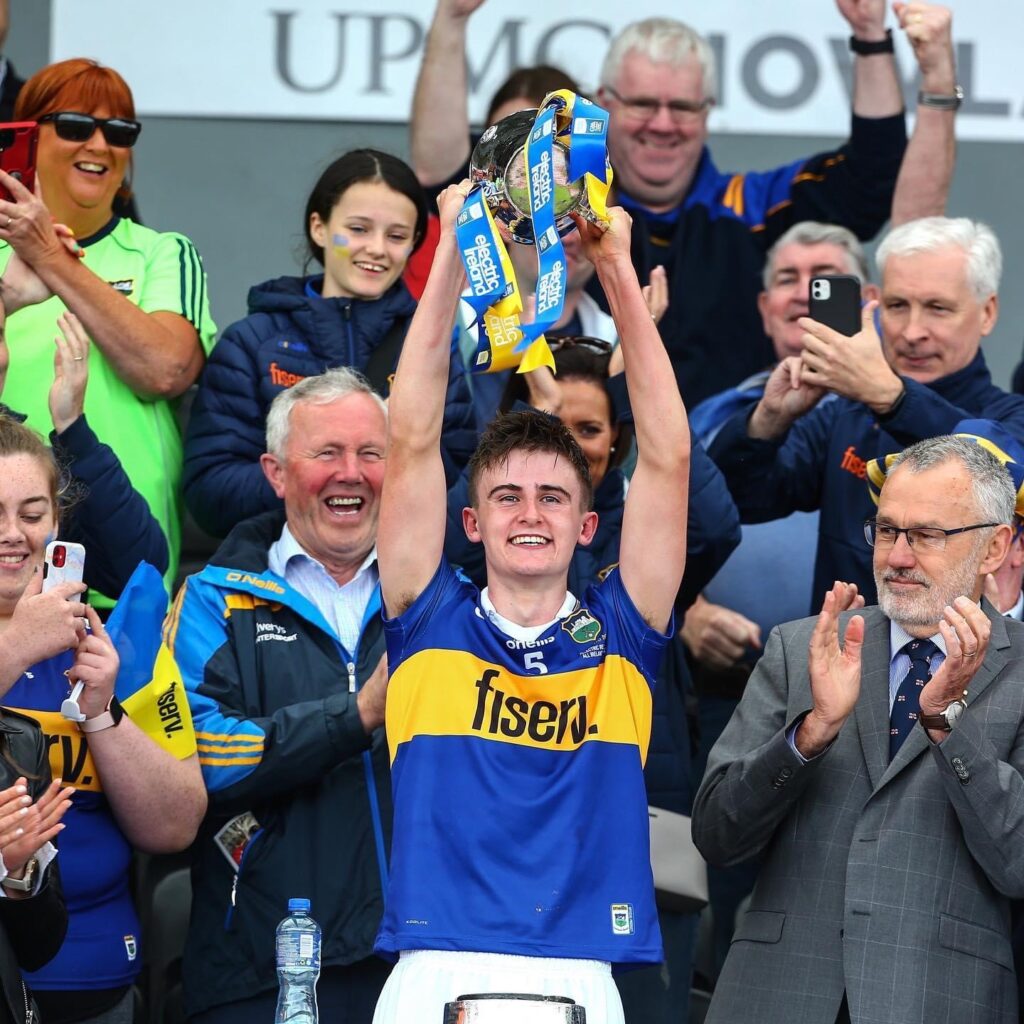 UPMC Nowlan Park was the focus of the county last Sunday afternoon as our minor hurlers took on Offaly in the 2022 All Ireland final. It was a unique occasion with an almost full house in attendance. Much had been spoken and written in the days leading up to the game, questioning the GAA's decision to hold the game in Kilkenny and to allow all under 16's free admission without tickets, however all the fears and misinformation were allayed on Sunday with everyone gaining access to the grounds in a timely and safe manner. The Kilkenny county board who were in charge of hosting the fixture did an excellent job and had every angle covered, compliments to event controller Seamus Reade and his team on a job very well done. On the field the game was played at a very fast pace all through with both sides showing some great skill. Tipperary trailed for long periods of the game, but as has been the case in a number of their games this year, they never gave up and kept battling away and with time just up it was Borril-Ileigh's, Paddy McCormack who scored the winning goal as Tipperary won by the narrowest of margins. Following the game, the pitch was transformed into a sea of blue and gold as jubilant Tipperary supporters celebrated with the heroes of the day and sand Slievenamon as captain Sam O'Farrell raised the Irish Press cup for the first time since 2016. After leaving Nowlan Park, the team followed a number of long standing traditions, firstly stopping at fennor hill outside Urlingford to carry the cup back into the county before later travelling to Thurles where they were greeted by hundred's of their supporters at the steps of the cathedral. The success of this team has given all GAA people in the county a great lift and we acknowledge the huge amount of work put in by each and every one of the panel of 35 along with a top class management team lead by James Woodlock, who instilled a belief and desire to win into the players that really shone through on Sunday.
---
Divisional Championships
There was a busy schedule of games across the divisions last weekend, in Mid Tipperary the action commenced on Friday evening in Boherlahan as Drom & Inch overcame a determined Moycarkey Borris side 1-20 to 1-16 to book their place in this year's Centenary Agri senior hurling final. The second semi-final took place on Saturday evening in Holycross and resulted in a 0-26 to 2-17 win for JK Brackens who have now qualified for the clubs first ever divisional senior final. In the Mid Premier Intermediate semi-finals, it took extra time in Templetuohy on Saturday evening before Clonakenny overcame Gortnahoe-Glengoole by 4-15 to 1-20, while in Littleton on Sunday evening Moyne-Templetuohy proved too strong for Thurles Sarsfields as they qualified for this year's decider by virtue of a 0-22 to 0-16 win. In North Tipperary the meeting of Borrisokane and Shannon Rovers in the Kellys of Fantane Intermediate hurling semi-final proved to be a real epic encounter that went all the way to penalties before Shannon Rovers booked their place in this year's final where they will play Lorrha Dorrha who overcame Moneygall in Roscrea on Sunday evening by 5-25 to 2-13. In the Savvy Kitchens premier intermediate hurling semi-final, Roscrea defeated Silvermines by 2-32 to 2-28, while in the Hibernian Inn senior hurling semi-finals Kiladangan saw off a batteling Toomevara side on Saturday in Nenagh, winning by 2-20 to 2-16, while in Cloughjordan Nenagh Eire Óg proved too strong for Templederry Kenyons as they won by 4-18 to 0-13. In South Tipperary on Friday evening, Carrick Swan had way too much in the tank for St Marys as they won their senior hurling semi-final clash by 2-17 to 0-13, they will now play CJ Kickhams Mullinahone who defeated Killenaule in the other semi-final by 2-16 to 1-15. In West Tipperary, this years Intermediate football final took place in New Inn on Saturday evening and resulted in a 3-13 to 2-09 victory for Golden Kilfeacle over Galtee Rovers.
This coming weekend will see a number of finals taking place across the divisions and you can see a full list of gammes in the fixtures section of this publication or on the fixtures and results section of the Tipperary GAA website.
---
GAA Go Games
GAA Go Games are hurling / camogie and gaelic football for children up to and including 11 year olds, where every child gets to play in every game, for the full game. To support the participation and development of the Under-11 player, the following principles underpin Go Games: • All participants play in the full game. • Participant needs are catered for, where possible, on the basis of twoyear age cohorts i.e. U.7, U.9 & U.11 in a manner consistent with the ethos of Go Games. • Activities are structured in a manner which optimises the level of fun, friendship, fair play, and achievement derived by participants. • Participants train and play in a safe, supportive, and stimulating environment where they are encouraged to risk error, to learn and to derive maximum enjoyment from their involvement. • Players master the basic skills of Hurling and Gaelic Football and experience the sense of accomplishment, which derives from acquiring playing profciency on the left- and right-hand side of the body. • Everybody involved in Go Games, whether as players, parents/ guardians, spectators, mentors, teachers, ofcials etc., should adhere to the key underpinning principles and give expression to the GAA 'Give Respect, Get Respect' initiative. Go Games may be organised on a blitz basis. Go Games may be organised by a Club, Primary School or at an Approved GAA Centre on an internal (i.e. single unit) or external (i.e. multiple unit) basis. To apply to organise a Go Games Blitz between more than one Club or School download the application form on the GAA website. The relevant units to apply to are listed in schedule 11 of this document. For more information on Go Games and how to get involved, please contact your GAA County Games Development Mangers. Go Games are national policy of the GAA under to Rule 6.27 of the Ofcial Guide – This Rule states that 'Games in the Under 11 and younger age groups shall be organised on the Go Games model, as approved by Central Council. Go Games is also national policy of the LGFA and Camogie Association. The three Associations work closely together to promote and develop Go Games
---
Anti-Bullying and Internet Safety Programme
The GAA, in partnership with Google has launched its anti-bullying and internet safety programme to over 100 participating clubs from the GAA, Ladies Football and Camogie Associations in Ireland and Britain, targeted at the 9 – 12 years age group. As part of the Gaelic Games, Give Respect – Get Respect initiative, this programme incorporates Google's Be Internet Legends initiative, an existing free, online safety education programme for primary-age children helping them to become safe and confdent explorers of the online world. The programme helps children bring the respect and values they learn on the feld into their online interactions encompassing learnings and activities in the areas of antibullying, developing positive behaviour and staying safe online. This programme mirrors the Give Respect – Get Respect initiative which promotes respecting fellow players, coaches, referees, opponents and ofcials; playing fair; treating others equally; setting an example; and creating an environment where children feel confdent and comfortable to talk to a coach or adult if they have a concern. Speaking at the launch the GAA President Larry McCarthy welcomed the involvement of the Gaelic Games Give Respect – Get Respect initiative in this programme. He said 'This is an ideal opportunity to raise awareness around the need for young players to show respect for referees, fellow players, coaches and opponents, both on and of the feld of play. 'It is the Association's intention to further develop the 'Respect Initiative' over the period of our recently launched Strategic Plan and this new Anti-Bullying and Internet Safety Programme will be supported and closely monitored.' Speaking in Croke Park this morning, Shane Nolan, Director, New Business Sales, EMEA, Google Ireland, said: 'At Google Ireland, we recognise the responsibility that we have as a company to protect and support the users of our products. We need to play our part in ensuring that the internet is an accessible resource to all and that it's used in a positive way. We are delighted to build upon our already successful partnership with the GAA to deliver the Be Internet Legends programme to even more clubs and children across the country. Google Ireland is committed to helping empower young people to act wisely, responsibly and safely all the while remaining confdent explorers of the online world.' Minister of State for Sport and the Gaeltacht, Jack Chambers T.D, speaking at the launch said: 'I am delighted to support and help launch this important initiative. Abuse of our players, coaches, referees and volunteers is unacceptable and must be called out – whether it occurs on the pitch, in the training grounds, up in the stands or online. This initiative underlines the commitment of the Gaelic Games family to tackling the scourge of bullying and to protect and safeguard all those who participate. The initiative equips young people to identify and learn how to respond to online abuse and bullying, with the learnings then applied to a sports setting. I congratulate the GAA and partners Google on this welcome and important initiative and look forward to it being rolled out to children in clubs across the country.'
---
Tipperary GAA Scene
If there is anything you feel should feature in this column going forward, please feel free to forward it to pro.tipperary@gaa.ie