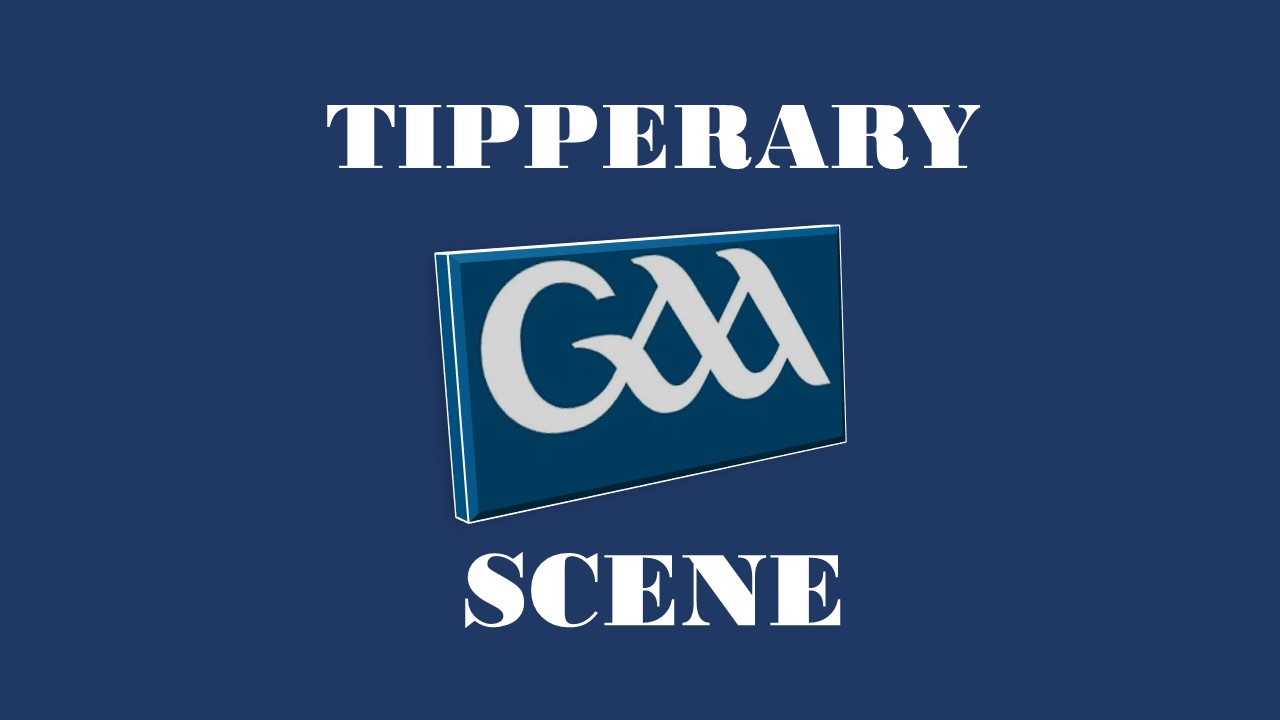 ---
Divisional Championships
Last weekend saw a lot of action on the playing fields of the county across all grades with a number of divisional finals and semi finals taking place. On Friday evening Bansha was the venue for the West Tipperary Intermediate hurling semi final between Knockavilla Donaskeigh Kickhams and Arravale Rovers and in a highly competitive and entertaining game it was the Dundrum side who emerged victorious by 1-25 to 2-17. The second semi final took place on Saturday in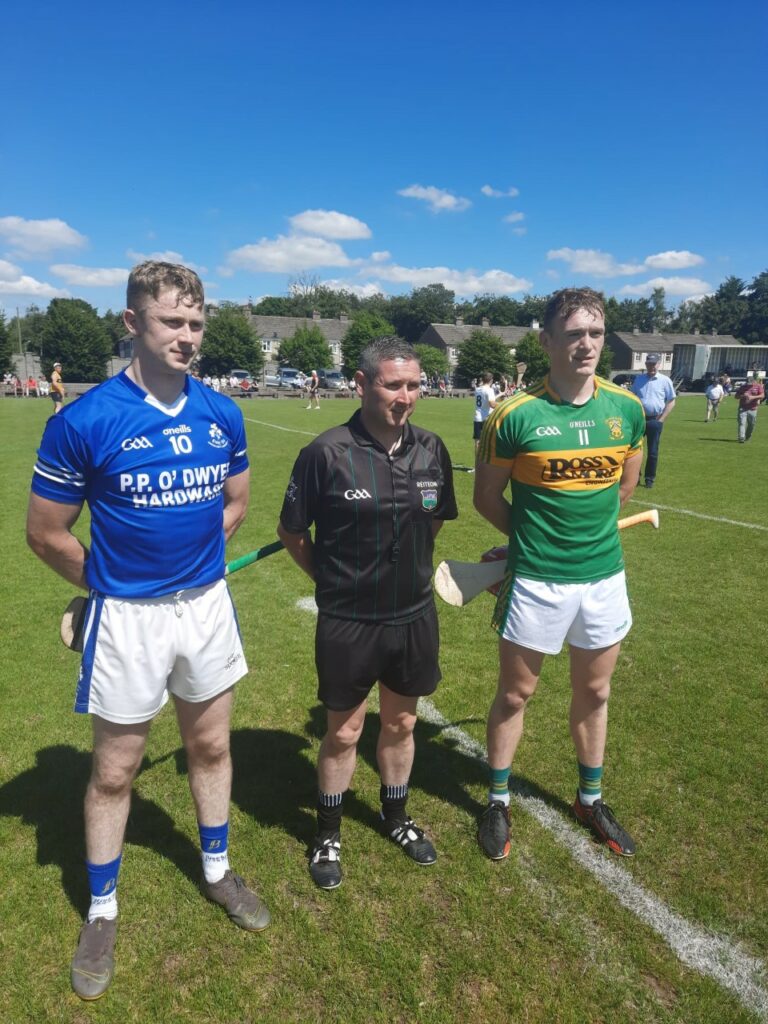 Annacarty and resulted in a 2-21 to 1-20 win for Golden Kilfeacle over Cappawhite. Knockavilla Donaskeigh Kickhams and Golden Kilfeacle will now meet in the final this Saturday at 7pm in Annacarty. The West Tipperary Premier Intermediate final was played in Dundrum on Saturday evening and once again this was a very competitive game between Cashel King Cormacs and Sean Treacy's, with the Cashel men coming out on top in the end on a full time score of 1-25 to 1-20. Dundrum was again the focus of attention in West Tipperary on Sunday afternoon for the staging of the 2022 senior hurling final between Clonoulty Rossmore and Eire Óg Annacarty and has always been the case when these two sides meet, the game was played at a very high tempo. In the end it was Clonoulty Rossmore who claimed the title and bragging rights with a 1-20 to 0-19 win.
In South Tipperary on Saturday evening, Clonmel Sportsfield was the venue for the final of the Intermediate hurling championship between Kilsheelan Kilcash and Ballingarry and it was the Kilsheelan men who on this occasion proved the stronger as they had 8 points to spare when referee Paul Guinan sounded the final whistle. In the South Senior Hurling final which was also played in Clonmel, Carrick Swan claimed yet another title following an exciting battle with CJ Kickhams Mullinahone in front of a very large attendance. The game hung in the balance right to the end and with time almost up Mullinahone were just 2 points behind, but the Carrick men held out for another memorable win on a full time score of 1-21 to 1-17.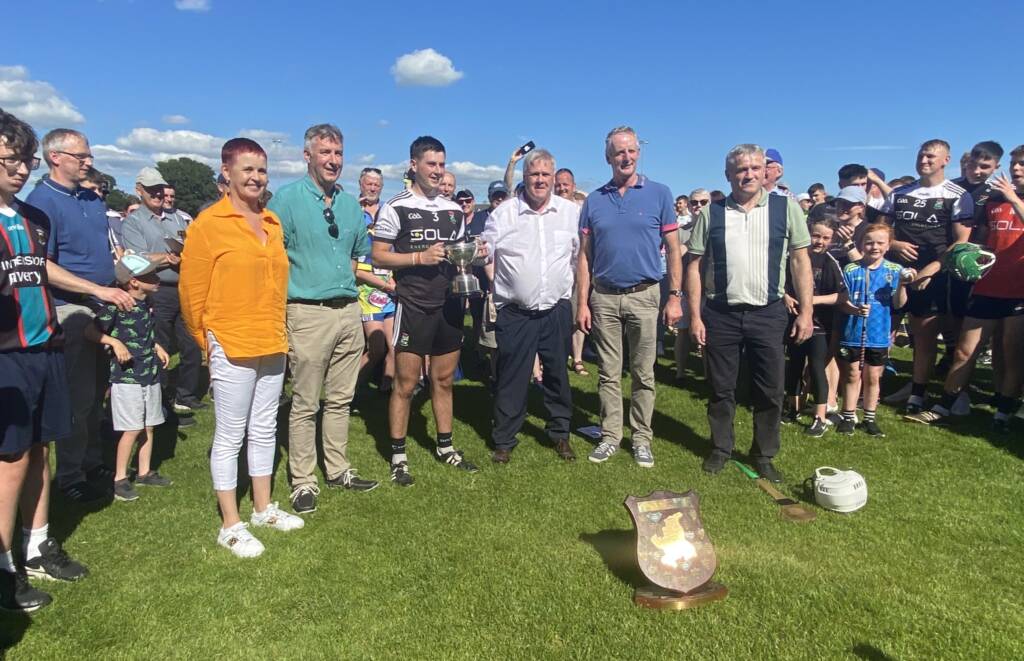 In Mid Tipperary the big action of the weekend took place on Sunday with two finals taking place. The action begun in Holycross with the staging of the Inaugural Premier Intermediate hurling final between Clonakenny and Moyne-Templetuohy. In a game that was expected by many to be a close encounter, Clonakenny tore up the script right from the start as they dominated all areas of the field and gave their opponents no opportunity to get a grip on the game as the stormed to a 5-20 to 0-21 win. The focus of attention in Mid Tipperary then turned towards Boherlahan where JK Brackens and Drom & Inch went head to head in the senior hurling championship final. On a day where many may have been tempted to head for the seaside to soak up the sun, the large attendance were treated to a thrilling game of hurling that in the end could have gone to extra time were it not for the upright getting in the way of a Seamus Callanan free at one end and a masterful Andrew Ormond point from close to the sideline at the other end that ensured a first ever Mid Tipperary senior hurling title for the JK Brackens club.
In the North division Portroe and Roscrea met in Nenagh on Sunday to see who would be crowned Premier Intermediate champions for the first time and what a game the large attendance were treated to as both sides went at at a rip roaring pace from start to finish. This game had everything, Skilful scores, near misses and passion as well as a nail biting finish that saw Portroe just about hang on for the narrowest of wins 2-24 to 2-23. The blue ribboned senior hurling final took place on Sunday evening in Cloughjordan between three in a row seeking, Kiladangan and near neighbours Nenagh Eire Óg. This was another pulsating game of hurling that we have come to expect when these sides meet and at half time it looked as if the 2020 county champions Kiladangan were on course to claim the senior hurling hat trick in North Tipperary as they headed to the dressingrooms ahead by 7 points. However Nenagh had other ideas as they stormed back in to the game in the second half and out scored their opponents by 2-11 to 1-05 to claim their tenth senior hurling title on a full time score of 2-20 to 2-18.
---
Bord Na nÓg News
U15A Football County Final Durlas Og 7-7.   Arravale rvRovers 2-7
On Sunday 10th July the County U15A Football Final was played in Dundrum with Durlas Og and Arravale Rovers battling it out to see who would be crowned County champions for 2022, these teams had already met in the Peil na nOg County Final with Durlas Og coming out on top on that occasion.
Again Durlas Og got away to a flying start after 15 minutes they lead by 2-1 to 0-0 thanks to the backs working the ball quickly out of defence and linking up with Euan Murray who after a powerful run finished with a powerful shot into the back of the Arravale Rovers net, within a minute Kyle O'Dowd finished another good move followed by a point by Kieran Rossiter. With Arravale Rovers half back line and midfield playing very well they created a few chances before Alfie O'Halloran Hayes kicked a good point to open Arravale's Account. A third goal by Eoin Webb and a point by Keenan Dunne for Durlas Og put them in a commanding position. Arravale Rovers were  awarded a penalty and Alfie O'Halloran Hayes dispatched to the to the back of the net . Midfielder David Ryan kicked a good point for Arravale. Durlas Og again responded well with two points by Cillian Minogue to leave half time 3-4 to 1-3. Durlas Og started the second half very strong scoring a penalty by Alex Coppinger. Arravale responded with a point by Alfie O'Halloran Hayes and another by Ciaran Kelly before Durlas Og scored their fifth goal by Euan Murray followed by a point by Cillian Minogue. Ciaran Kelly scored a good point and Declan Cotter a good goal for Arravale before Cillian Minogue put the game to bed scoring 1-1 before referee Fergal Horgan blew the final whistle. Well done to both teams for a very entertaining games on a very hot evening, well done to the referee for giving water breaks they were needed. The Durlas Og Captain Alex Coppinger received the County U15A Football Cup from County Chairman Tommy Landers.
Durlas Og:  Donnagh Hickey, Bill Fogarty, James Llyod, Ronan oDwyer,  Liam Gleason, Evan Nolan, Andy Rossiter, Euan Murray Keenan Dunne, Alex Coppinger Cillian Minogue  Leelan Donoghue, Eoin Webb, Kyle O'Dowd. Kieran Rossiter, Ryan Quill, Darragh o Dwyer Sean O'Mahoney Owen Fogarty, Ben Moroney, Tommy Ryan, Kyle Purcell, Jacob Magalinski, Jamie Stapleton, Michael Purcell, Niall Cleary, Cillian Ryan, Bobby O'Dowd, Aaron Darmody, Cormac Ryan, James Mockler,  George Barry, Tom Gleason, Lennon Carney.
Arravale Rovers: Sean Kinnane, Jack O'Keefe, Alan Delaney, Patrick Bears, Reece Roach, Matthew Kinane cpt, Robert O'Brien,  Adam Ryan, David Ryan, Donnacha Quigley, Ciaran Kelly, Darragh Bresnan, Jack Garrett, Alfie O'Halloran Hayes, Jaye Cilvinas, David Maloney,  Dennis Cremins, Declan Cotter, Stephen Ryan, Eoin Ryan, Mark Ryan, Conor O'Donoghue, Adam Keogh, Ethan Daly, Tony Ryan.
Referee Fergal Horgan.  Knockavilla Donaskeigh Kickhams.
---
Can you save a life?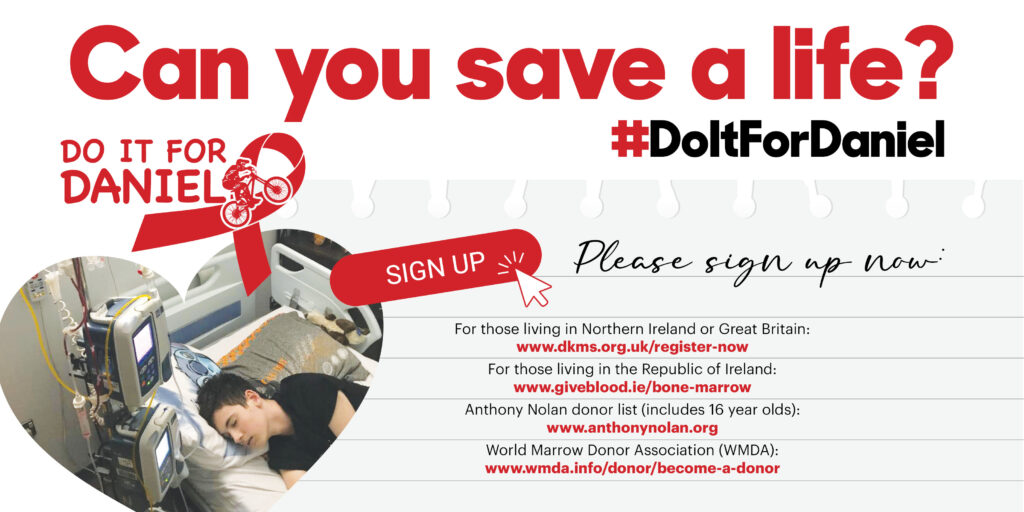 Just a few weeks ago, Newry schoolboy Daniel Greer was a happy, healthy, active 14-year-old who was looking forward to getting out of school for his summer holidays.
Right now, he is very ill in hospital and we are desperately searching for a donor after finding out that a bone marrow transplant is his only chance of beating leukaemia.
His close family, friends and supporters are being tested, but finding the right match in time can be extremely difficult and the odds are stacked very high against us.
If we do not find a donor very soon we're in real trouble with this deadly disease, so please help us shorten those odds by registering as a potential bone marrow donor.
We believe Daniel's correct match is out there. We just hope that they will be a lifesaver who will give him a second chance at living a happy, healthy, normal life.
That lifesaver could be you.
#DoItForDaniel
Please sign up now:
For those living in Northern Ireland or Great Britain: www.dkms.org.uk/register-now
For those living in the Republic of Ireland: www.giveblood.ie/bone-marrow
Anthony Nolan donor list (includes 16 year olds): www.anthonynolan.org
World Marrow Donor Association (WMDA): www.wmda.info/donor/become-a-donor
Visit our Facebook page for more information:
www.facebook.com/DoItForDanielGreer/
---
Kids Summer Reading with the GAA Museum Book Club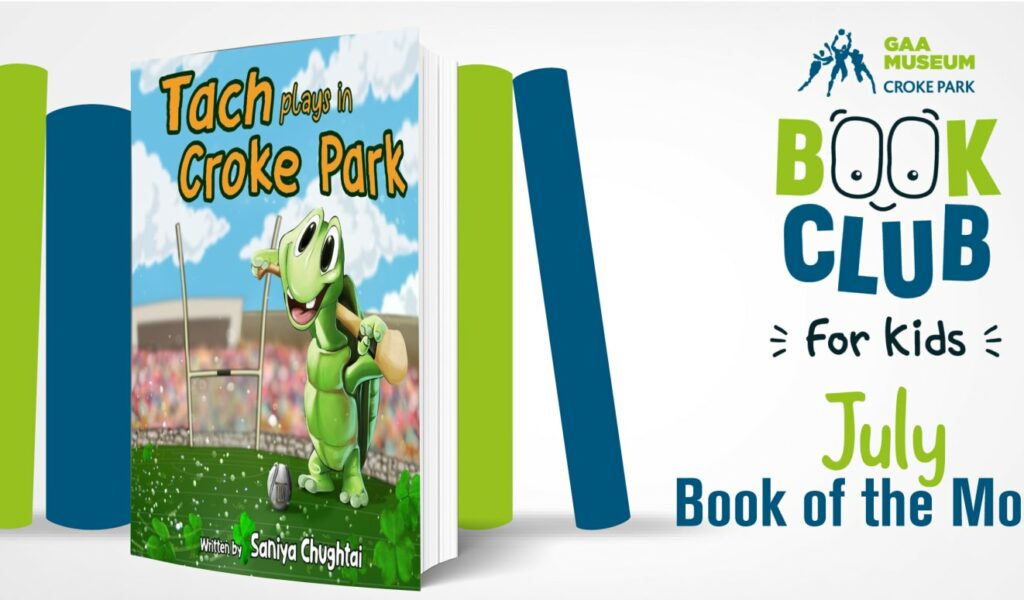 Over the summer the GAA Museum Book Club will be choosing some wonderful children's GAA books to encourage our younger members to keep reading while school's out! For July we're reading Tach Plays in Croke Park by Saniya Chughtai.
The book, recommended for ages 4 and up, is part of The Wadi Tribe series of books and tells the story of hurler Tach, a turtle who has big dreams. His team are playing for the first time in Croke Park, but their opponents are much bigger. Will they succeed in front of a packed stadium? As well as writing her Wadi Tribe books, author Saniya is an entrepreneur and interior architect. She has also written another series of children's books called The Adventures of Chee and Dae and her books have also been translated into Arabic and Urdu.
If you don't have or can't borrow a copy of the book, it's available to purchase from the GAA Museum gift shop with a 20% discount throughout July. Visit the shop at https://crokepark.ie/shop/shop-home.
Children are welcome to submit questions to Saniya by asking an adult to email bookclub@crokepark.ie before Monday July 25th. We'll put the questions to Saniya during our video chat. For more information on the GAA Museum Book Club and to watch previous author chats including conversations with children's writers Paul O'Flynn, Emma Larkin, Gerard Siggins and Donn McClean, visit www.crokepark.ie/bookclub.
---
Dermot Earley Youth Leadership Initative
The Dermot Earley Youth Leadership Initiative, delivered in partnership with Foróige and NUIG, seeks to empower GAA members aged 15 to 18 years-old to make a positive difference in their club, county, and communities through values-based leadership.
Young people representing 14 clubs received a certificate from Annemarie Earley (daughter of Dermot Earley) to mark their completion of modules one and two of the programme.
A number of these young people will go on to complete the third and final module, enabling them to graduate from NUIG with a Level 6 Certificate in Youth Leadership and Community Action in October.
Young leaders Ronan Prior (Cuala GAA) and Leila McCormack (Castleknock) shared their experiences of the programme. They recalled how their leadership and life skills such as communication, goal setting, self-awareness and reflection have been transformed by the experience and course content. They also highlighted the connections and friendships they have made along the way. The young people were guided through their nine-month leadership journey by volunteer facilitators from their clubs, who were specially trained in the necessary facilitation skills by NUIG and Foroige. Facilitators Keith Barrett (Newbridge Sarsfield) and Lynda Gaynor (Castleknock GAA) spoke about how the programme was "set up for success" and of the enjoyment and learning they too took from the experience. The Earley family were represented on the day by Dermot's daughters, Anne-Marie, Noelle and Paula. Anne-Marie, said "My father was passionate about three things, the GAA, young people and education and the Dermot Earley Youth Leadership Initiative brought those passions to life." An Uachtarán CLG, Larry McCarthy, congratulated the young leaders and their facilitators on their achievements: "While the core business of the GAA is sport we are also very much involved in the development of people both on and off the field. These young leaders represent the future of the GAA and their communities. I want to thank the facilitators who volunteered so much time to guide them on this exceptional journey, and of course our partners Foroige and NUIG in helping us make this happen."
Drom & Inch man Jimmy D'Arcy, GAA Youth Leadership Manager said: "The GAA is committed to providing young people with opportunities to have their voice heard within our Association and through our programmes, and to have that voice listened to and influence decision making. We are also committed to providing opportunities for young people to develop personally and as part of a group and to volunteer in a variety of roles in the promotion of games, healthy clubs and the administration of Gaelic games at Club and County level. The Demot Earley Youth Leadership Initiative provides such opportunities and ensures that our young people feel connected and have a sense of belonging that ultimately supports their wellbeing."
For more information on the Dermot Earley Youth Leadership Initiative please contact Blánaid Carney on blanaid.carney@gaa.ie or 01 8192387
---
Tipperary GAA Scene
If there is anything you feel should feature in this column going forward, please feel free to forward it to pro.tipperary@gaa.ie
By Jonathan Cullen
Wed 13th Jul