Tipperary GAA Scene – February 23rd 2022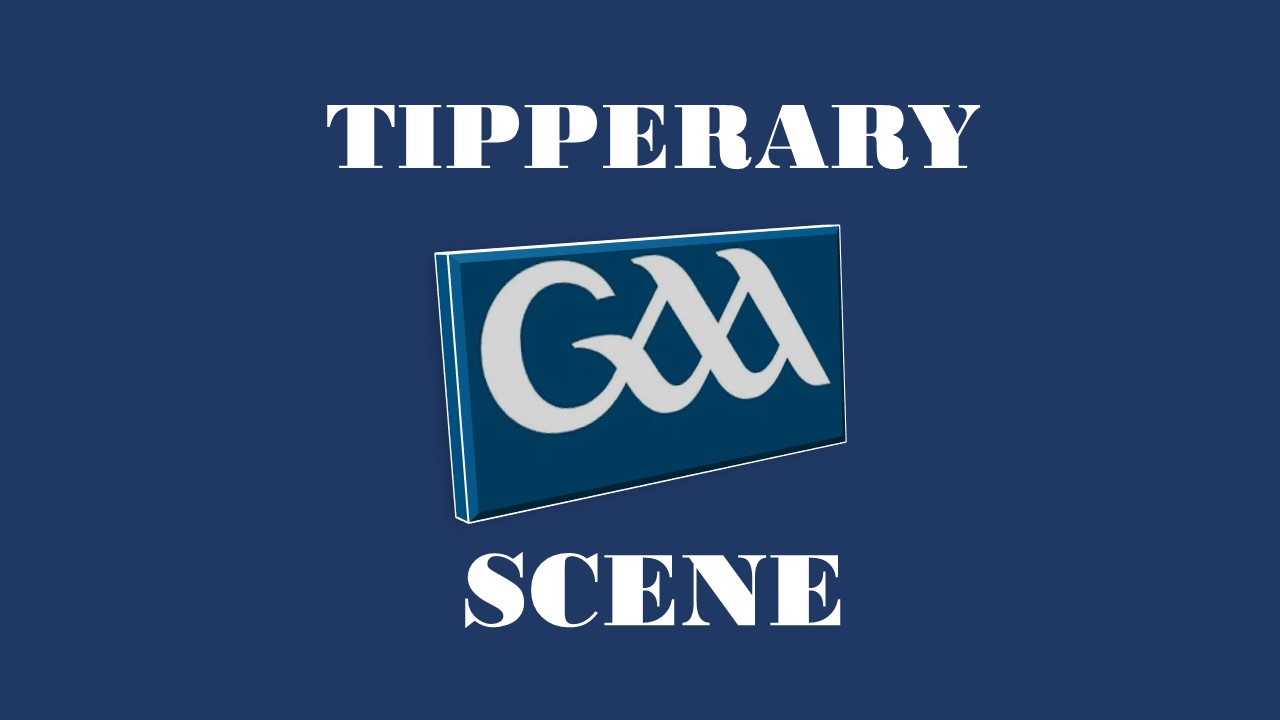 ---
Allianz Football and Hurling Leagues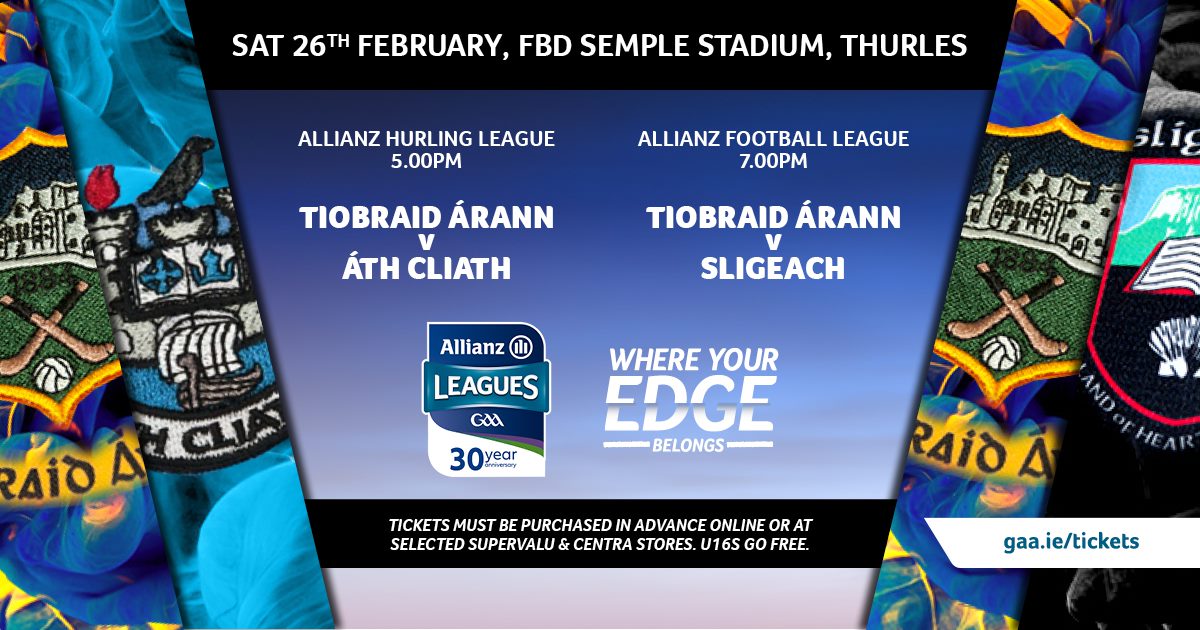 The Tipperary senior footballers made the trip to Chadwicks Wexford Park last Sunday where they were due to play the home team in their round 3 game. However a monsoon like weather evet just before throw in left the match officials with little option but to postpone the game in the interest of player safety. While it was a disappointment to all concerned, it was the right decision and the game will now be refixed by the Central Competitions Control Committee. The footballers now prepare for a home tie against Sligo this Saturday in Semple Stadium and the players and management will now be looking to this game for their first win of the league. The game throws in at 7pm in FBD Semple Stadium and will be the second game of a double header as the senior hurlers will play Dublin in their round 3 game at 5pm. Supporters are reminded that Tickets for these games are available online at www.gaa.ie and also in selected SuperValu and Centra stores throughout the county. Please remember that tickets must be purchased before arriving at FBD Semple Stadium as there will be no ticket sales at the venue.
---
Fitzgibbon Cup
Congratulations to UL who captured this year's Fitzgibbon cup title in what can only be described as a pulsating encounter with NUIG last Saturday in the IT Carlow grounds. Both finalists went into the final on the back of extra time semi final wins, but neither side displayed any signs of tiredness or fatigue in the final. Tipperary were well represented on the day as Philip Hickey Nenagh Eire Óg, Dara Flannery Kiladangan and Newport's Daniel Carew were members of the NUIG squat. While Gearoid O'Connor Moyne Templetuohy, Ciaran Connolly Loughmore-Castleiney and Bryan O'Mara of Holycross-Ballycahill were members of the UL side. Bryan was also his sides captain and on the day he lead by example as he put in a man of the match display. There were many other players from the Premier County iin action over the last number of week's across all the various college grades in both Hurling and Football and we congratulate them all on being part of their respective college sides.
---
Is Your Club Prepared for the Weather
All units should pay attention to weather warnings where the latest updates can be found on Met Eireann. Clubs should also pay attention via local radio to any local warnings which may be in effect for certain areas. In winter the expected main impacts will include high winds, heavy rainfall and an increased risk of flooding. These warnings are in place for a reason – to protect lives and mitigate property damage. If clubs have any planned activities for example underage training sessions, scheduled to take place during the weather warning, the activities should be cancelled where appropriate. If you proceed with holding the activity, you are putting the lives of members, visitors such as parents coming to collect children and the club property in danger. A common sense approach should be taken. Below are some of the most common claims which have arisen at GAA properties as a result of previous weather incidents / storms:
Ball Stop Nets: It is a condition of Property Insurance cover that retractable nets are retracted when not in use. If your nets are retractable they need to be retracted & secured now.
Roof tiles & Roofs : These are easily blown off in severe weather, and gutters and fascias can also sustain some damage. Roofs in stands have also suffered damage in previous storms.
Fallen trees and building damage: Trees are currently in full leaf with a large surface area, so even moderate strength winds can bring down weakened trees and/or tree limbs. Some trees may already be compromised due to saturated soils at the moment and during wind warning some disruption due to falling trees/ branches is likely. Heavy rain, coupled with falling leaves may block drains and gullies, leading to surface flooding.
Flooding: If your club property is located in an area where a flood warning is in effect it might be worth investing in some sandbags and/or flood barriers to protect your property, particularly if you live in a flood risk area.
Broken glass: Glass in windows can be damaged by severe winds or flying objects. Take care if trying to remove the glass, wear protective gloves and eye goggles.
Boundary walls and fencing: collapsing in storm weather. The best thing you can do at any time of the year is to make sure your property is well looked after. Property Insurance is not a maintenance cover and damage to property where the underlying cause of loss is determined to have occurred due to a lack of regular maintenance and/or upkeep will not be covered by property insurance.
Retract Ball Stop Nets: It is a condition of Property Insurance cover that retractable nets are retracted when not in use. If your nets are retractable they need to be retracted & secured now.
Check your roof regularly: Roof tiles should be checked once a year, and again after a severe storm, to make sure no tiles have come loose. Loose tiles could cause damage to your property or neighbouring property. Look for loose or missing tiles, crumbling pointing or any other signs of damage. Also ensure any television aerials and satellite dishes are securely attached. Professional contractors should only be engaged to carry out such works.
Check and secure your fencing and check boundary walls: Secure all fences, gates or posts on your property and regularly inspect boundary walls. These can cause severe damage to club property and neighbouring properties if blown away in a storm.
Check any trees on the property and remove hazardous branches: Cut down loose or overhanging branches, particularly those close to windows or power lines. Professional contractors should only be engaged to carry out such works.
Keep gutters clear of moss and leaves: If your gutters overflow during a downpour, it's time to give them a good clean. Remember to make sure they're securely fixed in place once you've finished. Professional contractors should only be engaged to carry out such works.
Property Generally: Secure any loose objects such as portable goals or ground maintenance equipment which could be blown. Items must be locked away or safely secured at all times.
Windows and doors: Close and lock all windows and doors securely.
Services – ensure you know where water, gas and electricity mains are, should you need to turn them off or on at any stage. Have contact numbers available for professional contractors should services be required Professionals perform many of the above jobs for a reason. If a task involves any hazardous activity such as working at heights, use of ladders, working near power lines, or use of power tools you must engage bone fide contractors to carry out such works.
If your property has been affected by a weather event / storm, it can be frightening, but do not panic; there are some steps you can follow.
Be careful: The most important thing is that you look after your safety. Do not touch cables which may have been blown down or are hanging. If your property has suffered damage, proceed with caution do not walk too close to buildings or trees that may have been weakened. Check for damage from a safe distance.
Take photos: From a safe distance, take photos of any damage that occurred. Make a list also, as this will be useful for your insurer to process any claims more smoothly.
Report the damage: if your property suffers damage as claims can be reported to Marsh Ireland via email at propertyclaimsgaa@marsh.com or to sinead.leavy@gaa.ie or ciara.clarke@gaa.ie  Details on property insurance policy excesses are in the policy document.
Keep receipts: If you make any emergency repairs such as roof repair or glass replacement you must retain these receipts Make decisions in the best interest of the club – do not reopen your club to normal club activities until it is safe to do so, be safe not sorry.
---
Tipperary Supporters Club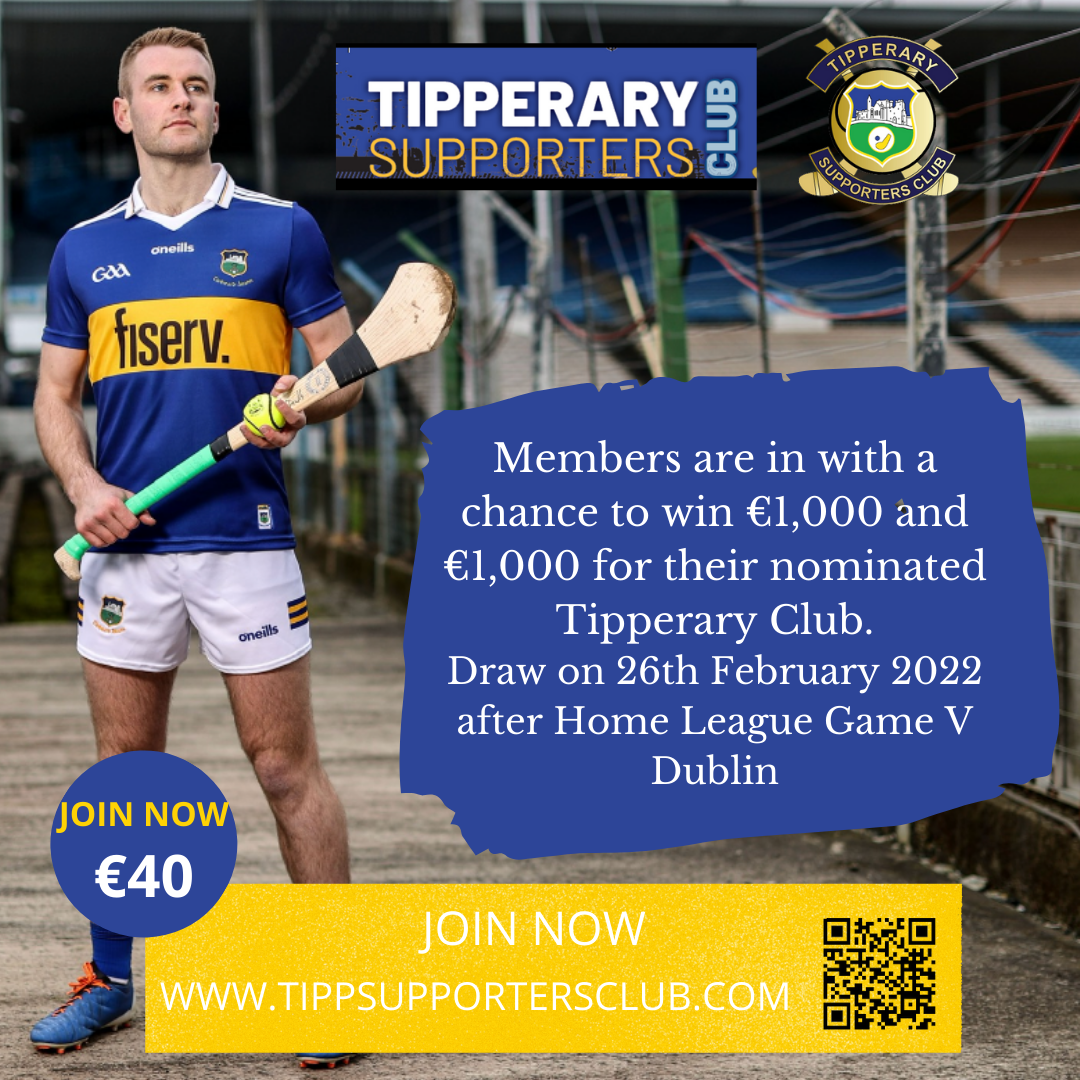 Membership for 2022 is now open and once again this year members will be entered into a draw to win €1000 both for themselves and also for their nominated club. Due to Covid restrictions making the logistics of delivering an annual gift to Members more difficult and the costs involved, the gift will be replaced in 2022 with the introduction of additional Member draws for a range of great prizes. The draws will be in addition to other discount benefits while retaining the Membership fee at €40. See all member's benefits for 2022 at https://www.tippsupportersclub.com/pages/club-membership
---
The Tipperary Supporters Club are also giving one lucky Tipperary supporter the chance to be the team mascot for all home games in the Allianz Hurling League. A young Tipperary supporter will have the opportunity to be the Tipperary Senior Hurling mascot at our home league fixture against Dublin in FBD Semple Stadium next Saturday 26 February at 5pm.
The lucky mascot will:
Sit with the team for the team photo
Have photo taken with team captains and referee before the coin toss
Join the Tipp FM team in the commentary box high in the Old Stand for the first half
Be interviewed by the Tipp FM team at half time (time and covid restrictions permitting)
Do you know a young Tipperary hurling supporter who would love to win this prize?
Nominations can be made by 2022 Members of the Tipperary Supporters Club.
---
Handball News
There was a great buzz of excitement among players and spectators alike at the Munster Juvenile Finals hosted by Clarecastle in Clare. The twin Court Venue served up some great games of Handball and it was the first real sign that Handball was fully back to normal. Tipperary players were in top form at the Clare venue winning 5 Munster titles, Clare 3 & Cork 2. There was three Finals played in Kilworth in Cork where Waterford won the Boys U17 Singles & Doubles and Cork won the Boys U16 Doubles. There are two finals still to be played with Tipperary & Clare contesting the Boys U14Singles & Clare & Cork in the Girls U14Singles.
Results:
Boys 14D Daniel McKelvey & Ronan Ryan S/Mines Dft by Liam Murphy /Danny Ryan Clare 15/14, 15/7
Boys 15S Stefan Tobin C-O-Suir Dft Ryan Lenihan Cork 15/1, 15/3
Boys 15D Ronan Redmond/Rian Power C-O-Suir Dft Matthew Crotty /Ryan Hayes Clare 15/8, 4/15, 15/12
Boys 16S Tomás O Connor Cork Dft Rody Morrissey Waterford 21/7, 21/4
Girls 14D Clodagh Shinnors/Sophia O Meara Lahorna Dft Olivia Moloney/Isobella McInerney Clare 15/4, 15/8
Girls 15S Cliona Rogers Clare dft Roisín Ring Kerry 15/5, 15/0
Girls 15D Katie Mulcahy /Aoife Williams Lahorna dft Aoife Cummins/Clarissa Gilmore Clare 11/15, 15/5,15/5
Girls 16S Christine Percy Lahorna dft by Carmel Kelleher Cork 21/2, 21/6
Girls 17S Emma Williams Lahorna dft Saoirse Keogh Clare 21/0,21/15
In Kilworth BU16D Cian Dunning /Diarmuid O Connell Cork Dft Daithi Colleran/Darragh Buckley Waterford 21/4, 21/1
BU17S Billy O Connell Waterford Dft Nathan Sheehan Cork 21/12, 21/16
BU17D Darragh Walsh /Jack Power Waterford Dft Liam Madden/Micí Sheedy 16/21, 21 17, 11/6
On Monday evening in Nenagh in Boys 14S Dean Carey Ballina meets Paul Rodgers from Clare & in Ballydesmond in Cork Claire Minogue from Clare is up against Amy Brosnan from Cork. The younger ages U12 & 13 will commence the Munster Championships next weekend.
The North Tipperary B Competition kicks off on Monday for all our new players and will provide a great learning base for future Champions.
Tipperary players were also in action in the Adult grades with some great results and a few shocks.
In the Ladies Intermediate Singles Sinead Meagher Nenagh Dft Catriona Millane Clare . 21/11, 10/21, 11/10.
In the O70's Jim Ryan Silvermimes dft Tim Joe Healy from Cork 21/13, 21/8
John Kennedy Silvermines is through to the All-Ireland Semi Final in GMAS
Junior B Singles: Tipperary A (Eleanor Percy) Bt Cork A (Brid Horgan) 21/15, 21/14
Ladies Minor Singles: Clare A (Leah Minogue) Bt Tipperary A (Hannah Grace) 21/6, 21/20
O35A Singles: Kerry A (Jack O' Shea) Bt Tipperary A (Ger Coonan) 17/21, 21/10, 11/7.
Overall a great display by Tipperary and we look forward to the doubles fixtures over the next few weeks.
On Monday night in the 14's  Dean Carey ballina Beaten by Paul Rogers Clare 15/6, 15/7
U21 Singles Rory grace Lahorna Beat Sean Coughjlan Clare.
O35B  Niall Quinn Silvermines Bt James Moakley Cork
In the Intermediate ladies Singles Sinead Meagher was involved in a thriller in Cappagh. At a game each against Caitriona Millane Clare the final went to the dreaded tie break. Sinead got off to the better start but found herself trailing 10-8. In a nail biting finish the Clare girl got 10 chances to make the final ace but time and time again failed to get it against a determined Tipp girl. They were tied at 10 all for five more changes of serve until Sinead finally got the all important ace in an epic battle.
Photo:  Caitriona Millane Clare  Sinéad Meagher Nenagh
Munster Juvenile 12 & 13  semi Finals V Waterford  in Nenagh & Dolla on Saturday 26th  Finals following day in Clarecastle  on Sunday 27th.
Look up all handball fixtures/results on www.tipperaryhandball.com
---
Tipperary GAA Scene
If there is anything you feel should feature in this column going forward, please feel free to forward it to pro.tipperary@gaa.ie