Tipperary GAA Scene – December 15th 2015
by Acting PRO Joe Bracken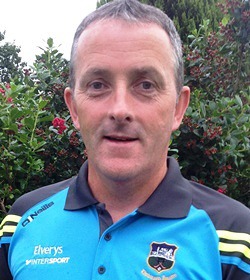 ALL IRELAND CLUB FOOTBALL
Congratulations go again this week to Clonmel Commercials who achieved mission accomplished with victory over Tir Chonaill Gaels in the All-Ireland Club Senior Football Championship Quarter-Final last Saturday, in Ruislip on a score line of 2-12 to 0-09.
A deserved break over Christmas will have the lads ready no doubt for the All-Ireland Club Semi-Final spot on Saturday February 13th against Ballyboden St. Enda's (Dublin).
MUNSTER AWARDS
It proved to be a very profitable night from a Tipperary perspective last Saturday night in Dromoland Castle as the county came away with 5 provincial awards at this prestigious annual ceremony.
John O'Dwyer – Munster Senior Hurler of the Year Recipient 2015
John O'Dwyer a member of the Killenaule Club in South Tipperary has been involved with Tipperary inter-county teams since 2008. His performances in Munster this year caught the imagination of local and national media as he carried his rich vein of form of 2014 on into 2015.
John won the RTE Man of the Match award following his seven point haul against Limerick in the Munster Senior Hurling Semi-Final win and he later went on to score five more in Tipperary's Munster Final success in Semple Stadium. John was nominated for an All-Star award in 2014 and 2015, winning an All-Star in 2014 at wing-forward. John has graced the fields of play for Tipperary at Minor level in 2008 and 2009 and Under 21 in 2010, 2011 and 2012 (as captain) – winning Munster and All-Ireland Under 21 Hurling medals in 2010 lining out at corner-forward.
Lyndon Fairbrother – Munster Minor Hurler of the Year Recipient 2015
Lyndon Fairbrother from J.K. Brackens Club in Templemore in the heart of Mid Tipperary has marked himself out to be a force in Tipperary hurling for many years to come following his performances at Minor level this year. Lyndon started the campaign coming on as a substitute against Waterford in the Munster Quarter-Final scoring 2 points in a 1-14 to 0-16 win. In the Munster Semi-Final he popped up with 5 points in a 1-15 to 1-11 defeat of Clare on a day Tipp bid farewell to the late Jimmy Doyle. In a Man of the Match performance in which he scored 7 points against Limerick, Lyndon's contribution ensured Munster Final success for Tipperary with a 20 to 17 point win. Lyndon added to his reputation shooting seven points in Tipperary's win over Dublin in the All-Ireland Semi-Final. At under age Lyndon scored 3 goals for his club when they won the Under 12 Mid Tipp Final in 2010.
Steven O'Brien – Munster Under 21 Footballer of the Year Recipient 2015
Steven O'Brien plays for the Ballina Club and 2015 has been a tremendous year for Steven marked with a number of outstanding performances. Steven has played Under 21 Football with Tipperary in 2013, '14 and '15, winning a Munster Under 21 Football medal in 2015. His superb fielding, direct running and accurate ball-kicking has shown Steven to be one of the most complete footballers to line out for any county at this level this year. Steven was named in the inaugural EirGrid 21 U21 Awards last May and also won the Opel GAA/GPA Football Player of the Month for May following his performance against Waterford in the Munster Senior Football Quarter-Final. Steven also won a Sigerson Cup medal with Dublin City University last February. Steven won Munster and All-Ireland Minor Hurling medals with Tipperary and an All-Ireland Senior A Hurling medal with Nenagh CBS all in 2012. He also holds division and county hurling medals with his club.
Clonmel Commercials – Munster Club of the Year 2015
Clonmel Commercials GFC was founded in 1934 and over the years the club has developed into one of the Premier County's leading clubs. Just 12 years after being formed the club had won county honours at minor, junior and senior levels. The club has nurtured a love of Gaelic football through generations of Clonmel people.
Holders of 16 county senior football titles, the club has a strong ethic in the development of young talent and in recent years the club have enjoyed unprecedented underage success including 5 in a row county titles at both under 16 and minor levels. Many of these players won Munster club senior football medals this year.
The club is proud of its reputation on Munster teams down the years while two time Olympic champion Pat 'Doc' O'Callaghan held many roles with the club and was President at the time of his death in 1991. This year the club broke new ground by becoming the first Tipperary club to win the Munster Club senior football championship.
The Club of the Year Award was received jointly by John McNamara Club President and Derek Williams Club Chairman.
Cáit Devane – Munster Camogie Player of the Year 2015
Though only 22, Cáit is one of Tipperary's more experienced Camogie players. Having graduated to the Tipperary Senior Camogie panel while still a Minor, Cáit this year assumed the role of team captain, a testament to her commitment and approach to leadership within the group.
After some truly remarkable scoring feats during the league for her county, Cáit helped Tipperary progress to the Munster Final against Cork where she gave an outstanding performance. Though on the losing side, Cáít scored 8 points and duly won player of the match.
Cáít continued this form throughout the All-Ireland championship campaign which saw Tipperary reaching an All-Ireland quarter-final before becoming undone again by Cork.
Cáit received the WGPA player of the month award for July recognising her outstanding performances against Dublin scoring 10 points and 1-9 against Derry.
Later in the season Cáit helped her Clonoulty Rossmore club reach the Kilmacud 7's Camogie final where the lost out by a solitary point. Cait's performance was once again recognised as she was selected as player of the tournament.
Also on the night two Tipperary referees were recognised for officiating at provincial finals in 2015. Congratulations therefore to Fergal Horgan, Knockavilla Donaskeigh Kickhams who took charge of the Under 21 Hurling Final and Senior Hurling Club Final 2014 and to Johnny Ryan, Boherlahan Dualla who took charge of the Waterford Crystal Cup Final 2015.
TIPPERARY FIXTURES
The Clean Ireland Recycling County Junior "B" Football Championship Semi-Final replay between Clonmel Commercials and Galtee Rovers St Pecaun takes place on Sunday next December 20th in Clonmel Sportsfield at 1.30pm.
COUNTY CONVENTION
The Annual Convention of Coiste Chontae Thiobraíd Árann will be held this Thursday night December 17th, in 'The Dome', Semple Stadium at 7.30pm. Mass in memory of deceased members of the Association will be celebrated by His Grace Dr. Kieran O'Reilly at 7pm prior to the commencement of Convention.
TIPPERARY GAA CLUB ALL COUNTY MATCH PASS 2016
The match pass for 2016 is currently on sale at the price of €120. This pass gives you access to all adult matches within the County during 2016. Passes can be ordered through the GAA Office Slievenamon Rd, Thurles or by contacting 0504 22702 where you can pay over the phone. You are advised to purchase tickets before this Friday, December 18th to ensure Pre-Christmas delivery.
DECEMBER GAA CLUBS DRAW
The December Tipperary GAA Draw took place in Ryan's Lounge, Newport last Friday night and what a night it turned out to be for supporters of Clonakenny GAA Club who scooped the two main prizes, first prize of a Skoda Octavia or €15,000 went to Jimmy Greed, Summerhill, Dunkerrin, Birr, Co. Offaly while second prize of a Skoda Fabia or €10,000 went to Sarah Jane Cody, Clonakenny. Congratulations to Jimmy and Sarah on their success.
TIPPERARY GAA YEARBOOK 2016
The Tipperary G.A.A. Yearbook 2016 is now available in the bookshops and usual outlets. Published annually since 1970 it is an outstanding record of the achievements of club and county in all aspects of the G.A.A. Whereas the main focus of people's interests may be on hurling and football, camogie and ladies football, the book also tells the complete story of achievements in Scór, handball, Bord na nÓg and other areas of G.A.A. activities.
As always the Yearbook includes an outstanding selection of photographs which illustrate the stories and gives shape and colour to the boys and girls, men and women that feature in them.
And, all this, 200 pages, for €10 – a must have on every Tipperary Christmas shopping list.
TIPPERARY SUPPORTERS CLUB AGM
The 29th AGM of the Tipperary Supporters Club was held in a good atmosphere in the Louis Fitzgerald Hotel, Naas Road, Dublin on Tuesday 8th December last.
In his final report to the AGM as Secretary Joe Tuohy, summarised the highlights of the Club's activities for the year. He also expressed condolences to all those who suffered bereavements since the previous AGM. John Coman, PRO, on behalf of John Malone, Membership Officer, who was unavoidably absent, reported on another good year for numbers joining as adult members and as junior members, and asked all members to make a special effort to encourage extra members to join up and to ask existing members to join using the direct debit facility. John thanked Joe Tuohy, who was retiring as Secretary of the Club, for his great work.
In his address as Chair John Tierney thanked all the Tipperary Supporters for their generosity in supporting the fund-raising efforts of the Club. John thanked everyone who had helped him in his role as Chair of the Club including Club members, sponsors, funders, committee members, County Board and Bord na nÓg officials, team manager, selectors and backroom team and of course the players who wore the Blue and Gold with great commitment and skill. In particular he wished every good luck and success to the management team and players and especially thanked Eamon O'Shea and Paudie O'Neill (who was present at the meeting) for their wonderful service to Tipperary hurling. John paid particular tribute to Joe Tuohy on his retirement as Secretary of the Club and thanked Joe and his wife Eleanor for their tireless contribution to the cause of Tipperary hurling. He looked forward to Joe continuing as an active Committee member. John Costigan, former County Board Chair, joined in those tributes.
The meeting was also addressed by Michael Bourke, County Board Chair, who thanked the Supporters Club for helping to maintain support for the SH panel and he commented on the great co-operation between the County Board and the Tipperary Supporters Club in their work. Michael joined in the appreciation of the work which Joe Tuohy had done as Secretary of the Club. Also present at the meeting were John Devane, County Board Vice-Chair, and Tim Floyd, County Board Secretary and Joe Bracken, Acting PRO, County Board.
TIPPERARY SUPPORTERS CLUB 2016 MEMBERSHIP
Membership of Tipperary Supporters Club for 2016 is now available and at €30 per person it is unchanged again this year. The Tipperary Supporters Club are delighted to announce that the member's gift in 2016 will be a trolley coin keyring, 43 mm x 33 mm, featuring The Tipperary Supporters Club Official Logo.
Supporters can join on line on www.tippsupportersclub.com by credit card or debit/laser card. Also on the website details are available of the direct debit facility; as the Club is run on a completely voluntary basis it would be a great help if members could join by direct debit. If joining by post please send a cheque or postal order payable to Tipperary Supporters Club to Jim Reidy, 13 Castleknock Close, Dublin 15 or 086-3580718, email: info@tippsupportersclub.com
Membership is also an ideal Christmas/New Year gift for someone at home or abroad. The Tipperary Supporters Club can send the pack to you to pass on or they can post it on directly for you if you prefer! Packs are generally put in the post in a matter of a day or two so it should be there well in time for Christmas.
Keep up with all the news on www.tippsupportersclub.com
Find us on Facebookwww.facebook.com/TippSupportersClub and follow us on Twitter @TippSupporters
All proceeds from membership go towards the preparation and training of the Tipperary Senior Hurling team.
TIPPERARY GAA NEWS VIA E-MAIL
If you are interested in receiving the Tipperary GAA Scene to your Inbox each week, plus other Tipperary GAA related information such as team announcements and other related news, you can sign up to the Tipperary GAA Newsletter on our web site at www.tipperary.gaa.ie Alternatively, send an e-mail to sites.tipperary@gaa.ie with the subject Newsletter and we will include you on our mailing list. Currently, nearly 600 subscribers receive Tipperary GAA News via e-mail so don't miss out.
POST PRIMARY SCHOOLS
In the Dr. Harty Cup Round 5 on Monday last, December 14th, Our Lady's Secondary School Templemore had a comfortable 3-24 to 1-09 win over Gaelcolaiste Mhuire AG. At Tipperary level, congratulations to Scoil Ruain Killenaule who defeated Borrisokane C.C. in the Hennessy Cup U/15 (B) Hurling Final last Friday on a score of 2-06 to 1-07.
Also last Friday in the Corn Mhic Gabhann U/18.5 (A) Football semi-final Abbey C.B.S defeated High School Clonmel to progress to the final. Last Thursday December 10th in the Sciath Mhic Gabhann U/18.5 (B) Football semi-final Nenagh C.B.S. reached the final following their win over Colaiste Cluain Meala.
SCÓR NA BPAISTÍ / SCÓR SINSIR
With Scór na nÓg ready for their Munster Final it is a timely reminder to all budding artistes and all clubs ar fud an Chontae that Scór na bPáistí and Scór Sinsir will take place very soon after Christmas. We hope all clubs and all divisions will make a special effort to showcase your talent in this historic year of celebration of 1916 -Comóradh ar an gcultúr – Irish music song and dance. Bígí ag cleachtadh and enjoy the taking part.