Tipperary GAA CashBack Loyalty Card
Tipperary GAA have just launched our very own CashBack Loyalty Card, now in circulation.
Loyalty Cashback Card Application Forms have issued this week and were also sent out with Tipperary Draw Receipts recently. These completed applications can be returned this weekend at any Co Championship games throughout the county by just handing them to the gate checkers at the point of entry. The gate checkers will then return them to Lar na Pairce where the necessary registration will be done to activate the card. The scan on the card will match the scan on the application being registered to ensure the holder will receive all the credits when they use it.
Remember these Loyalty Cards will not only accumulate cash savings for the holder but will also generate vital income for the Co Board.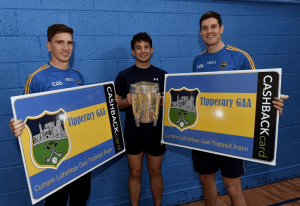 Every time people shop with the card in many shops around the county, across the country & in 47 countries worldwide, online & offline, they will be supporting Tipp.
There are sports teams all over Europe using the CashBack to generate revenue for the club.
With the help of Tipp FM sales team & a team of sales people, the network of businesses is currently being built. There will be shops & businesses all over the county where people will be able to shop.
Tipperary GAA County Board expect this to be a substantial revenue stream from 2018 onwards.