Tipperary Club Focus – Drom & Inch GAA Club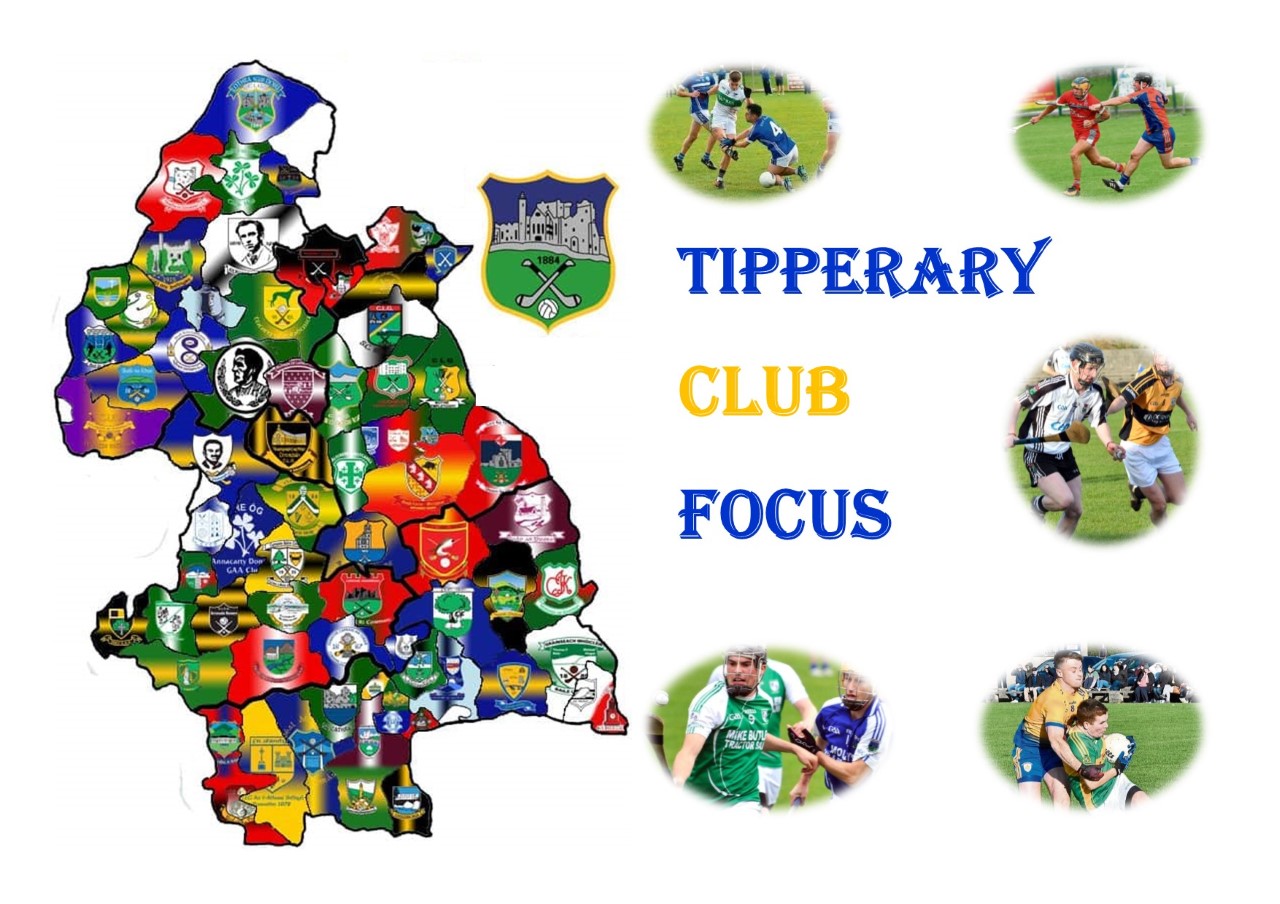 In the next of our monthly club focus articles, we are in Mid Tipperary as we take a visit to Drom & Inch GAA Club: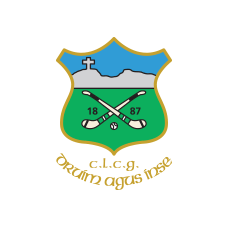 Club Name: Drom & Inch GAA Club
Address: Bouladuff, Thurles, Co. Tipperary
Eircode: E41X950 (Inch field) and E41X285 (Drom field)
Hurling: Senior, Intermediate & Junior B
Football: Senior
Club colours: Green and White
Club Referees: Younges The Ragg
---
Senior Club officers:
---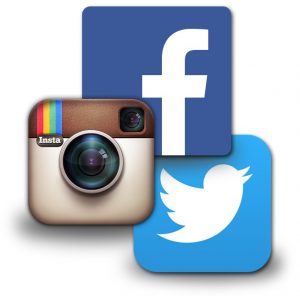 Club Social Media details:
---
Brief History of Club  
Drom & Inch GAA is a Tipperary GAA club which is located in County Tipperary, Ireland. Both hurling and Gaelic football are played in the "Mid-Tipperary" divisional competitions. The club is centred on the villages Drom, Inch and Barnane which lie near the Devil's Bit mountain range. The club's main grounds is located in Bouladuff, five miles outside Thurles. It is located on the main Thurles to Nenagh R498 road. The club's second pitch is located in Drom Village on the road from Borrisoleigh to Templemore. The club won its first ever Tipperary Senior Hurling Championship in 2011 after a 1–19 to 2–14 win against Clonoulty-Rossmore GAA.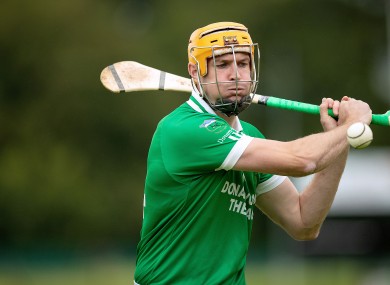 Drom & Inch Gaa club finds its origins back as far as 1887, when hurling was played by the separate teams of Drom, and Inch. The club is located in the heartland of hurling in Co. Tipperary. Recent history shows an emerging club that has established itself as one of the top clubs in Tipperary, both in terms of facilities and competitive teams. Drom & Inch have enjoyed success over the past 15 years at every level on the pitch and a landmark achievement in 2008 when 4 of Tipperary's 15 players, that won the National Hurling League and Munster Championship, came from the parish they were Séamus Butler, Séamus Callanan, Éamonn Buckley and James Woodlock. Drom & Inch has often had players on All Ireland winning Tipperary teams down throughout the years. Drom & Inch have won county titles in hurling at every age from U-12 to Senior level. The facilities in Bouladuff grounds are one of the best in the county. It has 4 large dressing rooms, a kitchen, male,female and wheelchair friendly toilets, meeting room, hydrotherapy tank, scoreboard, dugouts, an Astro turf ball-wall and roofed stand. In 2021 we developed our second full size hurling pitch at our other premises in Drom. We are due to start work on a fully lit walking track around the perimeter of the grounds in late March 2022.
The ball was set rolling for the GAA following a meeting in Hayes's Hotel Thurles on 1 November 1884. Through the following years clubs around the country began to affiliate to the organisation. By 1887 Drom & Inch were affiliated. Two men who were credited with a great amount of work done in the club at that time were John Laffan of Drom and John Brolan of Inch.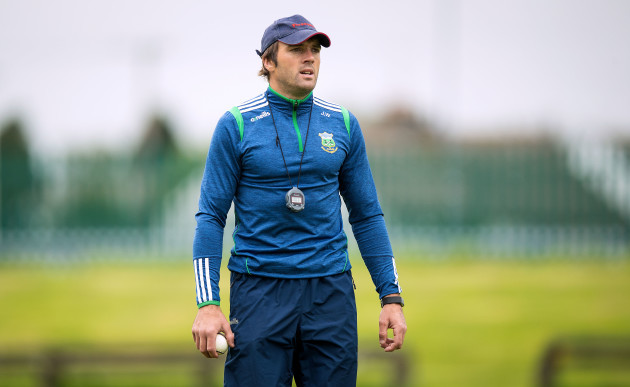 Success in the early years was limited to a few Mid Junior titles. In 1937, however the club claimed its first ever county title by winning the Co. Junior Hurling Final. In a game that was not played until 30 October 1938, they defeated Killenaule on a score line of 6–2 to 5–0. At this time, there was no intermediate grade so Junior Hurling was second to senior at this time.
Through the early years of GAA in Drom and Inch, at times each side of the parish fielded separate teams. However, since the early 1960s Drom & Inch have competed as one and it was from that time that success started to come on a more regular basis.
Mid U13, Minor, U-21, Junior and Intermediate hurling championships were brought to the parish in the 1960s and in 1970 a county Intermediate title was the club's greatest success to that time. Eamonn Butler captained that team and in 1971 Eamonn captioned Tipperary to an All Ireland Intermediate title. This set the team up well for senior status. Following some good showings in senior hurling, including reaching the County Semi-final in 1973, things came together in 1974 and Drom & Inch, captained by John Dwyer, won their first Mid Senior Hurling Championship beating Thurles Sarsfields in the Mid Final. 1975 saw the first success in football with a Mid & County Junior Championship. Ten years after the first senior Mid title Drom-Inch, captained by Martin Fahy, repeated the success in 1984, by defeating Moycarkey in a replay on a score line of 1–9 to 1–8. This win along with Mid Junior football and County Minor B hurling titles earned the club the Mid Club of the Year award.
Success eluded the club in 1985 but a Mid U14 Hurling title in 1986 started an unprecedented run of 23 consecutive years up to the present time of winning a title at some grade from U12 up to Senior for Drom-Inch. In the late 1980s plans were put in place for a new hurling field to be developed in Inch and on 13 May 1990 the new grounds were officially opened.
Success continued into the 1990s with a number of Mid Junior and Intermediate titles won. However, it was at underage level that the club was really shining and much juvenile success through the 90's worked its way through to 2 County U21 titles in 2000 and 2001. While success at senior level was not instant it did come. In 2005 Drom & Inch reached the county senior hurling final for the first time. Although unsuccessful against Thurles Sarsfields in Semple Stadium that day, the following year Paul Ryan lifted the cup for a Mid Senior title and Éamonn Buckley did likewise in 2008. In Junior hurling, a County Junior A title in 2005 and 3 Mid Junior B titles from 2003 to 2005 promoted the teams to Intermediate and Junior A level. For a club that draws on a relatively small population to be competing at the three top levels of Tipperary hurling is a remarkable achievement but is a great reflection of the work and dedication of the people of the Drom, Inch and Barnane to bring the club, its facilities and standards to where they are today. The dedication of Drom and Inch people has not been confined to work in their own club. The aforementioned John Laffan was said to have been in Hayes's Hotel at its foundation and later sent hurleys to New York to encourage the creation of hurling teams there among the emigrants from the area. Pat Ryan from Maherareagh was chairman of the London Co. Board for many years. In the current time, Mattie Ryan of Drom served as chairman of the Mid Board, Sally Young from Cleakile served as mid secretary while Trevor Hassett from Killoskehane served as PRO of the Mid board. At a national level, Paudie Butler of Inch was the first ever National Director of Hurling in the Gaelic Athletic Association.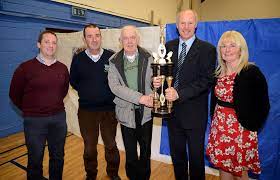 2011 saw the club achieve its best ever year on the hurling field, one which no-one will forget, Drom & Inch crowned Tipperary Senior Hurling Champions for the first time in their history. After so many defeats the euphoria of winning the senior title for the first time was celebrated for months! Adding to the senior win in 2011 was the all-conquering U14 team which won county A titles in hurling and football, minor B hurlers winning county final and Junior B hurlers winning county final.
In 2019, the club had the honour of having Seamus Callanan, captain of the Tipperary senior hurling team, return to the club house with the Liam McCarthy cup. A great night was had in welcoming back the All Ireland hurling champions and the memories of this night will live on forever!
As our club moves into another decade, we are always trying to improve the way we do things and we recently have joined the GAA Green Clubs as well as been accepted to become involved in the GAA Healthy Club campaign both campaigns which will help with different aspects of our club. In the near future we will be compiling a club development plan and will be looking fir the input of all our members and we would encourage everybody to come forward to have their say and help shape the future in all aspects of our club.
---
Club Development
In 1989, the hurling field in the Ragg was opened to the public for the first time with the inter county teams of Tipperary and Galway lining out for an exhibition game. Since then the club have extended the clubhouse to now house 4 dressing rooms and a kitchenette. The addition of a hurling wall in 2011 has helped to develop players skills and in 2018 an Astro turf surface was applied to the wall which now gives players of all ages a playing area regardless of the weather conditions.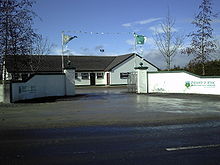 As the numbers playing the game within the club increased it was agreed that the club would invest in additional land adjacent to the juvenile field in Drom and further develop a second full size playing field. This pitch was sown in 2020 and the first game played on it took place in 2021.
Drom Inch GAA Club are currently in the process of 2 exciting projects which will further enhance their facilities. The club are due to start works on a 3 metre wellness walking track around the perimeter of the field in Drom which will incorporate LED lighting to facilitate walking by community members in a safe manner during the winter months especially.
Earlier this year, we were successful with our Sports Capital Grant application to install a synthetic playing surface at our grounds in the Ragg. We believe that this will be of huge benefit to the community and the schools in the parish as it will facilitate playing all year round. We will be appealing to the wider community as we will have to fundraise the balance of the project but we are sure that when completed that we will have facilities which will be up there with the best in the county.
---
Club Fundraising
Having ran a remarkably successful "Oskarz" in 2019 which raised €15,000 the club were unable to run a similar event in 2020 due to Covid. Instead, the club have turned their attention to the club lotto and have focused on maximizing the number of players each week. The club have held very successful golf classics in 2020 and 2021 which proved to be great social outings while also helping to boost the club coffers. The club's annual golf classic for 2022 will take place in Rathdowney Golf club on Friday 29th July and Saturday 30th July.
Due to the massive development plans which are planned for the next 12 months, the club will be looking to raise much needed revenue to help make these plans come to fruition. It is hoped to run a "big" fundraiser towards the back end of the year so watch this space!
---
Club Stalward – Paudie Butler
Paudie is a staunch member of the club and has been for decades. Many say that it was Paudie who was responsible for single handedly creating the hurling revolution within the parish of Drom Inch.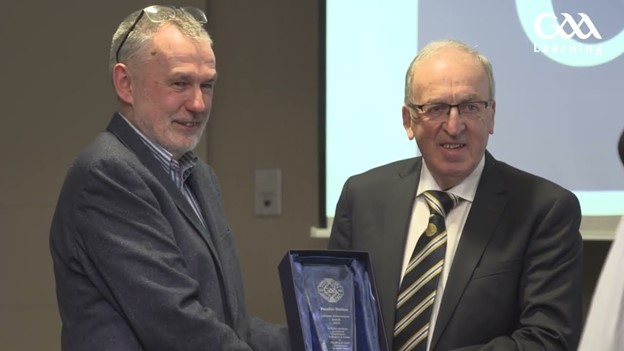 Paudie was principal in Inch National school for many years and coached many children both boys and girls the skills of the game of hurling and camogie. Hurling was nearly an extra subject on the curriculum in the parish. Paudie was a very innovative and forward- thinking coach and success followed him in both the school and the club. Paudie lead the u14 Feile team to an All Ireland title which was shared with Sixmilebridge of Clare. Paudie would stay involved with this team and lead them to many more titles culminating in an Under 21 A hurling title. Paudie was also later the coach of the club senior team.
As a player, Paudie was an accomplished hurler and footballer and was the spine of the team for many years lining out along side his brothers Tommy (R.I.P), Eamonn (R.I.P.), Micheál (R.I.P.) and Martin. Two Mid senior hurling titles in 1974 and 1984 were captured by Drom Inch during his time as well as a County Junior Football title in 1975. Paudie went on to represent his county in both hurling and football in the late 70's before also playing for the hurlers.
On the coaching front, Paudie made a name for himself when he managed Tipperary to All Ireland Minor hurling title in 1996. He was a coach of the Tipperary under 21 team in 2002. Paudie later would be coach of Laois Senior hurling team for 3 years before returning to the club scene when he led Newport to a North senior hurling title in 1996.
Paudie would later be appointed as director of hurling in the GAA in 2005, a role which he would hold until 2010. He excelled in this role travelling the length and breadth of the country delivering coaching workshops, seminars, and coaching sessions to coaches of all ages. When the GAA commenced training its own Tutors to deliver their Coach Education programme Paudie was one of the first to be up skilled into the Master Tutor or Tutor Trainer role.
Paudie Butler has dedicated much of, if not all of his life to the GAA and especially to the Drom & Inch club to which everyone involved with the club are forever grateful to be able to call him one of their own.
---
Juvenile Club 
2021 was another busy year for the Drom & Inch juvenile club across all the grades. Following on from the disjointed year in 2020 due to the Covid pandemic it was fantastic to see all the kids back on the playing fields playing the games they love.
Some of the highlights of the year included the under 13's getting to the county final where they were beaten by a much stronger Killenaule team in Clonoulty but they gave their supporters some fantastic moments and played some great hurling along the way.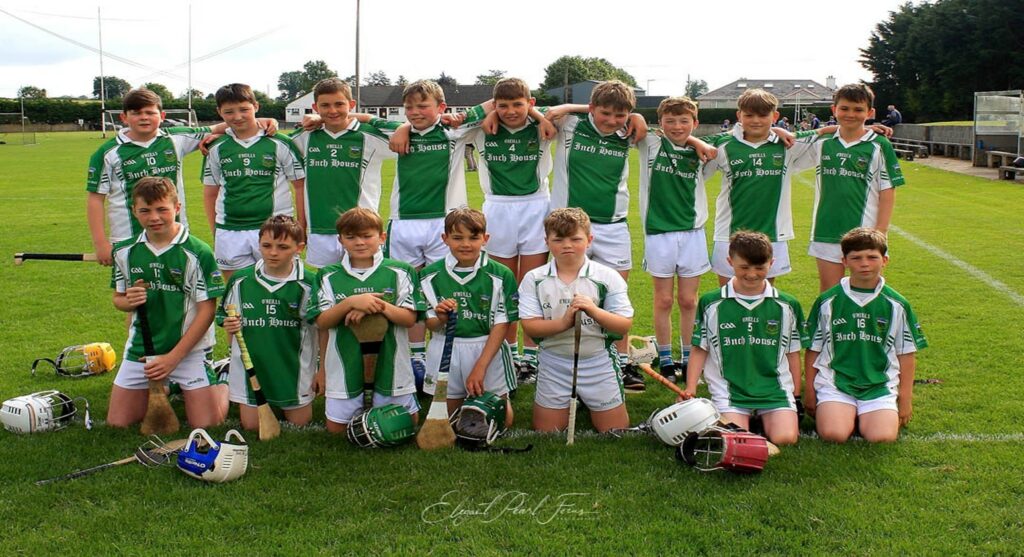 The under 17's captured a Mid under 17 B hurling title in Holycross by defeating Durlas Og B in what was a great skilful display of hurling. Unfortunately they were narrowly defeated by Knockavilla Donaskeigh Kickhams in the county final but they went down gallantly and will come again in the future.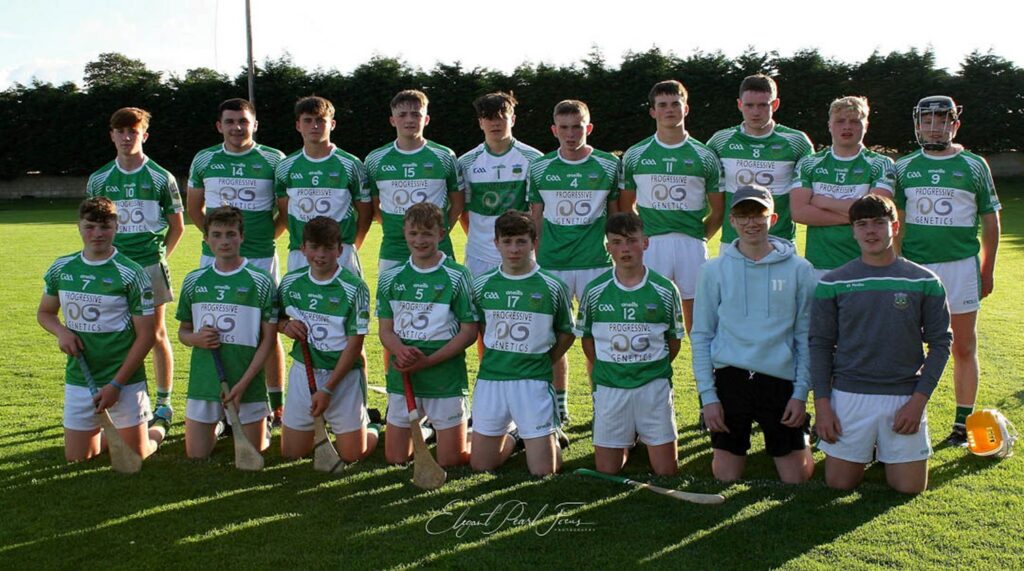 The under 9's lifted the Meagher Cup which was held in Borrisoleigh in October. It was fantastic for the club to be able to field 2 teams in the competition. They also played in loads of other blitzes both at home and away and have great fun and loved to be playing games.
The clubs under 11's won the Carey Cup in November coming out on top against neighbours Borrisoleigh. They also participated in non competitive hurling and football matches throughout the months of June to August and this was a great success with the boys getting loads of exposure to games.
The juvenile club is growing from year-to-year and we always welcome new members to come and get involved with our teams.
---
County Intermediate Football Champions 2021
On the 21st of November in Semple Stadium, our intermediate footballers captured the county intermediate football title for the third time in the club's history defeating Grangemockler Ballyneale by 2-11 to 0-9. Having spent a number of years out of senior football ranks our footballers
produced a professional display to defeat a youthful and skilled Grangemockler Ballyneale side. Our men got out of the blocks early and lead for the majority of the game. Our run into Munster saw us defeat Waterford champions Portlaw before narrowly lose out to Kerry champions and eventual Munster champions Na Gaeil.
---
Acknowledgements
A word of thanks to all the people involved in putting this club focus together, In particular club secretary Trevor Hassett who was a driving force behind its completion.