By: PRO Joe Bracken
ALLIANZ HURLING LEAGUE
The new season is under way and the Tipperary hurlers got their campaign up and running with a high intensity performance in Semple Stadium last Saturday night before an attendance of 8,217. In doing so Tipp recorded a deserved 2-16 to 1-11 victory over Clare with captain Seamus Callanan (Drom & Inch) leading by example scoring both goals and finishing up with 2-7 in total. Congratulations to Padraic Maher who was the eir Sport Allianz man of the match and is pictured below receiving his award from Anna Geary. Congratulations also to Robert Byrne (Portroe) and Jake Morris (Nenagh Éire Óg) as they both made their full league debuts and also to Mark Kehoe (Kilsheelan-Kilcash) and Killian O'Dwyer (Killenaule) who were introduced in the second half.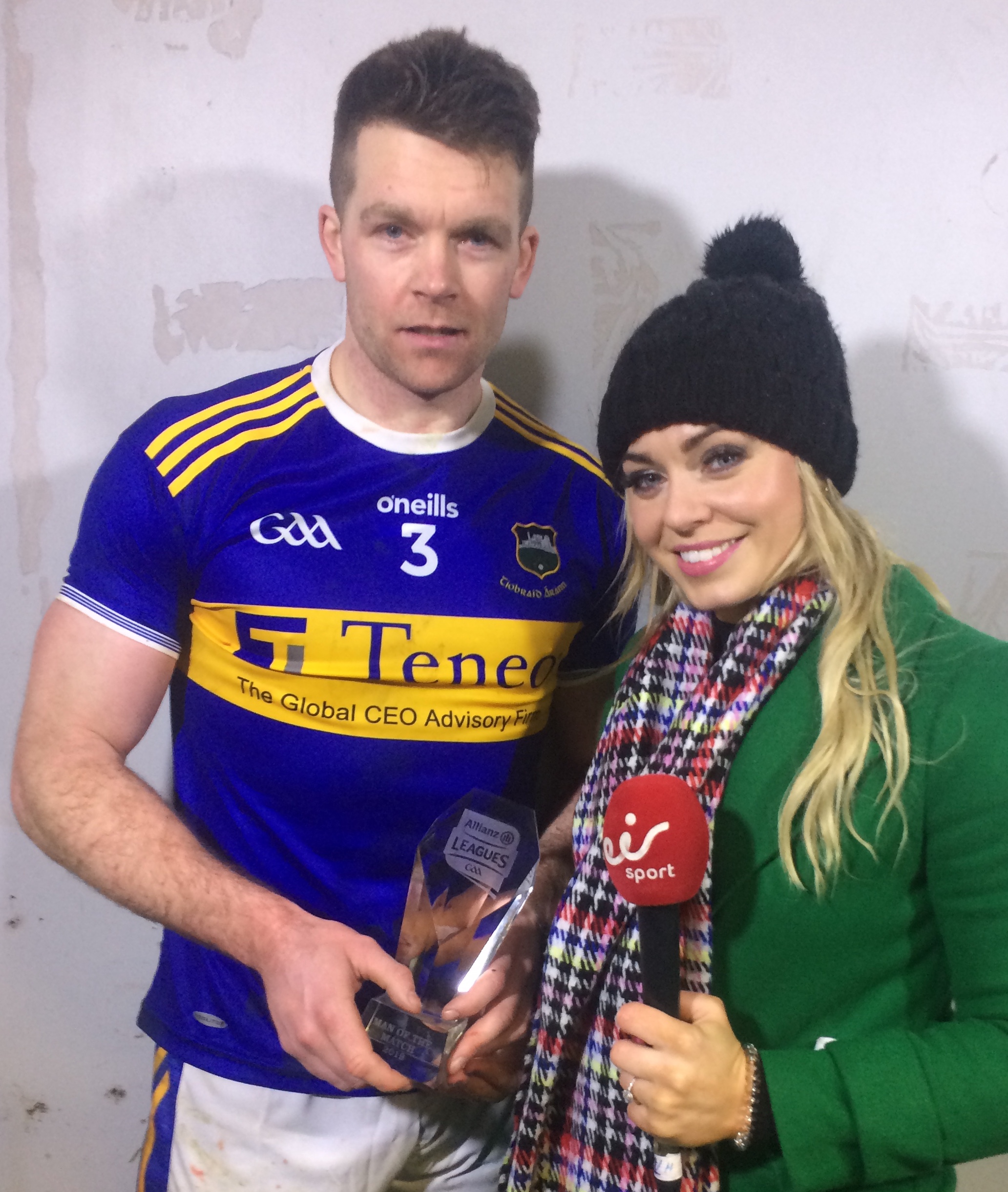 This weekend the focus turns towards the Gaelic Grounds on Saturday evening next, February 2nd, when Tipperary will play Limerick in round 2 of the league with throw-in at 7pm. In the league Tipperary and Limerick have met on 62 occasions with Tipp winning 36, Limerick 19 and 7 draws also recorded between them.
The last time the sides met in the league when Limerick were All Ireland champions was in the 1973/74 season with two meetings and honours shared. Tipp won by 1-14 to 1-13 at Semple Stadium in the group match, on February 24th, 1974 thanks to 'Babs' Keating's (Ballybacon-Grange) palmed point just before full time. Limerick, however, won the subsequent semi-final at the Gaelic Grounds, on April 21st by 1-16 to 3-8. The respective attendances were 12,000 and 26,280, with Francis Loughnane (Roscrea) top scorer for Tipp on both occasions with 0-7 and 2-5.
Outside of last year's meeting in the semi-final when Limerick came through from 1B, 2010 was the last time the sides met in league rounds. As a result the last 10 meetings read as follows; 31/3/2018, at Thurles, Tipp 2-31 Limerick 1-31 aet (semi-final); 21/3/2010 at Limerick, Tipp 2-24 Limerick 0-8; 19/4/2009 at Thurles, Tipp 1-17 Limerick 1-11; 17/2/2008 at Thurles, Tipp 2-20 Limerick 2-9; 18/2/2007 at Nenagh, Limerick 2-13 Tipp 0-16; 19/2/2006, at Limerick, Tipp 2-15 Limerick 2-15; 27/2/2005, at Limerick, Tipp 4-14 Limerick 3-11; 29/2/2004, at Limerick, Tipp 2-21 Limerick 1-12; 8/3/2003, at Thurles, Tipp 1-17 Limerick 1-8 and lastly for now 10/3/2002 at Thurles, Limerick 2-13 Tipp 1-12.
The referee on Saturday night will be Sean Cleere (Cill Chainnigh)
ALLIANZ FOOTBALL LEAGUE
Unfortunately, a below par performance in Páirc Tailteann, saw the Tipperary footballers come away from the Navan venue empty handed as Meath took the points in a 0-15 to 1-8 victory. Tipp seriously hindered with injuries introduced fresh blood into the side and congratulations to Daire Brennan (Kilsheelan-Kilcash) and Dan O'Meara (Kiladangan) on their Allianz league debuts.
Fermanagh travel to the Field of Legends for round 2. In their opening match Fermanagh drew with Cork 0-8 to 1-5 at home.
Rory Hickey (An Clár) will referee this fixture.
We send best wishes to both panel's and their management teams again this weekend.
NEW TIPPERARY JERSEY
Last week saw the arrival of the much-anticipated new Tipperary inter-county jersey which was launched on Friday. Pictured below is Declan Kelly, CEO & Chairman, Teneo, Tipperary hurler Brendan Maher and Tipperary footballer Conor Sweeney who were at Portroe GAA Club to unveil the new look Tipperary jersey that will be worn by the county's teams from minor through to senior level in 2019.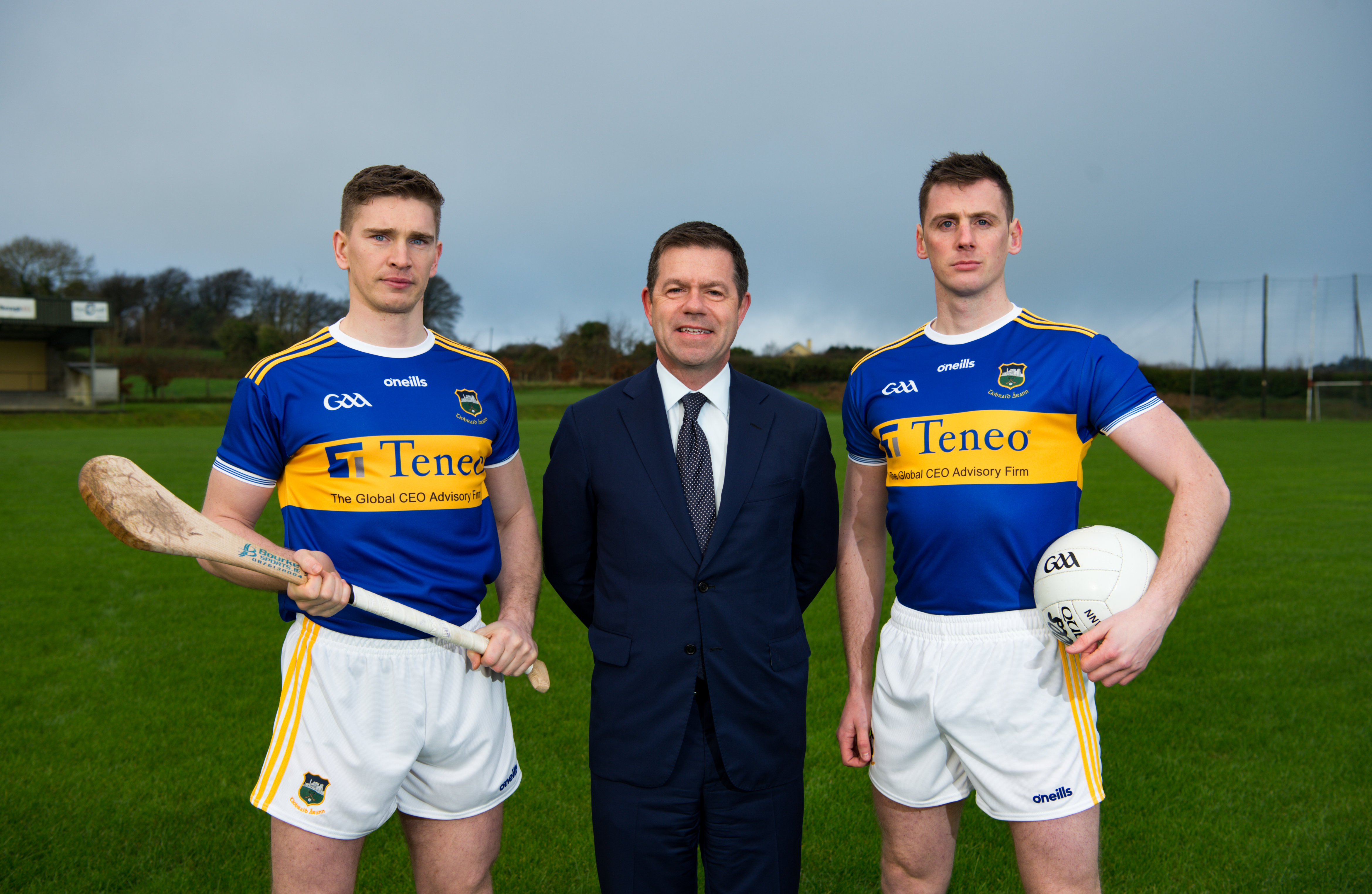 The Global CEO advisory firm was recently announced as the new sponsor of Tipperary GAA. Photograph courtesy Teneo/Sportsfile.
So, as we welcome in the new, we give thanks to Elvery's Intersport for their sponsorship since 2015 and look forward to further cooperation as we continue with our retail agreement in conjunction with the opening this year of their new Tipperary GAA store in Thurles Shopping Centre.
TIPPERARY SENIOR HURLERS FUNDRAISING EVENT
Following on from the tremendous success of the Tipperary hurling panel's fundraiser efforts in aid of the 'Running for Josie' project and Amanda Stapleton Benefit Fund, Brendan Maher and Jerome Cahill on behalf of the panel presented the proceeds at half time in the Allianz league match last Saturday night. In raising the huge sum of €20,410 in the one-day event, both benefit projects received €10,205 each.
Pictured below is Brendan Maher presenting Shane Stapleton with a cheque accompanied by Borris-Ileigh juveniles Eoin Boyle, Lar Stapleton and Eamonn Groome.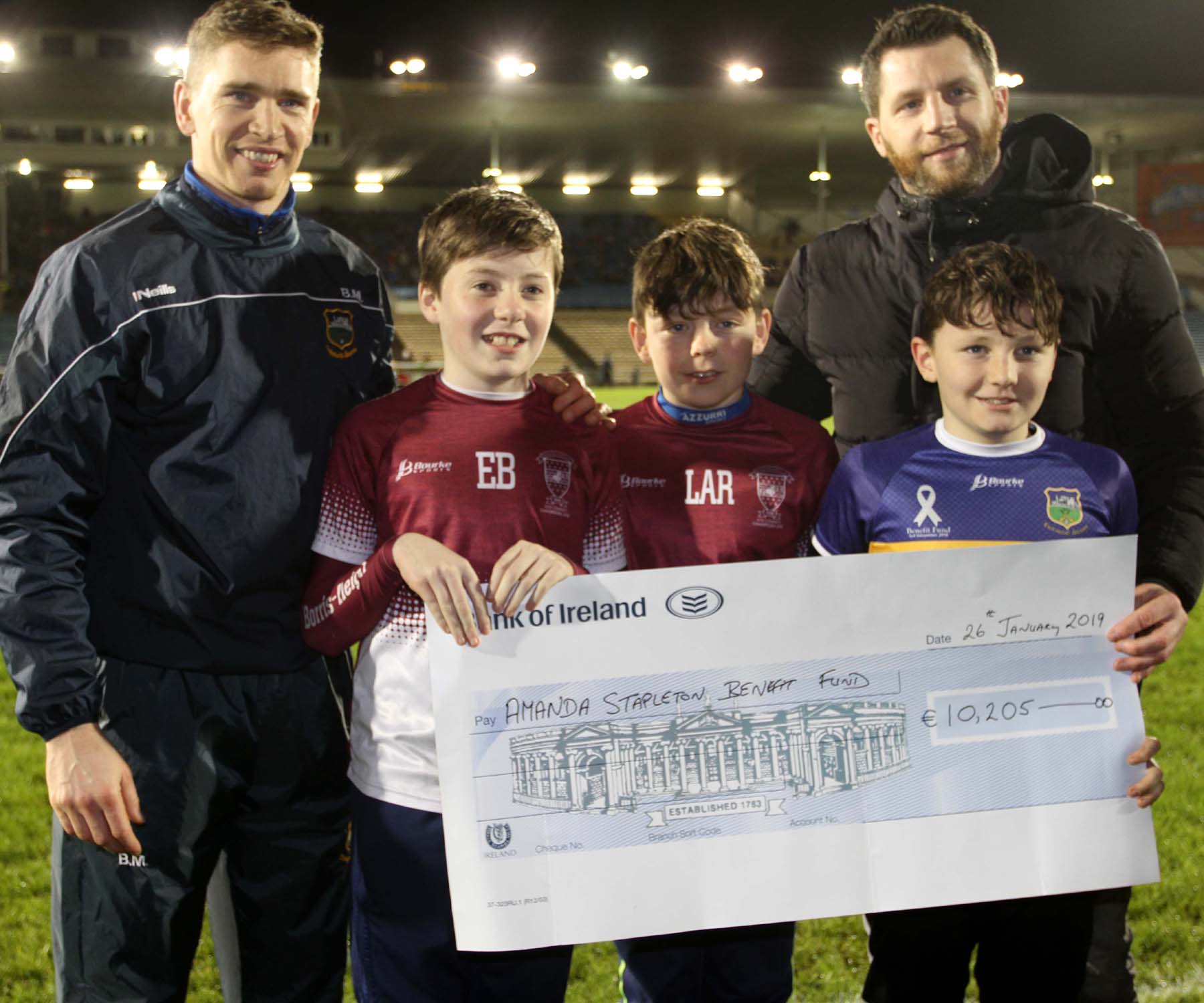 Next Kilruane MacDonaghs juveniles Senan O'Leary, Colin Gaynor and Dara Gaynor joined Jerome Cahill as he presented Seamus Hennessy Snr. with the share of the proceeds for the Running for Josie fund.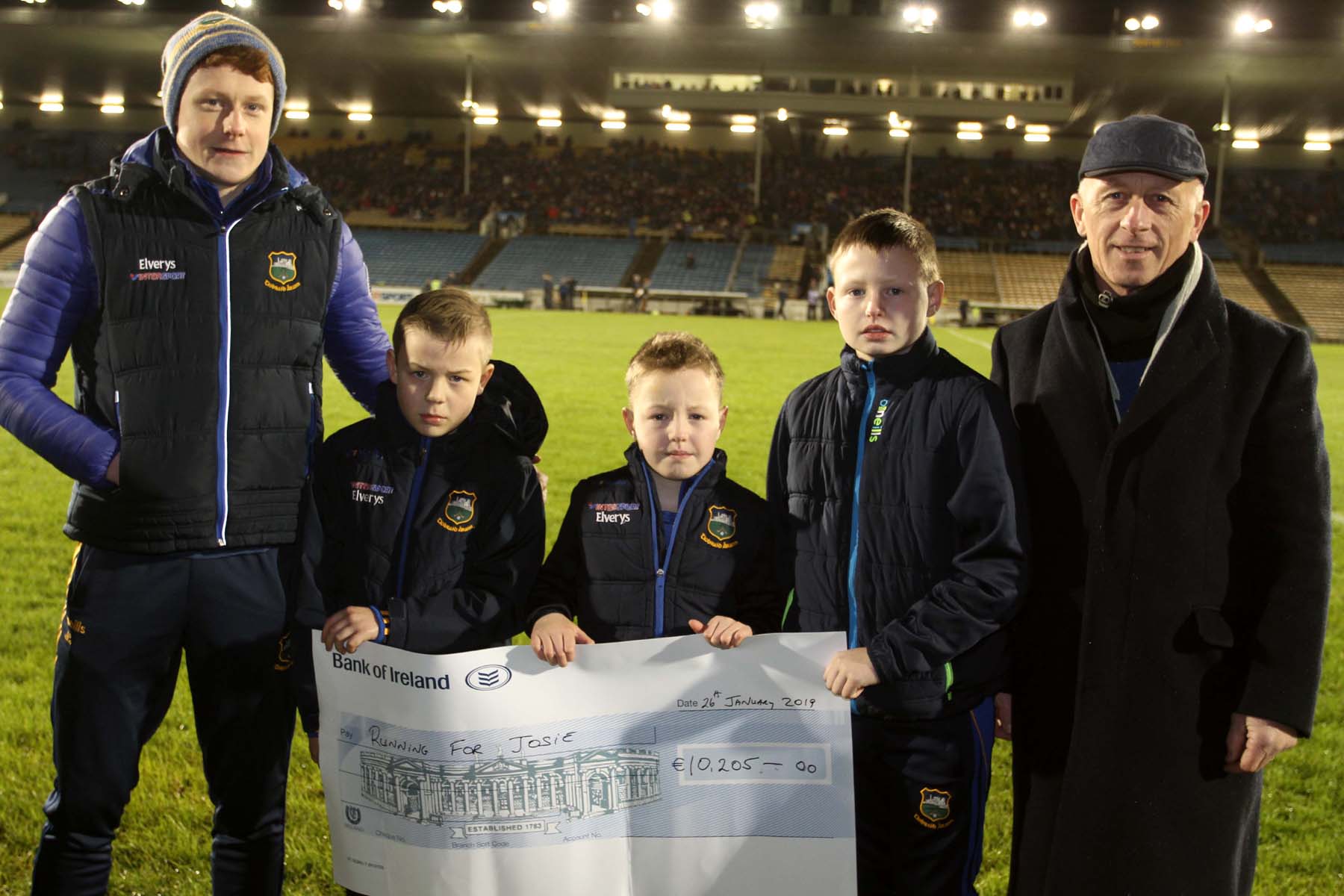 Congratulations to the Tipp hurlers once again on this wonderful initiative. Photographs courtesy Bridget Delaney.
REFEREES
Best wishes to our referees on inter-county duty this weekend. Sean Lonergan (Moyle Rovers) will take charge of the Allianz Football League Roinn 2 fixture between Cork and Kildare, while Johnny Ryan (Boherlahan-Dualla) will preside over the Allianz Hurling League Roinn 2A tie between Meath and Antrim.
MUNSTER CONVENTION
Congratulations to Ger Ryan (Templederry Kenyons) left, who was elected as Vice-Chairman of Munster Council last Friday night.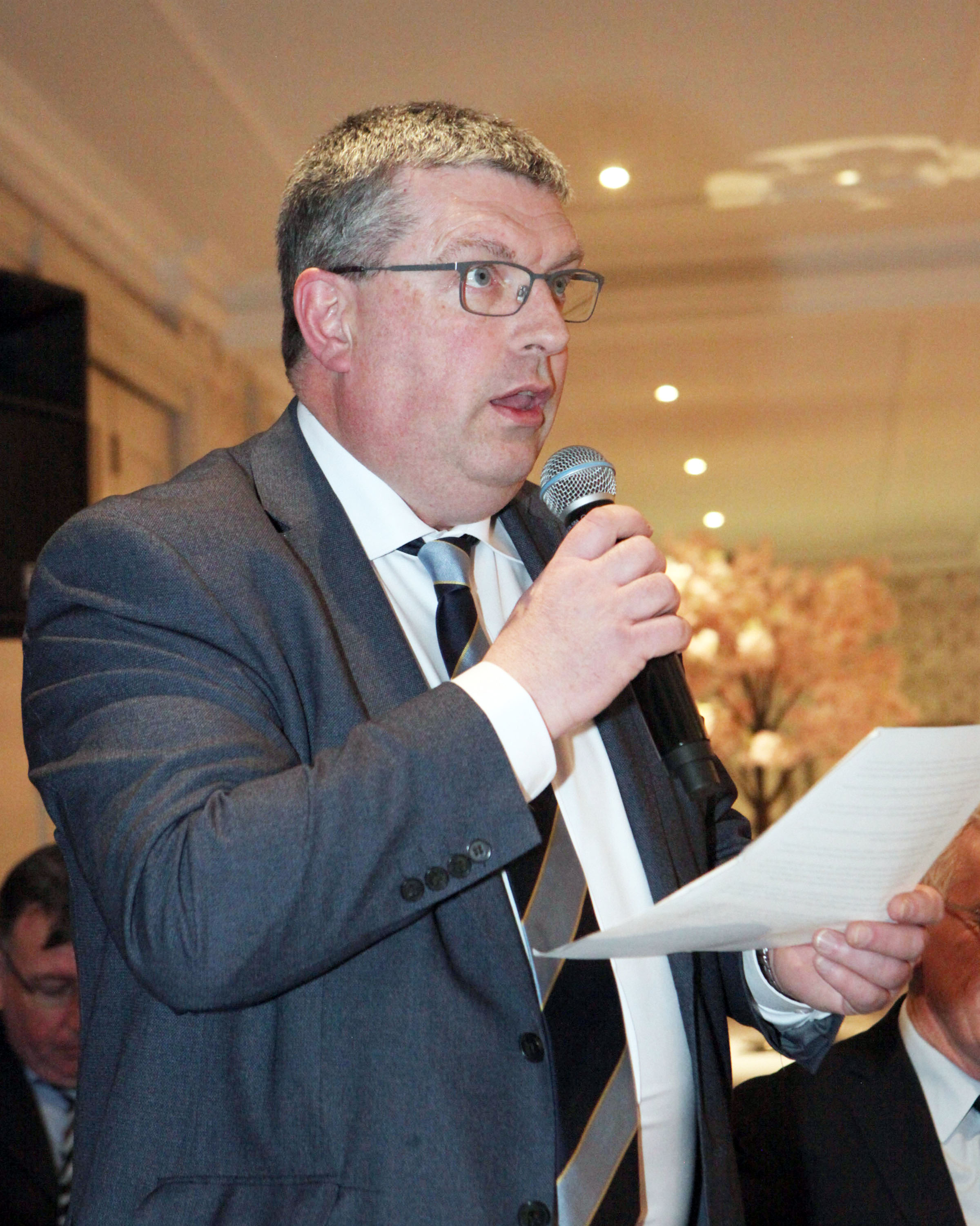 This is a wonderful honour for Ger, his family and club and indeed the county. Ger served as Tipperary Co. Board PRO following his tenure as chairman of Tipperary Supporters Club. Following his stint as county pro, Ger went forward and served the Munster province as PRO with equal distinction for a three-year term. Currently Ger is Munster delegate for Tipperary and will relinquish that position now that he is vice chairman. Ger has also worked on many committees in Croke Park some of which he has served as chairperson. Ger is pictured below with his family and Tipperary delegates at the convention.
We wish Ger every success in his term as Munster Council vice-chairman and offer him the full support of all the county. Photographs courtesy Ed Donnelly.
COUNTY CHAMPIONSHIP DRAWS
The draws for the Tipperary Water Co. Senior and Intermediate hurling and football championships were made live on Tipp FM from the Thurles Sarsfields Centre on Monday night and resulted as follows;
Senior Hurling – Dan Breen Cup
Group 1 – Nenagh Éire Óg, Loughmore-Castleiney, Upperchurch-Drombane and Burgess
Group 2 – Toomevara, Clonoulty-Rossmore, Borris-Ileigh and Moycarkey-Borris
Group 3 – Thurles Sarsfields, Kilruane MacDonagh's, Éire Óg Annacarty-Donohill and Killenaule
Group 4 – Kiladangan, Drom-Inch, Roscrea and Portroe
Seamus Ó Riain
Group 1 – Carrick Swan, Templederry Kenyons, Lorrha-Dorrha and Thurles Sarsfields
Group 2 – Silvermines, Holycross-Ballycahill and Newport
Group 3 – Mullinahone, Ballina and Ballingarry
Group 4 – JK Bracken's, Clonakenny, St. Mary's and Cashel King Cormacs
Intermediate Hurling
Group 1 – Ballinahinch, Moyne-Templetuohy and Kilsheelan-Kilcash
Group 2 – Shannon Rovers, Drom-Inch, Galtee Rovers and Knockavilla-Donaskeigh Kickhams
Group 3 – Borrisokane, Gortnahoe-Glengoole, Cappawhite and Boherlahan-Dualla
Group 4 – Moneygall, Sean Treacy's, Lattin-Cullen Gaels and Kiladangan
Group 5 – Golden-Kilfeacle, Ballybacon-Grange and Moyle Rovers
Senior Football
Group 1 – Clonmel Commercials, Arravale Rovers, Galtee Rovers and Moyne-Templetuohy
Group 2 – Ardfinnan, Ballyporeen, JK Bracken's and Kiladangan
Group 3 – Loughmore-Castleiney, Kilsheelan-Kilcash, Cahir and Aherlow Gaels
Group 4 – Moyle Rovers, Killenaule, Éire Óg Annacarty-Donohill and Upperchurch-Drombane
Intermediate Football
Group 1 – Golden-Kilfeacle, Moyle Rovers, JK Bracken's and Loughmore-Castleiney
Group 2 – Borrisokane, Clonmel Commercials, Cashel King Cormacs and Moycarkey-Borris
Group 3 – Grangemockler-Ballyneale, Rockwell Rovers, Clonmel Óg and Fr. Sheehy's
Group 4 – Drom-Inch, Clonoulty-Rossmore, Carrick Swan and Fethard
POST PRIMARY SCHOOLS
Commiserations to Thurles CBS whose interest in the Dr. Harty Cup U19 A ended last Saturday as they lost out to Christian Brothers College, Cork in the semi-final 2-12 to 0-13.
In the Corn Thomais Mhic Choilm 19 B hurling semi-final commiserations also to Cashel C.S. will went down 1-13 to 0-14 to Árdscoil Uí Urmaltaigh Bandon.
There was more positive news on Monday in the Corn Risteard Ui Mhathuna 19 C hurling semi-final, as Borrisokane C.C. reached the final following a 3-17 to 2-8 defeat of Coláiste An Phiarsaigh Glanmire. Best wishes to Borrisokane C.C. who will now play St. Anne's Community College Killaloe in the final.
GAELTACHT SCHOLARSHIPS
The following will be the procedure for obtaining a Gaeltacht Scholarship from Coiste Chontae Thiobraid Árann in 2019.
The scholarships are confined to 2nd Year, TY and 5th Year Students in 2019 and previous recipients of Tipperary GAA Gaeltacht scholarships cannot apply in 2019.
Students should immediately book a course directly from one of the three nominated Munster Irish Colleges on the application Form. This should be done ASAP as popular dates are booked out quickly.
Students wishing to secure a scholarship from Tipperary GAA should complete the attached application form and submit it through their own local GAA Club.
The secretary of the GAA Club must sign the form and attach a reference letter supporting the applicant's application before returning it to the Co Rúnaí. Please note the club recommending the successful applicant will be contributing €75 to the scholarship along with the Division, Co Board and Munster Council.
Interviews for the scholarships will be held in Lár na Páirce during February to establish each candidate's suitability.
Once the student is notified that they have been successful they must secure a receipt for their fee payment from the Irish College where they have registered.
Once this receipt is received by the Co Rúnaí the scholarship cheque for €300 will be posted out directly to the student's home.
The closing date for the receipt of Gaeltacht Scholarship applications is Friday, February 8th, 2019.
THIRD LEVEL COLLEGES COMPETITIONS
The following is a short recap of last week's action in the Electric Ireland HE GAA Fitzgibbon Cup.
In Group A, UCC made it two wins out of two, to reach the quarter-finals when defeating UCD 2-21 to 1-13 in the Mardyke. Mark Kehoe (Kilsheelan-Kilcash) was in great form scoring 1-4 for UCC with Killian O'Dwyer (Killenaule)and Paddy Cadell (JK Brackens) both introduced in the second half. For UCD Brian Hogan (Lorrha-Dorrha) and Michael Purcell (Thurles Sarsfields) both started with Hogan scoring 1-1 from placed balls while Purcell scored 0-1 from play. His brother Rory joined proceedings in the second half and he too scored 0-1 from play. Stephen Quirke (Moyle Rovers) was another introduced for UCD.
In the other match in the group NUIG knocked out defending champions UL on a 1-19 to 0-17 score line. Shane Hennessy (Nenagh Éire Óg) was again in goal for NUIG with Conor Sheedy (Roscrea) up front and on the score board with a point from play. A disappointing outcome for UL who had Barry Hogan (Kiladangan) in goal and Jack Shelly (Mullinahone) and Jake Morris (Nenagh Éire Óg) further up the field with both scoring 0-1. Next up it's the clash of UCC v NUIG and UCD v UL.
There were also two games in Group B and first up the tie which saw Limerick IT also progressing to the quarter-finals when seeing off the Garda College 4-24 to 0-12. Rian Doody (Cappawhite) with 0-3 right and Robert Byrnes (Portroe) with 0-2 were also joined on the starting fifteen for LIT by Sean Ryan (Sean Treacy's). For Garda, Kevin Slattery (Gortnahoe-Glengoole) was again among the scorers with 0-2 (1f) while Joey O'Keeffe (Clonoulty-Rossmore) and Aidan Ryan (Thurles Sarsfields) were again in the inside back line. Michael Brislane (Toomevara) saw his first taste of action this year when introduced in the second half.
In the other game IT Carlow with Tommy Nolan (Drom & Inch) on board with 0-3 from play remain in the hunt following their 0-24 to 1-8 defeat of TCD. Gerry Kelly (Borris-Ileigh) also had his first taste of Fitzgibbon action and duly delivered with a point from play when brought on in the second half. TCD had no Tipp player on the field in this fixture.
In Group C, a three-team group there was just the one game with DCU Dóchas Éireann in their second match collecting a successive victory as they defeated CIT 0-23 to 0-12 and will go through to the next round as group winners. There is no Tipp representative with DCU while for CIT Enda Heffernan (Clonoulty-Rossmore) started at centre back and Andrew Coffey (Nenagh Éire Óg) came on in the second half to score a point from play. The final group game will be between CIT and WIT with the winner going through.
All remaining group games will be played this week with the quarter-finals down for decision on Thursday, February 7th.
CLUB OFFICER TRAINING
The County Development Committee has held successful and well-attended training nights for Club Officers in all 4 divisions over the past 2 years. This year, to cater for those unable to attend previously and for new club officers, just one night will be held as follows next Wednesday, February 6th, at 7.30pm in The Anner Hotel, Thurles.
Format: The programme will commence at 7.30pm with a general gathering of all officers. Following a cup of tea, representatives will then break into different groups to focus on their own roles in the club. The programme will run for approx. 2½ hours.
Who should attend? There will be separate presentations for Club Chairpersons, Secretaries, Treasurers and PRO's and officials from adult clubs and juvenile clubs are invited.
Facilitators: The programme will be conducted by 4 experienced facilitators from outside the county.
Content: The Club Leadership Development Programme is designed to provide GAA Club Officers with the basic knowledge and core leadership skills required to fulfil their roles effectively. It will help them
Gain a better understanding of what their role involves
Develop basic leadership, management and communication skills
Experience increased role satisfaction
Have an awareness of where to access resources and supports
Be able to share ideas and solve problems with fellow officers
Be better prepared for future roles in the Association
Will club secretaries please advance a list of names and roles of those who will be attending, by Wednesday January 30th to the contacts following below.
The development committee are looking forward to your support, Denis Floyd, Secretary Co. Development Committee 087-9355750 dfloyd@eircom.net and PJ Maher, Co. Development Officer 087-2489064 pjmaher3000@yahoo.ie
HURLBALL TOURNAMENT
The following is notice of a Hurlball tournament which will take place in Holycross-Ballycahill GAA Centre on Sunday, February 10th. Entry is free and is open to all boys born in 2007 and 2008. The tournament is a great way to develop both sides for hurling where the emphasis is on enjoyment, fun and participation. The closing date for entries is Thursday 31st January.
The following are the rules which will be applied on the day
Use hurley and racquetball
Every second serve
The ball can bounce twice before being returned.
Serve must strike front wall first and pass the short line before bouncing.
Goggles must be worn (Will be provided on the day if required).
All matches are 8 minutes- whoever is leading at this stage wins.
Final is up to 15 points.
As stated above closing date for entries is Thursday January 31st. Entries to be submitted to Andy Ryan GDA via text or email 087 9090985 andy.ryan.gda.tipperary@gaa.ie After the closing date a draw will be made and entrants will be emailed or text exact match timetable.
If any participations would like to practise before the competition commences, the alley will be free and open on Thursday and Friday 7th and 8th of February, and this can be booked through Donal Ryan 087 9663959.
Any further queries contact Andy Ryan. This year's Hurlball Tournament will be sponsored by Stakelums Office Supplies, Thurles.
TIPPERARY SUPPORTERS CLUB
To join the Tipperary Supporters Club please do so at www.tippsupportersclub.com or by calling Jim Reidy, Membership Officer on 086 3580718.
The membership pack includes the following benefits:
A specially-designed Tipperary Supporters Club pen with stylus for use on touch-screen devices
All members are entered into a prize draw for championship match tickets for all Tipperary Senior games
2019 Car Sticker
Text alerts for all League and Championship team news
Regular news to your email about all the latest in Tipperary GAA circles
FRIENDS OF TIPPERARY FOOTBALL
Membership for the Friends of Tipperary Football for 2019 is now available and costs only €20. There are some great prizes to be won throughout the year by becoming a member. The Friends are a fantastic group that help with the development of Tipperary Football. To join please go to www.friendsoftipperaryfootball.com
TIPPERARY GAA CLUB ALL COUNTY MATCH PASS 2019
Again, a reminder that the match pass for 2019 is currently on sale at the price of €120. This pass gives you access to all adult matches within the County during 2019. Passes can be ordered through the GAA Office Slievenamon Rd., Thurles or by contacting 0504 22702 where you can pay over the phone.
TIPPERARY GAA SCENE
Information concerning all areas in the GAA will appear in this section in the future. If you wish to include any item of interest in future articles, please e-mail at pro.tipperary@gaa.ie on or before 3.00pm on Monday. Visit the Tipperary GAA web site at http://tipperary.gaa.ie to keep up to date with all the latest news in Tipperary GAA circles.