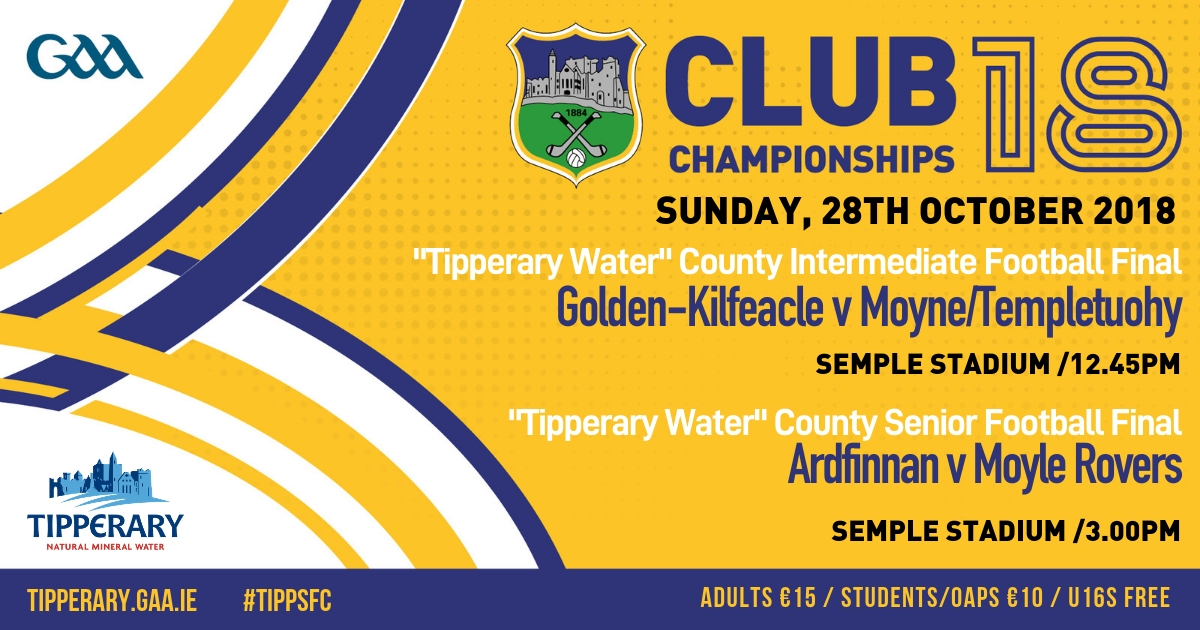 By: PRO Joe Bracken
COUNTY SENIOR HURLING FINAL DAY
The Tipperary Water county senior hurling final certainly lived up to expectations delivering a great contest between two competitive teams. After the close of play however, congratulations go to Clonoulty-Rossmore led by their captain John O'Keeffe who bridged a 21 year gap by lifting the Dan Breen cup for the fourth time in the club's history. The final score was Clonoulty-Rossmore 0-23 Nenagh Éire Óg 2-13 and congratulations also to Timmy Hammersley on being named 'man of the match' which was sponsored by John Quirke Jewellers, Cahir.
In the day's opening match, the Tipperary Water Seamus Ó Riain Cup Final congratulations go to Burgess who edged out Moycarkey-Borris 1-11 to 0-13 to close their season with some silverware on what was an historic day for the club. Shane Maher (Burgess) rolled back the years to be named 'man of the match' and he too was presented with his award by John Quirke.
Commiserations to both Nenagh Éire Óg and Moycarkey-Borris as they tried exceptionally hard in their respective finals, but alas it wasn't to be their day.
COUNTY SENIOR FOOTBALL FINAL DAY
The main event this weekend is the Tipperary Water county senior football final between south rivals Ardfinnan and Moyle Rovers which throws in at Semple Stadium at 3pm. In terms of county titles Ardfinnan edge the balance 8 to 7. The last time both sides met in the final was back in 1998 with Moyle Rovers winning their third county title which also kick started the first of three in a row titles.
Since then Moyle Rovers have had the greater success on county final day, appearing in 10 finals (including '98) winning 5 and losing 5. Their last success was in 2009 when Declan Browne earned the man of the match award. In more recent times they have been unfortunate losing the 2011, '15 and '16 finals by small margins; no doubt they will be looking to make amends on Sunday.
Ardfinnan though will have other ideas and will harbour title aspirations of their own as they look to add to their tally of titles. Since that '98 meeting Ardfinnan have graced the final on one other occasion in 2005 which was also their last success when defeating Loughmore-Castleiney in a low scoring contest.
The opening fixture on Sunday is the Tipperary Water county intermediate football final between Golden-Kilfeacle and Moyne-Templetuohy which gets under way at 12:45pm.
Best wishes to all clubs in their finals on Sunday.
We send best wishes to our referees and their officials on Sunday also. In the senior final, Seán Everard (Moyne-Templetuohy) takes charge of his first senior county final while Derek O'Mahoney (Ardfinnan) will rule over the intermediate final.
Admission on Sunday is as follows, adult €15, OAP's/students €10 and U16s go free.
JUBILEE TEAM
On Sunday next between the intermediate and senior finals we will welcome the Fethard jubilee team who were the county champions of 1993.
CLUB FIXTURES
There was one other county final down for decision last weekend as Knockavilla-Donaskeigh Kickhams and Drom-Inch met in the Tipperary Water County Minor (B) Football final. In what was a repeat pairing of the hurling equivalent congratulations go to Knockavilla-Donaskeigh Kickhams who prevailed on Saturday denying Drom & Inch the double.
In the Tipperary Water Junior 'A' Hurling semi-final replay Boherlahan-Dualla reached the final following their win over Clonoulty-Rossmore.
A quick review of last week's results is as follows;
Tipperary Water County Senior Hurling Championship Final
Clonoulty-Rossmore 0-23 Nenagh Éire Óg 2-13
Tipperary Water Seamus Ó Riain Cup Final
Burgess 1-11 Moycarkey-Borris 0-13
Tipperary Water County Junior (A) Hurling Championship Semi-Final Replay
Boherlahan-Dualla 0-16 Clonoulty-Rossmore 0-13
Tipperary Water County Junior (A) Football Championship
Quarter-final – Mullinahone 0-9 Cappawhite 0-7
Semi-final – Ballylooby-Castlegrace 0-9 Portroe 0-7
Semi-final – JK Brackens 2-10 Mullinahone 2-10 (AET)
Tipperary Water County Junior (B) Football Championship Semi-Final
Solohead 3-11 Killenaule 1-9
Tipperary Water County Minor (B) Football Championship Final
Knockavilla-Donaskeigh Kickhams 2-8 Drom-Inch 0-9
Along with the senior and intermediate football finals on Sunday there are two other county finals to be decided this weekend. The Tipperary Water Junior A hurling final between Boherlahan-Dualla and Skeheenarinky goes ahead in New Inn on Saturday afternoon as does the Tipperary Water Junior B football final between Moyne-Templetuohy and Solohead which will go ahead in Clonoulty. The other outstanding county fixture is the replay of the Tipperary Water Junior A football semi-final between JK Brackens and Mullinahone which will also be played on Saturday.
Fixture details for the above games are as follows;
Tipperary Water County Senior Football Championship Final
Sun, 28 Oct, Venue: Semple Stadium, Thurles, Ardfinnan v Moyle Rovers 15:00, Ref: Sean Everard
Tipperary Water County Intermediate Football Championship Final
Sun, 28 Oct, Venue: Semple Stadium, Thurles, Golden-Kilfeacle v Moyne-Templetuohy 12:45, Ref: Derek O'Mahoney
Tipperary Water County Junior (A) Hurling Championship Final
Sat, 27 Oct, Venue: New Inn, Boherlahan-Dualla v Skeheenarinky 14:30, Ref: Phil Ryan
Tipperary Water County Junior (A) Football Championship Semi-Final (replay)
Sat, 27 Oct, Venue: Leahy Park Cashel, JK Brackens v Mullinahone 14:30, Ref: Padraig Skeffington
Tipperary Water County Junior (B) Football Championship Final
Sat, 27 Oct, Venue: Clonoulty, Moyne-Templetuohy v Solohead 12:30, Ref: Martin Doyle
At divisional level the Centenary Agri Mid Senior Hurling Final replay between Loughmore-Castleiney and Thurles Sarsfields has been refixed for Saturday next October 27th in Templetuohy with a 4pm start time.
There is also action in West and South senior football and U21 hurling action across the divisions.
To keep up to date with all fixtures and results please check https://tipperary.gaa.ie/fixtures-results/
U21 TEAM OF THE YEAR
The 2018 Bord Gáis Energy U21 hurling team of the year was announced last week with five Tipperary players being recognised for their performances in the championship. Congratulations to Killian O'Dwyer (Killenaule), Brian McGrath (Loughmore-Castleiney), Robert Byrne (Portroe), Ger Browne (Knockavilla-Donaskeigh Kickhams) and Jake Morris (Nenagh Éire Óg) on making the team selection.
Further to that both Ger Browne and Jake Morris made the shortlist of three nominees for the 2018 Bord Gáis Energy U21 player of the year, with Ger Browne announced as the winner, congratulations to Ger on his achievement.
TIPPEARY SENIOR FOOTBALL
Congratulations to Conor Sweeney (Ballyporeen) on being appointed Tipperary senior football captain for the 2019 season. It is a great honour for Conor and his club and we send best wishes to him and all the team in the year ahead.
HURLING/SHINTY
Ireland was defeated by Scotland in a Senior Hurling/Shinty match last Saturday in Bught Park in Inverness on a score line of 1-11 to 1-9. The Ireland team included one Tipperary player Jason Forde (Silvermines) and the team was jointly managed by William Maher (Ballingarry) and Conor Phelan (Kilkenny).
POST PRIMARY ACTION
The Dr. Harty Cup Under 19A Hurling competition got up and running last week with both Tipperary schools in action going down to their opponents. Nenagh CBS Secondary lost out to Coláiste Cholmáin Fermoy 3-18 to 1-11 in Group A while in Group C Our Lady's Secondary School Templemore suffered a similar fate losing to John the Baptist Community School 2-22 to 1-13.
In the Dean Ryan Cup (Under 16.5 A Hurling) semi-final Our Lady's Templemore lost out to De La Salle Waterford 1-12 to 1-10 on Monday last. Thurles CBS will now meet De La Salle in the final this Friday, October 26th at 1:30pm with venue to be confirmed.
The first round of the Corn Ui Mhuiri Senior (Under 19 A Football) takes place this week with one Tipperary school in Group B action this Wednesday, October 24th as High School Clonmel take on Coláiste Choilm Ballincollig at 1:30pm in Fermoy.
For fixtures / results and match reports, check out the Munster GAA Post Primary Schools web site at www.munstergaapps.ie
BENEFIT MATCH
The final push is on in preparations for Amanda Stapleton benefit match when Tipperary and Kilkenny legends come together in Borrisoleigh on Saturday week, November 3rd at 6pm in Bishop Quinlan Park, Borrisoleigh.
Tickets are on sale from members of the Borris-Ileigh GAA club as well as outlets in Borrisoleigh, Lar na Páirce in Thurles and surrounding areas all for €20 and U16's go free. Tickets are also available online now and unfortunately, tickets will be limited so make sure to get yours now to avoid disappointment.
Online details as follows;
https://secure.tickets.ie/Listing/EventInformation/39036/amanda-stapleton-benefit-match-tipperary-v-kilkenny
There will be a marquee set up with live bands 'till late to entertain supporters. There is also a Club Colours 5km Fun Run at 11am on the day at the Track Attack course in Borrisoleigh.
We would encourage everyone to make an effort to support this worthy cause.
HANDBALL
Tipperary adult players have reached 8 All-Ireland finals in the doubles grades. In the Golden Masters Kevin Mullins and Adrian Johnson (Clonmel) were first into action last Saturday but unfortunately lost out to the Meath pairing of Tom Sheridan and John Leahy.
All the other finals will be played this coming weekend. In Crinkle in Offaly this Saturday, October 27th, Billy and Pakie Mullins (Clonmel) will contest the DMAD final. Then on Sunday at the same venue John Ferncombe and Sean Maher (Cashel) will be in action in the Junior Doubles and in SMAD John O'Donoghue and David Moloney (Cashel) will contest that final.
In Talbots Inch in Kilkenny Brendan Ryan and Willie Bourke (Ballina) will step onto court in the GMBD while in RMD Tipperary will be represented by Paddy Collins and Jim Ryan (Ballina/Silvermines).
Moving to Garryhill in Carlow in the Ladies Junior Doubles Sinead Meagher and Laura Shinnors (Nenagh/Lahorna) will be up against Dublin opponents and in Masters A Doubles Paul Mullins and Eddie Farrell (Clonmel) are up against Gavin Buggy and John Roche from Wexford.
Best wishes to all Tipperary players in the finals this weekend.
DIVISIONAL GAA PROGRAMMES ONLINE
The Mid-Tipp divisional final programmes are now live on the Tipperary Studies website at the links highlighted in the next paragraph.
The first link leads to the collection in general while the other two links lead into the mid hurling and football sections http://tipperarystudies.ie/sport/
http://tipperarystudies.ie/mid-tipperary-senior-hurling-finals/
http://tipperarystudies.ie/mid-tipperary-senior-football-finals/​
All programmes in the Tipperary Studies collection for the four divisions are now scanned, as well as 300 match reports from the three local press titles in the county.
Over the next few weeks, the collections from North, South and West Tipperary divisions will also go live, once uploaded to the Tipperary Studies website.
FAIR OF SPORTING MEMORABILIA
On Bank Holiday Monday next, October 29th from 12 noon to 3pm there will be a fair of sporting memorabilia at the South Tipperary GAA Centre adjoining Clonmel Sportsfield on the Western Road opposite South Tipperary General Hospital.
Collectors and sellers are cordially invited and sales positions, free of charge are to be booked in advance by contacting Seán Nugent 087-2669304 or email sean.nugent.cb@gaa.ie
Bar facilities, tea and coffee available on the day and admission is free of charge
HEALTH & WELLBEING

Tipperary Health and Wellbeing Committee will host a Safe Talk (suicide alertness for everyone) on November 14th next in Our Lady's School Templemore Recreation Room. Registration commences at 5.30pm and admission is free but pre-booking is essential.
Please contact Cora Moroney Chairperson Tipperary Health & Wellbeing email chair.hwc.tipperary@gaa.ie 089 76388039 and you may also phone or text Seamus Delaney – 087 6396698.
This talk will help participants to provide practical help to persons they meet who may experience thoughts of suicide.
TIPPERARY HURLING CLUB, NEW YORK
The County Tipperary Hurling Club New York will hold their 2018 Celebratory Banquet on Saturday, December 8th at Lake Isle Country Club, 660 White Plains Road, Eastchester, NY 10709.
Guest of Honour is Pa Ryan (Ardfinnan) with Honouree Special Guest – Brendan Cummins (Ballybacon-Grange/Ardfinnan) and also Special Guests – Liam Cahill (Ballingarry) Tipp U21 Hurling Manager and Colin English (Fr. Sheehy's) Tipperary U21 Captain.
The Tipperary Man of the Year is Tommy Fogarty (Clonmel) and the Tipperary Hurler of the Year is Martin ONeill (Mount Sion, Waterford).
Information and ticket details for the banquet can be had from Dance Chairpersons: Brendan Maher (646) 361-5544 brendanmaher50@gmail.com and Stephen Carty (914) 899 3130 or any committee member – Michael Sheedy, Toby Kavanagh, Michael Maher, Owen Cummins, Mike Kennedy, Mike Ryan and Mary Ryan.
Platinum, Gold or White Journal contract details can be made with the Journal Chairman – Tommy Kavanagh (914) 309 2363 or any of the journal committee; Pat Costigan, Pa Ryan, Geraldine Stapleton, Martin Dunne, Joe Grace, Donnacha O'Dwyer and Therese Crowe.
All journal ads need to be returned before November 16th or email thomas.kavanagh@e-frontiers.com
President is Owen Cummins (646) 996 0104 and Vice President is Jim Keane (914) 643 8062.
A great night's entertainment is guaranteed for all.
TIPP CONNECTION

As mentioned last week Toomevara man James McGrath will manage Bennettsbridge to the Kilkenny SH final against Ballyhale Shamrocks on Sunday next.
GAA SEASON TICKET
The 2019 GAA Season tickets are now on sale and will once again provide fantastic value for supporters in next year's league and championship. Adult ticket will cost €120 and U16's €30. This will allow the ticket holder access to discounted tickets for the championship group stages in your code.
Benefits of the GAA Season Ticket include, access to an All-Ireland Final ticket (subject to meeting terms and conditions), AIB GAA club championship finals on March 17th, all Allianz league matches again in your code, including play offs, semi-finals and finals and also your county's opening championship fixture of 2019.
The Adult Club+ version ticket costs €200 and also includes club championships fixtures in the chosen county and a guaranteed All-Ireland final ticket should your county qualify, again terms and conditions apply.
All tickets are subject to availability /terms and conditions, for more information see gaa.ie/seasonticket
TIPPERARY GAA SCENE
Information concerning all areas in the GAA will appear in this section in the future. If you wish to include any item of interest in future articles, please e-mail at pro.tipperary@gaa.ie on or before 3.00pm on Monday. Visit the Tipperary GAA web site at http://tipperary.gaa.ie to keep up to date with all the latest news in Tipperary GAA circles.