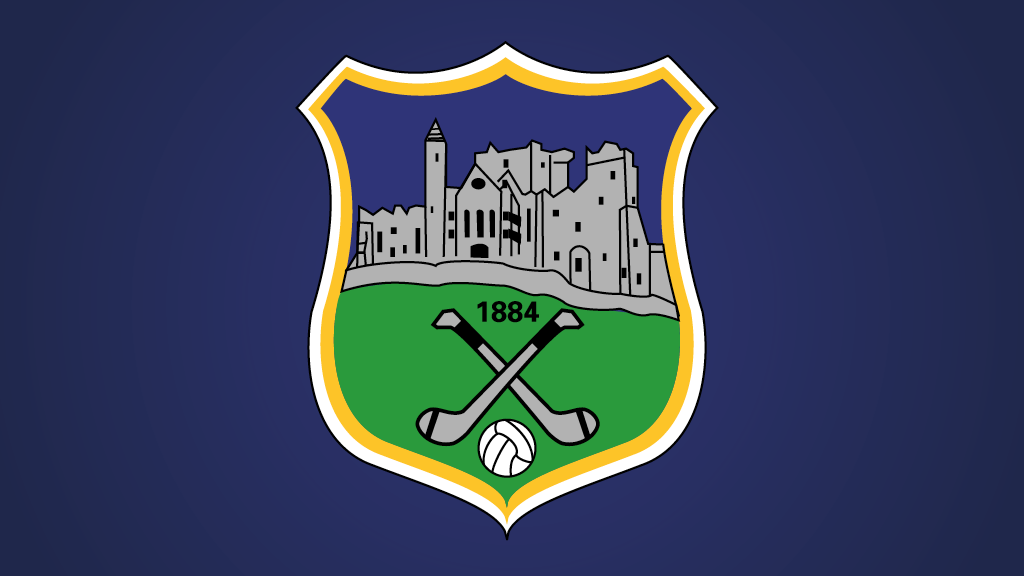 By PRO Joe Bracken
CLUB FIXTURES
The FBD Insurance County Club Hurling Championships took centre stage last weekend, as it will next weekend, as the knockout series reaches the penultimate round following the various set of results. In the FBD Insurance County Senior Hurling Championship the North division has bridged a 47-year gap by providing the four semi-finalists of the Dan Breen Cup. On Saturday last, Kiladangan were the first side to make it to the last four following their six-point win over Toomevara.  Nenagh Éire Óg followed in hot pursuit as they comfortably saw off the Éire Óg Annacarty-Donohill challenge in The Ragg. Sunday then arrived with the remaining semi-finals down for decision. The North grip on proceedings continued as Borris-Ileigh withstood a late Drom and Inch surge to seal their place with a two-point win. And finally, in Templetuohy, Kilruane MacDonaghs dethroned the 2018 champions Clonoulty-Rossmore to make it an all North affair in the semi-final pairings.
So, on Sunday next, October 20th, Semple Stadium will host a double header with Nenagh Éire Óg and Kiladangan getting proceedings under way at 1:45pm followed at 3:30pm by the meeting of Borris-Ileigh and Kilruane MacDonaghs.
In the remaining FBD Insurance Seamus Ó Riain Cup quarter finals, Templederry Kenyons overcame Cashel King Cormacs to progress to the semi-final where they will meet Holycross-Ballycahill on Saturday next, October 19th in Borris-Ileigh at 1:30pm. In the other quarter-final JK Brackens defeated Ballingarry and will now play Mullinahone in the second semi-final also on Saturday at 3:30pm in Littleton.
The FBD Insurance County Intermediate hurling semi-finals and relegation semi-finals will go ahead this weekend with a lot at stake for all clubs involved. In the semi-finals Kiladangan will meet Golden Kilfeacle and Kilsheelan-Kilcash will meet Sean Treacys. In the relegation semi-finals, Gortnahoe-Glengoole play Galtee Rovers-St. Pecaun while Ballybacon-Grange will meet the loser of the Lattin-Cullen Gaels/Ballinahinch relegation quarter-final.
The results from last weekend are as follows
FBD Insurance County Senior Hurling Championship Quarter Final
Kiladangan 3-12 Toomevara 1-12
Nenagh Éire Óg 4-15 Éire Óg Annacarty-Donohill 1-8
Borris-Ileigh 3-11 Drom-Inch 0-18
Kilruane MacDonaghs 1-23 Clonoulty-Rossmore 1-10
FBD Insurance Seamus Ó Riain Cup Quarter Final
Templederry Kenyons 3-20 Cashel King Cormacs 2-16
JK Brackens 1-23 Ballingarry 1-8
FBD Insurance County Intermediate Hurling Championship Quarter Final
Golden-Kilfeacle 0-20 Knockavilla-Donaskeigh Kickhams 2-13
Sean Treacys 1-17 Boherlahan-Dualla 0-14
Kiladangan 3-13 Shannon Rovers 1-11
Kilsheelan-Kilcash 1-25 Moyle Rovers 0-13
FBD Insurance County Junior (A) Hurling Championship Quarter Final
Clonoulty-Rossmore 3-23 Loughmore-Castleiney 0-20
Arravale Rovers 0-23 Thurles Sarsfields 0-16
Nenagh Éire Óg 2-14 Skeheenarinky 1-15
Toomevara 1-20 Carrick Davins 1-20 AET
FBD Insurance County Junior (B) Hurling Championship Semi Final
Borrisokane 2-16 Ballybacon-Grange 0-10
FBD Insurance County Junior (A) Football Championship Quarter Final
Portroe 3-11 Solohead 2-9
Mullinahone 3-11 Emly 3-5
The following are the county fixtures for the week ahead where the centre of attention will be focused on the FBD Insurance County Senior, Seamus Ó Riain and Intermediate Hurling Semi-Finals.
The first fixture is for this Wednesday, October 16th,
FBD Insurance County Junior (A) Hurling Championship Quarter-Final Replay
In Clonoulty at 19:30 Toomevara v Carrick Davins
This Saturday, October 19th the following fixtures are down for decision;
FBD Insurance Seamus Ó Riain Cup Semi-Finals
In Borrisoleigh at 13:30 – Templederry Kenyons v Holycross-Ballycahill
In Littleton at 15:30 – Mullinahone v JK Brackens
FBD Insurance County Intermediate Hurling Championship Semi-Final
In the Ragg at 13:30 – Kiladangan v Golden-Kilfeacle
In Leahy Park Cashel at 15:30 – Kilsheelan-Kilcash v Sean Treacys
FBD Insurance County Intermediate Hurling Championship Relegation Semi-Final
In Boherlahan at 14:00 – Gortnahoe-Glengoole v Galtee Rovers-St. Pecaun
FBD Insurance County Junior (A) Hurling Championship Semi Final
In Templederry at 16:00 – Arravale Rovers v Nenagh Éire Óg
FBD Insurance County Junior (B) Football Championship Quarter-Final
In Moneygall at 14:00 – Moyne/Templetuohy v Lorrha-Dorrha
Fixtures on Sunday next October 20th as follows;
FBD Insurance County Senior Hurling Championship Semi Finals
Semple Stadium, 13:45 Nenagh Éire Óg v Kiladangan
Semple Stadium, 15:30 Borris-Ileigh v Kilruane MacDonaghs
FBD Insurance County Intermediate Hurling Championship Relegation Semi-Final
12:00 Ballybacon/Grange v Lattin Cullen Gaels or Ballinahinch
Fixture Notes: Venue Cahir if Ballybacon Grange v Lattin Cullen. Drombane if Ballybacon Grange v Ballinahinch
FBD Insurance County Junior (A) Hurling Championship Semi-Final
12:00 Winner of Toomevara/Carrick Davins v Clonoulty/Rossmore
Fixture Notes: Venue If Toomevara v Clonoulty Rossmore, Holycross. If Carrick Davins v Clonoulty-Rossmore, Clonmel Sportsfield
FBD Insurance County Junior (B) Hurling Championship Semi Final
Páirc Ciocaim Dundrum 15:00 Drom-Inch v Golden-Kilfeacle
For results of all games and forthcoming county and divisional fixtures please check https://tipperary.gaa.ie/fixtures-results/
WEEKEND TICKET DETAILS
Tipperary GAA County Board will have a €20 weekend pass on offer for this weekend's round of County Club Championships.
There are several County Championship games down for decision, which take place this Saturday, 19th October and Sunday, 20th October in different venues around the county.
The pass can be purchased from gate checkers at all games on Saturday only or enquire at Tipperary GAA Office in Lar na Páirce up to 5.30pm this Friday, 18th October.
For those who do not wish to avail of the special weekend pass, the following will be admission prices for the FBD Insurance County Senior Hurling Semi-finals in Semple Stadium on Sunday: – Adults €15, OAPs/Students €10, U16s are free.
While in the FBD Insurance Seamus Ó Riain Cup on Saturday, single admission to each game will be Adults €10, OAPs/Students €8, U16s are free.
POST PRIMARY
The first round in this year's Dr. Harty Cup gets under way this week with three Tipperary schools in action from Tuesday. First into the fray then on Tuesday in Group C was Our Lady's Secondary School Templemore, who made a successful start to their campaign by defeating Árdscoil Rís Limerick 4-20 to 3-17.
In Group A, this Wednesday October 16th, at 1:30pm in Cappamore, Nenagh CBS take on John the Baptist Community School. Then, on Friday next October 18th in the same group, Thurles CBS meet Coláiste Cholmáin Fermoy in Clonmel Sportsfield at 1:30pm.
For all post primary fixtures and results please check https://munstergaapps.ie/fixtures-results/
TIPPERARY GAA YEARBOOK
The 2020 Tipperary GAA Yearbook is being compiled at present and the Yearbook committee is seeking articles and information for inclusion. Clubs that have accomplished any unique achievement in 2019 are requested to send through an appropriate article for inclusion.
The Yearbook committee are looking to all clubs to submit any obituaries of their deceased members in the last 12 months. The maximum number of words for an obituary is 150 and please include the club name and the years also, e.g. 1939-2019, as well as his/her G.A.A. achievements and a photograph of the deceased person.
The deadline for sending information is 6th November. Please e-mail information and photographs which must be named to John Smith, Secretary Tipperary Yearbook Committee at yearbook.tipperary@gaa.ie
Please note information must be submitted as outlined above and all articles, photographs etc will be acknowledged. If an acknowledgement is not received please contact the Yearbook Secretary at 087 9960710.
NOVEMBER GAA COUNTY BOARD DRAW
The November County Board Draw will take place on Friday, November 1st, in the Clough Inn, Cloughjordan with the Kilruane MacDonaghs GAA Club to coincide with the presentation of the October first prize to Eileen McCarthy, Ballycapple, Cloughjordan.
CONVENTION DATES
It's coming close to that time of year again and the following is a list of convention dates for your diary;
North Board Convention – Monday, December 2nd at 8pm
Coiste na nÓg Convention – Wednesday, December 4th
Friends of Tipperary Football – Wednesday, December 4th
Mid Board Convention – Friday, December 6th in The Ragg
West Board Convention – Sunday, December 8th in Dundrum at 6pm
South Board Convention – Sunday, December 8th at 4pm
County Football Convention – Thursday, December 12th
County Convention – Monday, December 16th in The Dome
Tipperary Supporters Club AGM in the New Year
CAMOGIE ALL-STARS
Best wishes to the Tipperary camogie players who received nominations for the 16th annual Camogie All-Stars Awards and banquet, sponsored by Liberty Insurance, which will be held in the Citywest Hotel, this Saturday night, October 19th.
Sabrina Larkin (Tipperary) made the Intermediate Player of the Year Shortlist for the Camogie Association/WGPA Players' Player of the Year Awards.
Tipperary received nine nominations for the Camogie All-Stars Awards 2019 shortlist, which are Caoimhe Bourke, Julianne Bourke, Karen Kennedy, Eimear Loughman, Clodagh Quirke, Mary Ryan, Cáit Devane, Ereena Fryday and Eibhlís McDonald.
Tipperary's Laura Shinners, Sabrina Larkin, Andrea Loughnane and Clodagh McIntyre all received nominations for this year's Camogie Soaring Stars Awards, also sponsored by Liberty Insurance.
WORKSHOP
The County Development Committee is running a workshop, 'Running AGM and Volunteer Recruitment' in the Anner Hotel on Wednesday, November 6th, which will be of huge benefit and assistance to clubs. Details of start time etc. to follow in the coming weeks.
BOOK RESEARCH INFORMATION SOUGHT
Jim Fogarty, author of two previous books, 'Dan Breen Cup' and 'The Cross of Cashel', is now working on a book on minor All-Ireland hurling finals (under 18). The 1934 final is causing Jim problems. Tipperary defeated Laois by 4-3 to 3-5, with a controversial goal in injury time and it appears that none of the match reports give an account of the scorer. If anyone can provide information or recollect being told the name of the goal scorer can you please contact Jim Fogarty, 086 1512946 jimkfog1@gmail.com
#GAAYOUTH FORUM 2019
The #GAAyouth Forum 2019 will take place on Saturday week 26th October 2019. The event is organised by the GAA Youth Reps for other young players. The Forum, run in partnership with Sky Sports, is free and will be fun and informative with a mix of interactive exhibitions, workshops, a youth congress, high profile speakers and a Q&A session.
With workshops designed for three specific age-grades (12 – 13; 14 – 15; 16 – 21 years), players will leave the Forum having learned invaluable tips and tools that will help them to develop as a player and as a person.
Registration is from 9.30am, the Forum commences at 11am and concludes at 4.30pm.
The closing date for applications was last Sunday and successful applicants will be informed by this Friday 18th October.
STARS IN THEIR EYES
The Tipperary GAA Supporters Club is hosting a fundraiser for the Tipperary Senior Hurling All Ireland Champions 2019 and Camogie Team by staging "Stars in Their Eyes" at The Dome, Semple Stadium, Thurles on Saturday November 9th.
We know they can do it on the pitch, but can they do it on the stage?
The show will include members of the present Tipperary Senior hurling and Senior Camogie team, former players, present management and County Board. The evening will be compered by the very high-profile sports presenter Marty Morrissey and celebrity judges will include sports pundit and former Tipperary goalkeeper Brendan Cummins, TV, radio and entertainment personality Mairead Ronan and Tipperary country singer Louise Morrissey.
A special guest performer will shortly be announced.
There are still some sponsorship opportunities available to businesses in Tipperary to be associated with this high-profile event and support the All-Ireland winning Tipperary Senior Hurlers holiday fund and also the Tipperary Senior Camogie Players fund.
Maximum publicity will be generated through club participation, an active social media campaign, Tipp FM (Camogie sponsors), Tipp Mid-West Radio, Beat South East Radio and all Tipperary newspaper media. The evening and its promotion will reach out to not alone hurling supporters but to all the people of Tipperary and beyond, so don't miss out.
The launch of this exciting event was held at the Dome, Semple Stadium on Monday 26th August 2019 and broadcasted on Tipp FM. Seamus Callanan, Captain of the victorious Tipp team attended along with Louise Morrissey.
Tickets are now available for what promises to be a great evening of celebration, entertainment and competition and are selling fast. They are available at Lar na Páirce Thurles, Elvery's Sports outlets in Thurles, Clonmel and Nenagh and through Eventbrite at this link: https://www.eventbrite.ie/e/stars-in-their-eyes-tickets-74711481051?aff=eand
Tickets are priced at €25 from above retail outlets and €28 through Eventbrite and early booking is advised.
For any queries and further details please contact any of the following: Billy Coman Secretary Tipperary Supporters Club bcoman52@gmail.com
Committee Members: Bernie Maher 0879509533, Christina Millea 0857522834 John Carew 0868317591.