Thiobraid Arann Coiste na Nog Scene – May 3rd 2016
The Féile Péil U 14 A tournament games were brought to conclusion on Friday evening last in Borrisoleigh. The prevailing weather conditions were what one would expect in mid February and not on April 22nd. Both semi finals took place simultaneously with the mid champions Durlas Og up against south kingpins Clonmel Commercials. With the stiff breeze to their backs Durlas Og commenced with great determination and were up by two points up mid way in the opening period 1-04 to 1-02.In the second period the Clonmel boys upped their performance adding a further three goals to take control. Durlas Og attack never gave up and with only seconds left in the game had the Clonmel net shaking for their second goal of the half but time was against them and they had to give way to their opponents on a concluding score of Clonmel Commercials 4-03 Durlas Og 3-05.
In the other semi contest the north champions Inane Rovers edged ahead of the west combination Galtee Golden 0-02 to 0-00. In the second half the west side enjoyed the assistance of the breeze but could only manage a solitary point while conceding 1-01 to leave the concluding score reading Inane Rovers 1-03 Galtee Golden 0-01.
In the final Clonmel Commercials had the north net rattled within the opening minute and it was not looking good for the Inane supporters. It took until the sixth minute for a north response and respond they duly did as they pointed on four occasions while conceding one point to have the sides all square at the break. A neutral would expect the south boys to dominate as they were contesting with the breeze to their backs. However the south goal keeper got caught in quick succession as his net was rattled for a score reading Inane 2-04 Clonmel Commercials 1-01. However as often occurs when a team is on the attack well within target area and come out empty handed, they rue the missed opportunities. The Inane defence were tremendous. Clonmel added a point and in the last five minutes the Clonmel onslaught finally yielded dividends with a cracker of a goal to reduce their deficit to two points. They made one final attack and another goal to break the hearts of the Inane boys as time had run out and victory was snatched as Clonmel Commercials were victorious on a score of 3-02 to 2-04.
Chairman Tom Dawson praised all four teams for their display of football under the cold conditions. He thanked referees Jonathan Cullen and Donal Leahy and their officials. He thanked all involved in the host club Borris-Ileigh before presenting the trophy to a victorious Clonmel Commercials captain Cathal Deeley and wished them every success in the national finals which are being hosted by Kerry in late June.
Clonmel Commercials victorious panel: Enda O'Donnell, Samuel McGowran, James Morris, Niall Barry, Jash Kennedy, Tadgh Condon, Ross Salttery, Eoin McCarthy, Cathal Deeley Captain, Sean Leahy, Rory O'Dowd, Tristan Grant, Anthony Keeley, Ryan Power, David Barry, Jamie Walsh, Declan Nee, Conor Power O'Donnell, Michael O'Donnell, Oisín Power, Gearóid Daly, Fergal Gaughran, Luca Deenehy, Dean Cagney, Sean Kenny, Rory Maher, Ryan Phelan
The John West Féile na Gael
As previously publicized Tipperary along with Waterford are jointly hosting the National Féile on the weekend of June 17th,18th & 19th which is being sponsored by fish processing and distribution company John West.
This year's national organising committee is under the chairmanship of Donal Shanahan and the secretary is Patrica Walsh from Waterford. All the participating clubs have to commended for the preparations put in so far and are encouraged to keep up the good work. It's imperative that everything humanly possible is done to ensure that come the June weekend that our involvement in staging this huge festival of hurling will be the best ever. Coupled with the games a school visitation is taking place to a selected number of schools under the following
On May 18th & 19th some schools in Tipperary will be visited by a visiting party comprising the presidents of the GAA, Camogie, Handball accompanied by officers of Coiste na Nog, local club and Games & Development.
A similar format will take place in Waterford on May 24th & 25th, unfortunately it would be impossible to visit all areas and the selected schools will be informed in due course. Its at the discretion of each hosting club as to how they decide a format in welcoming the visiting club, but it would be nice that a massive effort would be put in to ensure that when the Féile is concluded and all the visitors depart that they will do with very fond memories of how well they were received in both Tipperary and Waterford.
Results
Friday April 29th in Borrisoleigh
Féile Péil A
Semi finals
Clonmel Commercials 4-03 Durlas Og 3-05
Inane Rovers 1-03 Galtee Golden 0-01
Final Clonmel Commercials 3-02 Inane Rovers 2-04
Monday May 2nd in Mallow
Munster U 16 Hurling tournament
Semi finals
North Tipperary 2-07 Mid Tipperary 0-07
North Cork 0-08 West Cork 0-05
Cup final North Cork 2-05 North Tipperary 0-10 AET
Plate final Mid Tipperary 1-11 West Cork 1-05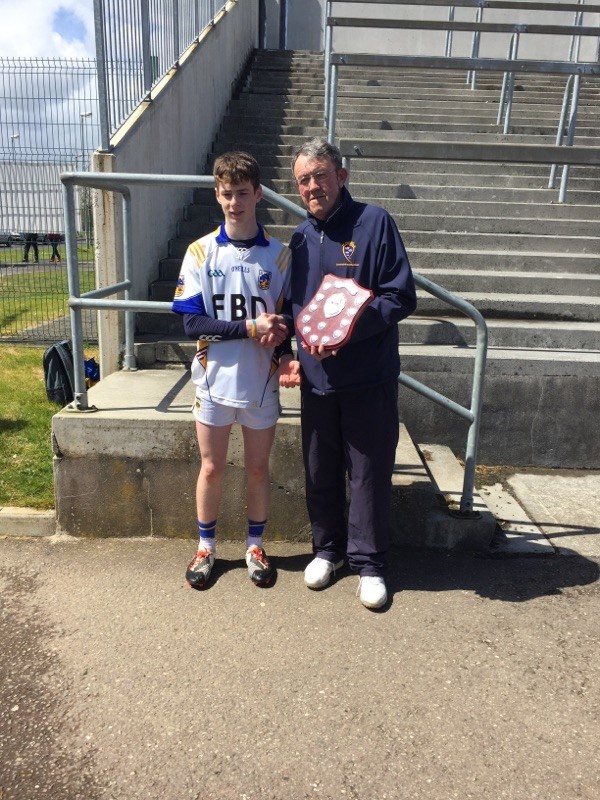 Mid Tipperary Captain Andrew Ormonde receiving the Under 16 Inter Divisional Hurling Plate Shield from Munster GAA Vice Chairperson Liam Lenihan