The View: Games, games and more games as business end of the season approaches
By Noel Dundon
---
Hurling and football games continue to come thick and fast these days and each game as important as the next.
Yes, it's that time of the year when knockout games bring a real edge to proceedings with the fate of a season hanging on the outcome of the big games.  We had a few big results last weekend across the championships with Toomevara's win over Clonoulty Rossmore perhaps being the eyebrow raiser, although it could not be regarded as a shock, as such. The close nature of the clash – it went to extra time – indicates that there was nothing between them.
And, there was little between Loughmore Castleiney and Roscrea who had Alan Tynan on the field but was sick all week leading into the game and looked a pale version of his usual self; little between Holycross Ballycahill and Kiladangan either, thereby making for some exciting fare in Semple Stadium. Even allowing for neighbourly rivalry in the clash of Thurles Sarsfields and Drom-Inch, the game didn't reach expected heights with the Thurles men dominating from gun to tape and never allowing their opponents to get into a flow.
So, we have the mid and north divisions battling it out now for a place in the FBD Insurance County senior hurling championship final. Toomevara will play Kiladangan in the all-north semi-final, while in the all-mid affair Sarsfields will rumble with Loughmore Castleiney in the first of the semi's to be staged in FBD Semple Stadium on Saturday eveningunder lights and televised live on RTE. We'll definitely have a mid vs north pairing in the final then on Sunday October 15th all going according to plan.
If you want to bring divisions into the picture, Sarsfields are the only divisional champion still in the campaign at county semi-final stage. Granted Kiladangan were runners-up in the north, but Loughmore Castleiney and Toomevara didn't get to their divisional finals and still find themselves in the penultimate day in the county championship. What exactly that says about the divisional championship is hard to determine – if in fact it says anything.
Clonoulty Rossmore are now free to play out the relegation battle and at that end of the championship there will be some mighty battles in store too. We saw in the Premier Intermediate relegation games, Sean Treacy's rallying brilliantly to maintain their status while county men Conor Bowe and Gearoid O'Connor were the difference in Moyne Templetuohy's victory over Newport. The final will be a battle of the Ports – Newport against Portroe – an all-north affair again, and a hell of a lot riding on it for two proud clubs.
Killenaule defeated Carrick Swans; Sarsfields had a narrow win over Burgess; Ross Bonnar and Eoghan Connolly inspired Cashel King Cormacs as they swept aside Gortnahoe Glengoole all in the Premier intermediate quarter finals at the weekend, while in the intermediate the last four features Boherlahan Dualla, Golden Kilfeacle, Kilsheelan Kilcash and Moneygall.
This coming weekend is all about the big ball with the four quarter finals down for decision. Loughmore Castleiney take on Moyle Rovers in Golden on Saturday at lunchtime – Noel McGrath limped out of the hurling last Saturday with a hamstring problem – will he line out in that football clash? If he is fit, you can be sure he will, but if he is not, will he be risked?
Also on Saturday, holders and favourites Clonmel Commercials take on a rapidly rising Ballina side in Templemore – this will be a real test of the northerners credentials and we will be able to more accurately assess their worth having risen through the grades pretty rapidly in recent seasons.
Sunday in Boherlahan sees JK Brackens playing Killenaule – two clubs who have featured in the county final in recent enough years. Neither really built on those appearances though – this could be the season for them for to get back to that stage again.
Also on Sunday Upperchurch Drombane take on Kilsheelan Kilcash – last years finalists would not be fancied in this one, but that's just as they would wish to have it. Another interesting clash to divide opinions on.
On the relegation side of things Éire Óg Anacarthy find themselves in a battle again with neighbours  Arravale Rovers on the horizon in Cappawhite on Saturday, while Rockwell Rovers will take on Moycarkey Borris in Fethard at lunchtime on the same day –with  three west teams and one mid team the laws of averages would suggest a west side will falter, but don't be surprised if all three survive.
Still no official word on a Tipperary senior football Manager for the 2024 season, though one hears that it is getting close to an announcement on same. Speaking of managements, one also hears of a few changes in Liam Cahill's backroom team for the coming season – there are also likely to be changes to the panel following the completion of the county championship.
---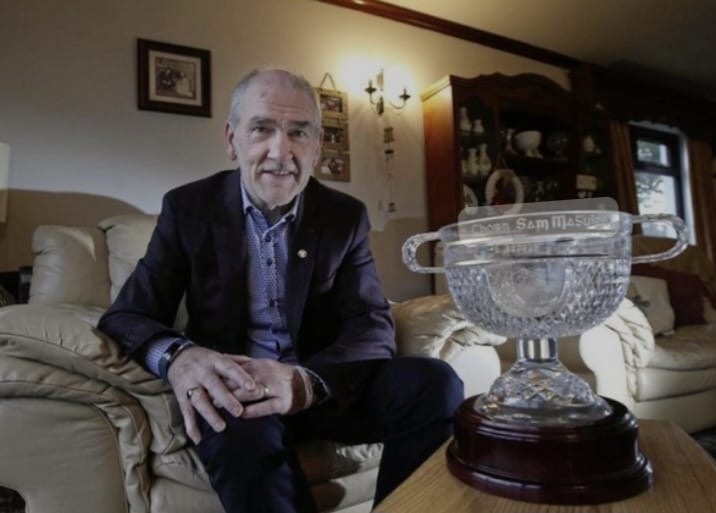 ---
Eagle eyed football enthusiasts might have been excited to spot former All-Ireland winning Tyrone Manager Mickey Harte – currently Manager of Louth – in mid Tipperary at the weekend. Putting two and two together and coming up with five, there may have been the thought that he was running the rule over the Premier County with the potential of plying his footballing managerial trade further south to fill our vacancy. Truth is, Mickey travelled to Tipperary on Friday as he was speaking at the Holycross Novena on Saturday where he received warm rounds of applause following his homily to the faithful who greatly appreciated his honesty and his genuine, no frills approach.
Mickey asked people to appreciate and be thankful for what they have – in sporting terms we should take that on board and be thankful for our games and for being able to participate in and attend them –it's not too long ago that the Covid induced restrictions put a stop to our games, and then to attending them. How quickly we forget.
So, get out there. See the matches live and be thankful for the opportunity.
By Jonathan Cullen Thu 21st Sep