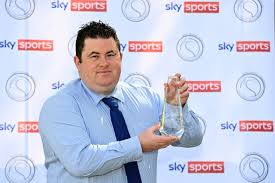 ---
Tipperary Senior Football manager David Power has this evening informed Tipperary GAA of his intention to step down from his position with immediate effect.
Informing Tipperary County Board of his decision, David stated the following;
"Now that our season has ended, I have decided to step aside from the role of Tipperary senior football manager.
The last four years have been some of the best of my life. I enjoyed every minute of trying to drive Tipperary football on, alongside some of the most passionate people you could ever meet. It was nothing short of a privilege.
Results didn't go our way this year, but we stood firm even though the wind was blowing against us. We lost so many players, key warriors, through injury, travel and retirement but even with all those knock backs, our panel worked so hard this season.
We had 35 players training every night and I would like to thank them for the massive effort, and for the fight they showed. That desire that will stand to Tipp football in the years ahead. There are several young players now coming through the system with senior experience and I hope they drive the county on.
I would like to thank the management team of Charlie McGeever, Declan Browne, Tommy Toomey, Elaine Harte, and Sean Barry and all the previous coaches that helped me over the last four seasons with the senior team. Their unbroken loyalty and commitment to Tipp football is just unbelievable.
We had a serious and quality backroom working behind the scenes this year and I would like to pay tribute to Tom Brady, our S&C coach, nutritionist, Amy Maguire, physio team of Owen Higginbotham, Gerard Corcoran, and John Casey, team Doctor Paul Scully, masseur, Claire Cummins Cawley, Martin Earle GPS Analyst, Tim McCarthy performance coach, Enda O'Sullivan, logistics, Anthony Shelly was on stats. Our kitmen, Murt Kennedy and Enda Ryan were with us every step of the way.
My involvement with Tipp football started in 2006 when I started coaching development squads in 2006. Every year as a child I went to All-Ireland football finals with my father, Michael, and I looked at the roll of honour in the match programmes.
I was always fascinated that, despite being known as a hurling county we also had four football All-Ireland senior football titles. The history of Tipp football fascinated me and since I started coaching back in 2006, I have been involved every year in a county set up.
We have enjoyed many good times over the past 17 years with some of the finest players to ever wear a Tipp jersey coming through and bringing us glorious days. It was success that we not only dared to dream of but worked relentlessly to get. It was some journey to be a part of.
So many people helped me along the way, including the Tipperary County Board, the Tipperary Football Committee, and the tireless workers in the Friends of Tipperary Football. I would like to thank those committees for all their support.
From a personal perspective, losing my Mam, Miriam, this year has been really hard. Mam was the heartbeat of our family and I only hope that we made her proud over the years.
I thank my wife Vera, for all her support over the years.
One day I will be back involved again. But for now, it's time for me to focus on my family.
Tiobraid Árann Abú".
Tipperary County Board Chairman Joe Kennedy said "On behalf of the Tipperary County Board I would like to thank David for the considerable contribution he has made to Tipperary Football during his tenure as Minor, U21 and Senior Manager. David has been involved in some of the best days for Tipperary Football most recently winning the 2020 Munster Football Final. We wish David and his family all the best for the future".
Tipperary Football Committee Chairman Conor O'Dwyer also spoke glowingly of David and said "David has made an enormous contribution to Tipperary Football at numerous levels over the last 16 years  He has been at the center of some of our greatest days, most notably the u18 All Ireland victory of 2011 and the Senior Munster Final victory of 2020. His passion for and loyalty to Tipperary Football is unquestionable, little surprise given the household he was reared in. All of those who are involved in, and support the game within the county will forever be grateful for what he has helped achieve and his place in Tipperary GAA history is guaranteed".
Once again Tipperary GAA County Board and The Tipperary Football Committee along with the players wish to thank David for his fantastic dedication and commitment to Tipperary Football over the last 17 years and wish him the very best of good luck for the future.
By Jonathan Cullen
Tue 6th Jun