Premier Gold Club Plus Package
Tipperary County Board have just launched the 2015 Premier Gold Club + Package in Association
with the GAA Season ticket. The benefits of this package can be enjoyed for the next 12 months in the following ways:
• From Feb 2015 to Sept 2015 – Support and follow the Tipperary SH team (or SF) through Allianz
League & GAA Championship
• From Jan 2015 to Dec 2015 – attend all Tipperary Adult Club Games in the four divisions and county.
This promotion offers fantastic value for Tipperary GAA Supporters and enables Tipperary Co. Board develop its Dr Morris Park facilities, prepare county teams and promote gaelic games throughout the County.
---
Tipperary's 2 in 1 package for 2015 incorporating
1. The GAA Season Ticket
2. Tipperary GAA Club All County Match Pass
All for just €200
Contact Lar na Pairce for more details
Lar na Páirce, Thurles Co. Tipperary
0504-22702 or email to: secretary.tipperary@gaa.ie
---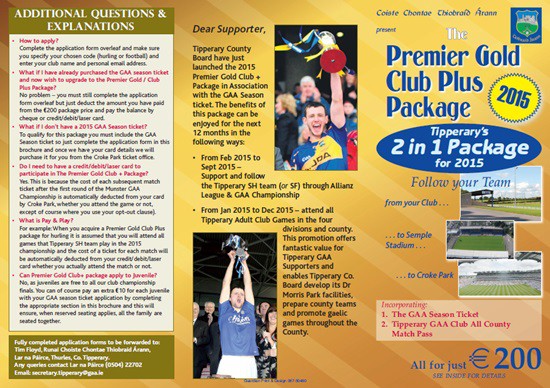 ---