McGrath points way to historic double for Loughmore
Loughmore-Castleiney 3-10 Aherlow Gaels 0-9 
Report by Shane Brophy for the Irish Independent newspaper 
Tipperary SFC Final 
Captain Derek Bourke admitted afterwards that it was impossible to avoid the prospect of the double in the build-up to the game. "It was very hard not to think of it. Before the game it was on our mind and I thought it wouldn't be; that it was going to be just another football game, a county final, and we are over the moon to be the first club in Tipperary to achieve it," he said. 
Manager Declan Laffan paid tribute to his group of players, the majority of whom had been in action for the seventh consecutive weekend, between both codes. "Hats off to the players, they are an unbelievable set of players. You give out about them when things don't go right, and they didn't go right for us in the Mid championship, but we got back to the field, regrouped – Eddie Connolly's illness really galvanised us as a unit and we really drove on from there. "It was an extra force behind us but if you don't have the players, it doesn't matter what everybody else does and we are lucky that we have a bunch of players that are willing to die on their feet for that jersey." 
Two John McGrath frees had Loughmore off to a swift start and after Mark Hanley's fine response for Aherlow, the Mid Tipp side struck for the only goal of the first half in the seventh minute as Evan Sweeney's superbly weighted pass found raiding wing-back Tom King striding forward and he finished well inside the near post. While Loughmore had their noses in front, they were doing so through McGrath's frees with the goal the only score they managed from play in the half. Despite having plenty of promising attacks, they always seemed to take one pass too many. Aherlow scored all bar one of their five first-half points from play, with Thomas Hanley, Thomas Fahey and Bernard O'Brien to the fore. 
Leading 1-4 to 0-5 at the break, Loughmore took control early in the second half with an Aidan McGrath point being followed by John McGrath's goal as Aherlow 'keeper Shane Leonard and defender Sean Mullins failed to deal with the dipping 45-metre delivery which went all the way to the net. Forced to take extra risks to get back into the game, Aherlow left themselves exposed at the back, with Loughmore's penetrating runs yielding frees which McGrath converted. The midfielder was also involved in the move for Evan Sweeney's goal in the 50th minute. Aherlow did manage four points in the final 10 minutes as they played with great spirit but the fact that star man Barry Grogan was kept scoreless by man of the match John Meagher ensured Loughmore's place in Tipperary GAA history. 
Scorers – Loughmore-Castleiney: J McGrath 1-9 (1-7fs, 1 '45'), E Sweeney, T King 1-0 each, A McGrath 0-1. Aherlow: B O'Brien 0-3 (1f), T Fahey, T Hanley 0-2 each, S Grogan, M Hanley 0-1 each. 
Loughmore-Castleiney – D Brennan; T Long, J Meagher, L Egan; T King, C McGrath, J Ryan; N McGrath, J McGrath; D Kennedy, A McGrath, L McGrath; C Hennessy; M Webster, E Sweeney. Subs: D Bourke for Webster (22), W Eviston for Kennedy (52), T McGrath for A McGrath (56), S Hennessy for C Hennessy (59). 
Aherlow Gaels – S Leonard; S Russell, J Hennessy, E O'Meara; M Hanley, M O'Brien, S Mullins; S Grogan, T Fahey; T Hanley, B Grogan, L Coskeran; S Cunningham, C Dillon, B O'Brien. Subs: M Russell for Dillon (16 inj), B Hanley for Mullins (38), S Kiely for Cunningham (48), A Leahy for Coskeran (48), T O'Donoghue for S Russell (58). 
Ref – D O'Mahoney (Ardfinnan)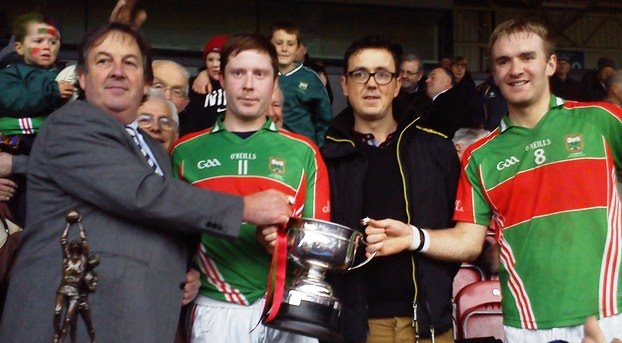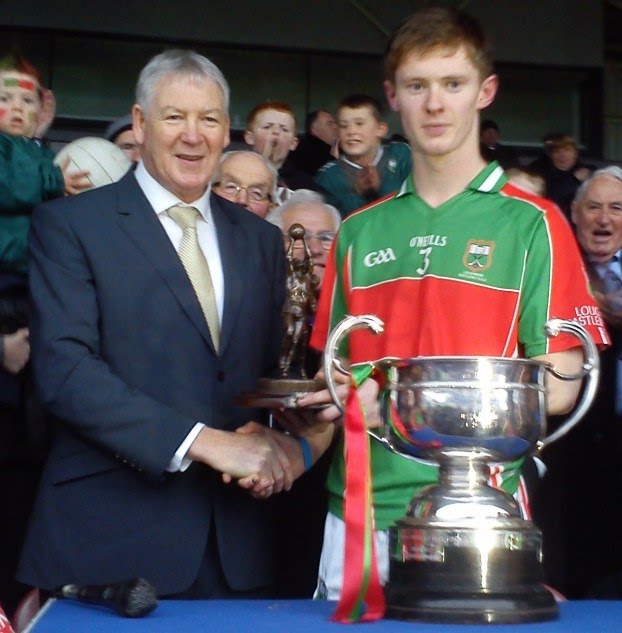 Next Sunday November 3rd is the biggest day in the County's club footballing calendar when the Clean Ireland Recycling senior football championship final takes place at Semple Stadium with a 2.30pm throw-in. The final will be refereed by Derek O'Mahoney of Ardfinnan. 
Aherlow Gaels are an amalgamation of Aherlow and Lattin-Cullen and will be seeking their first title in this form. However, Aherlow have won the title on two previous occasions, 2010 when they defeated Loughmore Castleiney and 2006. Lattin-Cullen have never won the county title although they did win a number of West senior football championships. 
Loughmore Castleiney will be seeking their 12th title having last won in 2004. They will also be attempting to become the first club to win the county senior hurling and football title double. Irrespective of the result, Loughmore Castleiney will represent Tipperary in the AIB Munster club senior football championship as amalgamations are not allowed play in the competition. 
With so much at stake and 3 passionate clubs involved, it should be a game worth seeing so we would encourage as many as possible to attend. The O Riain (New) Stand only will be open for the game and admission prices are €10 for adults, €5 for OAPs and students with id and under 16s free.