Intersport/Elverys take over Tipperary sponsorship and unveil 2015 Tipperary GAA strip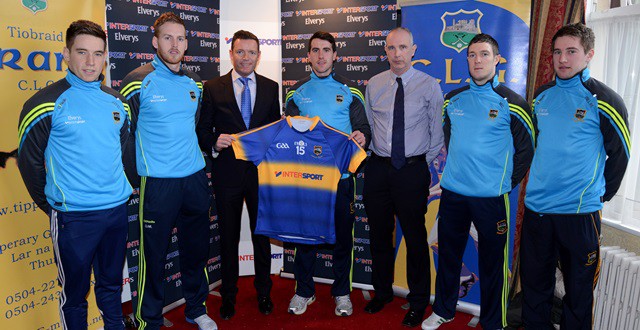 Press Release
Intersport/Elverys take over Tipperary sponsorship and unveil 2015 Tipperary GAA strip
Sun 15th March 2015 – Intersport/Elverys today announced their sponsorship of Tipperary GAA in the birthplace of the GAA at Hayes's Hotel Thurles.
Tipperary Senior hurling stars Michael Cahill, Denis Maher, Joe (Mouse) O'Dwyer, Patrick (Bonnar) Maher and Bill Maher were on hand to showcase the new strip and discuss ambitions for the 2015 championship season.
The full sponsorship by Intersport/Elverys of Tipperary GAA covers both the hurling and football codes and includes all grades from minor to senior inter-county teams over the next two years. As part of the sponsorship agreement, the new look Tipperary jersey for the 2015 season was unveiled displaying the Intersport brand name on the front and their co-sponsor Elvery's name on the back.
Commenting on the sponsorship agreement, Michael Bourke, Tipperary County Board Chairman said "Tipperary County Board is delighted to announce that Intersport/Elverys is entering a sponsorship agreement. The Intersport/Elverys brands are widely renowned and represent the highest standards and quality in sports goods retailing. Tipperary G.A.A. is also a strong brand and combines both the proud traditions and modern popularity of Gaelic Games. I look forward to a very successful and mutually beneficial relationship between Tipperary G.A.A. and Intersport/Elverys. I thank them for their generous sponsorship which we will use to develop our games and bring further success to the G.A.A. in Tipperary."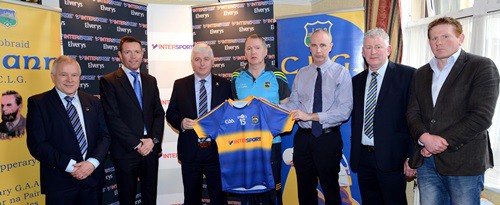 Patrick Rowland, Intersport/Elverys added "We are delighted to have the opportunity to sponsor Tipperary GAA and we intend to work with them to offer the widest range of product in our stores locally and online to cater for both players and all Tipperary supporters."
Elverys have a lifelong relationship with the GAA. When the GAA was founded in 1884 and following its immediate popularity and groundbreaking support, Elverys were one of the first businesses to advertise its range of GAA products in the National papers.
In 1998, Elverys commenced its sponsorship of Mayo GAA. In 2006 Elverys opened its Croke Park store as well as its shops within the stadium. Elverys are the official partner of the GAA, and the number one retailer of GAA products. We strive to give employment to as many GAA players as possible.
Intersport is the world biggest sporting goods retailer with a turnover in excess of €10 Billion. Established in 1968 the group has expanded into 43 countries globally operating over 5,500 stores through a mixture of own stores, franchise partners and affiliated retailers. Intersport retailers around the world serve local communities offering expert advice for those participating in sport. In Ireland Elverys, as an affiliated retailer of Intersport since 1995 share this same ethos.
CEO of Intersport for the UK and Ireland,Tom Foley commented that "the sponsorship of Tipperary GAA sits perfectly with the retailers brand position. As a sporting organisation the GAA is unique. Throughout Ireland the organisation acts as a hub for so many communities with a strong culture of volunteering on all levels. Tipperary GAA represents what is best within the GAA and Intersport is proud to support such an organisation as it reflects our own involvement within communities both here and around the globe where our stores are also very much embedded into the fabric of local sporting communities. We feel that as co sponsors, we have an outstanding sporting and GAA pedigree and we are delighted to extend our association with the GAA through this sponsorship with of Tipperary GAA.
Raymond Leddy, Head of Product and Marketing, SKODA Ireland said;
"SKODA is proud to have supported the Tipperary teams over the past four years as primary sponsor and we wish them all the best for the seasons ahead. We enjoyed a fantastic relationship with the team, senior management and Tipperary fans and we will remain involved with Tipperary GAA at a local level through our Tipperary Skoda dealer, Ryan Motor Power. Clonmel"
For further information about Intersport/Elvery's please contact:
Email: sineadfeeney@elverys.ie
jcarey@elverys.ie
tomdunlea@elverys.ie
http://www.elverys.ie
https://www.facebook.com/ElverysSports
Tweets by Elverys
For further information about Tipperary GAA, please contact:
Email: pro.tipperary@gaa.ie
Facebook: tiobraidaranngaa
Twitter: TipperaryGAA
Web: www.tipperary.gaa.ie