GAA's Healthy Club Munster Roadshow
The GAA are encouraging all Munster GAA clubs to attend the Munster Healthy Club Roadshow to support their communities in pursuit of better physical, social, and mental wellbeing.
While GAA clubs have always played an important role in supporting the health of its members and communities, the Healthy Clubs Project (HCP) aims to bring this positive influence to a new level. The roadshows will feature fascinating contributions from four renowned ambassadors, each one selected to bring to life experiences that have influenced their GAA careers and lives.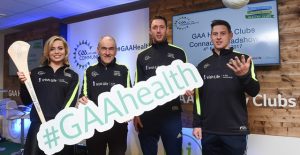 These are:
Mickey Harte – community engagement and support
Anna Geary – healthy eating and health promotion
Killian O'Connor – emotional wellbeing and mental fitness
Michael Fennelly – physical activity
In addition to the ambassador's contributions, four Munster Healthy Clubs will share some of the exceptional work they are undertaking under the four areas of work outlined above.
When: Sat, Feb 18th @10 am – 2pm
Where: Nemo Rangers GAA Club, Cork
One of the most common questions we are asked by clubs interested in enhancing the health and wellbeing of their members is what can we do and where do we start? The roadshows aim to help answer those questions and fire up the imagination of anyone interested in getting their club involved in Phase 3. The HCP primary interest is about making every club a hub for health, and that everyone's experience of their local GAA club will be positive and health-enhancing.
To register for the Munster Healthy Club Roadshow visit gaa.ie/community
Numbers per club are limited to four. All events are over-12 and free of charge with a healthy lunch provided by Aramark. For more information, visit: gaa.ie/community