The death has taken place of former Loughmore-Castleiney and Tipperary player Eddie Connolly after a long battle with cancer. Eddie passed away peacefully last night at home with his family.
At the request of the Connolly family, tonight's Eddie Connolly Trust Fund "Night at the Dogs" at Thurles Greyhound Stadium will still go ahead in a celebration of Eddie's life.
On behalf of the Tipperary County Board, we extend our heartfelt condolences to the Connolly family at this sad time.
---
Funeral Arrangements
The death has occurred of Edward (Eddie) CONNOLLY
Barronstown, Loughmore, Templemore, Tipperary
Eddie, peacefully at home, deeply regretted by his heartbroken parents Jim and Maureen, brothers James and Gerard, sisters Niamh and Fiona, niece Aibhe, grandmother Mary Teresa, sister-in-law Elaine, relatives, neighbours and a wide circle of friends. May He Rest in Peace.
Reposing at his residence on Saturday, 19th September from 3pm to 8pm. Arriving at Loughmore Church on Sunday morning, 20th September for Funeral Mass at 11am, burial after Mass in the adjoining cemetery. Family flowers only please, donations if desired to Milford Hospice. House private on Sunday morning please.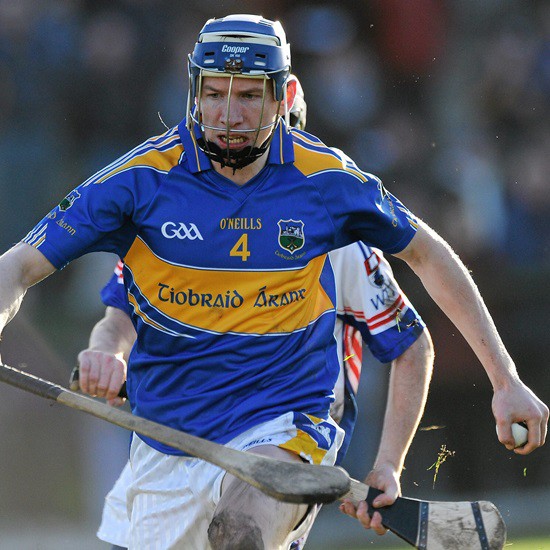 ---
Tipperary GAA Press Release – Eddie Connolly RIP
Friday, September 18th, 2015
It is with great regret and sadness that we learned of the death of Eddie Connolly who sadly passed away last night peacefully at home with his family.
Eddie was born on October 22nd, 1985 and played for the Loughmore Castleiney GAA club. Eddie won County and Munster Club Championship honours with Loughmore Castleiney in 2007.
Eddie played for the Tipperary Under 21 Footballers in 2006 and was part of the Tipperary Senior Football panel in 2006 and 2007. In continuing his upward ascent Eddie finally arrived on the Tipperary Senior Hurling panel in 2011, making his National Hurling League debut against Offaly at corner-back in March 2011. Further success followed when Eddie captained Tipperary to Munster and All-Ireland Intermediate Hurling titles in 2012.
In late 2013, Eddie was diagnosed with brain cancer. Since then he had been bravely and courageously battling to overcome his illness and had a terrific outlook on life and was undergoing a new form of cancer treatment in Spain.
The Eddie Connolly Trust Fund was established to help fund this special cancer treatment for Eddie by organising a special "Night at the Dogs" for tonight, Friday September 18th at Thurles Greyhound Stadium.
At the request of his family, tonight's Eddie Connolly Trust Fund "Night at the Dogs" at Thurles Greyhound Stadium will still go ahead in a celebration of Eddie's life as the GAA community of his native Loughmore Castleiney, Tipperary and further afield come together to honour and remember Eddie.
In paying tribute to Eddie Connolly, Tipperary County Board Chairman Michael Bourke said, "When the light of life is extinguished in someone young it always strikes to the heart with immense pain and grief. With the passing of Eddie Connolly that pain and grief is more intensified because Eddie was determined to overcome this battle and get back to what he did and loved best, playing for his club and county.
Eddie took to this his greatest test with the same determination and belief that he carried to the fields of play with Loughmore Castleiney and Tipperary, a true warrior in every sense of the word.
On behalf of Tipperary County Board we extend our heartfelt condolences to his mother and father, Maureen and Jim, sisters and brothers, Niamh, Fiona, James and Gerard at this very difficult time."
Ar dheis De go raibh a anam
Funeral arrangements to follow.
Is mise,
Joe Bracken,
Acting Tipperary County Board PRO
---
Tributes to Eddie Connolly
It is with great sadness that we learned this morning of the death of Eddie Connolly. Eddie battled his illness… http://t.co/AdnyMvZsx1

— Loughmore-Castleiney (@Loughmore_Gaa) September 18, 2015
---
RIP Eddie. A fantastic battler and warrior both on and off the field. Our thoughts and prayers are with the… http://t.co/QbwQS86QqZ

— Mid Tipperary GAA (@MidTipp) September 18, 2015
---
The sad news has reached us that Eddie has passed away He was a gent & warrior He has left an amazing legacy& thoughts are with his family

— Score4Eddie (@Score4eddie) September 18, 2015
---
RIP Eddie Connolly. Ar dheis Dé go raibh a anam dílis. pic.twitter.com/2xrGbmFmjg

— DIT GAA (@DITGAA) September 18, 2015
---
Thoughts and prayers with family and friends of @TipperaryGAA and @Loughmore_Gaa Eddie Connolly RIP pic.twitter.com/OjR6rhdtII

— GPA (@gaelicplayers) September 18, 2015
---
RIP Eddie Connolly. A true warrior & inspiration to us all. Thoughts are with his family & friends. @Loughmore_Gaa pic.twitter.com/QNdcTCLQ1i

— Shane Long (@ShaneLong7) September 18, 2015
---
RIP Eddie Connolly. A legend gone but never forgotten. Thoughts & prayers with family, friends and all in @Loughmore_Gaa.

— Shane McGrath (@Shaneytweet) September 18, 2015
---
Sorry to hear about the passing of Eddie Connolly today. Had the pleasure of playing with him and against him on a few occasions #RIP

— Robbie Kiely (@robbiek6) September 18, 2015
---
So sad to hear of the passing of Eddie Connolly, a super player and a true gent, sympathies to his family and friends in @Loughmore_Gaa

— Declan Browne (@dbrowne15) September 18, 2015
---
Elverys would like to express our sympathy to @TipperaryGAA & @Loughmore_Gaa on the passing of Eddie Connolly. Ar dheis Dé go raibh a anam.

— Elverys Sports (@Elverys) September 18, 2015
---
Rip Eddie Connolly. True gent and inspirational warrior. Thoughts and prayer with his family and friends and @Loughmore_Gaa community.

— cathal barrett (@cbarrett2107) September 18, 2015
---
Very sorry to hear of the passing of Eddie Connolly, R.I.P. Sincere sympathies to his family, friends and all @Loughmore_Gaa & @TipperaryGAA

— Michael Duignan (@DuignanMichael) September 18, 2015
---
So sad to hear of the passing of Eddie Connolly. My Thoughts are with his family,friends & teammates. #rip Eddie

— Henry Shefflin (@ShefflinHenry) September 18, 2015