Clubs invited to participate in Healthy Club Project for 2022-2023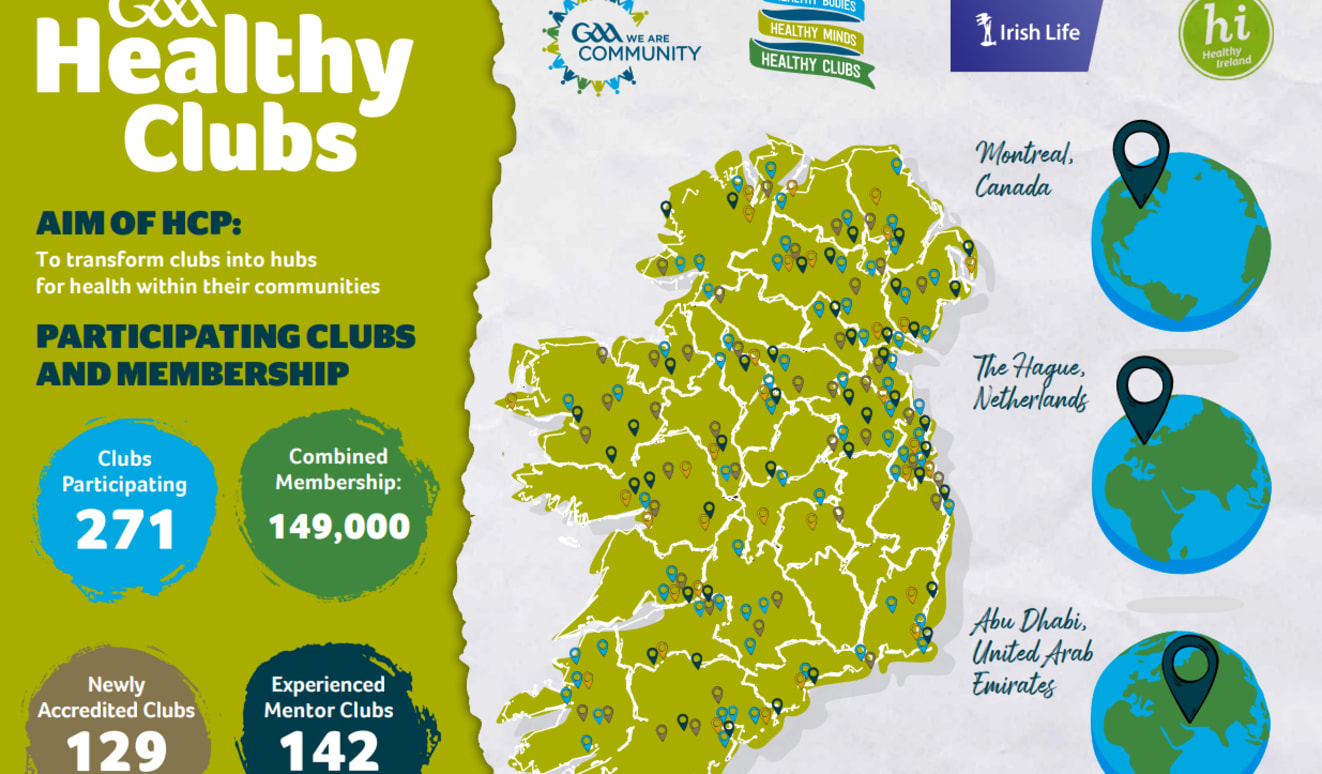 Over 450 delegates registered for what turned out to be a fascinating virtual GAA Healthy Club Conference on Saturday, October 30th. They were joined by renowned psychologist Dr. Tony Bates, Tyrone All Ireland winner Conor Meyler and a host of other GAA ambassadors and Healthy Clubs to explore the conference theme: '5 Ways to Wellbeing'. 
The GAA's Community & Health department, which organises the popular event, used club case studies and personal testimonies to bring to life the conference theme: 'The 5 Ways to Wellbeing' – Connect, Be Active, Take Notice, Keep Learning and Give. The event also marked the opening of expressions of interest for new clubs to get involved in the Healthy Club Project. A target of 200 new clubs has been set to join the almost 300 clubs already accredited as official 'Healthy Clubs'.
The Healthy Club Project is delivered in partnership with Irish Life (corporate social responsibility partners), Healthy Ireland, the HSE, National Office for Suicide Prevention, and the Tomar Trust. It aims to expand clubs' positive influence as they broaden their remit from sports clubs to becoming hubs for health in their community.
Contributors included Dr. Tony Bates, renowned psychologist, author, and creator of Jigsaw (the National Youth Mental Health Foundation) who highlighted the vital role played by the GAA and its clubs and counties in offering people meaningful opportunities to come together and feel part of something bigger than themselves.
Other contributors included Tyrone All Ireland winner and GAA/GPA Player of the Month for September, Conor Meyler; six time All Ireland winner Julia White; Cork senior football manager, Keith Ricken and Ulster Wheelchair Camogie Player and Coach, Geraldine Mc Garrigle.
Topics covered included All Stars Programme for children with additional needs; Dads & Lads social football and hurling team; the new Green Clubs environmental programme; youth leadership initiatives and opportunities; and the value of volunteering.
The event was broadcast live on the GAA Youtube channel where it generated great engagement and discussion with over 2,186 views. Clubs can still view the event by clicking HERE
A total of 129 clubs recently completed phase 4 of the Healthy Club Project following an 18-month journey – see some of what they achieved HERE
Expressions of interest for clubs to get involved in the next phase of the GAA Healthy Club Project will remain open until 12pm Friday, December 3*rd*. Clubs can apply by visiting https://healthyclubs.gaa.ie/
For more information regarding the Healthy Club Project please visit https://www.gaa.ie/my-gaa/community-and-health/ or contact Aoife O'Brien, National Healthy Club Coordinator aoife.obrien@gaa.ie