Clean Ireland Recycling County Senior Hurling Championship Semi-Final – Thurles Sarsfields 2-20 Kilruane MacDonaghs 1-17
Thurles Sarsfields 2-20 Kilruane MacDonaghs 1-17
Report by Ed Donnelly
Thurles Sarsfields remained on track to win the Dan Breen Cup for the fifth time in seven seasons after edging out Kilruane MacDonaghs on Sunday at Semple Stadium Thurles. But this was far from plain sailing for the defending champions as Kilruane put in a stirring second half performance to push Thurles all the way in this entertaining semi-final.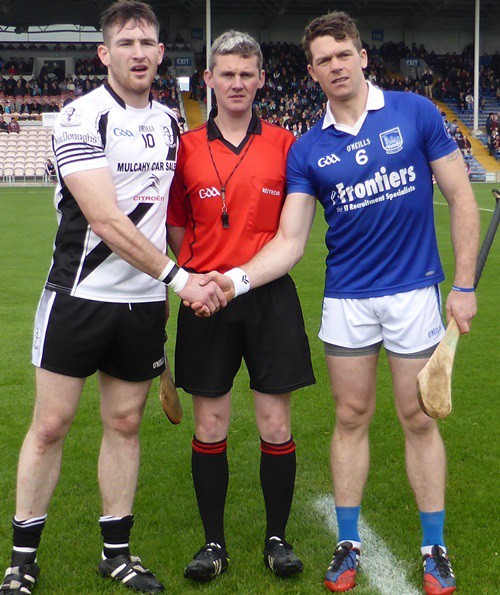 Favourites Thurles got in to their stride from the off as Conor Lanigan's goal chance was saved by Kilruane goalie Thomas Williams only to see Denis Maher open the scoring with a Thurles point soon afterwards. Niall O'Meara and Pa Bourke traded points in the next minute before the first goal of the game arrived in the second minute when Brian O'Meara set up Cian Darcy for a Kilruane green flag.
The response from Thurles was immediate when points from Pa Bourke and Aidan McCormack were followed by a Thurles goal by Pa Bourke when picked out by a cross field ball by Denis Maher. Kilruane had the chance to equalise moments later but Cian Darcy saw his attempt at goal hit the side net.
Thurles were dominating possession at this stage but good work by Kilruane resulted in a number of turnovers as the teams shared the next 12 points as Thurles led by 1-10 to 1-7 after 23 minutes. The final stages of the first half proved decisive in the final analysis as unanswered Sarsfields points by Lar Corbett, Pa Bourke (2 frees) and Aidan McCormack helped Thurles in to a commanding seven point lead at the interval, 1-14 to 1-7.
The second half was a different story as Kilruane stormed in to the game and the Thurles scoring machine slowed down dramatically. The first 12 minutes of the second half saw Kilruane outscore Thurles by 0-7 to 0-2, the Kilruane points coming from Seamus Hennessy (free), Kieran Cahill (3), Niall O'Meara, Thomas Cleary and Brian O'Meara.
Thurles were relying greatly on Aidan McCormack for scores at this stage and he scored two points from play to double their advantage to four points heading in to the final ten minutes. Lar Corbett also had a goal chance in this period only to see his close range shot excellently saved by Thomas Williams.
Kilruane continued to pile on the pressure however as points from play by Kevin Quinlan and Seamus Hennessy reduced the deficit to just two points. In the 57th minute, Brian O'Meara rounded Michael Cahill and looked to bear down on goal only to be tripped by Cahill who received his marching orders for his second yellow card of the day. When Ray McLoughney pointed the resultant free, 14 man Thurles now led by just a point with all the momentum resting with the North side.
Thurles managed to get the next score, a pointed free by Pa Bourke. With Kilruane out on their feet at this stage and trying in vain to secure at least a draw, a long clearance found man of the match Aidan McCormack who dispatched the ball to the net as the game entered injury time. There was still time for Pa Bourke to add a point from a free and at the final whistle, Thurles ran out winners by a flattering six points.
---
Score by Score Round-up
1m – Conor Lanigan goal chance – Thurles Sarsfields 0-0 Kilruane MacDonaghs 0-0
1m – Denis Maher point – Thurles Sarsfields 0-1 Kilruane MacDonaghs 0-0
1m – Niall O'Meara point – Thurles Sarsfields 0-1 Kilruane MacDonaghs 0-1
2m – Pa Bourke point – Thurles Sarsfields 0-2 Kilruane MacDonaghs 0-1
2m – Cian Darcy goal, Brian O'Meara pass – Thurles Sarsfields 0-2 Kilruane MacDonaghs 1-1
3m – Pa Bourke point – Thurles Sarsfields 0-3 Kilruane MacDonaghs 1-1
4m – Aidan McCormack point – Thurles Sarsfields 0-4 Kilruane MacDonaghs 1-1
5m – Pa Bourke goal, Denis Maher pass – Thurles Sarsfields 1-4 Kilruane MacDonaghs 1-1
7m – Cian Darcy goal chance hits side net – Thurles Sarsfields 1-4 Kilruane MacDonaghs 1-1
8m – Kieran Cahill point – Thurles Sarsfields 1-4 Kilruane MacDonaghs 1-2
9m – Pa Bourke point – Thurles Sarsfields 1-5 Kilruane MacDonaghs 1-2
10m – Pa Bourke free – Thurles Sarsfields 1-6 Kilruane MacDonaghs 1-2
12m – Kieran Cahill free – Thurles Sarsfields 1-6 Kilruane MacDonaghs 1-3
14m – Denis Maher point – Thurles Sarsfields 1-7 Kilruane MacDonaghs 1-3
14m – Seamus Hennessy point – Thurles Sarsfields 1-7 Kilruane MacDonaghs 1-4
16m – Stephen Cahill point – Thurles Sarsfields 1-8 Kilruane MacDonaghs 1-4
18m – Ray McLoughney point- Thurles Sarsfields 1-8 Kilruane MacDonaghs 1-5
20m – Kieran Cahill point-Thurles Sarsfields 1-8 Kilruane MacDonaghs 1-6
21m – Stephen Cahill point- Thurles Sarsfields 1-9 Kilruane MacDonaghs 1-6
21m – Aidan McCormack point-Thurles Sarsfields 1-10 Kilruane MacDonaghs 1-6
23m – Kieran Cahill free-Thurles Sarsfields 1-10 Kilruane MacDonaghs 1-7
24m – Lar Corbett point – Thurles Sarsfields 1-11 Kilruane MacDonaghs 1-7
26m – Pa Bourke free – Thurles Sarsfields 1-12 Kilruane MacDonaghs 1-7
30m – Pa Bourke free – Thurles Sarsfields 1-13 Kilruane MacDonaghs 1-7
31m – Aidan McCormack point – Thurles Sarsfields 1-14 Kilruane MacDonaghs 1-7
HT Score – Thurles Sarsfields 1-14 Kilruane MacDonaghs 1-7
31m – Seamus Hennessy free – Thurles Sarsfields 1-14 Kilruane MacDonaghs 1-8
35m – Kieran Cahill free – Thurles Sarsfields 1-14 Kilruane MacDonaghs 1-9
35m – Aidan McCormack point – Thurles Sarsfields 1-15 Kilruane MacDonaghs 1-9
36m – Niall O'Meara point – Thurles Sarsfields 1-15 Kilruane MacDonaghs 1-10
38m – Thomas Cleary point – Thurles Sarsfields 1-15 Kilruane MacDonaghs 1-11
39m – Denis Maher point – Thurles Sarsfields 1-16 Kilruane MacDonaghs 1-11
40m – Kieran Cahill point – Thurles Sarsfields 1-16 Kilruane MacDonaghs 1-12
41m – Kieran Cahill free – Thurles Sarsfields 1-16 Kilruane MacDonaghs 1-13
42m – Brian O'Meara point – Thurles Sarsfields 1-16 Kilruane MacDonaghs 1-14
44m – Aidan McCormack point – Thurles Sarsfields 1-17 Kilruane MacDonaghs 1-14
47m – Lar Corbett goal chance saved by Kilruane goalie Thomas Williams – Thurles Sarsfields 1-17 Kilruane MacDonaghs 1-14
49m – Aidan McCormack point – Thurles Sarsfields 1-18 Kilruane MacDonaghs 1-14
52m – Kevin Quinlan point – Thurles Sarsfields 1-18 Kilruane MacDonaghs 1-15
54m – Seamus Hennessy point – Thurles Sarsfields 1-18 Kilruane MacDonaghs 1-16
57m – Michael Cahill red card (2 yellows)
58m – Ray McLoughney free – Thurles Sarsfields 1-18 Kilruane MacDonaghs 1-17
59m – Pa Bourke free – Thurles Sarsfields 1-19 Kilruane MacDonaghs 1-17
60m – Aidan McCormack goal – Thurles Sarsfields 2-19 Kilruane MacDonaghs 1-17
63m – Pa Bourke free – Thurles Sarsfields 2-20 Kilruane MacDonaghs 1-17
Thurles Sarsfields: Patrick McCormack; Michael Cahill, Stephen Maher, Kevin O'Gorman; David Kennedy, Padraic Maher, Ronan Maher; Stephen Cahill (0-2), Billy McCarthy; John Maher, Pa Bourke, (1-8, 0-5 frees), Aidan McCormack (1-6); Conor Lanigan, Lar Corbett (0-1), Denis Maher (0-3)
Subs: Richie Ruth for Conor Lanigan (32m), Tommy Doyle for Billy McCarthy (53m), Billy McCarthy for John Maher (61m), Conor Lanigan for Richie Ruth (63m)
Kilruane MacDonaghs: Thomas Williams; Darragh Peters, Jack Peters, Ray McLoughney (0-2, 0-1 free); Willie Cleary, Niall O'Meara (0-2), Eoin Hogan; Justin Cahill, Seamus Hennessy (0-3, 0-1 free); Brian O'Meara (0-1), Kevin Quinlan (0-1), Kieran Cahill (0-7, 0-4 frees); Eanna Hogan, Thomas Cleary (0-1), Cian Darcy (1-0)
Subs: Kevin Ryan for Willie Cleary (HT), James Williams for Kieran Cahill (52m),
Referee: John O'Brien (Arravale Rovers)