Clean Ireland Recycling County Senior Hurling Championship Semi-Final – Nenagh Eire Og 1-20 Drom & Inch 2-16 (AET)
Nenagh Eire Og 1-20 Drom & Inch 2-16 (AET)
Report by Ed Donnelly
A last gasp point by Daire Quinn propelled Nenagh Eire Og in to the County Senior Hurling Final at the expense of Drom & Inch after 80 minutes of action in Semple Stadium Thurles on Sunday. This point in second half injury time of extra time was the only thing which separated the sides which were remarkably level at half-time, the end of normal time and at half-time of extra time.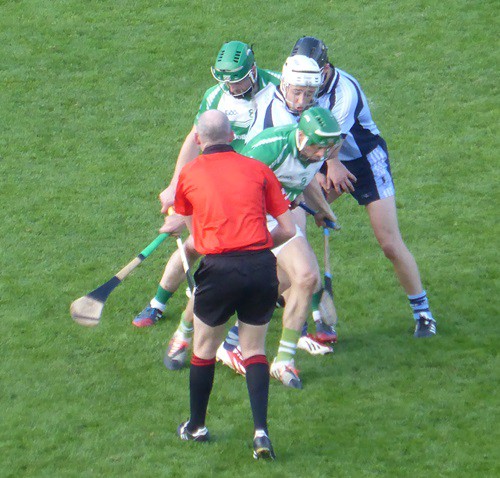 Drom & Inch were strong favourites coming in to this game and early points from play by James Woodlock and Seamus Butler put them in to an early lead. Nenagh responded with three points in three minutes from James Mackey (2 frees) and Paddy Murphy to take the lead before the first goal of the game arrived via a well taken Seamus Callanan penalty. Two minutes later, Drom scored their second goal when David Butler's one handed shot under pressure found the net from close range.
Nenagh's response was immediate as Andrew Coffey scored a goal to leave the score at 2-2 to 1-3 after the first quarter. Drom added three of the next four points to lead by 2-5 to 1-4 with five minutes remaining to half-time. However, Nenagh scored four unanswered points from play via Michael Heffernan, Andrew Coffey, Daire Quinn and Tommy Heffernan to ensure the sides retired at the break all square, 2-5 to 1-8.
Nenagh took the lead early in the second half courtesy of a Michael Heffernan free only to see Drom & Inch retake the lead with points by Seamus Callanan (2) and David Butler. Nenagh however were still very much in this match and as the game headed in to the final quarter, three points in a minute by Michael Heffernan (free), Tommy Heffernan and Killian Gleeson edged the North side in front.
This game lacked any great spark in the opening 45 minutes but the final stages of normal time made up for that in terms of drama as both teams had chances to earn a County Final place. Drom & Inch edged in front courtesy of points from substitute Tommy Nolan and Enda Walsh only to see Michael Heffernan equalise for Nenagh. Eamonn Buckley then proceeded to give Drom the lead with a long range point from play. Drom held the lead for the next six minutes only to see Nenagh sub Killian Gleeson equalise in the first minute of injury time. When David Collins scored a point from play in the third of four allotted minutes of injury time, it looked like being a winner. However, Nenagh won a free inside their own 65 metre line and near the sideline and Michael Heffernan showed nerves of steel to strike a long range point to send the game to extra time – Drom & Inch 2-12 Nenagh Eire Og 1-15.

Both sides were now visibly tiring as the extra time period of 20 minutes set out to find a winner. Drom & Inch scored two quick points from Seamus Callanan (free) and a Seamus Butler shot from a tight angle only to see Tommy Heffernan and Barry Heffernan respond with points from play to leave the teams level at half-time of extra time – Drom & Inch 2-14 Nenagh Eire Og 1-17.
Scores from play were at a premium in the second half of extra time as only pointed frees by Michael Heffernan and Johnny Ryan were all the teams had to show for the first nine minutes of the second half extra time period. As with normal time however, the 4,025 strong attendance were in for a grandstand finish. Drom's Johnny Ryan hit a long range point in the 79th minute which looked to give the Mid side the victory only for Nenagh to work the ball to Tommy Heffernan to convert his fourth point from play. With only one minute of injury time to play, a replay looked the most likely outcome. There was still time however for one last play and Nenagh worked the ball to Daire Quinn in space and he showed remarkable composure to convert the winning point from play to send the Nenagh supporters in to rapturous celebrations when referee John McCormack blew the final whistle from the puck-out.
Drom & Inch: Damien Young; Jamie Moloney, Liam Ryan, Michael Campion; Micheal Butler, Eamon Buckley (0-1), Enda Walsh (0-1); Johnny Ryan (0-3, 0-1 free), James Woodlock (0-1); Michael Everard, David Collins (0-1), David Butler (1-2); Seamus Butler (0-2), Seamus Callanan (Captain, 1-3, 1-0 penalty, 0-3 frees), Kevin Butler (0-1)
Subs: Tommy Nolan (0-1), Mikey Connors, Michael Costello, Joe Lupton
Nenagh Eire Og: Michael McNamara; Mark Flannery, Noel Maloney, John Brennan; Barry Heffernan (0-1), Hugh Maloney, Daire Quinn (0-2); Conor Ryan, Michael Heffernan (0-7, 0-6 frees); Andrew Coffey (1-1), Paddy Murphy (0-1), Tommy Heffernan (0-4); James Mackey (0-2 frees), Pearse Morris, Shane Hennessy
Subs: Killian Gleeson (0-2), Philip Hickey, Paul Ryan, John Cahalan, Billy Heffernan
Referee: John McCormack (Kickhams)
---
Score by Score Round-up
1m – James Woodlock point – Drom & Inch 0-1 Nenagh Eire Og 0-0
2m – Seamus Butler point – Drom & Inch 0-2 Nenagh Eire Og 0-0
5m – James Mackey free – Drom & Inch 0-2 Nenagh Eire Og 0-1
7m – James Mackey free – Drom & Inch 0-2 Nenagh Eire Og 0-2
8m – Paddy Murphy point – Drom & Inch 0-2 Nenagh Eire Og 0-3
9m – Seamus Callanan penalty goal – Drom & Inch 1-2 Nenagh Eire Og 0-3
11m – David Butler goal – Drom & Inch 2-2 Nenagh Eire Og 0-3
14m – Andrew Coffey goal – Drom & Inch 2-2 Nenagh Eire Og 1-3
17m – Kevin Butler point – Drom & Inch 2-3 Nenagh Eire Og 1-3
19m – David Butler point – Drom & Inch 2-4 Nenagh Eire Og 1-3
21m – Michael Heffernan free – Drom & Inch 2-4 Nenagh Eire Og 1-4
23m – Johnny Ryan point – Drom & Inch 2-5 Nenagh Eire Og 1-4
25m – Michael Heffernan point – Drom & Inch 2-5 Nenagh Eire Og 1-5
26m – Andrew Coffey point – Drom & Inch 2-5 Nenagh Eire Og 1-6
28m – Daire Quinn point – Drom & Inch 2-5 Nenagh Eire Og 1-7
28m – Tommy Heffernan point – Drom & Inch 2-5 Nenagh Eire Og 1-8
HT Score – Drom & Inch 2-5 Nenagh Eire Og 1-8
32m – Michael Heffernan free – Drom & Inch 2-5 Nenagh Eire Og 1-9
33m – Seamus Callanan free – Drom & Inch 2-6 Nenagh Eire Og 1-9
36m – Seamus Callanan free – Drom & Inch 2-7 Nenagh Eire Og 1-9
37m – David Butler point – Drom & Inch 2-8 Nenagh Eire Og 1-9
44m – Michael Heffernan free – Drom & Inch 2-8 Nenagh Eire Og 1-10
45m – Tommy Heffernan point – Drom & Inch 2-8 Nenagh Eire Og 1-11
45m – Killian Gleeson point – Drom & Inch 2-8 Nenagh Eire Og 1-12
47m – Tommy Nolan point – Drom & Inch 2-9 Nenagh Eire Og 1-12
49m – Enda Walsh point – Drom & Inch 2-10 Nenagh Eire Og 1-12
54m – Michael Heffernan point – Drom & Inch 2-10 Nenagh Eire Og 1-13
55m – Eamon Buckley point – Drom & Inch 2-11 Nenagh Eire Og 1-13
61m – Killian Gleeson point – Drom & Inch 2-11 Nenagh Eire Og 1-14
63m – David Collins point – Drom & Inch 2-12 Nenagh Eire Og 1-14
64m – Michael Heffernan free – Drom & Inch 2-12 Nenagh Eire Og 1-15
End of Normal Time – Drom & Inch 2-12 Nenagh Eire Og 1-15
61m – Seamus Callanan free – Drom & Inch 2-13 Nenagh Eire Og 1-15
61m – Seamus Butler point – Drom & Inch 2-14 Nenagh Eire Og 1-15
63m – Tommy Heffernan point – Drom & Inch 2-14 Nenagh Eire Og 1-16
69m – Barry Heffernan point – Drom & Inch 2-14 Nenagh Eire Og 1-17
HT of Extra Time – Drom & Inch 2-14 Nenagh Eire Og 1-17
70m – Michael Heffernan free – Drom & Inch 2-14 Nenagh Eire Og 1-18
73m – Johnny Ryan free – Drom & Inch 2-15 Nenagh Eire Og 1-18
79m – Johnny Ryan point – Drom & Inch 2-16 Nenagh Eire Og 1-18
79m – Tommy Heffernan point – Drom & Inch 2-16 Nenagh Eire Og 1-19
81m – Daire Quinn point – Drom & Inch 2-16 Nenagh Eire Og 1-20